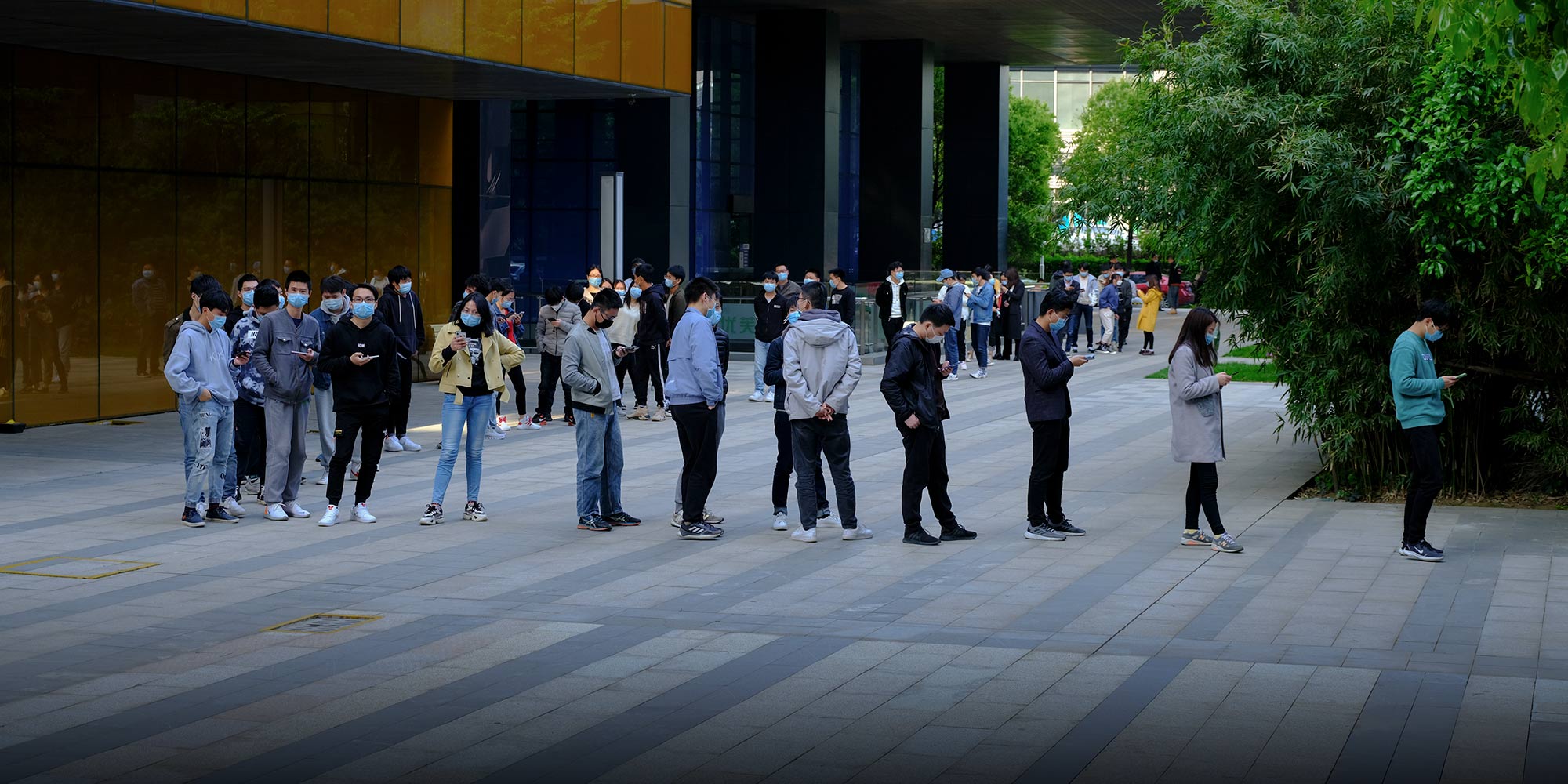 FEATURES
Wuhan's Lockdown Is Over. Its Economic Pain Is Just Beginning.
Weeks after the city eased its virus-control policies, thousands of businesses remain shuttered. Many may never restart production.
HUBEI, Central China — It has now been two weeks since Wuhan lifted its lockdown, marking a new stage in its recovery from a coronavirus outbreak that has killed nearly 4,000 people. But inside the city's sprawling technology parks, it's clear Wuhan's economic wounds will take much longer to heal.
Before the pandemic, the city's "Optics Valley" — also known as Wuhan East Lake Hi-Tech Development Zone — was among China's most dynamic innovation hubs, home to research centers for tech giants including Huawei and Xiaomi, as well as thousands of startups. When Sixth Tone visits April 13, however, the zone is eerily quiet.
On an asphalt square outside a large office building, around 20 people are lined up in 1 meter intervals, waiting to be tested for COVID-19 — a requirement for anyone returning to work in the business zone.
One by one, the workers approach a table, where medical workers in full hazmat suits take swabs of their mouths and blood samples from their fingers. Wang Feng, a 50-something waiting in line, tells Sixth Tone his company will inform its staff of their test results a few days later via social app WeChat.
Most businesses in Optics Valley have yet to reopen. Of the more than 100,000 firms registered here, only 13,000 had resumed operations as of April 12, the business zone's administrative committee told Sixth Tone in a written statement.
The prolonged shutdowns threaten to cause deep and lasting harm to the central city's economy. Established in 1988, Optics Valley has been essential to Wuhan's drive to shed its reputation as "China's Detroit" — named for its auto plants and heavy industry — and reinvent itself as a gleaming Silicon Valley-style haven for high-tech companies.
The park has become a popular base for biomedicine and high-end equipment companies in recent years. It's also a hub for optoelectronics — the research and manufacture of optical fibers and display panels — leading to its nickname. In 2018, firms in the zone generated combined revenues of 1.2 trillion yuan (then roughly $186 billion).
Now, however, many of these companies are finding themselves in dire straits. Cash flow problems are mounting, and clients are moving their business elsewhere in China, where the effects of the COVID-19 pandemic have been less severe.
According to Luo Zhi, director of Wuhan University's New Private Enterprise Economy Research Center, the city's small- and medium-sized enterprises (SMEs) are under particularly severe pressure.
"We're two months behind the neighboring provinces, which resumed work in February," says Luo. "A major problem now is that many Wuhan companies lost their orders to companies in other regions."
Sunshine Optoelectronics, an Optics Valley-based firm that produces OLED materials for display panel makers, resumed production March 23, but the company is still dealing with orders received in January.
"We have a stack of production orders received before the pandemic that need to be processed as soon as possible," Dai Chun, the company's head of production, tells Sixth Tone. "Companies in places like (the southern city of) Guangzhou restarted operations as early as February, and we've been held up for a long time. The demand is urgent."
Mu Guangyuan, founder and CEO of Sunshine, says several clients have canceled orders due to the delays. He's also been forced to push back plans to open a second production base in the nearby city of Yidu, he adds.
"A four-month absence from the industrial chain has had a great impact on our position (in the market)," says Mu. "Our company is currently in a stage of rapid development, and demand for our products is gradually rising. But this pandemic has slowed down the entire process and made panel manufacturers more conservative."
The company's financial situation, meanwhile, is deteriorating. In line with a government policy, Sunshine has avoided layoffs and continued to pay its staff their full salaries throughout the crisis. "Our fixed costs remain, while the number of orders is decreasing," says Mu.
Large numbers of businesses in Wuhan are experiencing severe financial difficulties, according to Luo. The problem is particularly acute for smaller firms, which often struggle to access financing in China.
"The funding problem for SMEs is very urgent," says Luo. "They don't have capital flow."
In a statement, Optics Valley acknowledged that SMEs have been impacted by the pandemic and face "practical problems." The park said the high-tech zone plans to grant 130 million yuan of subsidies to support around 1,000 high-tech companies in Wuhan.
The subsidies' impact, however, is likely to be limited. If the money was divided equally, the 130,000 yuan allocated would cover less than a week of Sunshine's operating costs, according to Mu.
For Luo, the Chinese government should consider going further and giving Wuhan's firms a "blood transfusion" — an emergency bailout — to prevent companies from folding. The Wuhan authorities would struggle to finance such a move, as their own finances are strained, she adds. The city's fiscal revenues were down over 30% from the same period last year in January and February.
On April 19, Li Qiang, deputy mayor of Wuhan, announced the city would create a bailout fund of 40 billion yuan to support local SMEs through the crisis.
"The best approach now is to keep companies alive, so that everything can return to its original state after the pandemic," says Luo. "If you don't, the companies will collapse and the industry chain will be gone."
The situation for Wuhan's larger high-tech firms is less critical, but many are dealing with unprecedented challenges due to the economic turbulence unleashed by the pandemic.
Wuhan Huazhong Numerical Control, a listed company that manufactures numerical control systems and industrial robots, resumed production in March and now has 96% of its employees back at work, the company's CEO, Tian Maosheng, tells Sixth Tone.
During the lockdown in Wuhan, Huazhong relied on its facility in the southern Guangdong province — which was able to reopen in February — to continue production, according to Tian. The company was even able to keep one production line in Wuhan open for producing infrared temperature monitoring systems, as the coronavirus crisis caused an unexpected surge in demand for temperature sensors.
But the firm is still highly concerned about the economic effects of the COVID-19 crisis, which are already impacting demand for Huazhong's main product lines, Tian says.
"The pandemic is severely affecting market demand … this is happening throughout the country and throughout the world," the 40-year-old says. "Many companies may not be able to survive this crisis."
Huazhong is focusing on seizing new opportunities that have come up during the crisis. According to Tian, the firm expects demand for industrial robots to rise in the wake of the pandemic and for temperature monitoring systems to remain popular as countries invest more in public health infrastructure.
The situation in the global economy, however, is tempering any optimism among Wuhan's firms. Based in central China, most companies' immediate clients are other domestic firms, but many of them are still tied into global supply chains, says Ye Xueping, director of the Economic Research Institute at the Hubei Academy of Social Sciences.
"Regarding the impact of the pandemic on global supply and demand, I think the most violent storm hasn't yet arrived," says Tian. "So, we need to be more careful and prudent."
Mu, of OLED materials maker Sunshine, shares this concern. If a global recession hits, it could impact the company's business in unpredictable ways, he suggests.
"We're still waiting to see whether the global market can recover after June," says Mu. "If it doesn't, the pressure will be passed along the entire value chain … The side effects (of the COVID-19 crisis) are very serious. It could reconfigure the industrial chain."
Huazhong is preparing for a global downturn by stocking up on essential parts — such as certain microchips used in its numerical control systems — that are only made abroad.
"We're worried that the goods might not be supplied (in the future) due to the influence of the pandemic," says Tian. "That would be tough."
For Tian, the greatest fear of all is that the pandemic would fuel a growing wave of de-globalization, with countries reducing their reliance on Chinese suppliers and buyers in strategic industries. 
"If globalization is truly reversed and everyone is taking care of their own business, our future is unclear," says Tian.
Ye, however, expects de-globalization to be limited, as political concerns may be overridden by the needs of the market. Processing and manufacturing firms value the completeness of China's supply chains, as well as its labor force and market. "It's not so easy to move out," he says. 
Market advantages should also help Wuhan recover in the long run, according to Li Jianbin, professor of management at Wuhan's Huazhong University of Science and Technology. Although the pandemic has been the ultimate "black swan" event, the city still has a lot to offer companies, he says.
"Wuhan still has advantages regarding geography, talent, cost, and logistics," says Li. "That's why many companies choose to invest here."
Editor: Dominic Morgan.
(Header image: People line up for nucleic acid tests at Wuhan's "Optics Valley," Hubei province, April 13, 2020. Shi Yangkun/Sixth Tone)