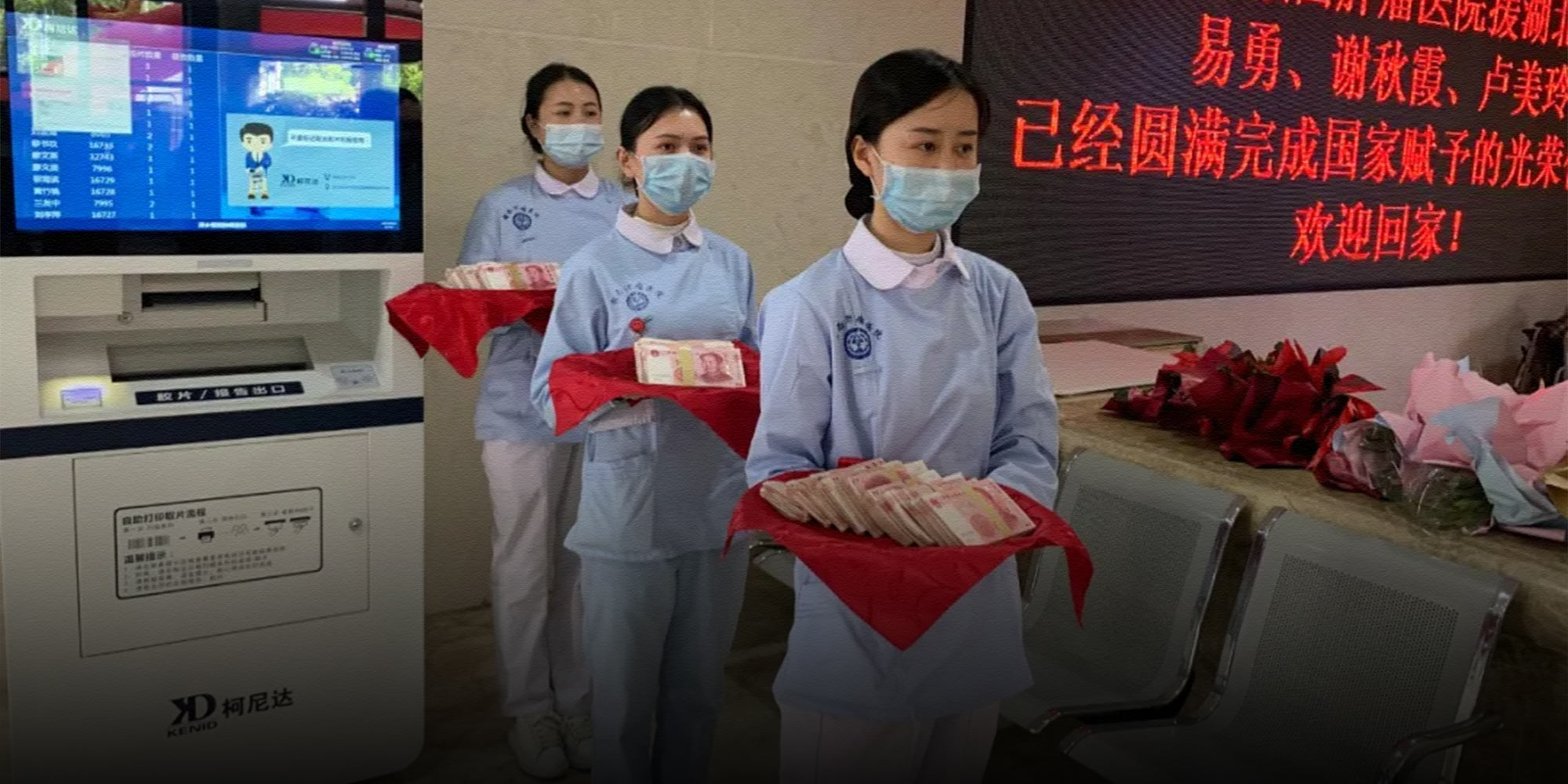 NEWS
Jiangxi Hospital Gives Frontline Medics Generous Cash Rewards
While some private hospitals have the financial resources to compensate staff returning from Hubei, public hospital workers say they've yet to receive their promised government subsidies.
A private hospital in eastern China's Jiangxi province is winning praise after offering generous monetary rewards to three of its health care workers who served on the front lines in the country's fight against the COVID-19 outbreak.
Ganxi Cancer Hospital in the city of Pingxiang awarded an auspicious 86,666 yuan ($12,200) each to one ICU doctor and two nurses who had returned from a two-month assignment in the hard-hit central province of Hubei, Beijing Youth Daily reported Monday. The medical workers were also offered two weeks of paid leave, as well as a year's worth of free meals at the hospital's cafeteria for them and their family members.
"This is the first time the hospital has issued such a large amount of cash," a staff member at Ganxi Cancer Hospital told the outlet. "(It's) mainly to commend the spirit of the medical staff who assisted in Hubei."
Beginning in January, over 42,000 medical workers from across China were dispatched to Hubei to support the province's overburdened public health facilities during the height of the COVID-19 outbreak. The last medical assistance team consisting of 180 health care workers from the elite Peking Union Medical College Hospital left Wuhan on Wednesday.
Apart from Ganxi Cancer Hospital, a private hospital in the northeastern Liaoning province has also awarded a total of 1 million yuan to four of its medical workers who were sent to Wuhan, according to domestic media.
To better compensate hospital staff involved in combating the pandemic, China's central government in February pledged that all frontline medical workers would be entitled to daily allowances of 200 to 300 yuan. However, nearly a month later, many medical workers were saying they had not received the promised funds.
While some private hospitals like the one in Jiangxi have the financial resources to generously reward their medical staff, public hospital workers say it's not realistic to expect similarly grand gestures from their institutions.
"It's not really possible for public hospitals to do that," Ye Xin, a staff member with the publicity department of Jiangxi Pingxiang People's Hospital, told Sixth Tone, referring to the rewards disbursed by Ganxi Cancer Hospital.
While China's public hospitals are partially subsidized by the state, they must largely fend for themselves when it comes to making enough money to keep their doors open. As a result, they're less likely to be able to offer surplus funds or additional benefits to staff. In fact, the long hours and low wages common in China's public health system are driving many medical professionals to private hospitals, or out of the profession entirely.
"We will certainly disburse the government subsidies (to the frontline medics) first, then determine the next steps depending on our finances," said Ye, adding that Jiangxi Pingxiang People's Hospital is also planning to reward its staff.
At designated facilities for receiving and treating COVID-19 patients in Wuhan — the city where China's coronavirus cases were most concentrated — half a dozen medical workers including doctors and nurses told Sixth Tone that they have not received any subsidies after working almost nonstop for over three months.
Zhou Qing, an ICU doctor at one such hospital, Zhongnan Hospital of Wuhan University, told Sixth Tone last week that she had been living off a base salary for the previous two months, as her workplace could not generate income from other operations and procedures, which were effectively suspended during the pandemic. The hospital was also paying upfront to treat its COVID-19 patients and waiting to be reimbursed by government medical insurance later, creating a heavy financial burden.
"The hospital has no income, as we weren't receiving other patients (apart from those with COVID-19)," said Zhou. "According to national policy, medical insurance covers all (coronavirus) treatment fees. As for the pay upfront part, it is said that the country will cover the rest, though it has not yet disbursed those funds."
Treating one COVID-19 patient costs around 21,500 yuan on average, while critically ill patients may require treatment worth 150,000 yuan or more. And although Chinese authorities have promised that treatment for both confirmed and suspected COVID-19 patients will be "free for all," by April 6 medical insurance had only covered treatment fees for 66.6% of coronavirus patients nationwide, amounting to over 1 billion yuan, leaving hospitals on the hook for the bills of the remaining one-third, at least for now.
Chen Yongfeng, a staff member in Zhongnan Hospital's medical affairs department, confirmed to Sixth Tone on Tuesday that the hospital has not yet disbursed state subsidies to frontline medical workers due to unspecified "difficulties."
"We have been calculating (the subsidies) but have not issued them," Chen said. He added that while the subsidies were not yet "all in place," he expected the hospital will be able to disburse them "in the near future."
Following the SARS outbreak in 2003, the Chinese government mandated that hospitals should treat patients first and settle bills later, requiring local governments to manage any deficits in the meantime. However, some overburdened hospitals reportedly faced financial crises after prepaying tens of thousands of yuan in treatment costs and then failing to receive government subsidies or payments from patients in a timely manner.
Editor: Bibek Bhandari.
(Header image: A photo from the ceremony where three health care workers received 86,666 yuan each after serving on the front lines of the COVID-19 outbreak in Hubei province, at Ganxi Cancer Hospital in Pingxiang, Jiangxi province, April 2020. From @萍乡观察 on WeChat)