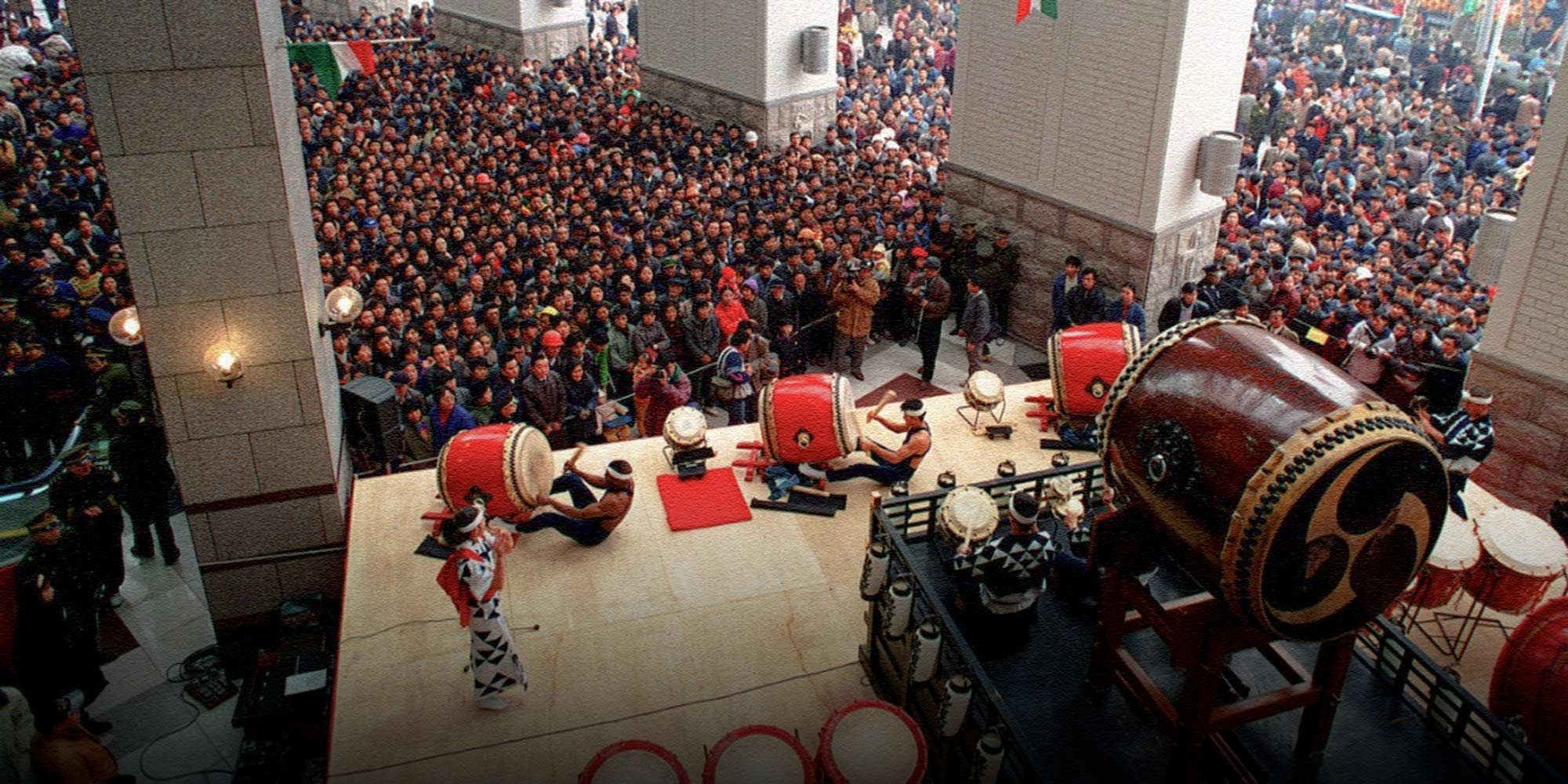 VOICES & OPINION
How Shanghai Tried to Master the Mall
Almost 30 years ago, a forgotten municipal office teamed up with the scion of a now-bankrupt Japanese retailing empire to change the way Chinese shopped.
This year marks the 30th anniversary of a central government proclamation that accelerated the development of Shanghai's eastern Pudong District. For the month of April, Sixth Tone will look back at some of the individuals and organizations that made the district what it is today.
For much of the past two centuries, Shanghai has been synonymous in China with modernity and commerce. Although the latter was put on hold during the planned economy years, the city regained its commercial preeminence as market reforms were gradually introduced in the 1980s. Its reputation as a consumer mecca was such that newlywed couples from across the country in the '80s would travel to the city — in particular to the well-stocked, if somewhat outdated Shanghai No. 1 Department store — to pick up popular consumer goods for their new lives together: a bicycle, sewing machine, wristwatch, and radio.
That reputation did not extend across the Huangpu River to the semi-urban parts of the city known collectively as Pudong, which until the 1990s largely consisted of shantytowns and farmland. In 1990, however, the national government threw its weight behind a push to develop the area. Plans were drawn up for monumental new skyscrapers, a finance and trade zone, and what officials called the "New Shanghai Commercial City." The idea was to burnish the city's commercial credentials by giving it something it lacked: a large, advanced shopping mall.
The city's existing department stores, then among the best in China, were woefully behind the times by international standards. In addition to limited variety, cramped spaces, and sometimes churlish staff, they had not kept up with the latest retail trends from around the globe.
Take merchandising, for example. At the time, almost everything in Shanghai department stores was kept behind glass counters, largely to prevent theft. This meant that if a customer saw something they liked, they had to ask a sales assistant to take it out. If they didn't like it, or wanted to compare it to other items for sale, they would have to hand it back over and repeat the whole process. Unsurprisingly, this created friction between staff and shoppers.
While the state-owned firms who ran the department stores had little impetus to change, the city itself was set on improving the shopping environment. The municipal office where I worked was tasked with nudging sellers to adopt more consumer-friendly models, such as open shelves where customers could inspect what they liked at their own convenience — a practice already common overseas.
It took some convincing, but the city's Yuyuan Bazaar eventually experimented with an open shelves model: One shoe, instead of the pair, would be displayed for consumers to peruse. It might seem like a small step, but it was revolutionary at the time and managed to please consumers while still discouraging theft.
Still, the city had bigger goals in mind. One of the reforms introduced after 1990 made it easier for non-Chinese to invest in Pudong's service industry, when compared with the rest of the city. Not long after, in April 1991, Kazuo Wada, the scion of the well-known family-run Yaohan retailing empire in Japan, travelled with his family to Shanghai to discuss possible investment.
Unexpectedly, they took an immediate liking to the then-underdeveloped Pudong and personally travelled to Beijing to express their desire to open a store there. Shanghai, too, was eager, not just for the investment, but for the business and management know-how the Japanese firm could bring. Within weeks, on April 13, 1991, Yaohan and Shanghai No. 1 Department Store reached a joint venture agreement, with the forthcoming store to be named the "No. 1 Yaohan Department Store."
The Japanese side would provide the funds, while the Chinese side would contribute the land use rights to the site. Thirty years ago, there was no preexisting template for commercial or retail businesses to import foreign capital, and the proposal had to be reviewed and approved by the central government. After much liaising with Beijing, the State Council, China's Cabinet, signed off on the first large-scale commercial retail joint venture in post-1949 China on May 15, 1992.
Three and a half years later, on Dec. 20, 1995, No. 1 Yaohan Department Store officially opened its doors. It had 10 floors, each of them covering 10,000 square meters, with 87 escalators and elevators and two underground parking levels. Within China, its facilities were second-to-none, and its opening attracted record numbers of shoppers — upward of 1 million visits in a single day.
A Japanese-style ceremony was organized for the opening, but the routine speeches were abandoned in favor of a performance by a Japanese taiko drumming team. Due to the large numbers of shoppers, staff were stationed on each floor to shout at visitors through megaphones, warning them to be careful. Security guards patrolled each elevator, pulling aside ropes to let gaggles of shoppers through.
No. 1 Yaohan Department Store brought the concept of one-stop shopping to Shanghai for the first time. In addition to dozens of stores, it also filled a variety of other functions, including beauty salons, banks, a post office branch, and a supermarket.
Of course, not everything went smoothly. The Japanese side sent a general manager to help run the store, and there were some cultural differences that needed ironing out. At first, they placed cars on display on the first floor: a prime position for merchandise. But most families in 1990s China couldn't afford to purchase their own vehicles, and the displays were eventually replaced by more popular cosmetics counters. This practice was later adopted by other malls in Shanghai and across the country and remains common today.
Japan's Yaohan Group declared bankruptcy in 1997, after which its stake in the mall was bought by Shanghai No. 1 Department Store. The 23 years since have seen a host of newer, glossier malls opening their doors in Pudong, but No. 1 Yaohan remains in business: a faded monument to a key moment as Shanghai re-opened to the world.
As told to Guo Ji and Shen Jie.
Translator: David Ball; editors: Lu Hua and Kilian O'Donnell; portrait artist: Wang Zhenhao.
(Header image: Drummers perform at the opening ceremony of No. 1 Yaohan Department Store in Shanghai, December 1995. Xinhua)