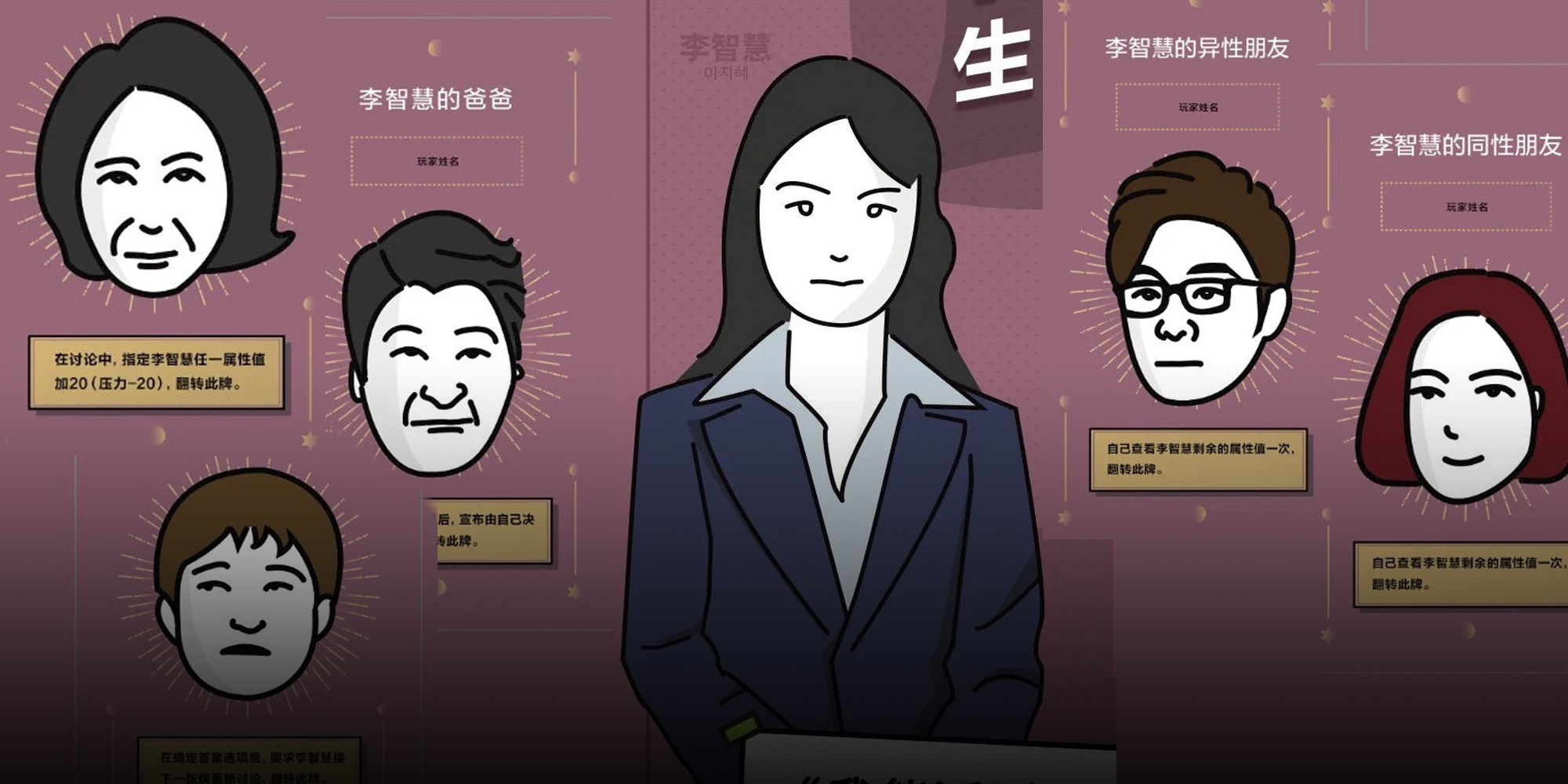 NEWS
South Korean Board Game About Fighting Sexism Gets China Release
In Li Zhihui's Life, players must decide how to respond to over 30 scenarios of gender discrimination. The goal: Keep the titular character alive as long as possible.
Imagine if fighting against the patriarchy were a board game, and you had to make choices as a woman to stay alive. How long could you survive?
That's the objective of Li Zhihui's Life, a South Korean choose-your-own-adventure game in which players must decide how Zhihui will handle various instances of gender discrimination. By playing, one can get a better understanding of the sometimes casual, sometimes malicious sexism women face in their daily lives.
After the board game attracted wide attention in South Korea, being featured on television and introduced at schools, its China publishing rights were purchased in December by Beijing-based CITIC Press Group, a division of one of China's largest state-owned conglomerates.
The board game includes 32 scenarios in which a woman might face sexism during the course of her life, from childhood to old age. Up to five characters from Zhihui's life — her mother, father, younger brother, male friend, and female friend — can play at a time, with each representing one of five "attributes" — self esteem, social competence, resilience under pressure, compliance, and sensitivity, respectively. The players must come to a consensus on how Zhihui responds to each scenario she faces, with their decision awarding certain attribute points. The player with the most attribute points at the end of the game wins.
"My record is 37 years," said Shanshan, a 25-year-old designer who introduced the game to Chinese audiences in December through a WeChat article for her employer, social innovation company BottleDream. "The reason it's so hard to keep Zhihui alive is because there's no such thing as a 'perfect choice' in this game."
For example, there's a scenario in which Zhihui's uncle remarks that her thigh isn't thin enough, Shanshan, who first played the game in South Korea, told Sixth Tone during an interview Monday. For this case, she and her teammates decided to have Zhihui react to the uncle's observation by "glancing at him contemptuously."
"We thought this choice was quite reasonable, as it could help the uncle understand that his comment had offended her, and thus make him stop in the future," Shanshan said. "However, what actually happened was the uncle continued to make the same comment every single time they met."
Li Jingyuan, an editor for Li Zhihui's Life with CITIC Press Group, told Sixth Tone that the game was deliberately designed to mirror real situations.
"These are tough choices. Every decision has its pros and cons — that's the sophisticated part of the game," Li said. "We want people who play this game to get a feel for the same dilemmas that women face in their everyday lives."
Gwon Su-in, the 28-year-old developer of the original version of the game, told Sixth Tone that it was inspired by the experiences of her and her friends, as well as by the ongoing women's rights movement in South Korea.
"I wanted to express how common it is for women to face sexism," Gwon said.
Although the scenarios in Li Zhihui's Life are borrowed from the South Korean version of the game, they're surprisingly applicable in China, according to the editor Li.
"We've barely made any changes to the story of the game," she said. "We found that what South Korean women face is very consistent with what Chinese women face. In this context, we don't have to worry about cultural differences."
The rising tide of feminism in South Korea has also resonated in China. Earlier this month, Chinese iterations of South Korea's so-called Nth Room case — in which a suspect was caught blackmailing dozens of young women, including minors, into performing sex acts and then selling the recordings online — sparked online protests in China that eventually led to the country's anti-pornography office shutting down several domestic websites that had been selling or otherwise distributing sexually explicit photos and videos. Meanwhile, feminist works of literature including the novel "Kim Ji-young, Born 1982" have become bestsellers in China after being translated from Korean.
When Gwon heard that people in China were interested in her game, she felt surprised and very happy. She said she was already aware of Chinese women facing a similar degree of gender discrimination to their peers in South Korea, as alluded to in the popular Chinese drama "All Is Well."
"Perhaps discrimination against women knows no borders," Gwon said. "I sincerely hope that women from different countries will unite together to fight against sexism and create a healthier and more harmonious society."
Editor: David Paulk.
(Header image: Promotional images for the game Li Zhihui's Life. From @GoodbyeLibrary on Weibo)