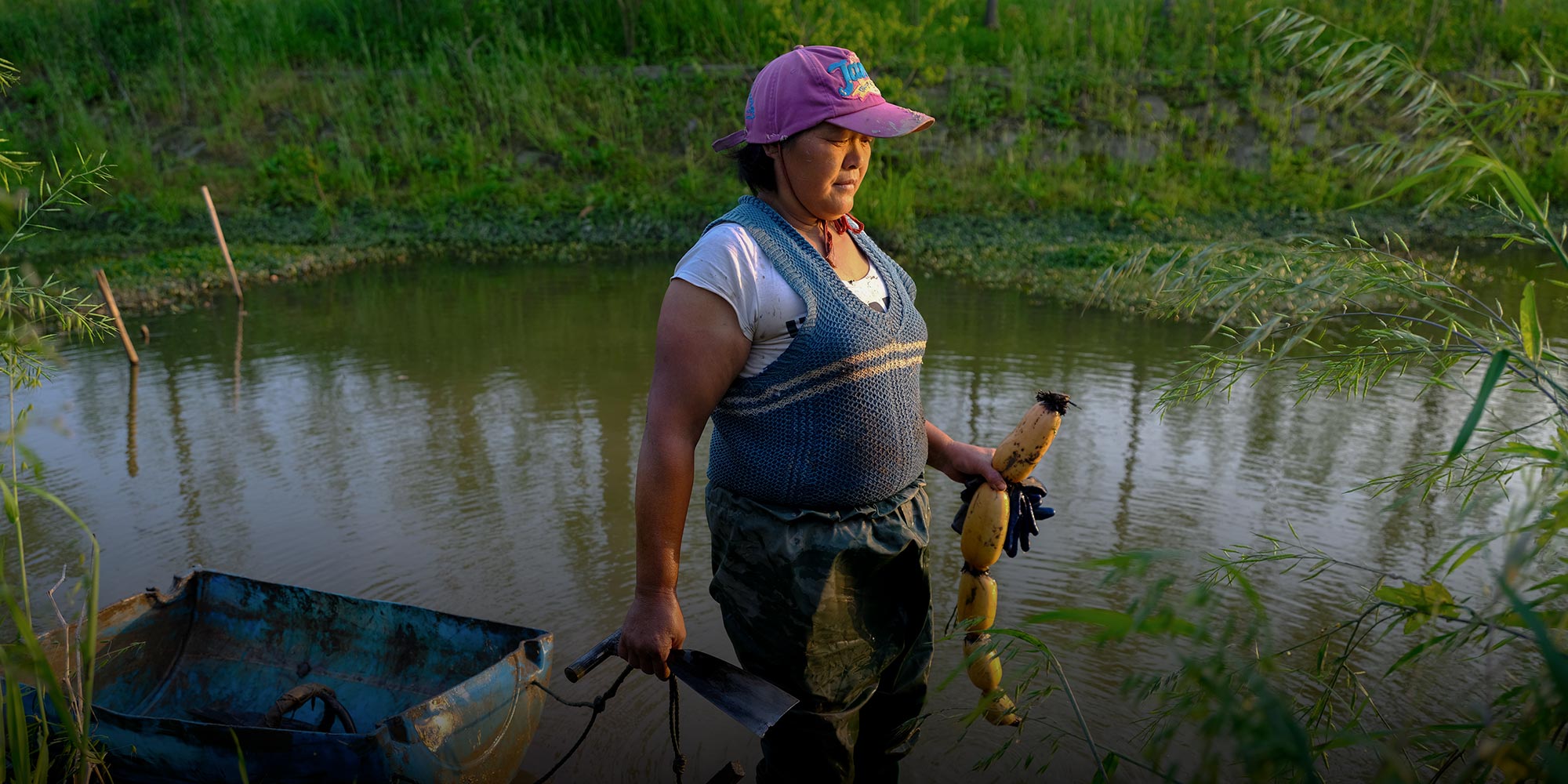 FEATURES
After the Lockdown, a Frantic Harvest in Hubei
Farmers are rushing to gather crops before they rot in the ground. But the losses are already devastating.
HUBEI, Central China — In a chain of fields on the outskirts of Wuhan, dozens of figures stand knee-deep in muddy water, hauling lotus roots out of the ground.
The water is frigid, but the laborers are working quickly. They extract and clean the roots with practiced skill, before piling them on the sides of the fields, ready to be shipped away for processing.
For farmers in this part of central China, the spring harvest has become a desperate race against time.
The coronavirus pandemic — which caused Wuhan and the surrounding region of Hubei to be put under total lockdown — effectively froze their businesses for 76 days. Fields were left untended. Crops couldn't be gathered. Sales and distribution channels broke down, and processing factories were shuttered.
Now, producers have only a few weeks to get in the harvest, before their crops begin rotting in the fields. For Chen Zhongcheng, a local farm owner with 6,800 mu (roughly 4.5 square kilometers) of lotus root fields, it's a make-or-break situation.
"The pandemic has already cost us a few million yuan in losses," Chen tells Sixth Tone. "We have to make full use of every second to dig out as many lotus roots as we can ... If we fail, we'll lose even more."
The failure of the lotus root harvest would be a major blow to rural communities in central China, which have already been severely impacted by the COVID-19 crisis.
Hubei province is famous for the quality of its lotus roots — a popular ingredient in Chinese cuisine — and the region accounts for around one-quarter of China's total production of the vegetable. The industry is worth billions of yuan to the local economy.
"The history of lotus root planting in Hubei can be traced back over 1,000 years," says Ke Weidong, an aquatic vegetable expert at the Wuhan Academy of Agricultural Sciences. "(It's) become a pillar industry for many counties in Hubei, as well as a major source of income for a lot of farmers."
Farming revenues, however, are set to plunge this year.
Chen says he sold his lotus roots for up to 10 yuan ($1.40) per kilogram in previous years, but the market price has now dropped to just one-fifth the previous number. Prices could fall more over the coming weeks.
"With the farms resuming work, the huge amount of lotus roots will make the market oversupplied and lead to another price drop," says Ke.
Local farms, meanwhile, are still severely short-staffed. Despite the easing of China's lockdown policies, travel in Hubei remains partially restricted.
People returning to Wuhan have to acquire a "health code" through popular payment apps WeChat or Alipay, which use big data to gauge whether users are considered a health risk. For many of Chen's workers, however, this requirement is difficult to fulfill.
"They're barely literate, they don't have smartphones, and they have no idea how to acquire such a 'green code,'" says Chen.
Chen would normally have around 70 employees in the fields gathering lotus roots at this time of year, but when Sixth Tone visits on April 12 there are only about 30. He's tried to hire more staff, but doing so is difficult, and new recruits might be much less efficient than experienced laborers.
"Digging up lotus roots is such hard work that many young people aren't willing to do it nowadays," says Chen. "It's hard to find skilled lotus root diggers — they need rich experience and good judgment … If a lotus root is broken, it's as worthless as mud."
Chen tells Sixth Tone there are still 13,000 tons of lotus roots in his fields, and his shrunken team only has until the end of April to harvest as many of them as possible. That's putting laborers like Liu Ying under pressure.
The 52-year-old, who has been working on lotus root farms for three decades, would normally harvest around 300 kilograms of the vegetable each day. Now, she's digging out 500 kilograms daily. When Sixth Tone speaks with her, she says she worked six hours that morning and would likely continue until after 7 p.m.
"My back is so painful, I can't even stand up straight," she tells Sixth Tone.
Liu, however, is relieved to be working again. During the lockdown, she had no income whatsoever. She tells Sixth Tone she often prayed she could soon return to Wuhan, worrying how she'd be able to support her husband and 12-year-old son, who live in her hometown of Dazhou, southwestern Sichuan province.
"I'm under a lot of pressure. If not, I wouldn't be working outside (my home province)," she tells Sixth Tone. "Is there any woman my age who would enjoy such a tough job?"
Liu managed to catch a train back to Wuhan March 31, after the transportation restrictions in Hubei started to ease. Chen sent drivers to pick her and other returnees up from the station, as local bus services were still shut down.
The heavy workload at least gives laborers like Liu the chance to recoup some lost income. Workers on Chen's farm get paid by the piece. For each kilogram of lotus root they harvest, they earn just under 1 yuan.
"Many hope they can dig out as many lotus roots as they can," says Liu. "They won't stop until after dark."
Feng Yichuang, another laborer, is using a high-pressure water gun to blast away the mud, allowing him to harvest the roots faster. He says it can help workers earn an extra 100 yuan per day.
"But it requires people to use all their strength to hold the water gun," the 41-year-old says. "The first week I got this machine, I couldn't even feel my hands after work was over."
For Chen, the reversal in his fortunes over the past months has been bewildering. On Jan. 20, he hosted a banquet for his employees, where he toasted each table, shouting, "Here's to a bumper harvest this year!" as he drained his glass. The Wuhan lockdown occurred just three days later.
Now, he's facing challenges from all sides. Apart from shutting down his business, the pandemic has also considerably raised his costs.
"We have to offer them (the workers) rides to Wuhan, provide accommodation, and get them protective equipment like masks," says Chen. "So, for each mu of lotus roots we fail to harvest, we'll lose at least 3,000 yuan."
Chen plans to export the highest-quality lotus roots to Southeast Asia, while the rest will be processed into lotus root slices and sold in China as a cooking ingredient. He fears, however, that domestic buyers will be wary of his produce.
Hubei province — which was the center of the early stages of the COVID-19 outbreak with over 68,000 confirmed cases — has been the subject of multiple conspiracy theories.
Articles with headlines such as, "Don't Eat Fruit Planted in Hubei," "Salt Produced in Hubei Carries COVID-19," and "Will People Catch the Coronavirus If They Receive Packages from Wuhan?" have been widely shared on Chinese social media in recent months.
Though Chinese authorities and experts have repeatedly rebutted these claims and assured customers that products from Hubei are safe, Chen still doesn't feel confident enough to reopen his lotus root slice factory.
"If we resume production, we'll have to label the packages with their manufacturing dates and origins," says Chen. "Chinese consumers might not be ready to accept that."
In early spring, Hubei's farmers usually sell millions of kilograms of lotus root sprouts to growers in other provinces. This year, however, sales dropped significantly, as buyers were reluctant to travel to Hubei, according to Ke.
To boost consumer confidence in Hubei sprouts, the municipal party secretary of Honghu — a city in Hubei famous for its lotus roots — made her debut hosting a livestream show promoting the local specialty April 1.
Liu simply hopes to get through to July, when the early summer crops will be ready to be put on the market.
"It's going to be the happiest time for us — the weather won't be too hot to work, the market will be eager for this seasonal product, and the boss will pay us more," she says. "Then, the boss will be happy, and we'll be happy, too."
Editor: Dominic Morgan.
(Header image: Liu Ying poses for a photo while holding a lotus root in Wuhan, Hubei province, April 12, 2020. Shi Yangkun/Sixth Tone)