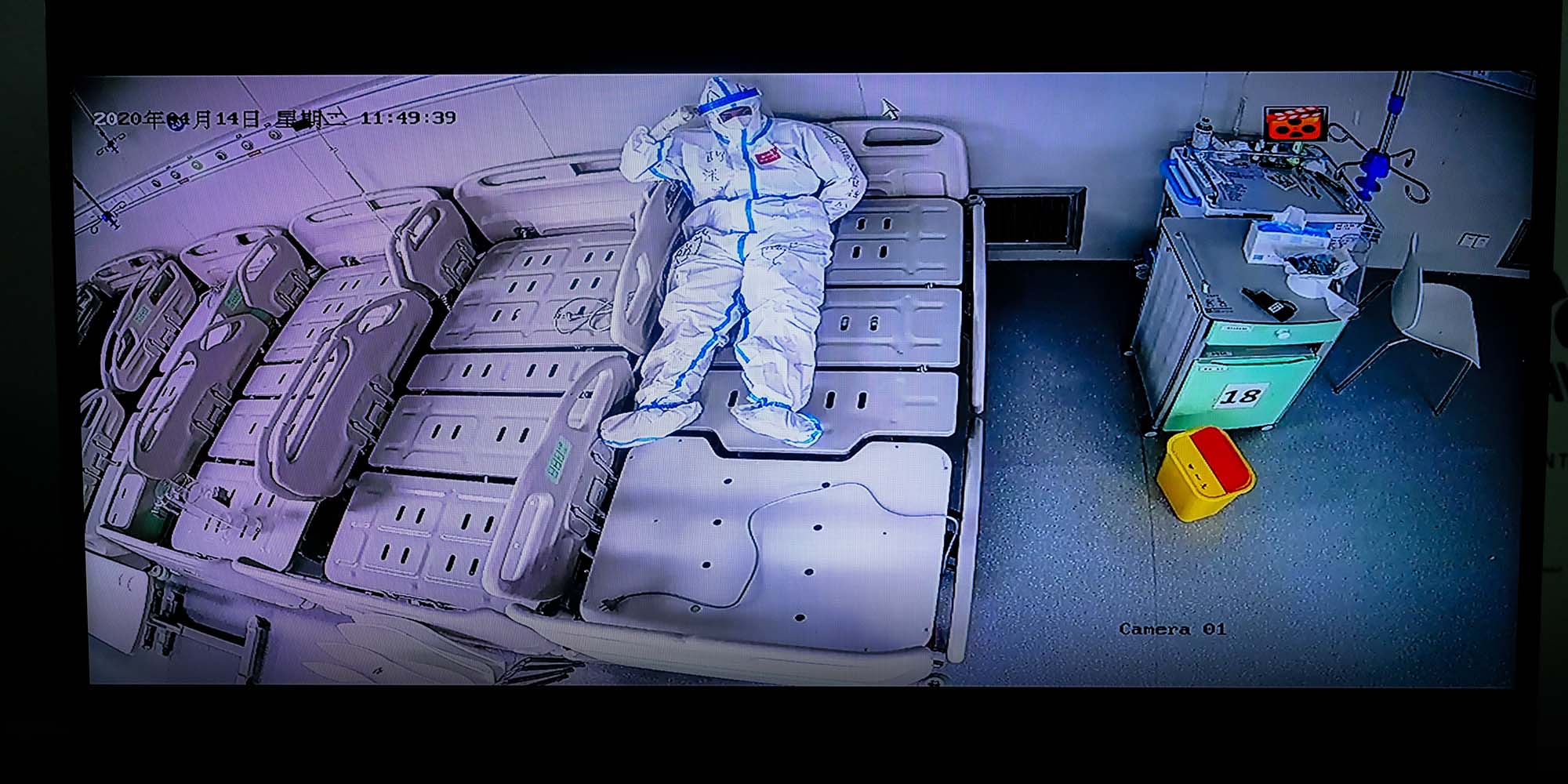 FEATURES
To Hell and Back: How Wuhan's ICU Doctors Survived COVID-19
Infections spread like wildfire. Then a shortage of protective equipment struck. But the city's intensive care units found ways to continue fighting.
HUBEI, Central China — Zhou Qing still remembers the dismay she felt on Jan. 22 as she walked into Wuhan No. 7 Hospital to begin her emergency assignment.
Two days previously, the renowned Chinese epidemiologist Zhong Nanshan had publicly confirmed the coronavirus that was spreading rapidly through Wuhan was capable of human-to-human transmission. 
Zhou, an intensive care specialist with three decades of medical experience, had been dispatched to No. 7 Hospital — a mid-ranking facility in the central Chinese city — to lead its intensive care unit during the epidemic.
She quickly realized her new colleagues were wholly unprepared for the crisis that was about to engulf them.
"They were not aware this was a serious issue," says Zhou, who was speaking with Sixth Tone on Friday at the ICU inside Wuhan's Leishenshan Hospital, a "pop-up" facility for housing COVID-19 patients. 
No. 7 medical staff wearing protective suits often left their necks exposed, because they felt it was more comfortable, according to Zhou. The air conditioners were left running, despite the risk of spreading viral droplets.
The ICU, meanwhile, already had four patients with COVID-19-like symptoms, but the wards hadn't been overhauled to prevent cross-contamination from room to room. According to Zhou, all non-infectious disease hospitals are supposed to overhaul wards in the face of such an infectious virus.
"It was also horrifying to see their anesthetists performing intubations on patients without wearing protective shields," says Zhou. "All they had were protective goggles and a mask."
The lack of protective measures quickly led to a wave of cross-infections that swept through No. 7's medical team, making it even harder for the hospital to cope with its large influx of COVID-19 patients.
The second day after Zhou's arrival, the ICU director at No. 7 fell sick, later testing positive for the coronavirus. In total, around 40 of the hospital's 200 medical workers were infected, according to Zhou.
Many other medical workers in Wuhan have similar stories to tell.
The epidemic in the Chinese metropolis is finally starting to subside, with only 179 coronavirus patients remaining out of more than 50,000 confirmed cases in total. On Wednesday, the 1,600-bed Leishenshan Hospital closed its doors after transferring out its last four patients.
Yet doctors in the city remain haunted by the chaos of the early stages of the outbreak, when hospitals were overrun by a sudden surge of pneumonia patients.
"There were patients in the ICU who were conscious. Even though they were breathing with much difficulty, their eyes were filled with a strong will to survive," Zhou tells Sixth Tone. "Some held my hand and said, 'Please save me.' But we eventually lost them."
Until the crisis erupted, Wuhan appeared to be well-prepared for a public health emergency. With nearly 400 hospitals, 40,000 licensed doctors, and 54,500 registered nurses, the city has long taken pride in its health system, which is among the best in China.
Within weeks of the virus emerging, however, the city's medical resources proved to be completely insufficient. By late January, many pneumonia patients in Wuhan were unable to get hospitalized or tested for COVID-19.
A significant factor behind the city's inability to cope was the huge number of infections among medical staff during this crucial period, as hospitals struggled to implement measures to contain cross-infections, health workers in the city tell Sixth Tone.
"Many doctors in the respiratory and infectious diseases departments, as well as doctors in the emergency departments, were down with the virus," says Zhou. "That definitely reduced the strength of the medical team … Our main forces were down."
By early March, more than 3,000 medical workers in Hubei province — the central region where Wuhan is located — had been infected with the coronavirus, government officials confirmed in a press conference, with 40% happening inside hospitals.
Every hospital in Wuhan experienced a high number of cross-infections, according to Chen Yongfeng, an employee in the medical affairs department of Zhongnan Hospital — a top-tier facility in Wuhan, where Zhou Qing also works as the ICU's deputy director.
"Many medical workers got infected. In our hospital, over 100 were infected," says Chen. Zhongnan employs over 3,000 staff total.
A large number of infections took place before Jan. 21, when China's health authorities confirmed that the virus was contagious. At that stage, many medical workers were still unaware of the danger they were facing.
"Most (medical workers) got infected when the virus remained barely known," says Zhou. "At (Zhongnan) hospital, most infected medical staff came from the surgical departments … Many surgeons didn't take precautions and therefore got infected."
Doctors often caught the virus from patients who had been hospitalized due to other health conditions, but later also tested positive for COVID-19. According to Chen, a single pancreatitis patient infected more than 10 staff members in Zhongnan's surgical department during the early weeks of the outbreak. "The patient's pneumonia symptoms weren't discovered until the operation," says Chen.
An infection control worker at Hubei General Hospital, who requested anonymity for privacy reasons, says hospitals were initially unsure how to prevent the coronavirus from spreading among staff.
"The virus just caught us off guard," she tells Sixth Tone. "We had little understanding of the new virus. We didn't have sufficient protection … Once we got to know it, the virus was no longer that terrifying."
The person declined to reveal the number of staff infected at her hospital. She added, however, that the situation was particularly challenging for general hospitals, which don't focus on treating infectious diseases.
"Although all medical staff are equipped with knowledge about infectious diseases, few had real experience dealing with such diseases or patients," she says. "That meant they had a lack of real combat capability."
Hubei General Hospital staff members routinely wear regular surgical masks while attending patients, the infection control worker says, but these masks proved to be insufficient against COVID-19.
"We didn't know how infectious the virus was," she says. "We acquired all our information from media outlets, like average residents."
Doctors on the front lines appear to have grasped the gravity of the situation earlier, allowing them to take potentially life-saving precautions. Ai Fen, director of the emergency room at Wuhan Central Hospital, urged the 200 staff members in her department to protect themselves as early as Jan. 1, after hearing that a SARS-like coronavirus was behind a spike in pneumonia cases in Wuhan.
"I asked everyone to wear a mask, wear a medical hat, and disinfect their hands frequently," Ai told the Chinese magazine Renwu in March. "Once a male nurse didn't wear a mask. I yelled at him right on the scene. I told him not to come to work if he didn't wear a mask."
In early January, medical workers in Ai's department were forced to conceal their protective uniforms under their white gowns, as the hospital wanted to avoid a public panic, according to Ai. "But it's not standard practice — it was ridiculous," Ai said.
By March, over 200 staff members at Wuhan Central Hospital had been infected with the virus. Five of them died: three from the ophthalmology department, one surgeon, and one member of the hospital's ethics committee.
At Zhongnan Hospital, the emergency room, ICU, and respiratory disease department were able to avoid widespread infections by taking early and decisive action to protect staff, according to Chen.
"Doctors there have stronger awareness of (the importance of) self-protection," says Chen. 
In Zhongnan's ICU, none of the nearly 200 workers were infected. Zhou puts this down to the team's diligent attitude toward sanitation — a result of their long experience battling the spread of drug-resistant superbugs.
Ding Xinbo, head nurse at the ICU, tells Sixth Tone the department repeatedly reminded workers to wear a mask and wash their hands frequently. "Even though we work in the most dangerous environment, it's also the safest," says Ding.
Zhongnan's emergency room received its first COVID-19 patient Jan. 6. At that stage, the local health commission was telling medical staff that such pneumonia patients probably caught a virus from animals at the nearby South China Seafood Wholesale Market.
The hospital's ICU team, however, decided to implement top-level protection and quarantine procedures regardless. Staff began wearing so-called level 3 protective equipment, including a mask, hazmat suit, latex gloves, protective face shield, and shoe covers.
"We assumed the infectiousness was limited, and we didn't expect so many would get infected," recalls Zhou. "But within one day, we received four patients in critical condition." Three days later, all 16 beds in the ICU were full.
Though the safety measures helped protect staff, the ICU struggled to acquire sufficient protective equipment in the early weeks of the area's epidemic. "I remember our director telling us it would be so pathetic if we ended up rescuing our own colleagues," says Ding, the head nurse.
In early February, just after the Lunar New Year holiday, the shortage of equipment was severe. Zhou's team at No. 7 hospital was forced to constantly reuse the same pairs of goggles — immersing them in disinfectant, and then repeatedly disinfecting and washing them. 
After putting on their protective suits, ICU staff had to keep them on for six hours at a time, unable to take a break. Later, they were able to leave the ICU once every four hours.
As the epidemic in Wuhan reached its peak in February, Zhou recalls often blaming herself for failing to save more lives.
"I was feeling extremely depressed and under huge pressure," she tells Sixth Tone. "Patients in the ICU are commonly in critical condition, but in the past not all of them would be in life-threatening situations at the same time."
Over time, however, the city's hospitals were able to stabilize the situation. In mid-March, all the ICU beds at No. 7 Hospital remained fully occupied, but Zhou's team had introduced better, standardized practices to cope with the large number of patients. 
Zhou, who describes herself as a rational, levelheaded person during normal times, says she began to feel more emotionally stable. "But the loss of so many lives unavoidably made me feel gloomy from time to time," she says. "I still experience lots of mood swings every day."
On March 20, Zhou was made executive director of the ICU at Leishenshan Hospital, where 3,000 medical workers from over 200 different hospitals had been stationed. She continued her work at Leishenshan until Tuesday, when her last patients left the ICU.
The closure of the hospital, which was built over a manic 10 days from Jan. 25, is a symbolic moment for Wuhan — another small step back toward normality. The facility will be left idle for the next few months, however, ready to reopen in the case of a second wave of infections.
Zhou is supposed to take a 14-day vacation, before returning to work at Zhongnan Hospital. But she doubts she'll take such a long time off.
During Wuhan's 76-day lockdown, many residents with late-stage cancer, uremia, and other severe illnesses were unable to access treatment, as wards were converted to accommodate COVID-19 patients. Now that the number of people with COVID-19 has declined, these patients require urgent care.
"The mortality rate for COVID-19 (in Wuhan) is 5%, but if those patients don't get timely treatment, they're definitely going to die," says Chen, the medical affairs worker.
"If I take a two-week break, the hospital might go crazy," says Zhou. "We have to open the wards to treat these patients." 
Editor: Dominic Morgan.
(Header image: A medical worker takes a break in an empty ICU ward at Leishenshan Hospital in Wuhan, Hubei province, April 14, 2020. The last four patients were transferred out of the emergency facility. Shi Yangkun/Sixth Tone)