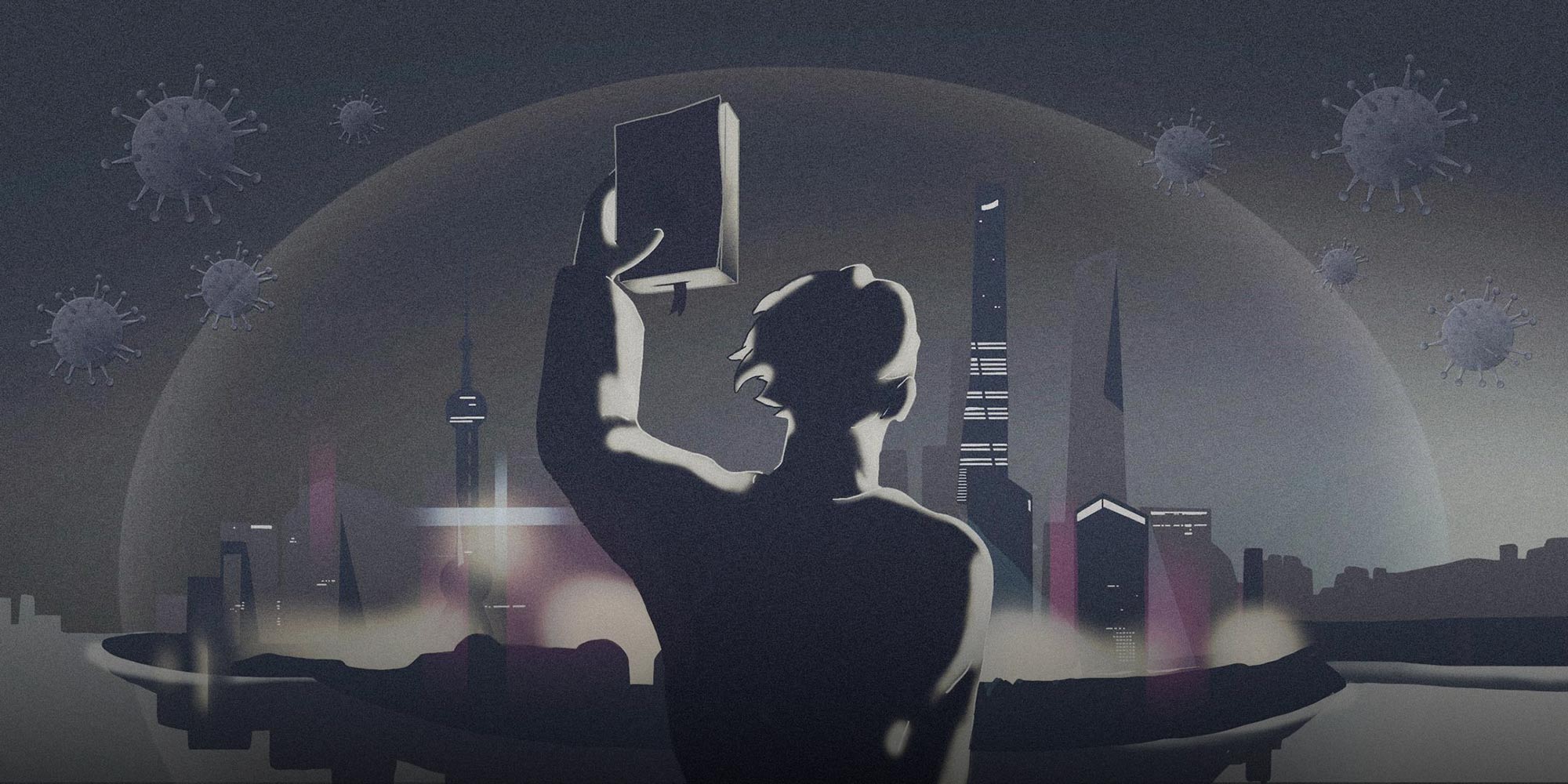 VOICES & OPINION
Trapped by a Pandemic, Decoding Messages From Other Worlds
Sci-fi writer Chen Qiufan reflects on dystopia, fear, and the meaning of world literature at a time of crisis.
The COVID-19 epidemic is now a global pandemic.
Almost all industries have been hit hard, my own among them. Bookshops are closed, printing presses have stopped, and sales are cratering. Of course, we're not just taking our fate lying down: Editors are promoting new works via livestreaming apps, authors are reaching out and interacting directly with readers online, and e-books are being rushed to digital stores to meet the demand from quarantined book lovers.
The English translation of my 2018 short story, "State of Trance," is in the fray. Included in the forthcoming "The Book of Shanghai," a collection of 10 short stories about that globalized metropolis, it's written in the second person to unspool the story of a "cognitive avalanche" that has spread across the world like a plague, stripping humans of their rationality and ability to think for themselves. One night, with civilization on the verge of collapse, the protagonist — "You" — decides to walk to the Shanghai Library to return a book they had borrowed, in a final bid to uphold the tattered social contract.
My work has been translated into roughly 20 languages. More than once, however, I've been asked by non-Chinese why they should read a story from such a distant and remote country, one so strange and hard for them to understand — especially when the reading experience is so highly dependent on the skill and quality of the translator.
In response, I used to always give the same ingratiating, yet simple, answer: "Precisely because it depicts something you may never go through in your life. By reading my story, you can experience something new, and isn't that miraculous?"
Nowadays, however, I would answer differently.
I wrote the entirety of "State of Trance" sitting on my bed one morning in early 2018. The process was nothing like my other novels. Normally, I'm what George R. R. Martin would call an architect. I work out the entire framework of the story ahead of time and advance the plot according to a logical sequence. But for "State of Trance," I tried something more akin to the spontaneous prose of Jack Kerouac. Letting my thoughts leap onto the page, they ran about unrestrained, dribbling into little pools or surging together into great flowing rivers.
This style corresponded nicely with the themes I hoped to express: as catastrophe approaches an international, ultra-modern 21st-century megacity, what becomes of the individual? Can they hold onto logic, rationality, and their refined way of being? Or do they collapse into perplexity, fear, and helplessness?
I chose to describe the latter scenario: a world of dislocation and disassociation, giving way to something new and unfathomable.
Two years on, isn't that what we're all feeling?
I'm not a prophet, and I would never have predicted the surreal scenes depicted in my story would one day resonate to such a great extent with the real world. COVID-19 emerged without portent, jumping from person to person, household to household, country to country, spreading panic and chaos in its wake. Every person on this planet has been unwillingly drawn into this massive disaster: our lives a cycle of isolation, lockdown, panic buying.
And yet, even more terrifying than the virus itself is the emotional plague that has spread alongside it, sowing doubt, hatred, hostility, and discrimination. Two years ago, I categorically could not have conceived of the world we live in today. Now I wonder if anyone today can fathom the strange future lying in wait for us, uncertain and crisis-filled, changed and challenging in equal measure.
As the virus tears fissures into the global consensus, where can we turn to understand the value systems and emotional responses to death and disaster from other countries, other peoples, other persons? Do we lash out, xenophobic and angry? Or accept and show empathy toward one another? How do we get past the geopolitics, nationalism, and ideology of the modern world and remember a fundamental, if long-forgotten truth — that we all come from the same place?
Perhaps I'm being too idealistic, even naïve, but I believe that literature has a way of resonating across the lines that divide us. And if we want to recall our common heritage, we can start by reading literature from distant, even supposedly "strange" lands.
Take the in-your-face realism of Albert Camus' novel "The Plague," for example. Although Camus wrote about 1940s Algeria, his work is universal, and his definition of heroism — that heroes are ordinary people making extraordinary choices — is just as moving today as it was 70 years ago.
Jose Saramago's "Blindness," Jean Giono's "The Horseman on the Roof," Margaret Atwood's "Oryx and Crake," despite being written in very different contexts, all remind us that, in a plague, there is always good and bad, foolishness and intelligence, fear and fearlessness, dishonor and heroism.
Our similarities far outweigh our differences. Stories help us construct a spiritual breakwater with which to face the next crisis, reminding us that we're not alone, that our experiences have precedent, and that we belong to something bigger than ourselves. In so doing, they can free our hearts from anxiety, panic, and restlessness and allow us to slowly reclaim a solid sense of strength and faith.
With reality seeming to have run off the rails, trapping us in train cars dangling precipitously over the abyss, we need to embrace this resonance and overcome all forms of discrimination, animosity, and hostility. Only a unified humanity can hope to defeat the coronavirus — and whatever other challenges the future may have in store for us.
As an author, I have no idea what will become of the publishing industry. I've spent much of the last few months cooped up indoors under quarantine, feeling anxious, insecure, and frustrated. Burned out by the pandemic, I've fallen back on the writer's most effective method of self-preservation: throwing off the slough of anxiety, gathering my heart and mind, and embarking upon my next project.
I want to use my imagination and take the strange and complicated experiences of the year so far and reform them, vary them, combine them, and collate them into a story of the future.
Perhaps one day it, too, will resonate.
Translator: William Langley; editors: Wu Haiyun and Kilian O'Donnell.
(Header image: Wang Zhenhao for Sixth Tone)