Concerns over the mistreatment of stray cats and dogs have been mounting in the central Chinese city of Wuhan amid fears that the animals could catch and transmit the contagious virus that causes COVID-19.
According to posts and photos circulating on Chinese social media, some of the city's residential communities have been "capturing and killing" stray cats and dogs, purportedly to contain the spread of the virus. The posts show men in uniforms capturing the animals, suggesting local authorities may be involved.
A Wuhan resident familiar with the matter who requested anonymity told Sixth Tone on Friday that some community compounds in the city's Dongxihu District had started catching stray canines and felines in the past few weeks.
Two of the district's community compounds — Bandao Lanwan and Baoli Xinyu — launched campaigns against strays in late March and this week, respectively, according to screenshots of posts by community management personnel seen by Sixth Tone.
The customer service director at Baoli Xinyu, surnamed Zhong, confirmed to Sixth Tone that the community's management got on board with capturing stray cats after receiving complaints from residents, citing fears about the animals during the pandemic. However, the community management office has not yet caught any strays, Zhong said.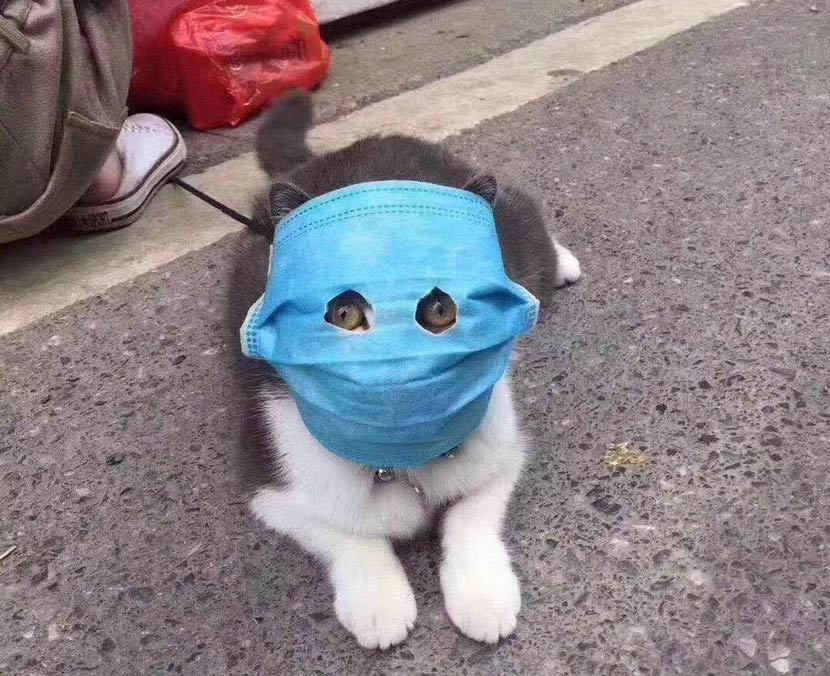 A social media post shows a kitten wearing a face mask, February 2020. From @里神楽 on Weibo
Coronavirus infections in pets became a concern in February after a COVID-19 patient's dog in Hong Kong was found with a "low level" of the virus that causes the disease. The city's Agriculture, Fisheries, and Conservation Department said at the time there was no evidence that pets could be a source of human infection.
Last month, a cat in Belgium was found to be infected with the coronavirus, transmitted from its sick owner. Authorities in the European country called this an "isolated case," adding that such cases can be a result of "close contact between animals and infected humans."
However, a new study published Wednesday by the American Association for the Advancement of Science found that ferrets and cats are "permissive to infection" from SARS-CoV-2 — the coronavirus that causes COVID-19. The study also said that cats are susceptible to airborne infection.
Meanwhile, the World Health Organization has said it is investigating cases involving pets and other animals — including a tiger at a New York zoo — getting infected by their caretakers.
"We don't believe that they are playing a role in transmission, but we think that they may be able to be infected from an infected person," Maria Van Kerkhove, an epidemiologist and COVID-19 technical lead at the WHO, said during a press conference.
An animal welfare volunteer in Wuhan told Sixth Tone he wasn't aware of, and had not received recent inquiries about, cruelty toward strays due to the coronavirus — though he added that individual community compounds may be leading their own initiatives, as the city's public security bureaus are only responsible for handling stray dogs, with cats not being included under any regulations.
A media spokesperson at the public security bureau in Dongxihu District told Sixth Tone that he was not aware of any recent actions by the bureau to capture strays but added that he would look into the claims circulating online.
China has yet to pass a specific law on non-wildlife animal protection, management, and supervision, leaving official protections for pets such as cats up in the air. Disinformation during the pandemic has sown additional fear, the animal welfare volunteer said.
"Due to the lack of a specific law (on animal protection), if communities take radical actions, they might only receive moral condemnation," he said. "It (the problem) has to be tackled at its root."
The lack of clearly stipulated animal rights in China has led to frequent mistreatment of pets, especially cats and dogs. This week, a university student in the eastern Shandong province got off with an apology after reportedly selling videos of cat abuse, resulting in the deaths of 80 felines. And last year, a man in the southern Guangdong province was charged with infringing a dog owner's property rights after killing their canine companion.
However, China's absent or outdated animal welfare policies may be heading toward a progressive future.
This week, the Ministry of Agriculture proposed a list of 31 terrestrial animals that farmers would be allowed to raise for human consumption, while also endorsing dogs as "companions" rather than food. And earlier this month, the southern city of Shenzhen banned the eating of cats and dogs.
Editor: Bibek Bhandari.

(Header image: IC)