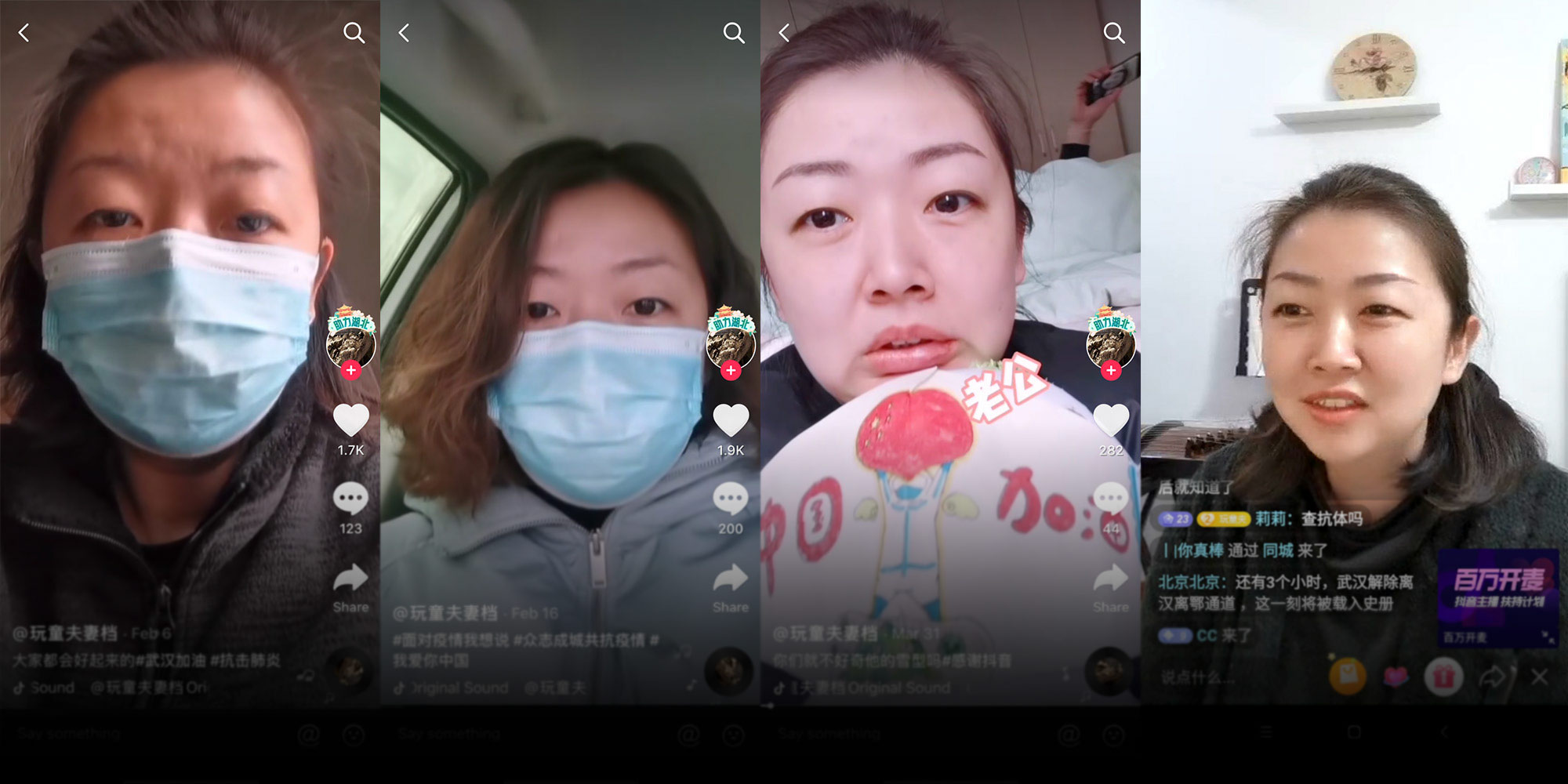 FEATURES
On TikTok, Wuhan's COVID-19 Survivors Gather to Share Their Pain
As she recovered from the coronavirus, Zhu Hong started sharing her story on social media. Within days, thousands of other patients followed her, wanting to discuss their own traumas.
HUBEI, Central China — It's Tuesday evening in Wuhan. In three hours, the city is set to finally lift its lockdown — marking a new stage in its slow recovery from the COVID-19 outbreak that brought life here to a standstill in January.
As she kicks off her show on TikTok, however, Zhu Hong focuses on a personal piece of news.
"My mother-in-law did an antibody test today, and it showed her body's producing antibodies (against the coronavirus)," the 40-year-old tells her viewers. "We don't need to worry about her going out and getting infected again."
Zhu has been livestreaming on the Chinese version of the social media platform — known as Douyin inside China — every night since late March, sharing the ups and downs of her family's battle against the virus, encouraging her followers to do the same. 
"When I was depressed, fearing I might die just like my father-in-law, I received encouragement from doctors and other patients," she says. "Now, I want to give it back to you."
The show has quickly become a hit in Wuhan, as the city's 11 million inhabitants try to process the collective trauma they've experienced and find a way to return to normal life.
On Tuesday evening, several thousand people join the broadcast, with Zhu fielding questions from a range of recovering patients. An elderly woman who says she's been experiencing depression asks how she can cheer herself up. "I'm sure you have more methods than me, because you're more experienced in life," answers Zhu.
Others say they've fully recovered from the virus but still haven't left their bedrooms, as they're terrified of infecting their families. Zhu tells them to try wearing a mask and talking to their families from a distance at first. "If you stay in your room every day, it'll be like a prison for you, and you'll eventually get sick," she says.
The Wuhan native is far from a typical livestreamer: She's a jade dealer by trade. Before the pandemic, she and her husband regularly traveled to the city of Ruili, on China's border with Myanmar, where they bought precious stones to sell in their hometown. The TikTok account Zhu now uses was originally set up by her husband to advertise his newest jades and woodcarvings.
But everything changed for the couple in early January, after Zhu's father-in-law came down with a mysterious illness and developed a high fever.
On Jan. 9, Zhu and her mother-in-law took the 68-year-old to the hospital, expecting the doctors to advise them on how to bring down his temperature. To their astonishment, he was immediately transferred to the intensive care unit and put on a ventilator.
Three days later, his condition was declared critical, the physician informing the family that he had suffered multiple organ failure. Zhu's husband flew back to Wuhan from Ruili immediately.
On Jan. 17, Zhu's father-in-law died on the operating table. "It was a shock," Zhu tells Sixth Tone. "It never occurred to us that a cold would kill him."
The doctor said the cause of death was severe pneumonia and that people die every year of pneumonia with unknown causes. "No one told us it was infectious, and the medical workers weren't wearing face masks," says Zhu.
The same day, Zhu developed a cough and her mother-in-law started to feel short of breath. Worried, they both underwent CT scans, which showed their lungs were infected.
When the pair's blood test results arrived on Jan. 19, doctors requested their family members leave the hospital at once.
"By then, the doctors knew what disease it was, and they were worried about human-to-human transmission," says Zhu. "I was scared and couldn't stop crying, especially at night when it was cold. I noticed doctors starting to wear protective equipment, and I knew things were getting serious."
Wuhan's health commission maintained there was no evidence of human-to-human transmission for weeks during the early stages of the pandemic. The Chinese public finally heard confirmation that the disease was infectious Jan. 21, when renowned epidemiologist Zhong Nanshan told state broadcaster China Central Television that human-to-human transmission was "definite."
Zhu was finally discharged from the hospital after 12 days, with doctors ordering her to self-isolate at home for another two weeks. She stayed in her bedroom, her parents passing her meals through the door.
It was during this period that Zhu began posting short videos on TikTok, documenting her recovery in the hospital and then her daily life during isolation.
The videos appeared to resonate with other COVID-19 patients. Zhu soon attracted thousands of followers, and many started asking her for advice — from where to get antibody tests in Wuhan, to how to cope with the fear from their neighbors. 
After a few weeks, she decided to start livestreaming so she could talk to her fans directly. She felt she might be able to offer them psychological support. "After all, sharing from patients is more empathetic," she says.
The first few shows, however, were "awkward," Zhu says. Few viewers were willing to speak, and so she'd often fill the pauses by talking about her own life. Later, she realized her followers from Wuhan were staying silent because they were afraid of receiving verbal abuse. She encouraged all her fans to open up to each other. 
"Now it's getting better every night, and I get to see so many familiar names," says Zhu. "They (my Wuhan-based followers) saw that non-Wuhanese patients care about them … and little by little they started to show up and ask questions."
According to Zhu, the most common questions she receives are about the difficulties recovered patients face as they try to resume normal life. Many of her followers fear dealing with discrimination from people outside Wuhan, while others struggle psychologically to move on.
For many COVID-19 survivors in Wuhan, recovery is a slow, painful process. Fu Jun, a 37-year-old COVID-19 patient, tells Sixth Tone he often feels anxious and struggles to sleep at night. "It's the first time I've experienced such a life-and-death situation, and I can't let it go yet," he says.
The Wuhan native, who lives just 2 kilometers from the South China Seafood Wholesale Market, where many of the earliest coronavirus cases emerged, started feeling under-the-weather in late January. A few days later, his father started showing similar symptoms.
Fu accompanied his father to Wuhan Central Hospital Jan. 31. After a 10-hour wait, they finally saw a doctor, and Fu's father was given a CT scan. The results did not look good. "He said there wasn't a treatment for now and suggested we go home and self-isolate," says Fu.
The scene inside the hospital that day still haunts Fu. "It was jammed with patients who couldn't breathe well," he recalls. "And they were wailing."
Fu's father couldn't be admitted as an inpatient without a positive nucleic acid test, but Wuhan had a severe shortage of testing kits. "Many patients were prevented from being hospitalized, just like my father, back then," says Fu.
Two days later, Fu's father died of respiratory failure. The cause of death wasn't counted as COVID-19 at the time. 
"My father had always been in good shape," says Fu. "At first, we only paid attention to the spread of the epidemic, and never expected the disease would hit our own family."
On Feb. 7, Fu found out he himself had tested positive for COVID-19. "It was like a blow to the head," he says. At midnight, he was taken to a designated hotel to be quarantined. Two weeks later, he was transferred to a makeshift hospital — or fangcang — where he stayed until March 12.
At first, Fu felt confident about his health, saying he felt few symptoms. But after he failed a second nucleic acid test, he started to worry that he was going to die. "I felt so down," he says.
Following a second stint in a quarantine hotel, Fu was eventually allowed to return home March 27. He was far from overjoyed, however. Like many recovered patients, he feared infecting others, especially his recently widowed mother.
"To be honest, I didn't want to be discharged," he says. "Was the test result really positive or negative?"
Zhu shares this anxiety. Nearly two months after her isolation period ended, she and her family — her husband, parents, and 12-year-old daughter — remain healthy, but she continues to practice social distancing.
"I still eat separately from them," Zhu tells her viewers during her Tuesday show. "It's better to be cautious, as there's no final word on this disease yet."
On April 1, the QR code on Zhu's health-tracking app finally turned green, indicating she's no longer considered a public health risk. Since then, Zhu has started to go for occasional strolls around the housing complex where she lives. 
But her emotional recovery is an ongoing process. She tells her followers that she still dreams about her illness. Sometimes, she also has flashbacks and feels overwhelmed with sadness. "But it's very temporary," she adds.
Both Fu and Zhu tell Sixth Tone they're keen to help other COVID-19 patients. Apart from her TikTok show, Zhu has volunteered to donate blood plasma at Jinyintan Hospital, a facility in Wuhan that treats patients in severe and critical condition.
In February, the hospital urged recovered patients to give blood, as it contains large numbers of antibodies against the virus. Early trials indicate that injecting the plasma into severely ill patients could help them fight off the disease.
For Zhu, the idea that her blood could help people in need is a source of comfort. "I've experienced the pain of feeling helpless and hopeless to save my father-in-law," says Zhu. "But I feel that now my efforts can really save a life and a family."
On March 31, Fu took a blood test, hoping to become a plasma donor, too. But the hospital turned him down, as he's suffering from chest pains. "It's a pity for me," he says. "I believe many people who have gone through this are willing to help others if they can."
Additional reporting: Tang Xiaolan; editor: Dominic Morgan.
(Header image: Screen grabs from Zhu Hong's TikTok account, from February to April (left to right). From TikTok)
Correction: The article has been amended to clarify that Zhu Hong livestreams on the Chinese version of TikTok, known as Douyin inside China.