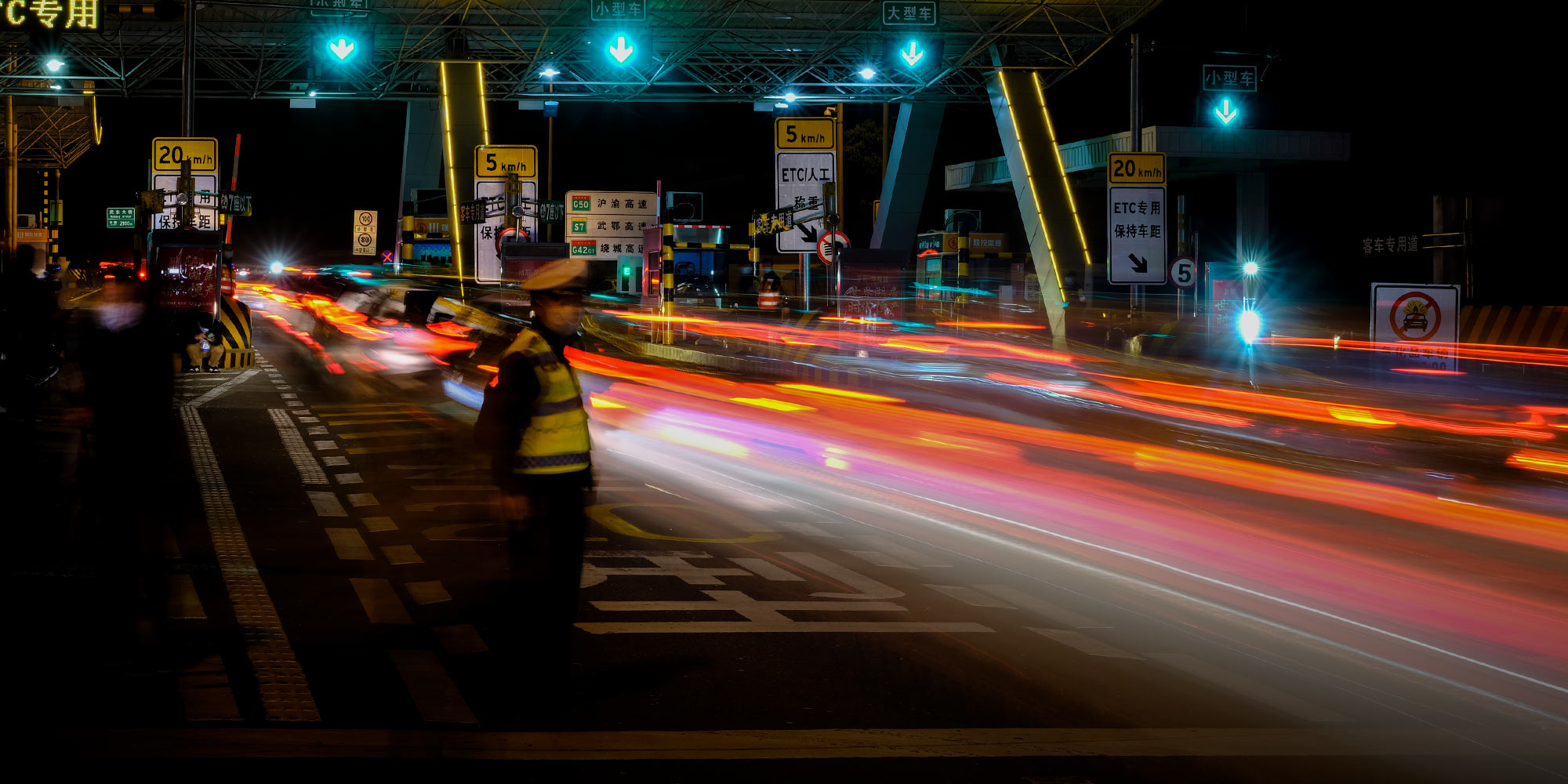 NEWS
Lockdown Lifted: After 76 Days, Wuhan Stirs Back to Life
For the first time since January, people in the Chinese city hardest-hit by COVID-19 are being allowed to leave.
HUBEI, Central China — As the Jianghanguan clock tower in Wuhan struck midnight on Wednesday, police began pushing aside the highway roadblocks that had cut the city off from its surroundings for the past two months. When the traffic lights at one toll station turned green, hundreds of cars lurched toward the gates, marking an end to over two months of lockdown in Wuhan, the city at the heart of China's COVID-19 outbreak.
"I got here at around 10:30 (Tuesday evening), so I'm pretty close to the toll station," Li Qing, a Wuhan native waiting in line near the Qinglong toll gate north of the city, tells Sixth Tone. "There are only about 20 cars ahead of me, but the line behind me runs 2 or 3 kilometers long."
Along with her husband, the 35-year-old sales associate is bound for the eastern city of Huai'an, in Jiangsu province, where she works. On a normal day with sparse traffic, the drive would take about six hours.
"After 70 days, we can finally leave. I'm very excited," Li says. "The city can't stay sealed off forever — we need to go to work."
Wuhan authorities announced a citywide lockdown on Jan. 23, after 17 deaths and 571 coronavirus infections were reported in over two dozen provinces on the Chinese mainland. The measure cut off all transport links within, into, and out of the city — including buses, subways, ferries, flights, and trains — in a bid to contain the outbreak.
As the number of local infections has declined, authorities in Hubei, where Wuhan is located, have gradually relaxed travel restrictions enforced across the province.
On March 18, Hubei's coronavirus task force ordered cities, prefectures, and counties to remove all traffic barriers except those surrounding Wuhan and bordering neighboring provinces. Hubei residents from cities other than Wuhan were allowed to leave the city, provided they could show a green code on their government-backed health tracker app or a health certificate issued by their residential community. In addition, they were also required to obtain a document issued by authorities at their destination confirming that they would be returning to their place of residence or work.
On March 24, the provincial COVID-19 task force announced that Wuhan would be unsealed on Apr. 8. Beginning the day after the notice, residents who needed to return to work outside the city could be "sent to their destinations precisely," provided they could show a green health-tracking code and had tested negative for the coronavirus.
Li Xudong is waiting to catch the first train departing from Wuhan's Hankou Railway Station at 6:25 a.m. to Jingzhou, a city around 220 kilometers from the provincial capital.
"I have to be at work by 8:30, so that's why I'm taking this early train," Li, 57, tells Sixth Tone. He had come to Wuhan to join his son's family for the Lunar New Year holiday in late January, just before the citywide lockdown order. "I'm very excited to leave after having been stuck in the city for over 70 days," he says.
The train will leave Wuhan carrying around 60 passengers, according to Yu Yueru, an official at the station. Altogether, some 21,000 people are leaving by train from Hankou station on Wednesday, Yu tells Sixth Tone.
An unnamed representative of China Railway Wuhan Group told The Beijing News that as of Tuesday, around 55,000 people had booked train tickets out of Wuhan for the first day of the lifted lockdown.
"I'm finally going home," a passenger from Jingzhou surnamed Fang tells Sixth Tone. Fang had gone to the northern port city of Tianjin, where her daughter's family lives, in late January — but because she would have had to transfer in Wuhan to get back to Jingzhou, she wound up stuck in Tianjin.
"I'm very happy to go home and be reunited with my family," Fang says.
Taxi services in Wuhan also resumed Wednesday, after the city's public transportation, including subway and bus lines, were gradually restored since late March.
Within Wuhan, however, ubiquitous blue and yellow barriers around residential compounds will largely remain in place, according to local authorities. The decision is intended to help prevent a COVID-19 rebound driven by asymptomatic carriers of the virus, discharged patients who later test positive again, and imported cases, according to a government document seen by Sixth Tone. "Don't leave (the city) unless it's necessary," the document said.
Editor: David Paulk.

(Header image: Vehicles pass through a toll station in Wuhan, Hubei province, April 8, 2020. Shi Yangkun/Sixth Tone)