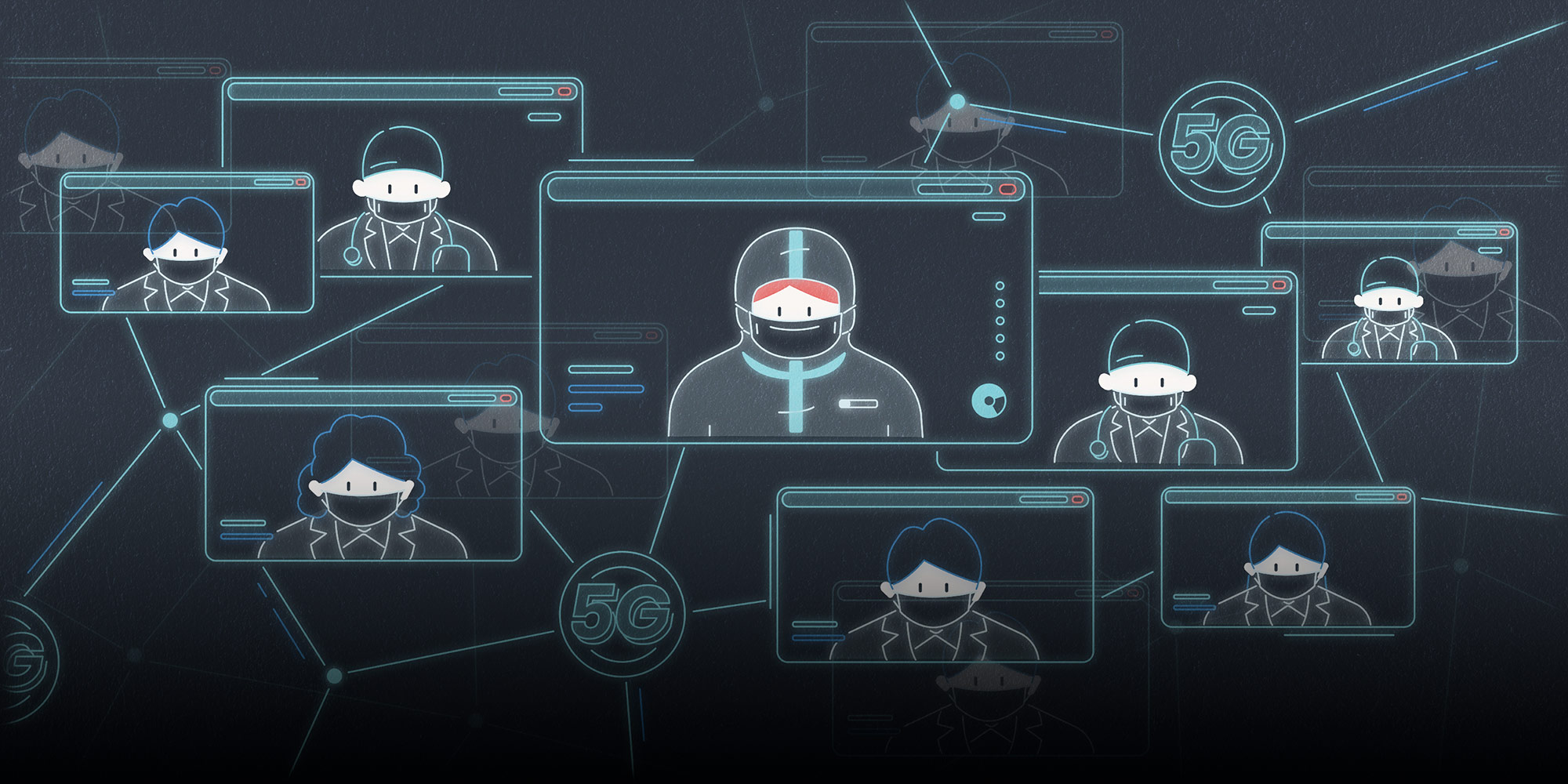 VOICES & OPINION
How COVID-19 Could Shape the Future of 5G
The pandemic was an early test of the technology's capabilities, but it also hinted at what's to come.
This article is part of an ongoing series in which experts will analyze the role of science and technology in epidemic response and control in China and around the world. The first article can be found here.
On Wednesday, Leishenshan Hospital, a makeshift COVID-19 treatment facility in the central city of Wuhan, transferred its last four remaining patients to another institution and closed its doors.
Leishenshan and its sister facility, Huoshenshan, catapulted into the public eye in late January when Wuhan announced plans to build the two pop-up hospitals in less than two weeks. Over the ensuing days, tens of millions tuned in to livestream feeds of the construction sites. Some even gave the equipment cute nicknames and shared fan art.
Less well-known is that the stream was uploaded via a 5G network built specifically for the hospital's use.
China issued the first 5G licenses to its state-owned mobile carriers in June of last year. Although public adoption remains limited, commercial uses of the technology gradually grew over the second half of 2019, from harbor management to digital medicine. But even industry insiders like me weren't expecting to have to figure out its integration into a nationwide anti-epidemic effort so soon after its initial rollout.
5G is not a simple linear extension of its predecessors: Whereas earlier network technologies primarily revolved around connectivity, 5G's virtue lies in its ability to combine a smorgasbord of resources — including artificial intelligence, big data, cloud computing, edge computing, and blockchain — into one user-friendly package. Although 5G base stations have a shorter range than their 4G counterparts, they can connect far more devices at once. If 4G is an "information highway," then 5G is a three-dimensional transportation network comprising land, sea, and air.
It's also much faster. On-site testing revealed that the downlink rate from the Huoshenshan 5G station to a mobile phone was up to 921 Mbps, while the uplink rate reached 133 Mbps — that latter figure almost seven times as fast as a 4G network. This made uploading a high-resolution livestream of the construction process a walk in the park.
Of course, the 5G towers weren't built to provide netizens entertainment — 4G would have been enough for that. The next generation network also played an important role in powering remote consultation systems during the outbreak.
In addition to high bandwidth and high speeds, 5G boasts a high degree of reliability and low latency. Reliable, low-latency transmission of high-definition video in real time is a prerequisite to accurate remote diagnostics. In this regard, 5G sets standards that were rarely if ever possible under 4G, allowing not just for video conferencing, but stronger integration with hospital systems, digital records, and data stored on the cloud.
On Feb. 9, Huoshenshan Hospital and Beijing's People's Liberation Army General Hospital carried out their first remote consultation over 5G. Since then, Hubei's Leishenshan Hospital and Wuhan Union Hospital, as well as the southwestern Sichuan province's health commission and West China Hospital, have all started offering remote consultations via 5G.
While remote diagnosis is one way 5G has been used during the ongoing pandemic, there are many more potential applications that we haven't even begun to explore. In addition to drawing lessons from the past few months, we must also reflect on new "typical scenarios" that have arisen during the pandemic and consider how they could affect potential common implementations of the technology in the future.
What do I mean by "typical scenarios"? Allow me to give an example. A number of video conference systems and voice conference systems already existed before 2003. Yet Chinese companies showed little interest in the nascent technology before SARS burst into the national consciousness that year and people began carrying out meetings and conferences by video to avoid unnecessary contact. Once the outbreak was brought under control, people continued to use this technology frequently, in part because they had become accustomed to it.
Likewise, we should summarize the scenarios that have arisen during this particular outbreak to see how they could be adapted for use with 5G technology. For instance, in the last couple of months, Chinese schools have adopted online education en masse. However, in its current form, "online education" is essentially limited to sharing information, with teachers merely uploading some information and holding classes on the internet.
Formal education requires an organized space, as well as real-time instruction and teacher-student exchanges. 5G opens up the possibility of virtual reality or augmented reality classrooms. It can support the transfer of more data, including real-time biometric readings on students that could potentially measure interest and attention.
COVID-19 has shed light on a number of problems with China's public health emergency response system. We should reflect on potential approaches to building and running so-called smart cities and how best to bring 5G, big data, AI, and other technologies together to better serve communities.
So far we have only seen a glimpse of 5G's potential. But I believe it will continue to open doors for us in the years to come, setting us on the fast track toward the smart society of the future.
Translator: Lewis Wright; editors: Wu Haiyun and Kilian O'Donnell; portrait artist: Zhang Zeqin.
(Header image: Wang Zhenhao for Sixth Tone)