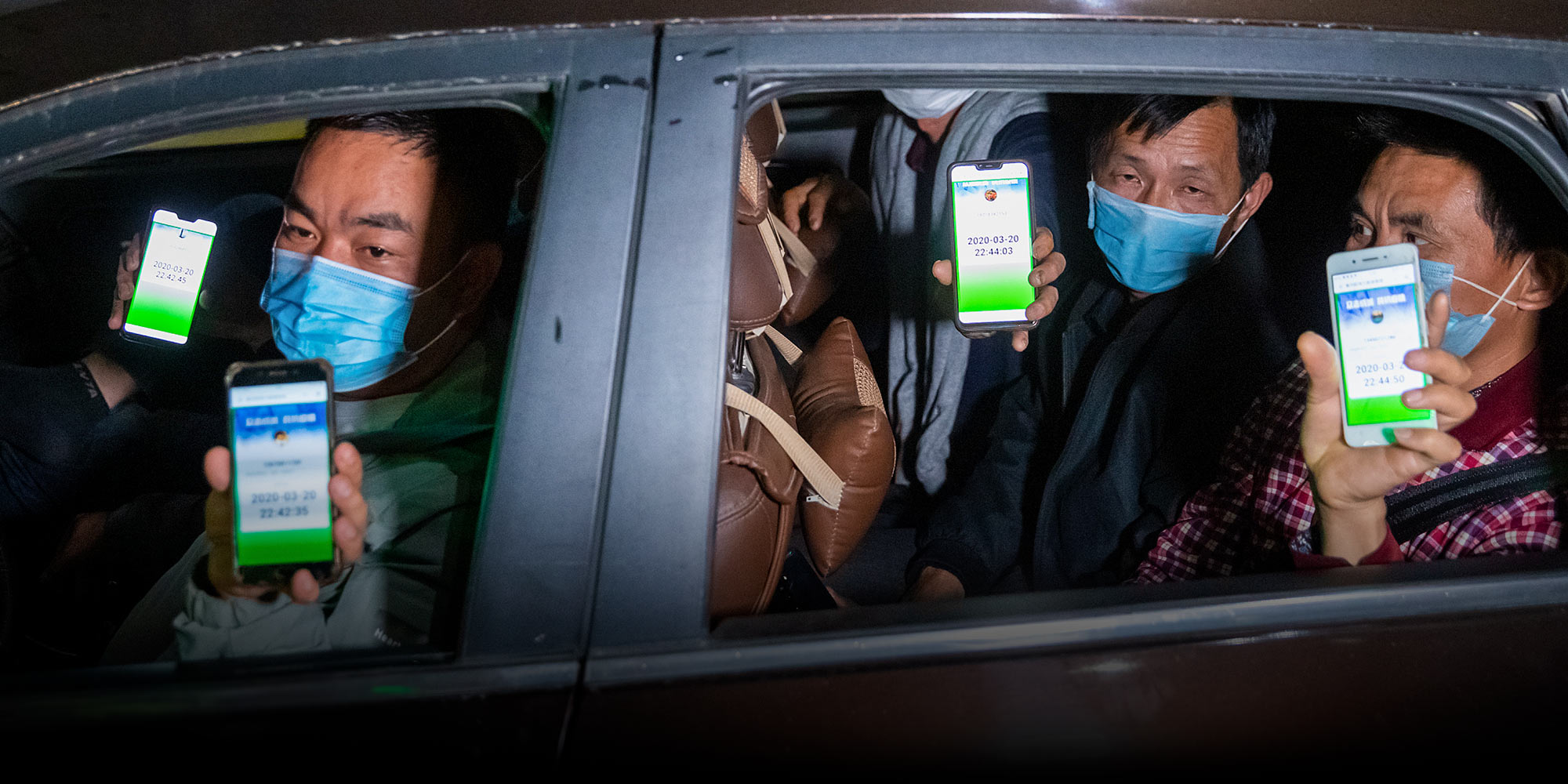 VOICES & OPINION
On China's 'Color Codes' and Life After COVID-19
Countries have turned to new technologies to help track citizens' movements and contain outbreaks. Will they be able to give them up?
Nearly half a century ago, the historian William H. McNeill called infectious disease "one of the fundamental parameters and determinants of human history," a class- and social-leveling crucible capable of forging whole systems and cultures while spurring innovation.
Many of these innovations — quarantines being the most obvious example — have focused on a critical question: How can we identify potential carriers and prevent them from spreading disease?
With COVID-19 raging through a connected, smartphone-equipped world, it was almost inevitable that societies would turn to digital technology for a modern solution to this problem. Since early February, local officials across China have worked with the development teams behind two of China's most ubiquitous apps — mobile payment service Alipay and messaging service WeChat — to launch a new kind of virtual passport known variously as a "health code" or "color code."
Although the exact implementation varies by location, the apps generally claim to be able to evaluate the public health risk posed by a given user based on their state-issued ID number, address, travel history, and self-reported health status. They then assign users a corresponding QR code and color: typically green for good-to-go, yellow for a seven-day or shorter quarantine, and red for a 14-day quarantine. Once the system is in place, shops, mass transit stations, and offices may ask residents to show or scan their codes before granting them entry.
Over the years, we've become accustomed to the sight of cameras peppered throughout public spaces and been trained to robotically click "accept" on online privacy policies. But color codes raise thorny questions about what the post-pandemic world might look like. I worry they could linger on well past this initial crisis, feeding our fears while still claiming to alleviate them.
Despite connotations of surveillance, the color code system was actually introduced as a way to relax restrictions on individuals, not tighten them. Traditionally, China has relied on community-based "grid management" to regulate population movement. In the early days of the pandemic, community-level workers and volunteers manually collected personal information from residents and assessed their infection risk.
Left to their own devices, grid managers collected a wide range of data, not all of it relevant. According to media reports, residents were sometimes asked less-than-pertinent questions about their marital status, blood type, and even height. Some communities went further, instituting "hardcore" isolation protocols and barring migrants, renters, or those whose ID cards revealed them to be from the outbreak's epicenter, even if they hadn't been back in years.
The color code system, by contrast, sets a universal standard for information collection, taking the power to assess risks from grassroots units and putting it in the hands of district-level, municipal, or provincial decision-makers.
"Showing my color code feels a little more comfortable than having my temperature taken," a Hangzhou-based tech worker told me. When he returned to the city in early March, his color code was all he needed to enter his residential community — a much lower bar than the temperature checks and travel history interrogations of grid management workers.
As for privacy concerns, another resident of Hangzhou, the prominent tech hub in eastern China that was the first city in the country to launch a color code system, argued that the horse has already left the barn. "Our data is already being collected. Scanning a code might make things more convenient," she said.
I consider myself an optimistic pessimist when it comes to the technology. Like the above-mentioned woman noted, these apps mostly just centralize information scattered throughout the bureaucracy by uploading it all to one database.
The real problem with color codes is not the data they're collecting today, but how they might be used tomorrow. The technology could easily be deployed in contexts where safety was previously taken as a given, forcing us to prove our innocuousness again and again.
Fears of terrorism have turned metal detectors and X-ray screenings into a regular part of our daily commutes, but the coronavirus seems to have significantly expanded the scope of the de facto state of emergency we live in. Now that everywhere and everyone is potentially unsafe, residential communities, coffee shops, and offices all feel justified making us prove our health status.
The Chinese mainland isn't the only place embracing technological solutions to pandemic control. Hong Kong has started requiring arrivals in the city to wear tracking wristbands to ensure compliance with quarantine orders; South Korea is using mobile phone applications to map the movements of virus carriers; and the U.S. government has talked to Facebook and Google about using location data to verify whether people are maintaining social distance.
The popularity of these and other measures being taken around the world is characteristic of what sociologist Ulrich Beck termed the "risk society," a society mobilized in never-ending struggles against uncertain threats ranging from nuclear disaster to terrorism. Risk societies shape more than just our institutions. They frame peoples' minds, stimulating a bottomless appetite for security and safety, while convincing them to grant institutions and technologies ever-greater powers in the name of keeping them safe. As Beck — and later the sociologist Niklas Luhmann — have argued, risk societies have a way of spawning new threats.
Prioritizing security and safety above all else comes at a cost. The basic logic of digital risk management is to label individuals and convert them into analyzable data. Yet for all their high-tech veneer, these projects often mimic our own prejudices and blind spots. For example, color codes were used to govern who could leave the central city of Wuhan after it ended its quarantine on Wednesday. But at least one reporter found that reliance on the system left many residents without smartphones, even those with official documents attesting to their health, unable to board trains out of the city.
Fears, once stoked, also rarely dissolve. Three decades ago, the Chinese government barred hepatitis B carriers from working in jobs deemed health-sensitive, including as food servers. Over the years, however, more and more employers across every level of society began requiring applicants to be tested for the disease. It took a wave of lawsuits for the government to ban the practice, and even then, it lingered on in some places.
There are already signs of a mission creep in the color codes system. China's gated communities have been among the most zealous in implementing containment measures. Yet, even as life has gradually returned to normal and local governments have lowered emergency response levels, many of these "cities within cities" have proven reluctant to drop unnecessary checks on visitors.
Tech companies interested in competing for government contracts have strong incentives to play along. In recent years, government officials and bureaucrats have sought to rebrand themselves as efficient and tech-savvy, and color codes are just the latest example in a private-public partnership that has produced "smart campus" programs, the widespread adaptation of facial recognition, and the digitization of many government databases and services. These commercial incentives don't disappear when a crisis does: After the current pandemic fades, sellers will rack their brains to identify and publicize the next threat, even if that means perpetuating feelings of risk and danger.
According to a notice issued by the Cyberspace Administration of China in February, the collection of personal information for the purpose of disease prevention should "be kept to a strict minimum" and must "generally avoid targeting people in a specific area to prevent de facto discrimination." The Chinese government should give clearer signals that these outbreak monitoring systems are temporary expedients and should be used only for their original purpose: facilitating movement and freeing people from cumbersome health checks. Companies should be required to disclose the criteria used for assigning red, yellow, or green codes; to limit the circumstances under which the codes may be used; and to ensure the systems — and the relevant data — are discarded once the outbreak is over.
This pandemic — knock on wood — will pass. Yet it won't truly be behind us until we also put aside the fear caused by the coronavirus and the over-regulation of individuals brought on by that fear. And that means no more color-coding people according to their so-called risk levels.
Translator: Lewis Wright; editor: Kilian O'Donnell; portrait artist: Zhang Zeqin.
(Header image: People show their green health codes while passing a quarantine station in Huizhou, Guangdong province, March 20, 2020. Huang Yanhui/People Visual)