HUBEI, Central China — When the marriage registration offices in Wuhan reopened Tuesday after being closed for nearly two months to curb the spread of COVID-19, they didn't attract as many lovebirds as authorities had expected.
Only two couples walked in to tie the knot during the four hours Sixth Tone visited two of the city's marriage registration offices Tuesday afternoon and Wednesday morning.
A pregnant woman and a man who came to the Jianghan District registry on Wednesday morning told Sixth Tone they were there to remarry after recently getting divorced. They declined to be interviewed, saying only that their "situation is special."
A security guard at the registry who did not give his name told Sixth Tone he had seen another couple, also expecting a baby, in the office that morning.
Li Hang, a staff member at Wuhan's civil affairs bureau, told Sixth Tone that the city only handled 96 marriage registrations and 46 divorces on the first day back in business — a much lower figure than the marriage registration daily average of about 200 for 2019, she said.
"Based on what we've seen, people are being careful when it comes to getting married," Li said. "It's different from the rush to register we were expecting."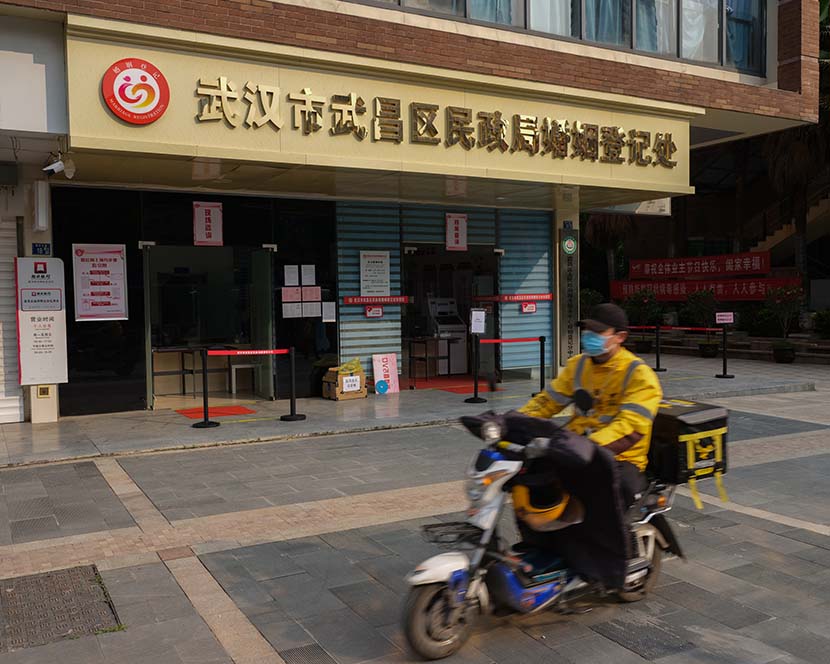 A delivery worker passes by the Wuchang District marriage registration office in Wuhan, Hubei province, April 8, 2020. Shi Yangkun/Sixth Tone
The pandemic has in fact resulted in an unprecedented number of couples filing for divorce across the country. Coincidentally, Wednesday also marks a date on the Chinese lunar calendar that is believed to be favorable for separations and inauspicious for unions.
Hubei province, where Wuhan is located, had suspended marriage registration services from early February, as cities went into lockdown to contain the spread of the contagious coronavirus that causes COVID-19.
After nearly two months, the Wuhan Civil Affairs Bureau announced Friday that it would resume marriage registration services citywide, rolling out an appointment system requiring couples to sign up one to two days in advance to avoid overcrowding.
The Jianghan District registry's security personnel said the office offered two reservation slots per hour, but only a few people with appointments showed up. Some visiting the office — including an arguing couple who walked in without an appointment — were told to return the following day.
Representatives at several registries across the city declined Sixth Tone's interview requests.
Though the offices were largely empty, multipurpose app Alipay said Wednesday that its mini app for marriage registration appointments had seen higher traffic, and some users reported the mini app wasn't loading properly. Couples can sign up using the app, which has partnered with various government offices to streamline conjugal services.
In mid-January, several Chinese cities including Wuhan, Beijing, and Shanghai announced that local marriage registries would open on Feb. 2 — a Sunday — to accommodate couples hoping to wed on the supposedly auspicious "palindrome day" because of how it appears written out sequentially: 20200202. However, local authorities later canceled these plans due to the COVID-19 outbreak.
Editor: Bibek Bhandari.
(Header image: A couple fight on their way to the Jianghan District marriage registration bureau in Wuhan, Hubei province, April 8, 2020. Shi Yangkun/Sixth Tone)