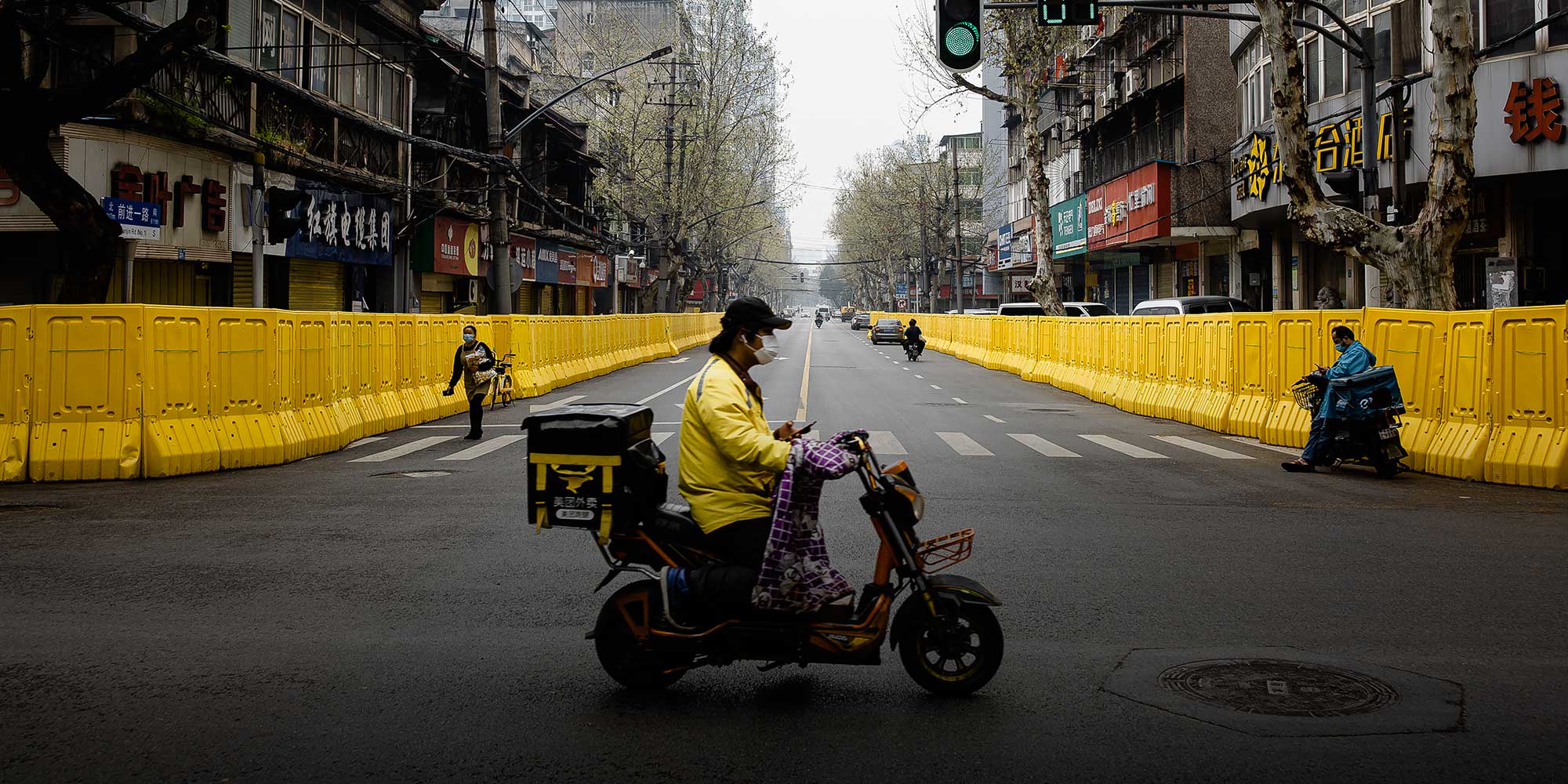 MULTIMEDIA
Life Between Wuhan's Thin Yellow Lines
After the city went into lockdown, officials erected barriers to keep residents off the streets. As the threat receded, however, a photojournalist noticed cracks begin to appear.
Editor's note: Gerry Yin is a photojournalist who has spent the past seven weeks reporting from the central city of Wuhan.
When I arrived in Wuhan on Feb. 16, my eyes were immediately drawn to the bright yellow barriers I saw everywhere I went. Erected days prior in an attempt to cut off transmission of COVID-19, they had transformed the city into an archipelago of walled-off residential compounds. It was an eye-catching defense for an invisible foe.
At first, I saw the barriers as symbols, yellow warnings of the city's confinement. What went on behind them was a mystery: They were almost exactly the height of the average adult male, meaning you had no idea who, if anyone, was on the other side.
Yet even in a pandemic, life goes on, and walls can't keep people apart indefinitely. As the city brought the outbreak under control, residents started to break through the barriers that separated them — sometimes literally, using drills.
A few scenes stick out in my mind: a smoker shouting over the wall to the owner of a grocery store on the other side: "A pack of Yellow Crane Towers, please!" Nothing happened for a few seconds, then a hand appeared over the barrier, clutching the store's payment code.
Then there was the middle-aged woman dressed head-to-toe in pajamas directing a delivery driver from her window. After getting him where she wanted, she lowered a clothes hook down and snagged her order without ever leaving her windowsill.
Wuhan is set to lift its lockdown on Wednesday — a sign that the worst may finally be over. The walls still stand as I write this, but residents are increasingly allowed to leave their compounds for work or to purchase groceries.

For my part, I no longer associate the barriers only with fear, but also with life, vitality, and the ingenuity of ordinary Wuhanese. The cracks in the city's yellow walls are growing, and our lives expanding to fill them.
These photos were first published by 野录PHOTO on WeChat.

Contributions: Stephen Che; editors: Ding Yining and Kilian O'Donnell.
(Header image: Delivery drivers in Wuhan, Hubei province, March 22, 2020. Some restaurants continued to offer takeout services after the lockdown. Gerry Yin/Wild Photos)