HUBEI, Central China — After over two months spent cooped up at home, shopkeepers in Hubei's coronavirus-ravaged capital Wuhan are cautiously reopening their doors.
Museums, parks, and tourist sites remain shut, but intracity public transit links, including most bus lines and the city's subway, are back in service. Vendors and hawkers have reappeared, shopping malls are slowly reopening, and mask-clad residents are trickling back onto the city's streets.
On Jan. 23, local officials effectively put Wuhan into quarantine, cutting it off from the outside world and shutting down public spaces and nonessential businesses in an attempt to contain a deadly outbreak of COVID-19 in the city.
With the lockdown set to be formally lifted Wednesday, the past few days have witnessed a soft relaunch of sorts. Yet interviews with retailers and vendors suggest that it may be a long road back to business as usual, as sellers must navigate fears of a "second wave" of infections and the economic fallout of 10 weeks of commercial inactivity.
World City Plaza, one of the largest shopping malls in the Wuhan tech cluster known as "Optics Valley," reopened Thursday. Mall staff were back at their posts, and a few merchants could be seen sorting through their stock.
"We're making preparations and warming up for the official opening (on Wednesday)," menswear shop manager Zhang Yehong told Sixth Tone. "We closed the store before the Lunar New Year, so many of our items are from the winter collection. There's a lot to be done."
According to Zhang, prior to the lockdown, hundreds of shoppers a day would pass through her store. In her first day back, however, customers were few and far between. "It's hard to say when we'll be back (to normal). We'll have to see what happens after (the city) fully reopens on April 8," Zhang said. "Many residential compounds are still keeping people from leaving."
A number of shopkeepers told Sixth Tone that they'd noticed a change in customer attitudes. "Now, people come in with a specific demand," a shop assistant at a cosmetics store, surnamed Xu, said. "They get what they need and get out."
The shift may be related to concerns over a potential resurgence of COVID-19. Although the city has reported just two cases — one asymptomatic, the other imported from abroad — over the past week, worries persist that asymptomatic carriers could spark a second wave of infection.
While experts have sought to calm fears, some stores in the city are trying to assuage customer concerns through so-called touch-free shopping. A shopping mall in Wuhan's Jianghan district told local media last week that all of its clothing stores will disinfect items each time they are tried on, and that customers using cash or their bank cards to pay will be required to pass them back and forth on trays.
Malls aren't the only places struggling to adjust to life post-coronavirus. The city's street vendors, whose thin margins make them vulnerable to downturns, say they are anxious to earn back some of the time and money they lost during the lockdown.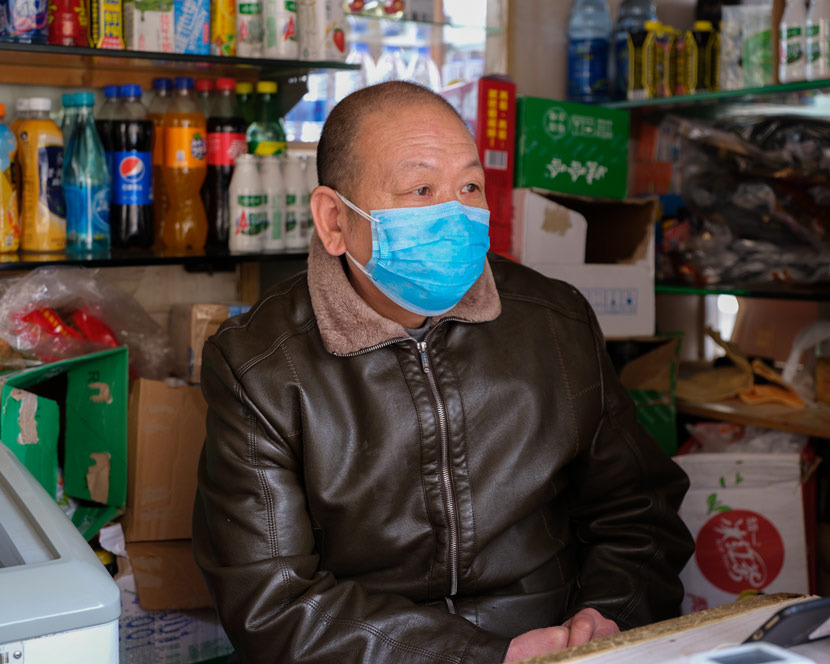 Zhou Jianguo poses for a photo in Wuhan, Hubei province, April 3, 2020. Shi Yangkun/Sixth Tone
Zhou Jianguo, who runs a snack and bottled water stand on a pedestrian shopping street near World City Plaza, opened his business Thursday for the first time in over two months. But he's spent most of the days since watching TV on his phone.
"This place used to be the busiest in Wuchang (District)," the 56-year-old told Sixth Tone. "I don't think (a recovery) is possible in less than a month."
Zhou pays over 7,000 yuan ($987) a quarter to rent his stall. Although not cheap, he says the location is usually worth it: The pedestrian street he is on is popular with both students and tourists.
Now, however, the expensive rent worries him. "We weren't open, but the rent still has to be paid," said Zhou. "Without customers, (my family) will have no income. We'll have to live off our savings."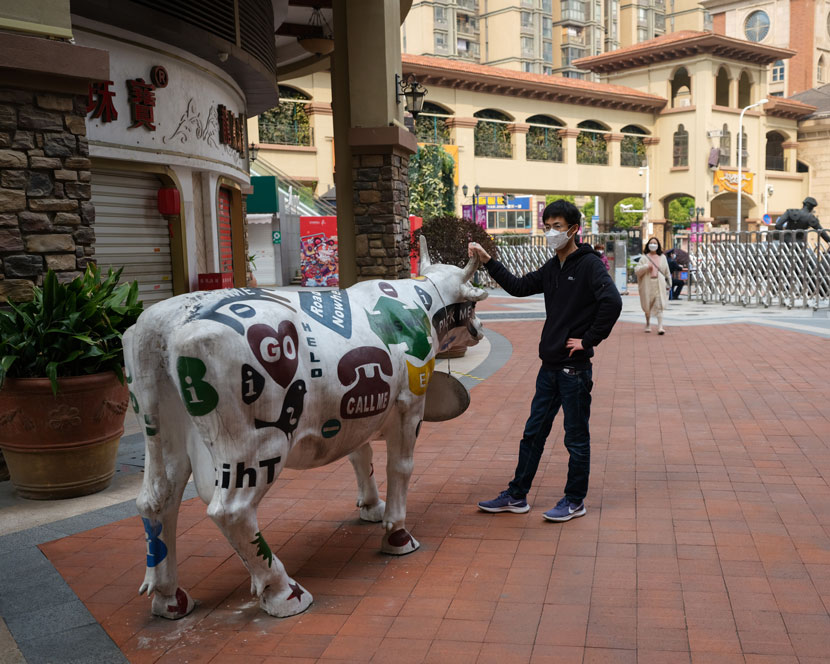 A man poses for a photo with a statue of a cow on a street in Wuhan, Hubei province, April 3, 2020. Shi Yangkun/Sixth Tone
Zhou hopes sales will rebound when in-person classes start again and foot traffic returns to his street. When that will be is not clear. Although Wuhan's lockdown is set to be lifted Wednesday, local officials have not yet given a firm date for when schools can reopen their doors.
On his first day back, Zhou said he earned a little over 300 yuan — his first income in two months.
"Being able to go out makes me feel better. Whether you have customers or not, at least you can move around," Zhou said. "It's better than staying inside."
Editor: Kilian O'Donnell.
(Header image: A clothing store employee sorts through stock in Wuhan, Hubei province, April 3, 2020. Shi Yangkun/Sixth Tone)