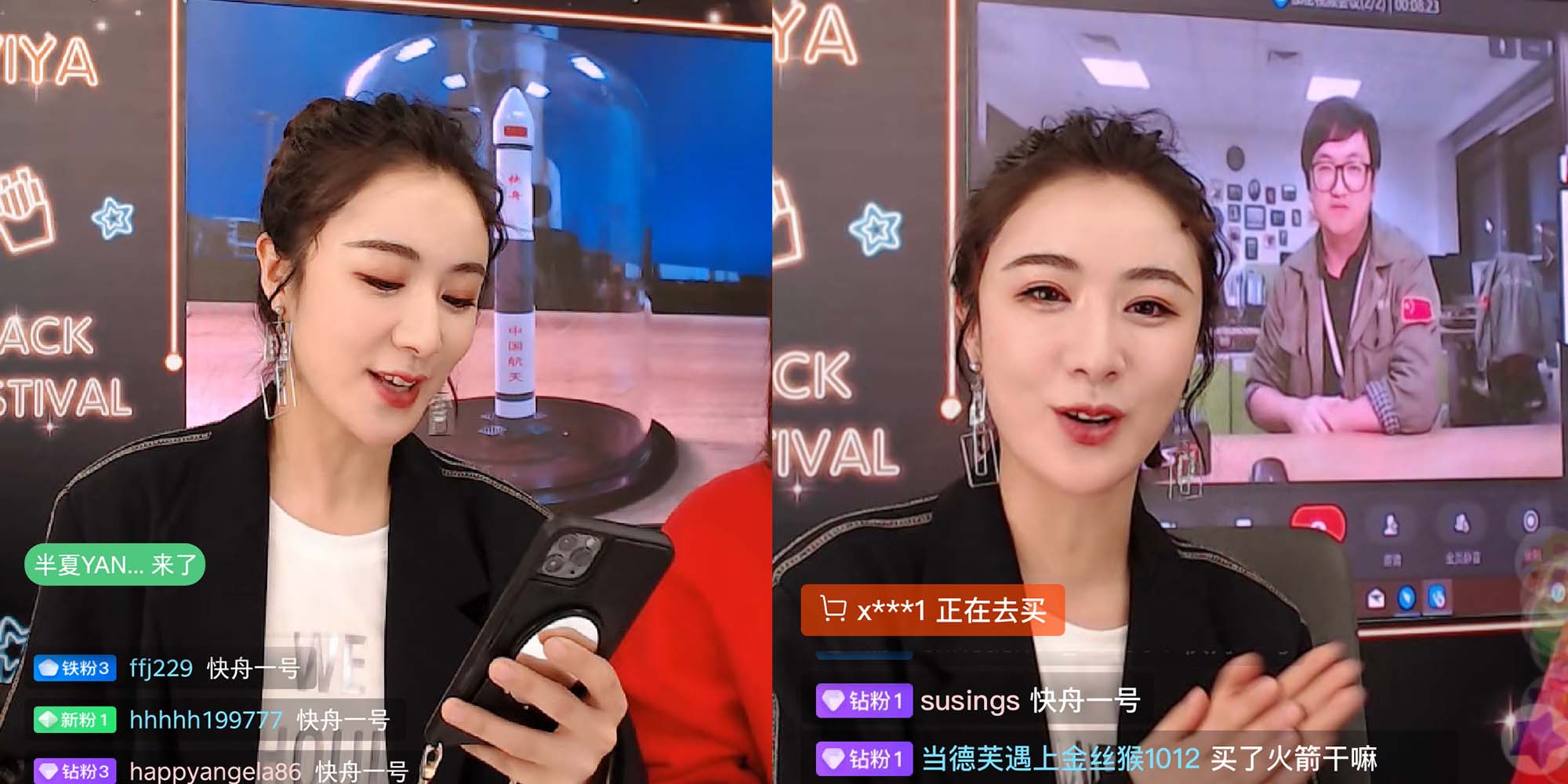 NEWS
Wuhan-Made Rocket Sells for Astronomical Sum via Livestream
The rocket's developer sees a future in crowdfunded commercial space projects.
On Wednesday, a commercial space rocket made in the central Chinese city of Wuhan sold for 40 million yuan ($5.6 million) during a promotional livestream.
"This rocket comes from Wuhan, a city of heroes," prominent commercial livestreamer Wei Ya said during the broadcast. The rocket was described as selling for a discounted rate of 5 million yuan less than its original price.
More than 800 prospective buyers paid the mandatory 500,000 yuan deposit within five minutes of the product's launch on Taobao Live, a commercial livestreaming platform under Alibaba. The rocket was eventually sold to Chang Guang Satellite Technology Co. Ltd., China's first commercial remote-sensing satellite company.
The product detail page shows that the sale of the spacecraft also includes the option to give it a custom paint job, as well as a launch service where the buyer can visit the launch site and command the liftoff.
The Kuaizhou 1A solid-fuel carrier rocket was developed by Wuhan-based ExPace Technology, the country's first commercial rocket manufacturer. Eight commercial launches of the same model have been completed over the past four years.
Hubei province, where Wuhan is located, has borne the brunt of China's COVID-19 outbreak, with most local businesses — ExPace included — severely affected. The company recently resumed operations as the outbreak situation in Hubei continues to stabilize. As a company responsible for its own profits and losses under the market economy, ExPace expects to make further use of commercial livestreaming as a means of promoting its business and building up momentum for the scheduled launch of another rocket at Jiuquan Satellite Launch Center in late April.
In addition, ExPace hopes to utilize livestreaming to familiarize the public with the field of aerospace. "Last year, for example, an American space company sent 152 people's urns into space, charging 125,000 yuan per gram," said Cao Meng, the company's marketing manager. "In the same year, a Japanese agency launched a satellite capable of producing an artificial meteor shower."
"We just want to tell the public that everyone can participate in the aerospace industry and the crowdfunding of satellites," Cao told a local reporter. "But if we talk about it seriously, the size of the audience will be very small. Taobao has a large real-time audience, and that's very conducive to popularizing science and bridging the gap between us and the public."
This is not the first time popular commercial livestreamers have promoted Hubei products and brands during their broadcasts. Last week, Li "the lipstick prince" Jiaqi hosted a two-and-a-half-hour livestream titled "Hubei Charity Special Live Broadcast," to help the province's recovering businesses sell their goods and overcome the impact of the pandemic as soon as possible. Li's broadcast attracted more than 13 million views.
Editor: Daniel Wilkinson.
(Header image: Screenshots of commercial livestreamer Wei Ya promoting the Wuhan-made Kuaizhou 1A solid-fuel carrier rocket, which sold Wednesday for 40 million yuan. From Taobao Live)