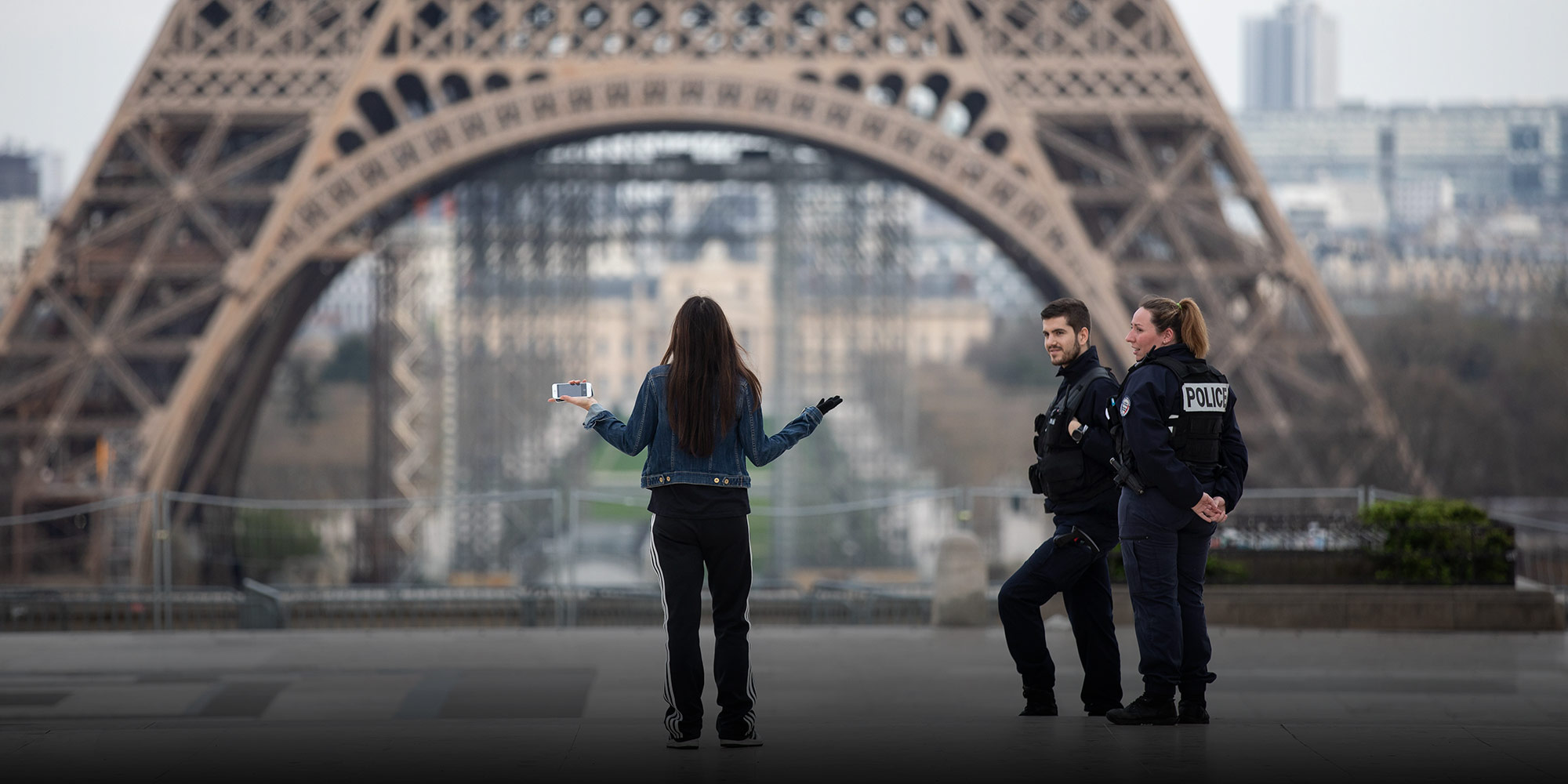 FEATURES
China's 'Daigou' Got Rich Shopping Abroad. Now, They're Going Broke.
The COVID-19 pandemic has dealt a knockout blow to China's massive gray market for luxury goods bought overseas.
For years, Zhu Nini's day job was browsing the booths inside Seoul's most famous clothing market. Armed with a selfie stick, the 32-year-old would livestream her trips to the Dongdaemun Shopping Complex for her 100,000 fans back in China, helping them buy any items they liked for a small fee.
But Zhu's life in South Korea came to a sudden end in January after she flew back to her hometown of Wuhan to celebrate the Lunar New Year with her family. Within days, the central Chinese city had been completely locked down as the coronavirus spread like wildfire — confining her and millions of others to their homes.
Over two months later, Wuhan is finally starting to ease its lockdown, but people from the city are still banned from entering South Korea. For Zhu — and thousands of other Chinese professional shoppers, or daigou — the travel disruptions are a devastating blow.
"Because of the pandemic, many industries have run out of money, lost people and energy, and are struggling to carry on — daigou might be among them," Zhu, who spoke under a pseudonym due to privacy concerns, tells Sixth Tone.
The struggles of China's daigou are sending shockwaves around the world.
The daigou economy emerged as a way for Chinese consumers to get their hands on sought-after foreign products — from luxury handbags to high-end baby formula — that were hard to find or highly expensive in China. Daigou buy the goods overseas and then ship them back home to their clients, using a variety of tactics, both legal and illegal, to evade import duties. 
This gray market is now worth billions of dollars a year and by some estimates employs over 1 million Chinese. In 2014, four in 10 luxury purchases by Chinese consumers were made by daigou, according to consultancy Bain & Company. South Korea — famous for its cosmetics brands and K-pop fashion — is a particularly popular daigou hot spot.
The trade, however, has slowed to a trickle as countries implement travel bans and compulsory quarantine periods, shutter shopping malls, cancel flights, and suspend international deliveries amid the COVID-19 pandemic.
There are two main branches of the daigou business in China: "local daigou" like Zhu who reside permanently in foreign countries and mail products back to their Chinese clients; and "human-flesh daigou" that continuously fly back and forth between China and another nation, carrying items in their luggage. Both have been hit hard by the pandemic.
Chen Yuanyuan is one of many human-flesh daigou forced to suspend their businesses. For years, she caught cheap red-eye flights to South Korea, loading up on lipstick, facial masks, and skin care sets in duty-free stores, and then sneaking her haul through Chinese customs to evade import duties. The low-cost approach helped her comfortably ride out previous external shocks to the daigou trade, such as the rise of cross-border e-commerce platforms in China and the 2019 e-commerce law, which tightened tax regulations for daigou.
But Chen — who also spoke with Sixth Tone using a pseudonym to protect her privacy — has stayed in her hometown of Xiamen in eastern China since the COVID-19 outbreak began. Like many human-flesh daigou, her monthly Korean excursions are a lucrative side-hustle that tops up her salary as a regular office worker. Now, she's not willing to risk continuing them.
Passengers traveling between China and South Korea currently have to undergo two weeks of quarantine on both legs of the trip. Those trying to avoid the forced isolation periods can face severe consequences. 
In March, Beijing rounded up 36 daigou suspected of flying to South Korea and sent them to designated sites for medical observation. Two people received 10 days' detention for violating quarantine rules and "making trouble." Local police have also passed airlines a blacklist of another 50 daigou, to prevent them leaving the country.
"Every day, there are clients asking me when I'll fly to South Korea, and I tell them, 'not until the pandemic is over globally,'" Chen tells Sixth Tone. "I still have new clients and new orders, but if I can't travel, I won't have the products to complete the deals."
Local daigou living abroad don't have to worry about travel restrictions, but many are still facing huge challenges.
Long, a Paris-based personal shopper who specializes in luxury brands, says the breakdown in global freight networks has made it difficult to get products home. In an extreme case, a package that was supposed to go directly between France and China was rerouted via India, South Korea, Singapore, and several Chinese cities before eventually making it to the customer, she says.
"Usually, it takes one week to 10 days for my clients to receive their parcels, but now it might take three weeks," says Long, who declined to give her full name for privacy reasons.
Long began curtailing her shopping trips soon after COVID-19 reached Europe, even though she knew doing so would hurt her income. In the French capital, outlets for brands like Balenciaga, Chanel, and Gucci suddenly felt like dangerous places to be.
"In late January, I heard that the first three confirmed cases in Paris were tourists who'd visited several shopping malls," she recalls.
By mid-March, Paris had shut down its malls completely as Europe became the epicenter of the pandemic. On the messaging app WeChat, Long changed her username to "Malls Closed," to remind her clients not to bother trying to make an order.
"If there are any daigou in Italy, France, or the United Kingdom saying that they're waiting in line to check out, just delete them," Long laughs. "That's impossible now."
For daigou — and the stores that rely on their business — the question is whether things can eventually return to normal.
In Wuhan, Zhu has only recently begun worrying about when she can return to South Korea. A few weeks ago, her mother developed a cough and tested positive for COVID-19. She was later transferred to a hospital for treatment, and Zhu and her father had to move to a designated quarantine hotel for two weeks.
During the quarantine, Zhu tried to host a livestream to catch up with her fans. But only a few thousand viewers took part — a major blow to Zhu, as she'd normally attract over 50,000 for a broadcast from Seoul.
"I have two major concerns: One is that I have no income, and the other is that I'll lose my clients," says Zhu. "It's a real problem, as the competition is fierce."
Businesses in South Korea are also at risk. The Seoul outlet of The Shilla Duty Free alone is estimated to have lost over $100 million in sales since the start of the pandemic. According to Zhu, the owners of several clothing booths in Dongdaemun have contacted her, asking whether they can find alternative ways to continue trading. 
"Many people like me have come back to China, so their sales have dropped, too," says Zhu. 
For now, Zhu is asking the Dongdaemun traders to send samples to her in China, so she can host livestreams from home. Luckily, delivery services finally resumed normal operations in Wuhan in late March.
But the Wuhan native knows she'll struggle to attract buyers using this imperfect workaround. Broadcasts from the market were faster-paced and allowed her to show off a greater range of samples. Enthusiasm among her fans is already waning.
And the decline might be difficult to reverse. The daigou business has become brutally competitive in China and livestream hosts need an edge to stay relevant. In 2017, Zhu could make a profit of 60 yuan ($8.50) on each T-shirt she sold, but now she's lucky to earn 10 yuan. Top livestreamers, meanwhile, are increasingly hiring assistants and professional models for their shows. 
"Daigou who have a large number of followers and sell 10,000 pieces a night can still make a lot of money, but it's hard for new players to survive," says Zhu.
Zhu's hoping she can keep afloat by focusing on maintaining a small group of loyal, long-term clients. Instead of going for the hard sell, she plans to chat with the viewers like they're old friends. Even this change in strategy, however, might not be enough.
"Maybe the pandemic will force an industry reshuffle on all of us," says Zhu. "There's a chance I might not be able to get past it."
Editor: Dominic Morgan.
(Header image: A tourist and police officials stand near the Eiffel Tower while Paris is under lockdown, in Paris, March 19, 2020. Eric Dessons/JDD/SIPA via Xinhua)