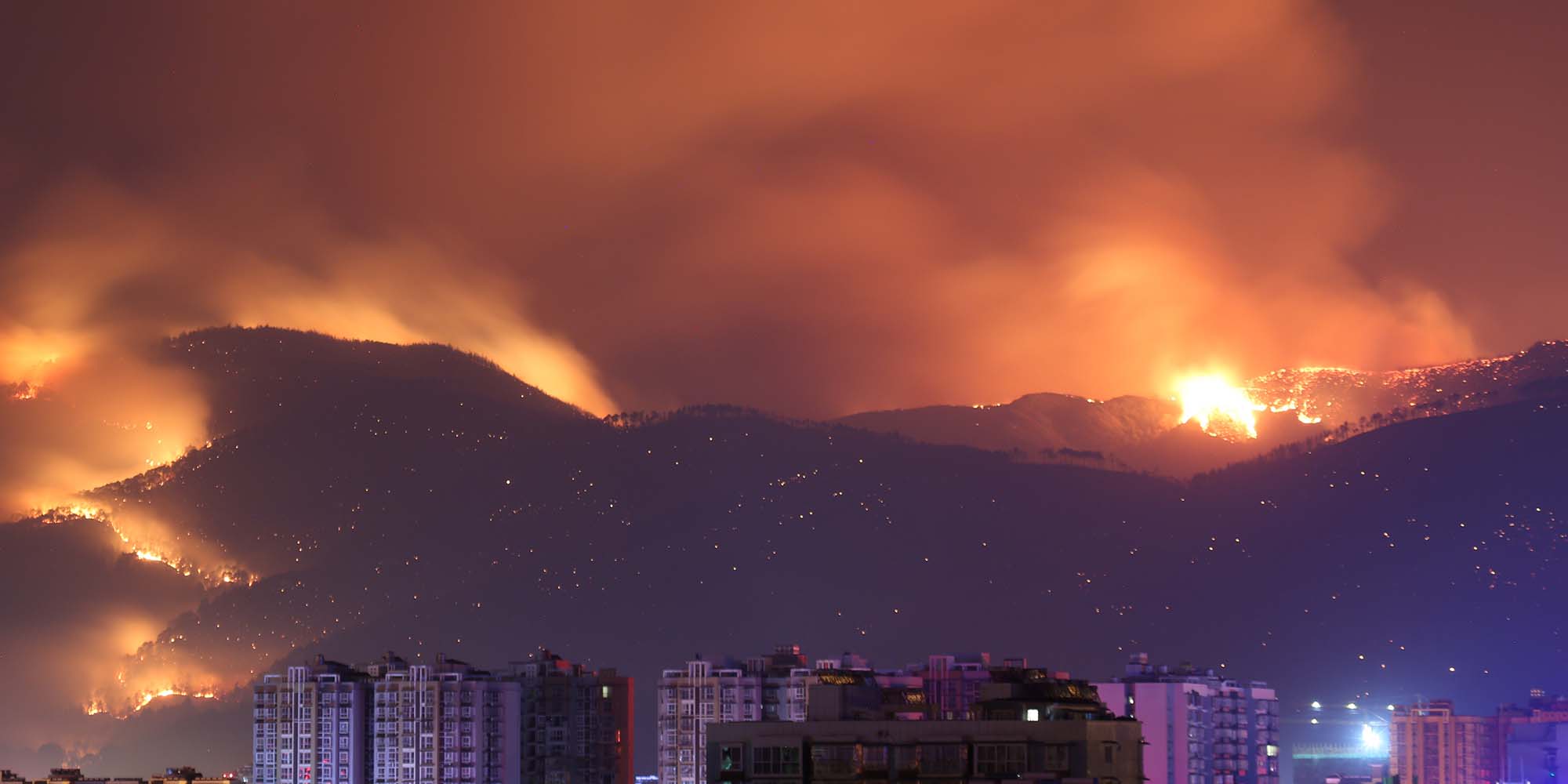 NEWS
18 Firefighters, 1 Guide Killed in Sichuan Forest Fire
Changing weather patterns and increased human activity are contributing to China's forest fires, experts say.
Eighteen firefighters and their guide were killed in a forest fire in the southwestern Sichuan province while trying to contain the blaze, local authorities said Tuesday.
A team of 21 firefighters from Ningnan County, along with a local guide dispatched for the firefighting mission, were reported missing at 1:30 a.m., according to the Xichang City government. The three firefighters who were rescued from the blaze are currently being treated in a hospital.
The wildfire reportedly started at a farm near the city of Xichang on Monday afternoon, according to local authorities. The deadly fire had been threatening a 250-ton liquified petroleum gas storage and distribution station, as well as two gas stations and four schools.
Videos posted on social media platforms showed the forest fire approaching the urban area of Xichang, with heavy smoke drifting into the city of 770,000 residents.
Over 2,000 firefighters have been dispatched to put out the blaze, which has so far spread across 1,000 acres of land, according to the local government. At least 1,200 residents have also been evacuated from the area.
An officer at the forest fire prevention unit under Xichang's forestry bureau told Sixth Tone that they are investigating the cause of the fire and analyzing if the local climate and location may have contributed to the disaster. The officer added that "human factors cannot be ruled out yet."
According to China's Ministry of Emergency Management, over 97% of the forest and grassland fires between 2010 and 2019 resulted from human activity, such as smoking and slash-and-burn agriculture. Last March, a deadly forest fire in Xichang's neighboring county of Muli — caused by a lightning strike — killed 31 people, including 27 firefighters.
Sichuan ranks fourth among Chinese provinces in terms of forest area, with 81 counties listed as regions at high risk of forest fires, according to the country's forest fire prevention plan. The Xichang government had issued an alert on March 20 to warn about possible forest fires, since the weather forecast had predicted high temperatures and dry air in the coming days.
Liu Xiaodong, an associate professor specializing in wildfire ecology and management at Beijing Forestry University, told Sixth Tone that high temperatures and drought, coupled with fires used for farming and the traditional tomb-sweeping ceremonies over the upcoming Qingming Festival, have caused several fires in recent years.
"Globally, we have seen the Amazon forest fires, Australia forest fires, and California forest fires. … The entire world is having extreme weather conditions — high temperatures and droughts, along with windy weather conditions," Liu said. "As a result, forest fires can easily get out of control once they start."
Liu called for improvements in fire suppression standards and increased professional training for firefighters, as well as greater efforts to determine the source of the fire.
"Surely it (climate change) has something to do with it, but there are three main factors that contribute to forest fires: weather conditions, combustible materials, and fire sources," he said.
Editor: Bibek Bhandari.
(Header image: A forest fire near Xichang, Sichuan province, March 31, 2020. Xinhua)