This week, Sixth Tone will publish accounts from Chinese who were living, working, or traveling overseas when the pandemic hit, and their subsequent journeys in search of safe harbor. Part one can be found here, and part two here.
The moment we boarded the plane back to China, things started spiraling out of control.
My husband and I work in the United States. On Jan. 19, the day before we were due to make the trans-Pacific journey back to China for the Lunar New Year, health officials in the central city of Wuhan were still sending reassuring signals: There were only 136 cases of COVID-19 in that city, and our parents — far from the outbreak's epicenter — hadn't even heard about the disease. Nevertheless, my husband nervously joked about cancelling our trip. "Maybe we should just refund our tickets and not go back," he said.
All we could do was joke. We weren't going to China just to see our families, but also to undergo interviews for our work visas. By the time we deplaned in Shanghai, 13 hours later, "novel coronavirus" was the top trending search term on Twitter-equivalent Weibo, face masks were selling out, and the country was on war footing.
What ensued was a monthlong odyssey dodging lockdowns, quarantines, and ever-changing border control regimes. Our journey took us from Shanghai to my husband's hometown in nearby Jiangsu province, to my parents' home in the southwestern province of Sichuan, then Bangkok, Tokyo, and finally back to the San Francisco Bay Area — only to find that the pandemic had beaten us home.
On the evening of Jan. 21, my husband and I ate out separately with friends in Shanghai. It would be the only time we'd do so during our three-week stay in China. The next morning, we donned face masks given to us by a friend and went to the U.S. Consulate for our visa interviews.
Despite the rapidly escalating outbreak, few people in line were wearing masks. Our interviews went smoothly, and we were told right then and there that we'd been approved, though the paperwork would take some time.
On Jan. 23, we saw online that our visas had been issued. That same day, Wuhan went into lockdown. But as we arrived in my husband's hometown in the eastern city of Dongtai, we found a relaxed atmosphere, with few people in masks. Still, we canceled almost all of our planned visits to friends and relatives in the city.
Things remained calm until Jan. 27, when we were scheduled to drive back to Shanghai and catch a flight to Sichuan. Just after we left, the part of Dongtai where we had been staying abruptly went into lockdown with no prior notice, and rumors floated that major cities around the country would follow Wuhan's lead and shut down transit links. The rumors never panned out, and Shanghai remained accessible, but our usual four-hour drive took over nine, as passengers and drivers were subjected to temperature checks.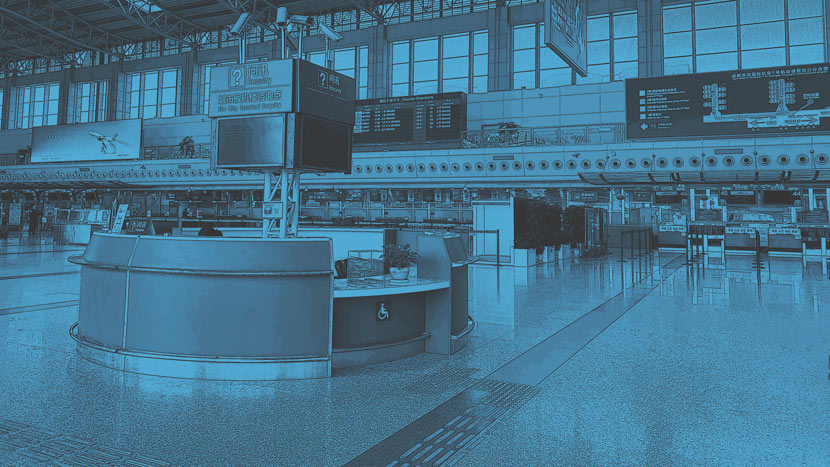 A nearly empty Shuangliu Airport in Chengdu, Sichuan province, February 2020. Courtesy of Liu Bowen
We missed our flight and had to rebook for the next day. The flight still felt normal, however, with few of our fellow passengers in masks, and we soon met up with my parents in provincial capital Chengdu.
Once there, we resumed our self-isolation. On Jan. 27, Shanghai had announced it was extending the Lunar New Year holiday, originally scheduled to end Jan. 30, to Feb. 9. We wouldn't get our passports before Feb. 10. Instead of shopping and playing rounds of mahjong, we spent the next 16 days at home.
Although the time passed easily with my parents looking after us, daily reports on the outbreak and the international situation strained our nerves. In the early hours of Feb. 1, my husband woke me up with more bad news from a California-based friend: The U.S. would start restricting entry to foreign nationals who had traveled to China in the previous 14 days, effective from Feb. 2. The visa chat group we were in buzzed with activity. Checking the status of our passports on the website of the U.S. visa center, it said they were still in the consulate. We'd missed our window.
Faced with the prospect of unemployment, we searched for another way back. Looking at the rules, we found that, as long as we could stay in a third country for more than 14 days — and that country was not on the U.S. list of barred places — we would be allowed to reenter. 
That was easier said than done. As COVID-19 spread, more and more countries were closing their borders to travelers from China.
We got our passports back on Feb. 12 — a friend shipped them to us from Shanghai — and decided to fly to Bangkok the very next day.
At the time, the number of confirmed cases in Thailand was hovering around 30, but the number of suspected cases was climbing. Many locals were wearing face masks on the streets, but otherwise daily life seemed to carry on as usual.
We tried to make the best of it, and even made a few trips to well-known Bangkok tourism attractions, masks firmly in place. But for the most part, we spent our two weeks in Thailand indoors trying to keep up with the news, only taking a break to buy or prepare food.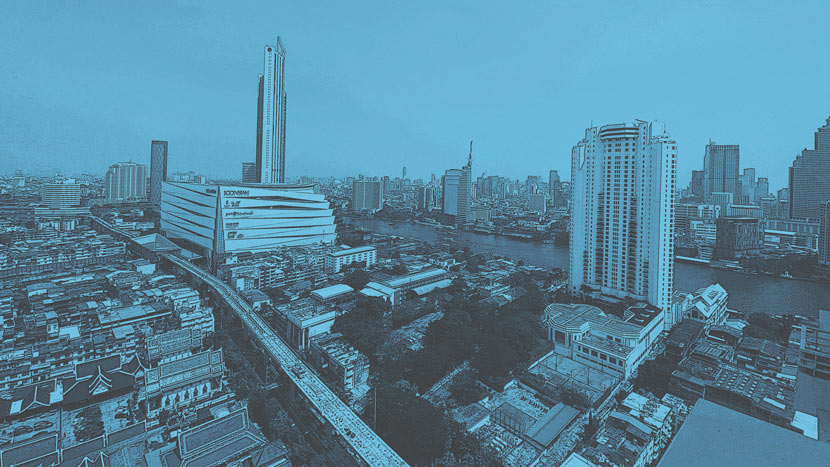 An aerial view of Bangkok taken from the window of the author's Airbnb, February 2020. Courtesy of Liu Bowen
Countries around the world were constantly changing their entry policies, and we were just two among many stranded travelers trying to navigate the fog. We joined a chat group for people trying to get back to the U.S. via third countries. Members posted their personal experiences daily, helping keep everyone up-to-speed with the latest developments.
At the time, many recommended transferring via Japan or South Korea. Because the former had just experienced a surge in new cases related to the Diamond Princess cruise ship, we decided we would fly via South Korea instead.
We bought our tickets on Feb. 22. The next day, South Korea's total case count jumped to the second-highest in the world. We cancelled our tickets and decided to transfer in Tokyo after all.
Finally, on Feb. 28, it was the day of our flight. As soon as we got off the plane in Tokyo, a member of the airport's ground staff was waiting for us and picked us up. She asked us about the timeline of our departure from China and checked our documents. Next, she called U.S. Customs and Border Protection. Earnestly counting the number of days we'd been out of China on her fingers as she spoke on the phone, she received the go-ahead. We then had an interview with another airport employee, who again confirmed that we hadn't returned to China during the past 14 days. She attached a small blue dot to our plane ticket and said with a smile: "All good!"
Our flight landed in San Francisco around noon on Feb. 28. We had mentally prepared for what awaited us: a secondary check and even an interrogation about our travel histories, but it took just 10 minutes to get through customs, and we were asked only a few simple questions. In a daze, we made our way to the luggage carousel, collected our bags, and walked out into the arrival hall. All the way up to when I stepped out of the airport, I couldn't believe our luck.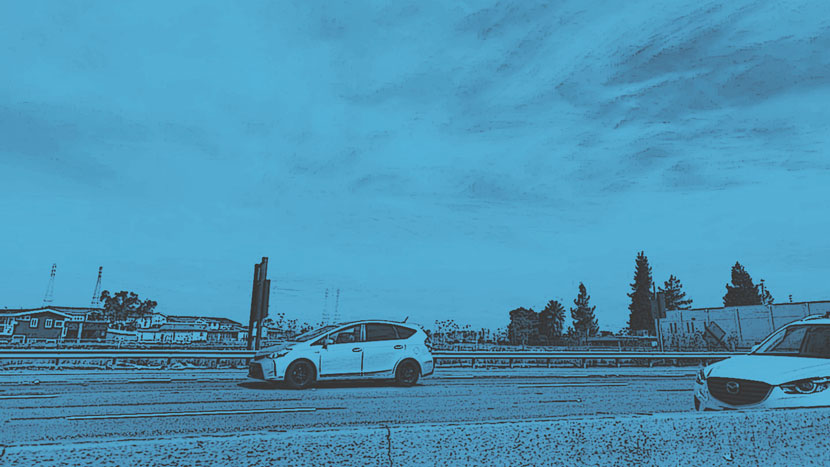 A photo taken by the author on her ride home in San Francisco, February 2020. Courtesy of Liu Bowen
By the time we entered the United States, there had already been outbreaks in South Korea and Italy. There were also cases of community infection in the U.S. We went to the supermarket the next day to stock up on food. Both my husband and I had already been told by our respective workplaces to work remotely for two weeks after returning; after just a day, mine began recommending all employees to stop going to the office.
Now, the lockdown in Wuhan is coming to an end, while the U.S. is recording more than 10,000 cases a day. The six Bay Area counties have launched a shelter-in-place initiative, and nearly all residents are self-isolating.
Many of our Bay Area acquaintances were alarmed when the rules were first put in place, even panicked — but we were just numb. Everything, from the lockdowns to the steady uptick in new cases around the nation, felt like a rerun, and we responded the same way we did in China: stocking up on food and staying home.
Now, with the number of reported cases here more than double the comparable figure for China, it seems like everyone is just as numb and exhausted as we were. We're happy that China was able to get its outbreak under control but also worried about the damage it has done and continues to do around the world. Every day the news seems to just get worse and worse. All we can do is try our best to protect ourselves, self-isolate, and wait for spring.
Translator: David Ball; editors: Ding Yining, Lu Hua, and Kilian O'Donnell; portrait artist: Zhang Zeqin.
(Header image: An edited photo shows two women in masks and gloves pushing their trolleys through the arrivals hall of the Changi Airport in Singapore, March 23, 2020. Wallace Woon/EPA via Xinhua)