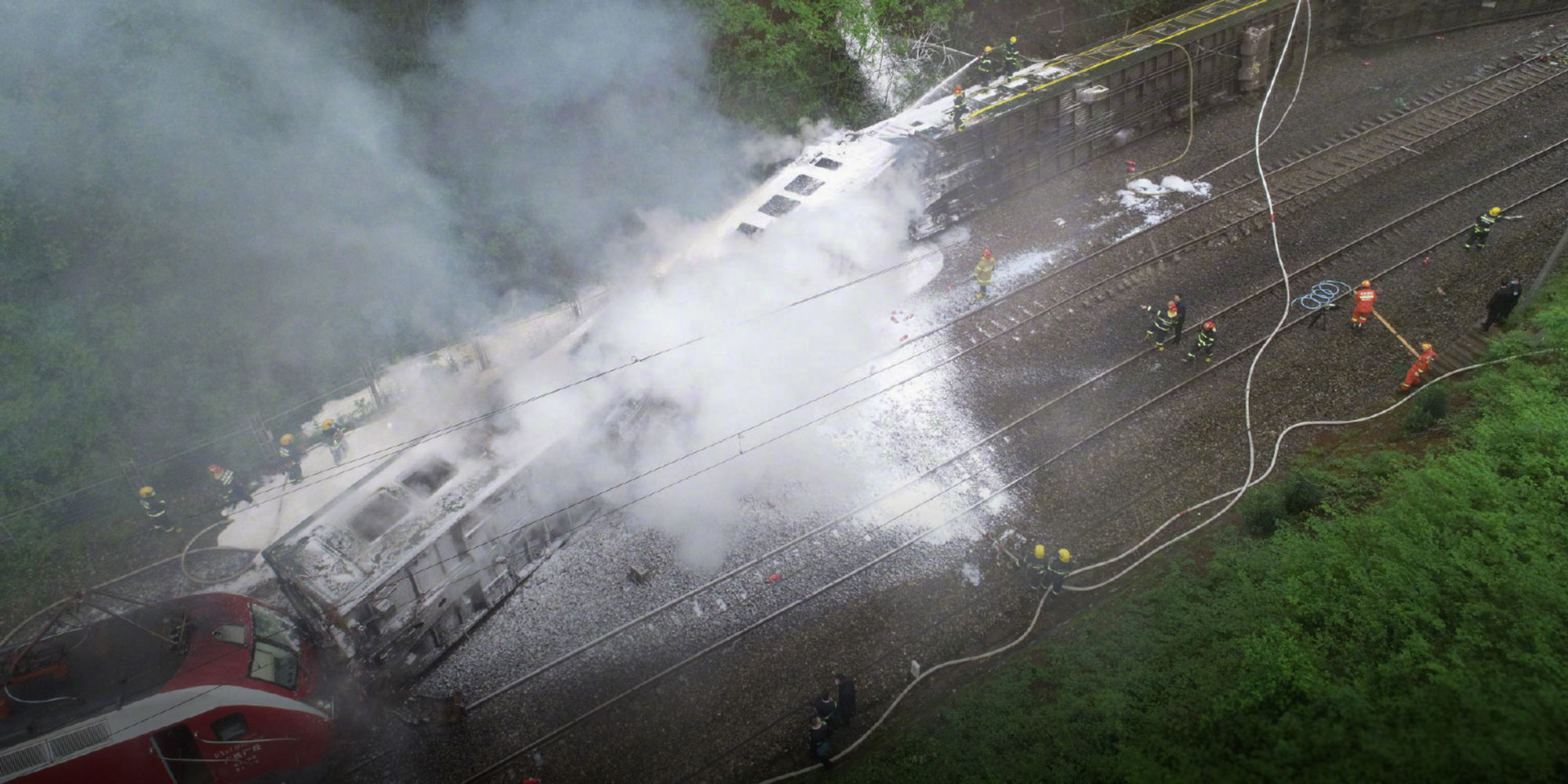 NEWS
One Dead, Over 120 Injured After Train Derails in Hunan
An eyewitness claims he alerted police to stop the train 11 minutes before a landslide caused it to run off the track.
This story was updated with additional information on March 31.
One person has died and more than 120 others are injured after a train traveling from the eastern city of Jinan to Guangzhou in the south of China was dereailed Monday morning near Chenzhou, in the central Hunan province.
The deceased has been identified as a 26-year-old train police officer, according to the Jinan railway public security bureau.
The train was carrying 654 passengers and 37 staff members. Four of the injured are reportedly in critical condition.
On Monday afternoon, Chenzhou authorities said the accident was the result of a landslide after several days of rain in the area.
A Chenzhou resident surnamed Li told Sixth Tone's sister publication The Paper that he had alerted police to stop the train 11 minutes before the accident, after he noticed a landslide further down the track. Li added that he had also waved his coat to warn the conductor as the train passed, but to no avail.
When asked about the eyewitness account, the local publicity office said it was trying to verify that information, according to The Paper.
When the train collided with debris covering the tracks, one carriage caught fire and six carriages were derailed. The blaze was extinguished after some 130 firefighters arrived on the scene. Over 200 of the train's passengers were diverted to another station, the local authorities said.
"I was sleeping. When I woke up, my son was dragging me to escape through the window," a male passenger surnamed Jiang told The Paper. "Everyone was fleeing."
Another passenger who was injured and had to be hospitalized told domestic news outlet Beijing News that he "fainted immediately" when the carriage he was in ran off the track.
In 2006, a landslide in the same area resulted in at least 12 trains being delayed, according to The Paper.
Editors: David Paulk and Bibek Bhandari.

(Header image: A train traveling from Jinan to Guangzhou was derailed because of a landslide near Chenzhou, Hunan province, March 30, 2020. Zhong Lei/Xinhua)