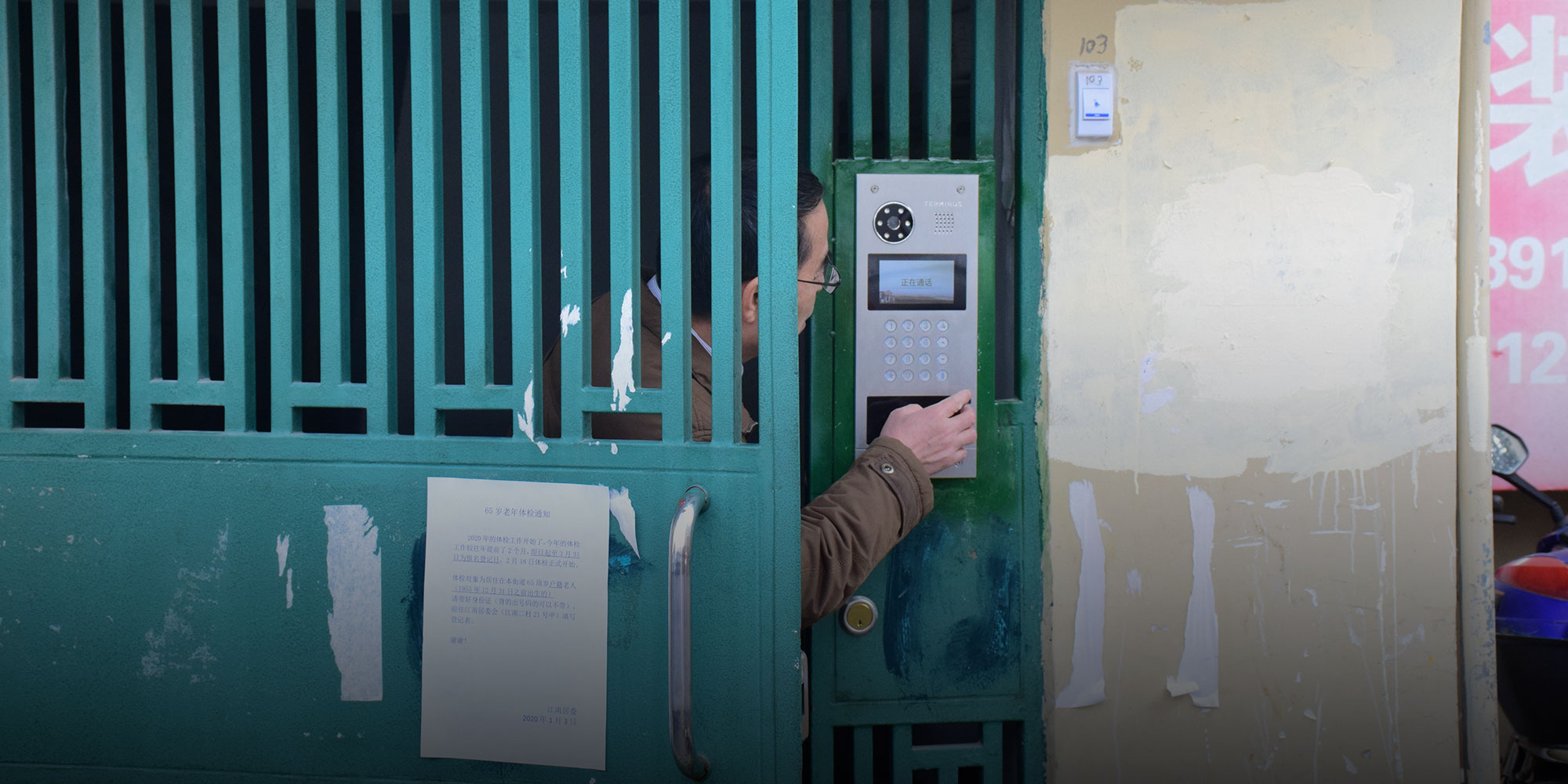 FEATURES
How the Cameras Reached China's Front Doors
Chinese cities are quietly rolling out massive networks of facial recognition-enabled security systems. But do local residents care?
SHANGHAI — Chen Chong doesn't need to use a key to get into his apartment building anymore. Now, when the 51-year-old seafood salesman returns home, he stares into a scanner fitted to the block's metal front door. 
After a few seconds, a message appears on the small screen — "Verification successful" — and the door unlatches with a loud click.
Chen's residential complex in downtown Shanghai installed the facial recognition-based system in December of last year. It's one of thousands of neighborhoods introducing internet-enabled security devices as part of a massive government campaign to tighten law enforcement by creating "smart communities."
In February 2019, there were around 2,700 smart communities in Shanghai, according to official data. By January this year, there were over 9,000, and this appears to be just the beginning.
Before the end of 2020, one-third of the residential complexes in each urban district should have been converted into smart communities, according to domestic news outlet Caixin, citing a target set by Shanghai's public security bureau.
Neighborhoods can become smart communities by installing a variety of different technologies, such as sensors designed to catch residents throwing garbage out their windows or to prevent illegal parking. In many cases, however, residential compounds are opting for face-scanning entry systems like the one used in Chen's building.
Local authorities in Shanghai have come to view facial recognition as the "most important" security technology for communities over the past two years, partly due to the public security bureau's strong support for such solutions, according to Xue Zelin, a smart cities researcher at the Shanghai Academy of Social Sciences.
The trend is also visible nationwide, with facial recognition playing a key role in local governments' smart city strategies. More than 500 Chinese cities have announced plans to become smart cities, driven by a desire to solve transportation and security problems, as well as impress China's central authorities.
"The leaders love smart city projects, and it's easy (for local officials) to make a mark by doing it, because it encompasses many different policy areas," Xue told Sixth Tone.
Local authorities claim the smart systems can significantly reduce crime rates, and residents appear to be generally supportive. But the rapid rollout of facial recognition solutions is also raising privacy concerns as complexes install systems with little prior consultation, often leaving residents unaware of where their personal data is being stored.
In Shanghai, many of the first neighborhoods to introduce facial recognition have been older housing complexes with high numbers of elderly people or public rental housing with many nonpermanent residents. Over the past two years, authorities have also started pushing commercial housing developments and communities built to accommodate people resettled during earlier development projects to use the technology.
Tianlin No. 12 Village — a cluster of concrete high-rises in downtown Xuhui District built during the '80s — became a "smart housing complex" as early as late 2016, installing facial recognition cameras and motion sensors, among other devices. The system automatically alerts the police if it detects any nonresidents lingering in the compound, according to the Xuhui District government.
Chen's home on nearby Xietu Road fits a similar description. Many of the residential complexes on the street were built during the Mao era and house large numbers of former employees of state-run industrial firms. Jiangnan New Village, the compound where Chen rents an apartment, was originally built to accommodate local shipping workers.
At least three complexes on Xietu Road began installing facial recognition systems from November of last year. In each case, the compound's residential committee required each resident to provide their national ID numbers and cellphone numbers and have their faces scanned. The contractor operating the systems — a private firm headquartered in the southwestern city of Chongqing named Terminus — would then add them to a whitelist of people allowed to enter.
According to Chen, the neighborhood committee gave him advance warning of their plans to introduce the system, but he wasn't told why it was necessary or how his information would be protected. Another Xietu Road resident, a 72-year-old surnamed Li, who declined to give his full name, told Sixth Tone he found out about the change when he found a notice stuck to his front door.
The two men both appeared enthusiastic about the new system, noting it was more convenient and hadn't cost them a penny. When asked about potential privacy concerns, Chen laughed off the question.
"Every housing complex is doing this," he said. "We're not some rich guys — it's OK."
"Just follow the trend," agreed Li, adding that now he doesn't need to remember to carry his keycard when he goes out.
The systems were installed so abruptly, however, that some residents weren't added to the whitelist and found themselves locked out of their own buildings. A 22-year-old college student surnamed Du, who lives in a different compound on Xietu Road and also gave only his surname, said he had to climb onto a second-floor balcony to get into his apartment the day the scanners appeared.
"They'd informed us much earlier about the installation, but yesterday the system was suddenly all over the community and the old keycard didn't work," Du told Sixth Tone Dec. 5.
Other Xietu Road residents said they felt angry that their local committees hadn't consulted them adequately about the change in policy. One called the city's public hotline demanding answers. Some silently resisted by refusing to have their faces scanned and insisting on entering their buildings using a new electronic card.
The rapid rollout of biometric verification systems is also stirring disquiet among some Chinese experts who warn the technology is creating new risks that the general public doesn't yet fully understand.
"(Biometric) data is different from normal personal data: It's more important and more sensitive," said Lao Dongyan, criminal law professor at Tsinghua University. "Once leaked, it can cause irreversible damage or danger to the people involved."
The government is normally responsible for storing and protecting people's facial data, according to a software testing engineer at a leading Chinese facial recognition firm, who spoke on condition of anonymity due to the sensitivity of the issue. The company provides the government with the servers required to run its facial recognition-driven systems, but has no access to the data itself, the person added.
In some cases, however, the system is far from airtight. In December, it emerged that Chinese authorities had placed the personal data of millions of people on unprotected servers and that private contractors often had access to such data. Contractors used by government organizations in other countries including the United Kingdom have also previously been found to have been storing citizens' biometric data on publicly accessible databases.
China's leading facial recognition companies are discussing a national set of standards for the industry, but the country currently has no specific law regulating the collection and use of biometric data. Chinese privacy laws require those involved to obtain user consent before collecting personal data, but the rules are often flouted, according to Lao.
"The protection of sensitive personal data is insufficient in the current laws and regulations, and even these inadequate laws aren't fully complied with," said the professor.
The risks are only likely to increase given the rapid proliferation of facial recognition applications in China. The market for the technology is predicted to exceed 5 billion yuan ($700 million) by 2021, and while public security remains by far the largest driver of revenue, face scanners are also increasingly being used in Chinese stores, banks, concert venues, and even schools.
The COVID-19 pandemic, meanwhile, appears to have given the industry added impetus. In February, around 20 residential complexes in the eastern city of Nanjing began piloting a new entry system that could detect people's identities even when they were wearing face masks. Minivision, the Nanjing-based company that developed the system, told Sixth Tone the product was developed at the request of the local government to assist its virus-control measures.
Zhang Yiyi, a journalist based in Beijing who covers issues related to government data collection, told Sixth Tone she worries about the lack of public debate on the pros and cons of deploying facial recognition on such a massive scale.
"I think the public needs more education," says Zhang. "People seem to view it as a harmless thing … It's not that cities shouldn't be modern and high-tech, but things shouldn't go this fast."
Recent polling suggests that Chinese consumers are indeed worried about the safety of their biometric data, but that they genuinely value the convenience of the technology.
In a 2019 survey by Nandu Personal Information Protection Research Center, a think tank affiliated to the Southern Metropolis Daily newspaper, 80% of 6,152 respondents said they were concerned about their information being leaked by a facial recognition system operator and over 40% had no idea how their facial data was stored. In most cases, however, respondents also expressed positive attitudes toward face-scanning systems.
"In each setting, the majority of people think that it's more convenient with facial recognition," the research team told Sixth Tone via messaging app WeChat, referring to the five most common settings for facial recognition applications by their definition: public rental housing, schools, shopping malls, public toilets, and transportation hubs. "Cross-analysis shows that the more settings respondents are exposed to, the more willing they are to use facial recognition."
Young people are most supportive of the technology, with 70% of Chinese aged between 26 and 35 agreeing that facial recognition systems are convenient and secure, according to the think tank.
Professor Lao, however, insists public attitudes would be different if Chinese media was more critical of the technology. "The ignorant are fearless," she said. "You give them too little information, so they think that facial recognition is as simple as facial verification."
Public dissent against the spread of face scanners is rare in China, but there have been some examples. This past November, a law professor in the eastern city of Hangzhou filed China's first lawsuit related to an application of facial recognition technology after a safari park forced its members to register their biometric data.
In 2018, a local resident in Shanghai's Songjiang District submitted an official complaint to the mayor about the sudden deployment — without residents' consent — of facial recognition cameras in his apartment complex.
There have been cases of pushback from residential committees, too. In Shanghai, several neighborhoods have refused to install facial recognition systems due to privacy concerns, according to Xue, who is familiar with the city's policymaking in this area.
Among local officials, the question of who owns the biometric data remains unresolved, which makes the proper use of the collected data more difficult, Xue added. The city established a Shanghai Municipal Big Data Center in 2018 to store data collected by the government and other actors, but this hasn't settled the issue.
"It's a governance environment with ambiguous property rights," said Xue. "Many departments are unwilling to share the data with the Shanghai Municipal Big Data Center. Who owns the data? And for anyone who stores the data, who's responsible if there's any problem with it? None of this is clear."
In public, however, authorities insist that facial recognition is necessary to prevent crime. Shanghai claims crime levels in most smart communities have all but disappeared.
And on Xietu Road, this message appears to resonate with most residents. Even Du, the frustrated college student, said he'd gladly add his face to the whitelist if it weren't for the fact that he doesn't have an official contract for his sublet apartment.
"I had a conversation with a taxi driver the other day. He said this (facial recognition) should be a good thing: If you're not doing anything bad, it could protect you," said Du. "When I thought it over, I decided he was right."
Editor: Dominic Morgan.
(Header image: A resident enters a residential building on Xietu Road in Shanghai, Jan. 8, 2020. Yuan Ye/Sixth Tone)