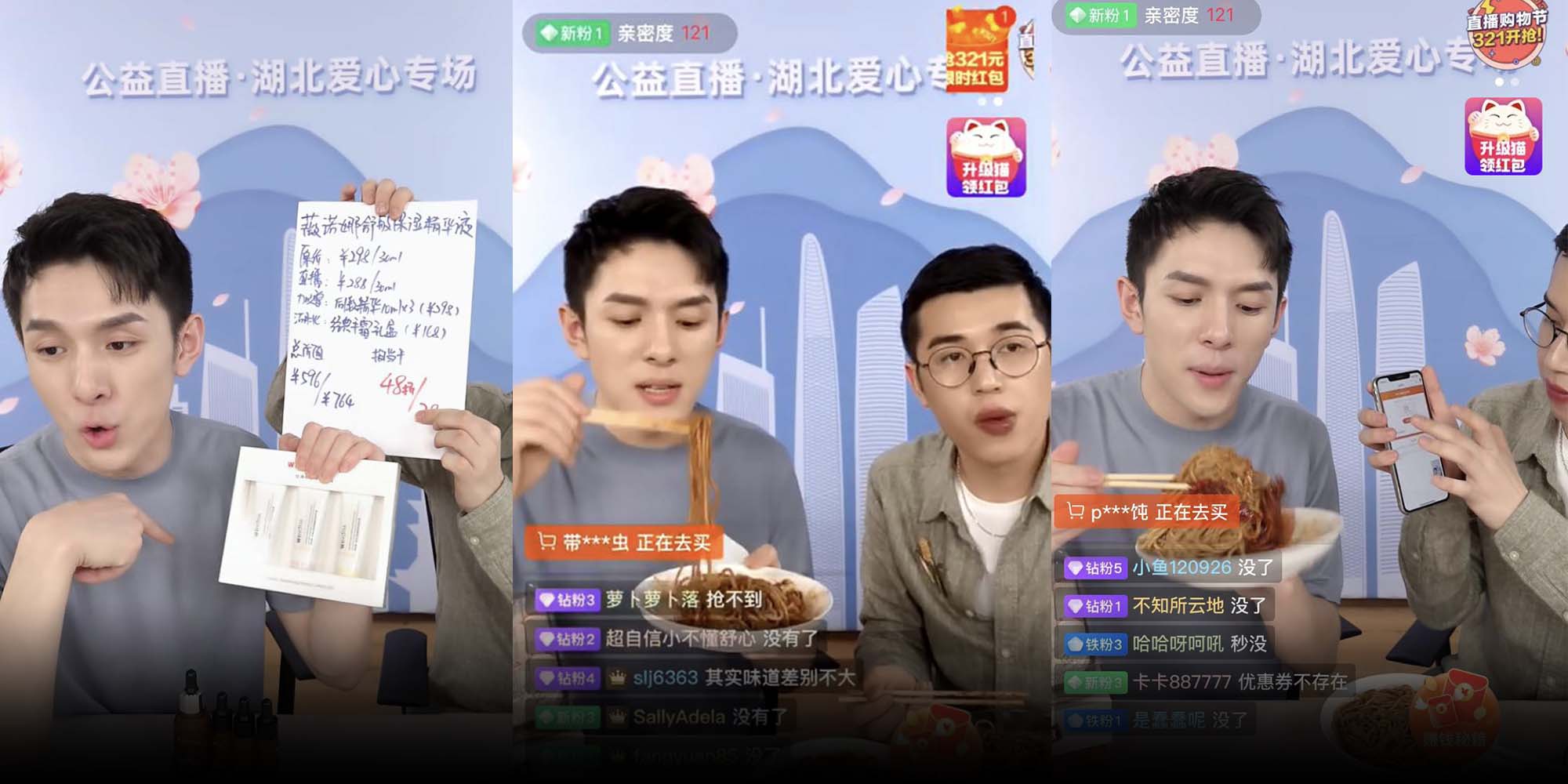 NEWS
Li Jiaqi Hosts Charity Livestream for Hubei Products
After weeks of struggling through the COVID-19 pandemic, Hubei businesses are getting a little help from China's star streamer.
"This is really yummy — it's so good!" Li Jiaqi says, wiping his mouth with a napkin after taking a big bite of "hot and dry noodles," a Wuhanese delicacy. The 27-year-old commercial livestreamer checks the product's remaining stock and frowns. "Oh, is it already sold out? Let's ask them to add more."
The two-and-a-half-hour livestream, titled "Hubei Charity Special Live Broadcast," garnered more than 13 million views on Thursday.
Li "the lipstick prince" Jiaqi is one of the most famous commercial livestreamers in China, and lately he's been using his star power to promote several Hubei brands including beverages, snacks, and other foods, as well as cosmetics and skin care products. Exclusive gifts are promised to customers ordering from Hubei, the central province where China's coronavirus cases are most concentrated. At one point, Li notes that he and his team are not accepting profits from the special broadcast.
"During the pandemic, Hubei companies — especially those in Wuhan — are having a hard time, and we are still fighting to save ourselves," said a spokesperson for the hot and dry noodles brand. She told Sixth Tone that Li's broadcast was a source of "positive support" but declined to elaborate on sales, saying only that the company "really appreciated it."
During a previous livestream Wednesday night, Li had hinted to his viewers about Thursday's special steam. "We hope to cheer Hubei up," he said.
Then in a post Thursday afternoon on microblogging platform Weibo, Li let the cat out of the bag. "The special live broadcast for Hubei has finally arrived," he said. "We hope to help Hubei businesses that have resumed production sell some products and walk away from the impact of the pandemic as soon as possible."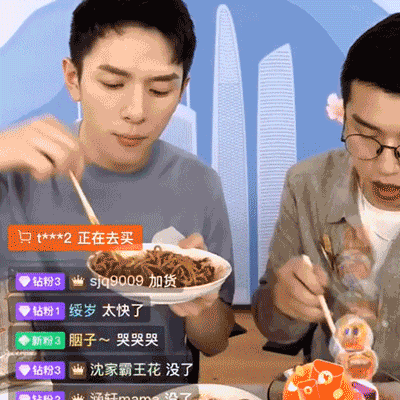 A Wuhan resident surnamed Wu was among the viewers of Thursday's livestream. She was excited after learning about the special broadcast, as delivery services to the province have been affected by the pandemic over the past two months.
After Wuhan went under lockdown Jan. 23, delivery services to the province were gradually suspended, dramatically limiting the range of products local residents could purchase online.
Wu is a fan of Li's livestreams and claims to watch his broadcasts every night. "I always like everything Li Jiaqi recommends," she told Sixth Tone. Many of the products Li has been promoting come with extra gifts for customers ordering from Hubei, Wu said, adding that she had bought some loose makeup powder featured on one of Li's streams.
Though Wu ordered the product in February, it didn't arrive until weeks later — but when it did, the package also contained alcohol wipes, hand sanitizer, and a letter of encouragement as extra gifts from the merchant. "I was very touched," she said. "I felt like they had really put their heart into it."
For customers, it's the products' prices as much as the way Li promotes them that grabs their attention. "It's super cost-effective to buy things from his live broadcast, which gives a lot of gifts," Wu said. "The products are always high-quality and cheaper."
The reason for this comes down to commercial livestreamers and their agencies having leverage over merchants when negotiating prices and extra gifts to be included especially for the livestream, said Chen Tao, a senior e-commerce industry analyst at consulting firm Analysys.
According to Chen, the online format is a good platform for connecting merchants with customers.
"Livestreaming's impact on stimulating the overall economy may not be significant, as offline sales are still the driving force," Chen told Sixth Tone. "But livestreaming on e-commerce platforms brings efficient interaction between consumers and merchants."
Internet promotions also provide a window for consumers to learn more about the merchants, which could have a positive impact on their short-term sales, Chen said.
Online retail accounts for around 20% of all commercial sales in China, according to Chen. However, the pandemic may accelerate changing consumption habits in the long run, with people becoming more accustomed to online shopping during this temporary period and therefore more inclined to shop online after the crisis blows over.
For Li's part, he hopes his broadcasts can restore consumer confidence in Hubei brands and support them as they resume business.
"We hope today's livestreaming can make people feel warm," Li says toward the end of the livestream. "The spring has come and the flowers are in bloom, and everything will definitely get better."
Editor: David Paulk.
(Header image: Screenshots from Li Jiaqi's livestream show him and his assistant promoting "hot and dry noodles," a Hubei delicacy. From Taobao)