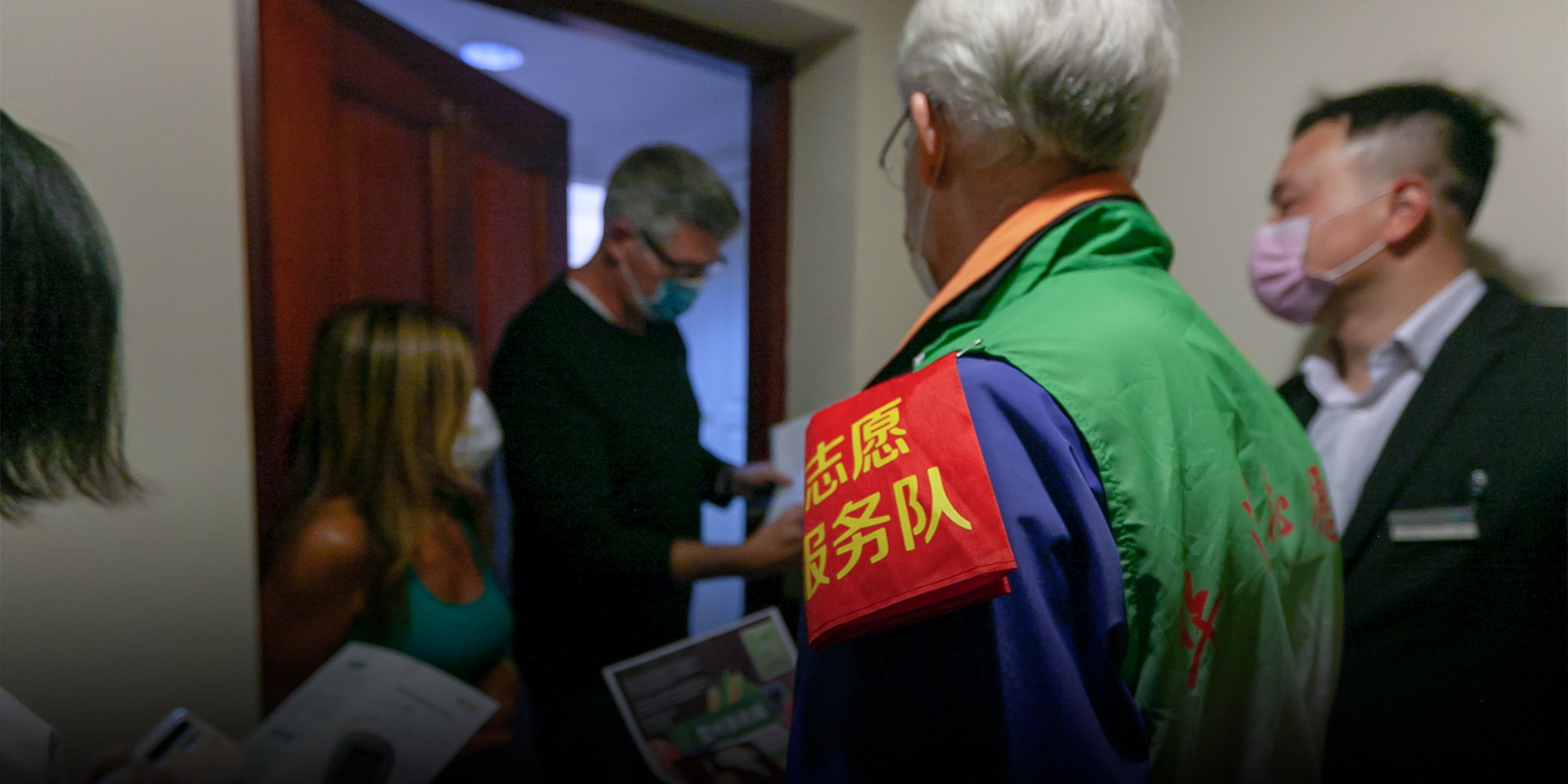 NEWS
Foreigners Collateral Damage as China Curbs Imported Infections
Despite Chinese nationals accounting for the vast majority of COVID-19 cases arriving from abroad, foreigners are being singled out as infection risks.
Late Thursday, China's foreign ministry announced that the country would temporarily bar most foreign nationals from entry. The policy — which affects nonlocals with valid visas or residence permits but not diplomats or emergency humanitarian personnel — was taken "in light of the outbreak situation and the practices of other countries," according to the official notice.
With COVID-19 spreading rapidly abroad and the U.S. now reporting the most infections of any country worldwide, China has taken increasingly stringent measures to limit imported infections. As these measures have taken effect, however, foreigners in the country have reported being barred from entering hotels, banks, office buildings, gyms, spas, restaurants, and shops, regardless of their travel history. One widely shared photo of a printed sign in a Beijing shop window reads: "We do not accept foreign friends and people whose temperature is above 37.3 (degrees Celsius) temporarily."
"We do not accept foreign friends..."

Just learned this sign is posted in a shop in our Beijing apartment complex. Pass that place every day but have never gone inside. Guess I never will! pic.twitter.com/P371mVQedj

— J Boyce (@beijingboyce) March 23, 2020
A South African teacher who has lived in China for three years told Sixth Tone that when she tried to book a sugar wax at a hotel over the weekend, she was told the business wasn't accepting foreigners. "I was mad! I've been in Shanghai this whole time — I have the green QR code!" she said, referring to a government health-monitoring system accessible within Alipay and WeChat, China's two dominant all-purpose apps.
Like most of the foreigners Sixth Tone interviewed for this story, the teacher would only speak on condition of anonymity.
A French national who works in the food and beverage industry and has lived in China for over 16 years told Sixth Tone by phone that he had recently hoped to return to his house in the island province of Hainan, where he likes to surf. But when he contacted property management over WeChat, they told him he shouldn't come because he is a foreigner, without inquiring about his recent travel history.
"To me, that's pretty racist. I was obviously shocked, because it's my place – it's not like I rent it," said the man, who holds permanent residence in China. "I was pretty upset about it because my family's Chinese, my wife is Chinese. I've got two kids, they're mixed. I've been here a long time. I'm one of the old crew when it comes to foreigners."
He said he believes such incidents during the coronavirus pandemic are rooted in fear, and that this can manifest as irrational decision-making. Although China's foreign ministry says foreigners have accounted for just 11% of all imported COVID-19 cases, some countries' belated, ineffective, and even head-scratching responses to the virus, along with spikes in infections abroad, have contributed to rising xenophobia in China.
"People don't think straight when things are like this," said the food and beverage professional.
Zinta, a Latvian national, recounted a recent meal she had to eat on the street outside a restaurant in the southwestern city of Chengdu while her Chinese husband and daughter dined inside because a scannable QR code granting entry at the door required that users input a Chinese ID number. Zinta told Sixth Tone the restaurant staff gave her a stool and chair: one to sit on, one to use as a table. "My husband was passing the food through the window to me," she said.
Sixth Tone also received several reports of foreigners being barred from their reopening gyms. A teacher from Manchester in the U.K. showed Sixth Tone a text message from his Shanghai gym where he's been a member for three years.
"Right now, the government has expressly requested that we don't allow foreigners to enter," the message said. "We need to follow regulations; otherwise, they won't allow us to operate. As compensation, foreigners are being given an extra month of membership."
After some negotiating — sending staff his green health code over WeChat and explaining that another gym nearby was allowing foreigners — the teacher was told he could come back. A personal trainer at Will's, a popular gym chain in China, told Sixth Tone she had not heard of such exclusionary policies.
Sixth Tone called 10 hotels in central Shanghai and asked whether a British national who hasn't been abroad this year would be allowed to make a booking. Six said yes — provided the guest's passport corroborated their travel history, or lack thereof — while three said not at this time. The last hotel said it was only accepting foreigners for two-week bookings — the standard quarantine period — with no leaving the room allowed during that time. One hotel staff member said police were only permitting foreigners to stay in around 20 designated hotels.
When Sixth Tone called Shanghai's immigration authorities and a local police office, people who answered the phone said they weren't clear on the current policies regarding foreigners. The Shanghai Call Center, a hotline providing assistance to residents in a dozen languages, told Sixth Tone that there is no citywide policy for where foreigners are and aren't allowed, and that each residential community sets its own regulations. The receptionist added that foreigners should not encounter problems booking accommodation at hotels that are licensed to accept foreigners, provided they can show green health-tracker codes.
Nevertheless, some foreigners feel they're being treated like disease-carriers. A British head of technical at a clothing company in Shanghai told Sixth Tone that she was initially not allowed into a branch of one of China's largest banks on Saturday because of confusion over the entry and exit stamps in her and her husband's passports. After the branch manager finally allowed them in, she said staff tried to direct them to a separate space because they were Westerners, and therefore might alarm the other customers. When she refused, they were served alongside everyone else.
"I felt like a leper, actually," said the woman. "It was all a bit ridiculous."
Several foreigners told Sixth Tone they had witnessed locals immediately exit an elevator after they walked in. The British woman said she was refused by three drivers she booked using the popular ride-hailing app Didi Chuxing, and had noticed many people moving far away from her on the subway. Her company advised her not to mingle with other foreigners, the woman said, and is considering requiring all staff to disclose, on a weekly basis, the names and nationalities of the people they interact with outside of the office.
"I've been here 10 years and never had a single issue," she said. "I've never felt uncomfortable until recently."
Since the early stages of the COVID-19 outbreak, xenophobia and discrimination have been on the rise globally, with ethnic Chinese and Asian people more broadly bearing the brunt. Cases of racism, verbal abuse, passive-aggressive behaviors, and physical violence and intimidation against groups such as Chinese students have shot up. Last week, police in the English city of Southampton arrested three boys aged 11 to 13 in connection with a racially motivated attack on a group of young Chinese people who had been wearing face masks.
By comparison, incidents of malicious discrimination against foreigners in China are far less common. In researching this article, Sixth Tone was proactively contacted by several foreigners living in China who said they have not experienced discrimination during the pandemic. Some told anecdotes of acts of kindness by their Chinese neighbors, such as being brought food and medicine during their home quarantines.
"This is a time when everyone should be working together. Foreigners, Chinese — it doesn't matter. If there are rules, we follow them," said Zinta, the woman from Latvia. "I hope people will not be afraid of each other, because we all are humans. We need to be kind to one another."
Editor: David Paulk.
(Header image: A foreign volunteer (in green) helps explain outbreak control policies to other foreigners living in a residential community in Shanghai, March 18, 2020. Wang Xiang via Xinhua)