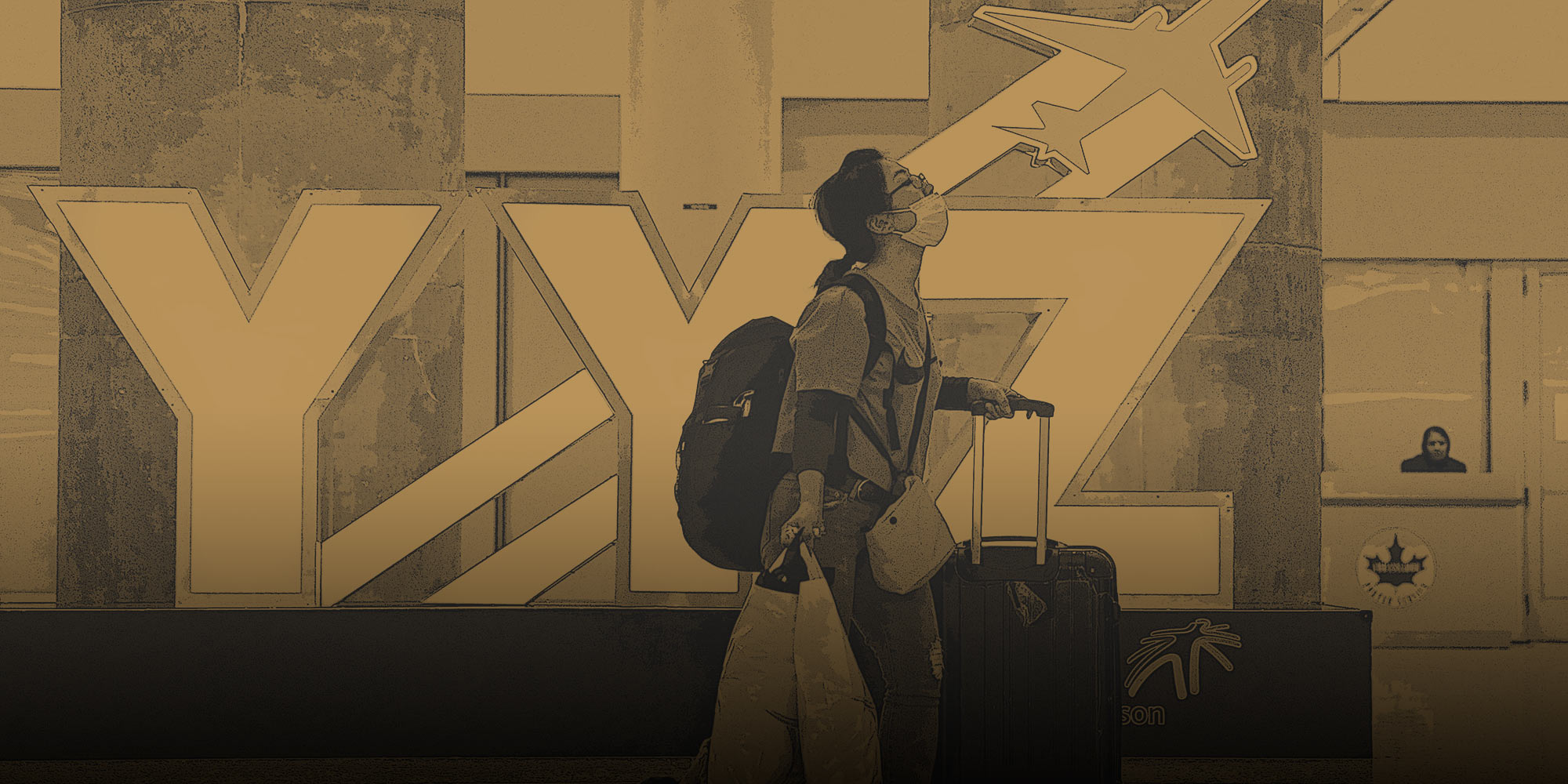 VOICES & OPINION
Amid a Pandemic, a Sudden Farewell to Cambridge
As the world closes its borders, a Chinese international student ponders her next step.
This week, Sixth Tone will publish accounts from Chinese who were living, working, or traveling overseas when the pandemic hit, and their subsequent journeys in search of safe harbor. Part two will be published Wednesday.

In just a few days' time, the situation in the U.K. took a turn for the worse.
As with every other academic vacation, I had been planning to fly to Canada to see my boyfriend after the winter term. I booked my March 28 flight all the way back in January, before COVID-19 even had a name, but as February turned to March, the dramatic escalation of the crisis in Europe forced me to rethink my plans.
Roughly three weeks before I was set to depart, I emailed my academic supervisor for advice. He didn't dissemble: "I think that you should rebook your ticket to leave as soon as possible," he said. By the time I bought a new one, for March 17, the cost of an economy seat from London to Toronto had skyrocketed to approximately 1,000 pounds ($1,200) — more than four times the usual price.
Ever since the fallout from the U.K. government's ill-starred "herd immunity" plan, people's nerves seemed to be on edge. Some of my friends started looking at tickets back to China, while others decided to stock up on food and ride the pandemic out in Cambridge. Almost no one wanted to upend their lives, and even those who chose to leave did so in the hope they'd be back in a few months' time.
I shared those hopes. But the reality of the situation suggests that we underestimated the pandemic.
Within two days of booking my flight, the University of Cambridge began requiring domestic undergraduate students to clear out their dormitories and return home. International students like me, both undergraduate and graduate students alike, were encouraged to do the same. The wording grew stronger with each missive, as life began to feel like that episode of "Downtown Abbey" in which the estate was recommissioned as a sanatorium for soldiers.
Things were also moving fast across the pond in Canada. On March 15, I got a text from my boyfriend saying that one of his roommates had told their landlord I was coming. Now the woman was demanding I quarantine myself for two weeks before I could stay there. I was furious — not about the quarantine but that my boyfriend's roommate had reported us to their landlord rather than talk it over with us. Another of their housemates' girlfriends had just flown in from Germany two weeks ago, and no one had said anything. Canada's rules were less stringent at the time. People still weren't paying close attention to the pandemic, nor did they realize how bad things had gotten in Europe.
It was an abrupt lesson in what the famous scholar of Chinese literature Qian Liqun once referred to as the "sophisticated egoism" of certain social elites. It's easy to ignore problems as long as they don't affect us — but once that calculation changes, we become alert to anything, no matter how small, that could pose a threat. All I could do was stay calm and look for the silver lining: Perhaps my boyfriend and I would be more comfortable renting a place and living there by ourselves.
But if nerves were running high, the world still seemed peaceful as I walked down the streets of Cambridge. On March 16, a day before my flight, I got a notice from Facebook reminding me that, on that same day two years ago, I had shared a photo of myself sitting outside. The weather was just as inviting then as now, with the cherry blossoms and daffodils in bloom, and I felt a deep reluctance to leave, like it might be a long time before I made it back.
I decided to revisit all of my favorite places in the city: the piano room on campus, as well as my favorite café and bakery. Returning to my room, I had just started to cut into my cake when I saw the news: Canada was closing its borders, except to U.S. citizens and diplomatic passport holders.
My heart started pounding. I threw myself in front of my computer to check the date of the border closure, and then checked it again: March 18 at noon. Theoretically, I would still be able to enter the country. My heart rate slowly returned to normal as I counted my blessings. My boyfriend and I video chatted, trying to boost each other's spirits. As long as there were no more unexpected surprises, I would be with him soon.
On the morning of March 17, I set off for Gatwick Airport. Everything went smoothly. The sun was out, and there were only a few passengers there waiting for their flights. An airport employee kindly told me that Canada's travel restrictions would go into effect the next day, adding: "You will be absolutely fine." It took only five minutes for me to drop off my luggage and get through security. After boarding, I wiped down all possible contact areas with disinfectant; the older passenger sitting in front of me was even more meticulous.
But the friendly staff member was wrong — I wouldn't be absolutely fine.
At customs in Toronto, I was grilled by the agent on duty: "Why did you come here? Why do you need to visit your boyfriend at this time?" she asked.
I was confused. I had a long-term visa that allowed me to stay for six months. I had been careful throughout my entire journey, avoided all unnecessary contact, and changed my mask every four hours. The agent wasn't even wearing one. I assured her that my insurance and savings met Canada's entry requirements.

Finally, the agent pronounced her verdict: "You can stay in Canada for 14 days. After that, you'll have to leave."
That made no sense, I told her. All it would do was create another nonessential trip in two weeks' time. Her colleague asked if everything was OK, and the agent wrongly explained that I had only come to Canada to quarantine myself with my boyfriend. "Let her go back to her own country," I heard her colleague reply.
I walked out of customs in a daze.
Right now, I'm quarantined in a rented house in Toronto. The weather here is as beautiful as the day I left the U.K. I contacted a friend of mine who is a lawyer and wrote a complaint to customs. I also applied to extend my visa on March 23, and I can stay while my request is being processed. Even though I still don't know whether I will have to leave, I feel strangely calm. Perhaps it's because my boyfriend is here.
My parents occasionally send me messages on social media app WeChat about yet another direct flight to China they've found. They ask if I want to book a ticket back. My friends in Cambridge send messages of comfort and tell me that the U.K. has stepped up its coronavirus prevention measures. I'll always have a place to stay if I return, they say. My friends in China send messages pleading with me to minimize my travels and figure out how to bunker down in Canada while keeping a return route to China open as a backup plan.
Just a few weeks ago, I was stressing over my first-ever academic talk and worrying about all the papers on medieval semantics that I had yet to master. I miss Cambridge, the ability to knock on my supervisor's office door and be greeted with the usual question: "Tea or coffee?"

Instead, I have witnessed the rise of unreasonable, nigh-xenophobic fear and criticism; the replacement of personal freedom with suspicion and antagonism; the weakness of relationships that had seemed strong; and the flawed reality of human nature. I don't know when I will be able to return or what "returning" would even look like at this point.
Before leaving campus, I met with my supervisor one last time. "Things will settle down soon," he said, optimistically. "I hope we'll be able to start again as normal next term and you can present your research in June."
"I hope so," I replied. "Do take care of yourself."
"You too," he said. "God bless you."
Translator: Katherine Tse; editors: Cai Yineng and Kilian O'Donnell; portrait artist: Zhang Zeqin.
(Header image: An edited photo of a traveler walking through the international arrivals lounge at Pearson Airport in Toronto, Canada, March 13, 2020. Chris Helgren/Reuters via Xinhua)