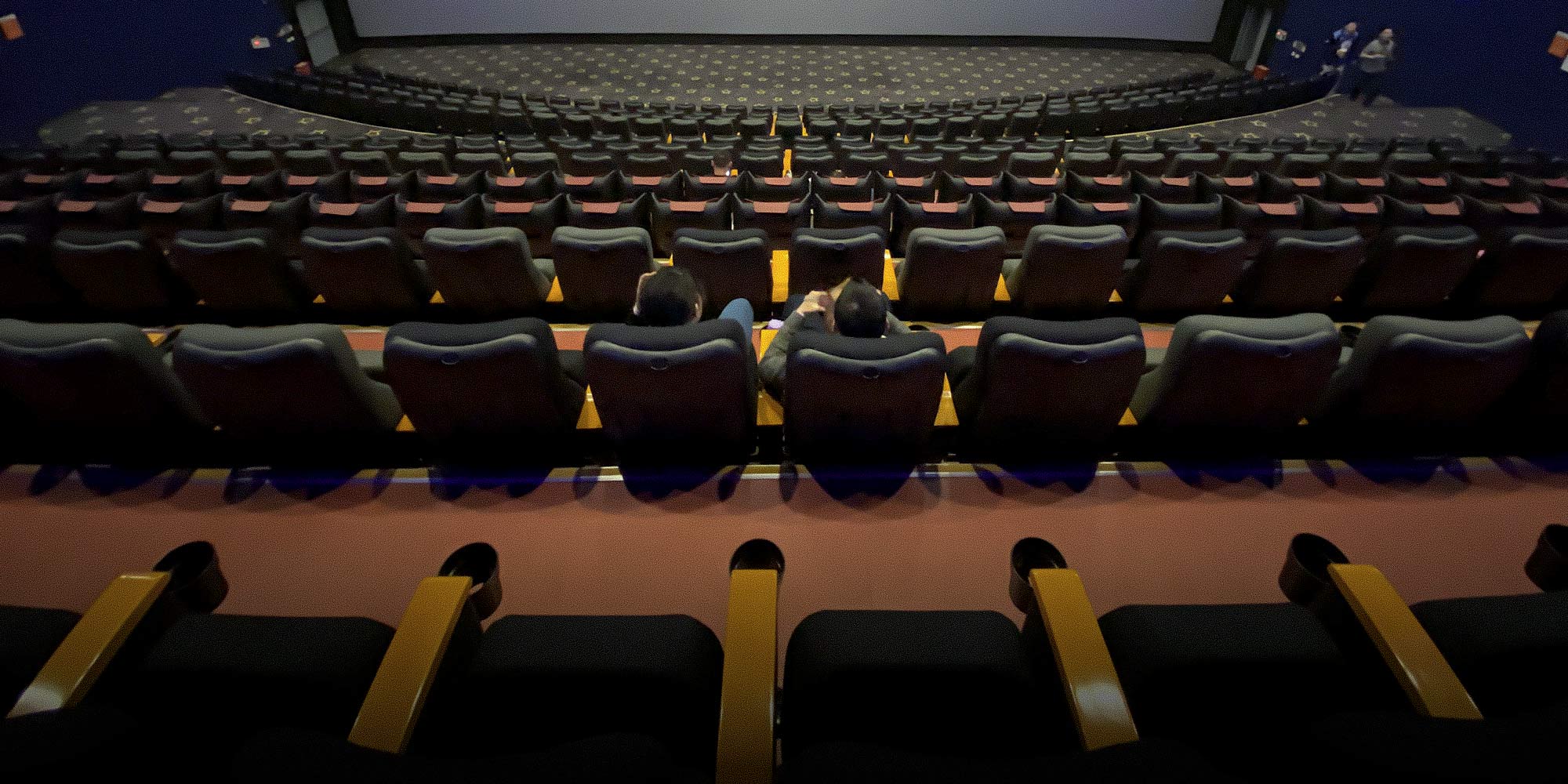 NEWS
500 Cinemas Reopen in China, Earn $10,000 in First Weekend
Despite numerous measures to help domestic movie theaters stay afloat, managers expect trying times for the foreseeable future.
China's cities are creaking back to life as businesses resume normal or near-normal operations. For the country's movie theaters, however, there's little light at the end of the tunnel.
More than 500 movie theaters in China have resumed business, but total domestic box office revenue last weekend was just 72,400 yuan ($10,000), according to online ticketing platform Maoyan. With local film bureaus and audiences taking a cautious tack, theater chains are also coping with strict reopening requirements and facing mounting, unprecedented challenges.
Financial news outlet Securities Daily reported that, for the week beginning March 16, just 4.8% of domestic theaters resumed operations, taking in a combined 118,200 yuan at the box office from 3,810 tickets. Movie theaters in the northwestern Xinjiang region were the first in the country to resume business earlier this month, followed by theaters in other provincial-level regions including Inner Mongolia, Sichuan, Henan, and Fujian, according to China News Service. Meanwhile, local authorities in cities like Hangzhou, Nanjing, Shenyang, and Changchun have also issued notices allowing movie theatres to reopen.

A Xinjiang-based movie theater manager surnamed Dong told China News Service that his theater had received fewer than 100 daily visits since reopening, and that its daily box office earnings were between 1,000 and 2,000 yuan. Only a few rooms were opened for screenings, Dong said, and only for half a day from 2 p.m. The theater has also followed strict outbreak control policies such as checking customers' body temperature and recording their personal information, according to Dong.
A movie theater manager surnamed Wang in the city of Hulunbuir in Inner Mongolia told Sixth Tone that his theater opened on March 20 and began screening the December 2019 release "Sheep Without a Shepherd," which had its theatrical run extended.
However, the theater — which has seven screening rooms and 948 seats — has only received 40 visits per day on average, Wang said.
"We follow the instructions (from local film bureaus), selling nonadjacent seats in every other row. We also disinfect (the screening rooms) every two hours," Wang said. "In general, the disinfection and management aren't too difficult: The main problem is that we have too few customers."
Some previously released movies including sci-fi blockbuster "The Wandering Earth" and Lebanese drama "Capernaum" have been rereleased domestically, with all box office revenue going directly to the theaters to support their recovery.
Wang says he's hoping for some new movies to be released soon, as the old titles don't exactly have audiences chomping at the bit to visit. However, film production companies and distributors may be loath to release new films, given the current climate, Zhang Yi, a senior analyst at online consulting firm iiMedia Research Group, told Sixth Tone.
According to Zhang, movie theaters in China's megacities are reluctant to reopen, too, given their relatively higher risk of imported infections.
"Although the (outbreak) situation in other regions has been improved and the risk is low, distributors would not just release new films there, where consumption capacity is relatively low," he said. "Also, once a movie is released, the resource is exposed: If it's not consistent nationwide, it will be hard to earn enough to cover costs."
Meanwhile, China's film industry is also struggling to churn out new creative content, with production halted nationwide since early February. In recent years, movie production companies, in conjunction with distributors, have followed exhaustive long-term schedules for setting release dates and meeting filming deadlines; however, the pandemic has thrown an enormous wrench into these plans.
A screenwriter and producer who prefers to be identified with her pen name, Yidie, told Sixth Tone that her production team isn't expecting to resume work on a new film project until late April.
"The pandemic interrupted our original plan — we postponed a casting call event and press conferences, and the new dates can't be set yet," she said. "For cinematic releases, the most important issue is securing funds from investors. We have to first sort out the investment and shooting plan, then talk to the distributors about the release."
Eyeing the long run, Zhang, the analyst, suggests that movie theaters could consider selling monthslong memberships for the second half of the year and beyond. He also expects many movies to forgo the theaters altogether in favor of online releases.
Some theaters have started offering ticket packages that include snacks and vouchers, hoping to bring in business, according to domestic media. Many provincial-level regions including Beijing, Guangdong, and Sichuan have also introduced policies to help movie theaters stay afloat. In early March, the Shanghai Film Group Corporation announced it would provide financial assistance to theaters in the Yangtze River Delta region — a major contributor to the domestic box office, with around 2,500 total theaters — in a bid to limit losses.
Editor: David Paulk.
(Header image: Chen Yang/VCG)