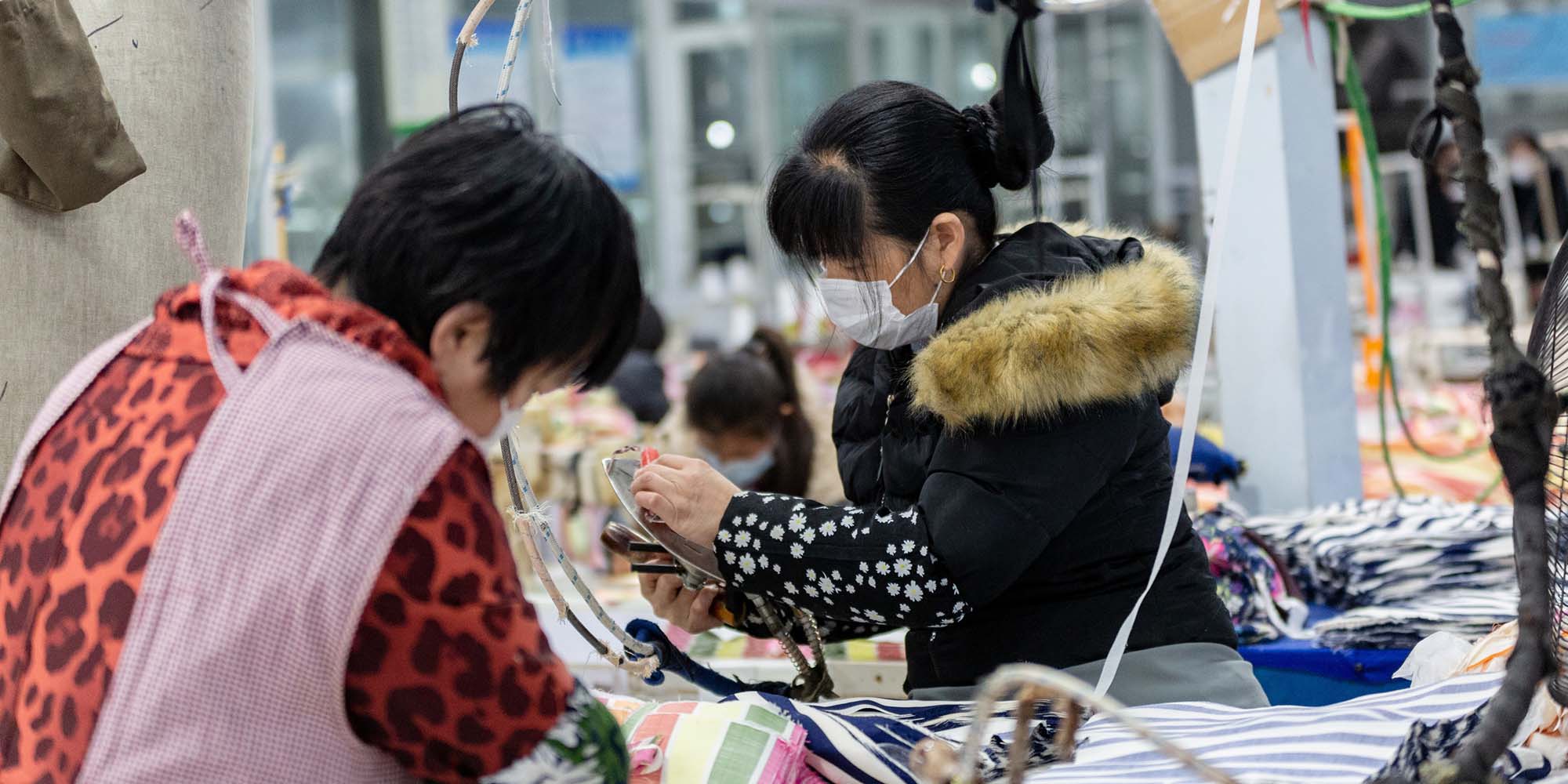 NEWS
China's Virus-Stricken Clothing Industry Struggles to Mend
As domestic apparel and textile businesses slowly recover, the sector must now cope with global fallout.
Before China's vast clothing industry had the chance to recover from the disruption caused by the COVID-19 pandemic, many firms have been forced to cope with uncertainties from abroad as the intensifying pandemic impacts global supply chains.
In southern China's Guangdong province, a major clothing and textile hub, over 60% of export-oriented firms said their overseas orders have declined, according to a survey by the Guangdong Clothing and Apparel Industry Association in early March. Amid the still-recovering domestic supply chain, businesses — especially the more vulnerable smaller firms — are facing issues with stockpiling, tight cash flow, and reduced staff, according to the industry trade group.
From brands to wholesalers, reduced trade and delayed manufacturing for both upstream and downstream factories continue to cloud the market.
Lu Jianxin, a logistics executive of a Shanghai-based clothing label, told Sixth Tone that his company has been relying on e-commerce platforms to unload overstock, as brick-and-mortar stores have not yet rebounded from their stagnation. Most of the brand's overseas stores have also been closed, Lu said.
"We've lost the spring and summer seasons; now we'll look to the fall and winter," said Lu. "It's best if the fall and winter seasons can be salvaged, but to be honest, there is too much pressure."
Things have taken a sharp turn for many other businesses, too. As China grappled with its escalating coronavirus outbreak, road restrictions and strict approval systems to resume work posed difficulties for firms aiming to deliver overseas orders. Companies are now scrambling to restore normalcy, but many are stuck as partners abroad cancel orders amid reduced consumer confidence and citywide lockdowns.
Various international trade sectors in China have been met with dwindling orders from European and U.S. markets, according to financial news outlet Caixin. The Shanghai branch of Li & Fung, a global consumer goods supply chain manager, told the outlet that since earlier this month, many of its orders have been canceled or delayed. The company expects the trend to continue as the pandemic intensifies worldwide.
According to brokerage firm Everbright Securities, China's clothing and textile industries are closely tied to Italy and Japan, which are now battling COVID-19 themselves.
One down-garment maker told domestic media outlet Caijing that it has become difficult to send samples and materials to Italy, and he worries that the mounting pressure could affect the status of his current and future orders.
Among the most anxious are the many firms doing subcontract work for international brands. Even before the COVID-19 pandemic, trade friction between China and the United States had cast a shadow over the clothing industry, as many businesses rely on international subcontracting.
Zhu Guohui, who owns a knitwear supplier in the southern megacity of Shenzhen, told Sixth Tone that his firm works with brands in New York City, but business has been suffering since 2018 due to increased customs taxes and fewer orders. Amid mounting pressure, Zhu eventually closed his factory last year and is now waiting for the chance to take his business online.
"Except for the internet, I think that other traditional business models (in the clothing industry) are all difficult to manage," said Zhu.
Growing pressure accelerated by the pandemic could threaten the survival of many small- and medium-sized firms, according to experts. "Changes in some foreign industries will have a great impact on our domestic clothing industry," said Hu Xiaohui, an economist at Zhejiang University of Finance and Economics.
However, Hu remains optimistic about the industry's long-term prospects. With many clothing brands having already shifted their manufacturing bases from China to Southeast Asia, the pandemic might serve as a wake-up call for Chinese firms to tap into the domestic market and adapt to new trends, according to Hu.
"A small boat is easy to turn around. They will eventually find a way," Hu said.
Editor: Daniel Wilkinson.
(Header image: Two factory workers make clothes destined for markets abroad in Tongling, Anhui province, March 3, 2020. Xinhua)