Since being sent to the front lines of China's battle against COVID-19, Dr. Yan Fang has handled many difficult cases. But the loss of one patient in particular still fills him with regret.
The woman, a COVID-19 patient in her 70s, had arrived at Yan's hospital ward in the central Chinese city of Wuhan with severe pneumonia. The doctor prescribed an herbal remedy that had proven effective in many similar cases, but the patient's family — skeptical of the merits of traditional Chinese medicine — didn't give her the treatment.
Within days, the patient was dead, and Yan says he's convinced that, had she taken the medicine, she would have had a better chance of survival.
"Until her death, her son never gave her a single drop of the traditional medication I prescribed," Yan told Sixth Tone. "Patients in the same ward were all recovering with a combination of TCM and Western treatments. I can't describe how depressed I was at that moment."
Traditional Chinese medicine practitioners have faced numerous challenges of the like in recent weeks after authorities handed TCM a central role in the country's efforts to combat the coronavirus.
As the number of COVID-19 cases in Wuhan and the surrounding province of Hubei skyrocketed through January and February, 4,900 TCM specialists were dispatched to hospitals in the region, and over 74,000 Chinese COVID-19 patients have received some form of TCM treatment, according to government estimates. But physicians have sometimes struggled to convince patients to place their faith in non-Western treatments, despite their insistence that certain traditional remedies are effective against a coronavirus-induced pneumonia.
China included TCM treatments in its national diagnosis and treatment guidelines for COVID-19 as early as late January. The sixth version of the guidelines, released Feb. 18, detailed which TCM formulas should be used to treat different symptoms of the disease.
According to TCM experts, one popular traditional medicine — an herbal formula named "lung-cleansing and detoxifying decoction" — appears to be particularly useful as an anti-COVID-19 treatment. The decoction, a concentrated liquid prepared by boiling ingredients including orange peel, cassia twig, and Chinese licorice for several hours, is said to alleviate pneumonia symptoms.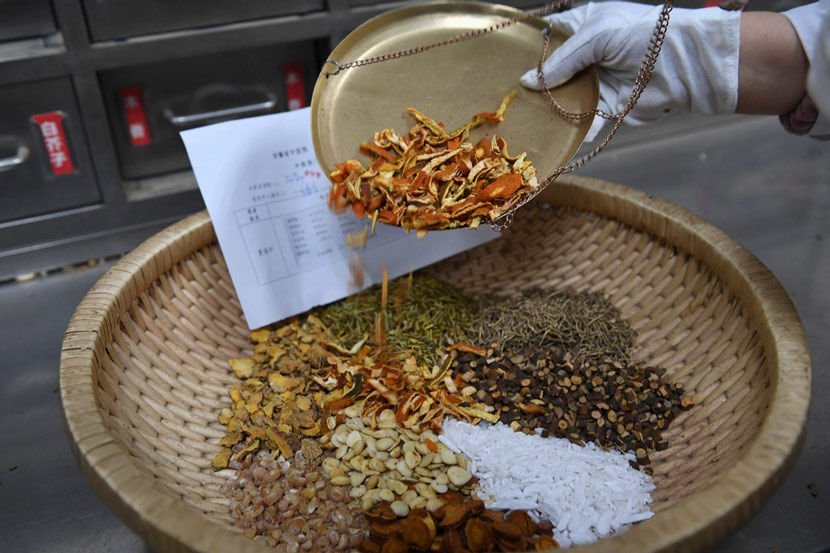 A pharmacist checks the materials for the "lung-cleansing decoction" at the pharmacy in Anhui Province Hospital of Traditional Chinese Medicine in Hefei, Anhui province, Feb. 21, 2020. Zhang Dagang via Xinhua
Tong Xiaolin, a leading researcher at the China Academy of Chinese Medical Sciences, said his team recently concluded a study of the decoction's effectiveness on COVID-19 patients in 10 Chinese provinces. "As of March 13, 1,102 of the 1,261 COVID-19 patients … who used the decoction had recovered," Tong told Sixth Tone's sister publication, The Paper. "Another 71 said their condition had improved."
Smaller-scale comparison studies testing the formula's efficacy have also taken place in Beijing and Wuhan in recent weeks. Zhang Boli, president of the Tianjin University of Traditional Chinese Medicine, said the study of 102 COVID-19 patients in Wuhan found clear evidence that patients treated with both the decoction and Western medication recovered more quickly than those taking Western medicine alone.
"It took 1.5 days on average for the fevers of those taking TCM to dissipate, but three days for those who didn't (take the decoction)," Zhang told reporters in a press briefing March 13.
The Beijing-based study, meanwhile, found the decoction helped patients' lung conditions improve within eight days on average, rather than just over 10 days for those treated exclusively with Western drugs.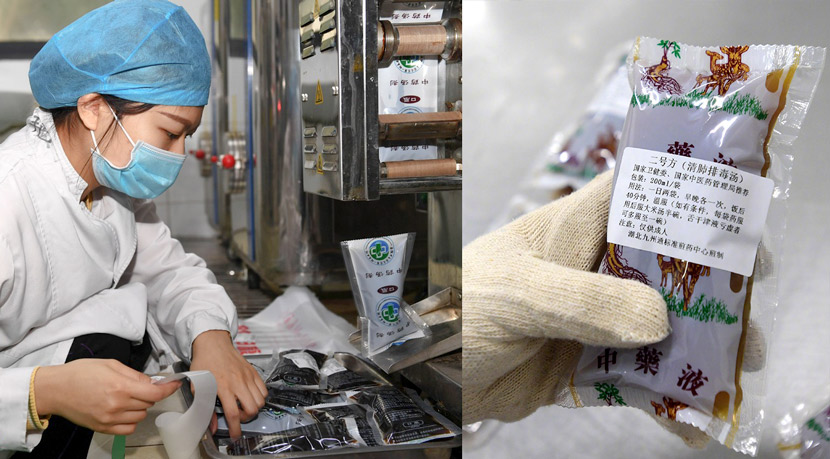 Left: A pharmacist checks the packs of "lung-cleansing decoction" at the pharmacy in Anhui Province Hospital of Traditional Chinese Medicine in Hefei, Anhui province, Feb. 21, 2020. Zhang Dagang via Xinhua; right: A worker holds a pack of "lung-cleansing decoction" at a pharmaceutical factory in Wuhan, Hubei province, Feb. 22, 2020. Tao Ran via Xinhua
A large section of the Chinese public, however, doubts the usefulness of TCM, especially when used to treat acute conditions. While two-thirds of respondents to a 2015 survey by China Youth Daily agreed that TCM therapies produce few side effects and can help regulate one's health, only 23% said they'd choose to be treated using TCM if they came down with a common disease. Nearly 46% of respondents, by contrast, said they'd prefer to be treated with Western medicine.
Yan, the TCM doctor, says he was taken aback by the resistance he encountered when he was sent to work at Wuhan Hankou Hospital in early February. Before his arrival, the hospital's 300 COVID-19 inpatients were all being treated using Western medicine, and many of them didn't want the TCM practitioner's help. Though traditional medicine is widely used in Yan's home province of Guangdong, where he has practiced for 20 years, this is not the case in Hubei.
"The first day we arrived at the hospital, we realized many Wuhanese don't trust TCM," said Yan. "We were rejected by some patients, especially young men."
In the case Yan singled out as the most frustrating, the 70-something patient was accompanied by her son, a man in his 30s. (At the time, patients' loved ones were still allowed to stay with them in the hospital.) The man had appeared to agree with Yan's course of treatment, and it was only later the doctor found out he hadn't given his mother any of the decoction he'd prescribed.
"This was the only case (like this)," said Yan. "We were heartbroken by her loss, because she could have survived with our help."
Over time, however, Yan says many of his patients have changed their attitudes toward TCM. Of the 200 COVID-19 patients still hospitalized in Hankou, 150 are taking the lung-cleansing decoction, he told Sixth Tone March 14.
"Very few patients agreed to take TCM in the early days," says Yan. "The first batch of herbal ingredients arrived at the hospital from (the southwestern province of) Sichuan on Feb. 12. After just one day, five patients who'd taken the decoction told us they'd felt improvements — better sleep and bowel movements … Honestly, we didn't expect they'd improve so quickly."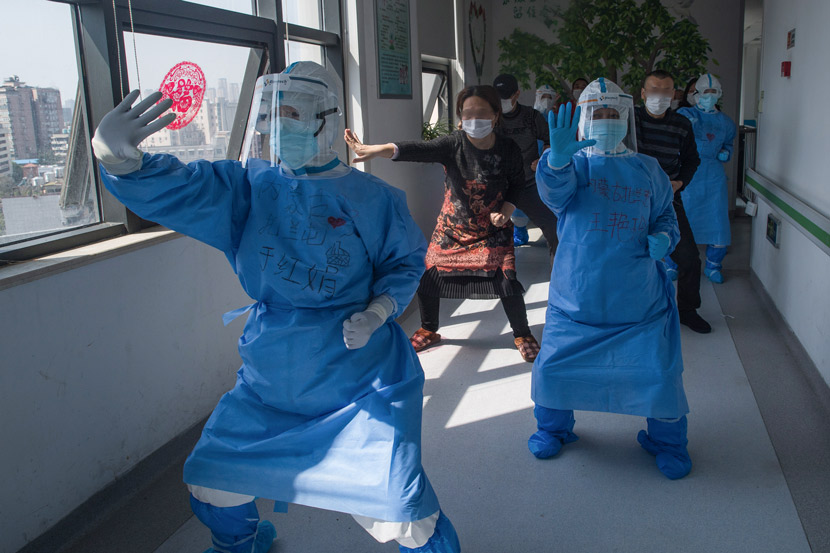 Medical workers lead patients in a session of "Baduanjin," one of the most common forms of meditative exercise qi gong, in the corridor of a hospital in Wuhan, Hubei province, March 19, 2020. Xiao Yijiu/Xinhua
Tian Lihua is among the TCM converts. The 63-year-old Wuhan resident had rarely used traditional medicine before being hospitalized with COVID-19 on Feb. 4, and she initially rejected all non-Western medication, telling her doctors she was too weak to heat up the decoction.
"As I understood it then, TCM might help address non-urgent chronic conditions, but not acute infectious diseases like COVID-19," said Tian.
Tian relented after two weeks at the Wuhan Red Cross Hospital, during which her condition continued to deteriorate. "She was breathing with difficulty even when lying in bed," recalled Liu Cao, a TCM doctor who was dispatched to the hospital from his home province of Sichuan in late January.
Liu eventually convinced Tian to accept his help Feb. 19. In addition to the decoction, the doctor gave her a therapeutic massage to ease her breathing.
"I was amazed by the effects from the massage — my breathing became much easier right afterward and my sleep that night also improved," said Tian. "My condition is much better than a month ago, when I felt like I was dying … But I can't tell which has helped me more — Western medicine or TCM — because I've been using both."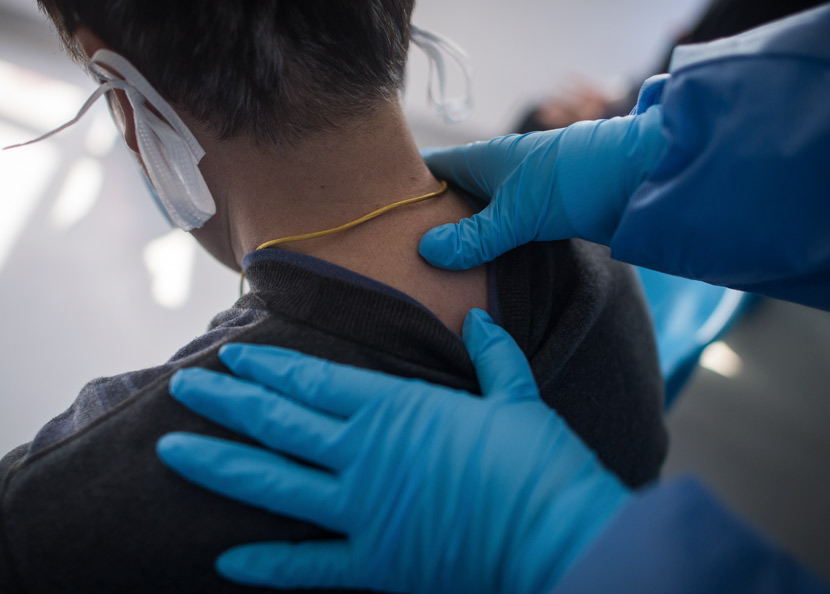 A medical worker gives a COVID-19 patient a therapeutic massage at a hospital in Wuhan, Hubei province, March 19, 2020. Xiao Yijiu/Xinhua
Of the three other people on Tian's ward that received TCM treatment, two recovered and were discharged in mid-March, said Liu. The remaining COVID-19 patients at the Red Cross Hospital — including Tian — have been transferred to Huoshenshan Hospital, a temporary facility built in response to the pandemic.
Huoshenshan doesn't have TCM doctors staffed, and Tian has been lobbying the hospital to provide her with traditional therapies. Her recovery has stalled since she was moved March 14, she said.
"I feel like my legs have weakened," said Tian. "I can't catch my breath after getting out of bed and walking a few steps."
Because most viral infections are self-limiting, Yan stressed it's hard to prove to what extent TCM has been responsible for patients' recoveries in Wuhan. "But overemphasizing the self-limiting nature of the virus might result in a higher mortality rate," warned the doctor. "Intervention measures are important, as you can't guarantee everyone's immune system can combat the virus."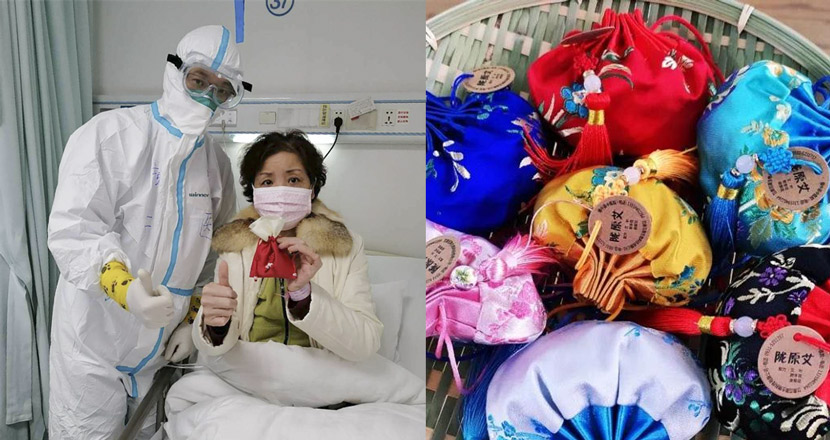 Left: TCM doctor Yan Fang (left) poses for a photo with his patient at Wuhan's Hankou Hospital before she is discharged from the hospital, Hubei province, 2020. Courtesy of Yan Fang; right: TCM sachets that claim to stave off COVID-19 at a TCM hospital in Lanzhou, Gansu province, March 6, 2020. Yu Xuanxuan/CNS
The experience on the pandemic front lines has given Yan renewed confidence in TCM's future, though he admitted some young patients at Hankou were still refusing his help in mid-March, when his assignment at the hospital came to an end.
"There's a long way to go before TCM can win wider recognition at home and abroad," said Yan. "We can prove we're not only effective, but also fast."
There are signs some health professionals overseas are taking an interest in TCM therapies as the pandemic worsens, though this is currently small-scale. The coronavirus had infected nearly 300,000 and killed over 13,000 outside China as of Monday.
In the March 13 press briefing, Zhang of Tianjin University of Traditional Chinese Medicine said he had recently been in touch with a health association in Switzerland interested in how to incorporate TCM into COVID-19 treatment plans, while some TCM therapies had been sent to the United States. "But the quantity of TCM drugs sent was small, and these were just some individual clinics," Zhang added. "In Japan and Thailand, authorities are also paying close attention to our experience in applying TCM."
Yan said he was unsure how effective TCM would be when used in different geographies and on patients of differing ethnic backgrounds. "But in China, patients from across the country have had many similarities," he said. "I'm confident enough to say the participation of TCM in the fight against COVID-19 in any country will only help ease the situation."
According to Liu, TCM is only truly effective when patients believe it can help them. That's why his team has invested significant effort into convincing patients in Wuhan to accept their methods, he said.
"We can't force people to use our therapies," Liu told Sixth Tone. "The theory of qi (vital energy) is very important in TCM. Only if a patient trusts TCM, will their qi be smooth enough to accept the herbal essence into their bodies."
Yan, however, is convinced TCM has enhanced its reputation in China over the past two months. "TCM appeared much earlier in this fight against COVID-19 compared with the previous one against SARS in 2003, and many more TCM professionals have engaged in it," he said. 
Editor: Dominic Morgan.
(Header image: A pharmacist weighs materials at a TCM clinic in Shangqiu, Henan province, March 6, 2020. Miao Yucai/IC)