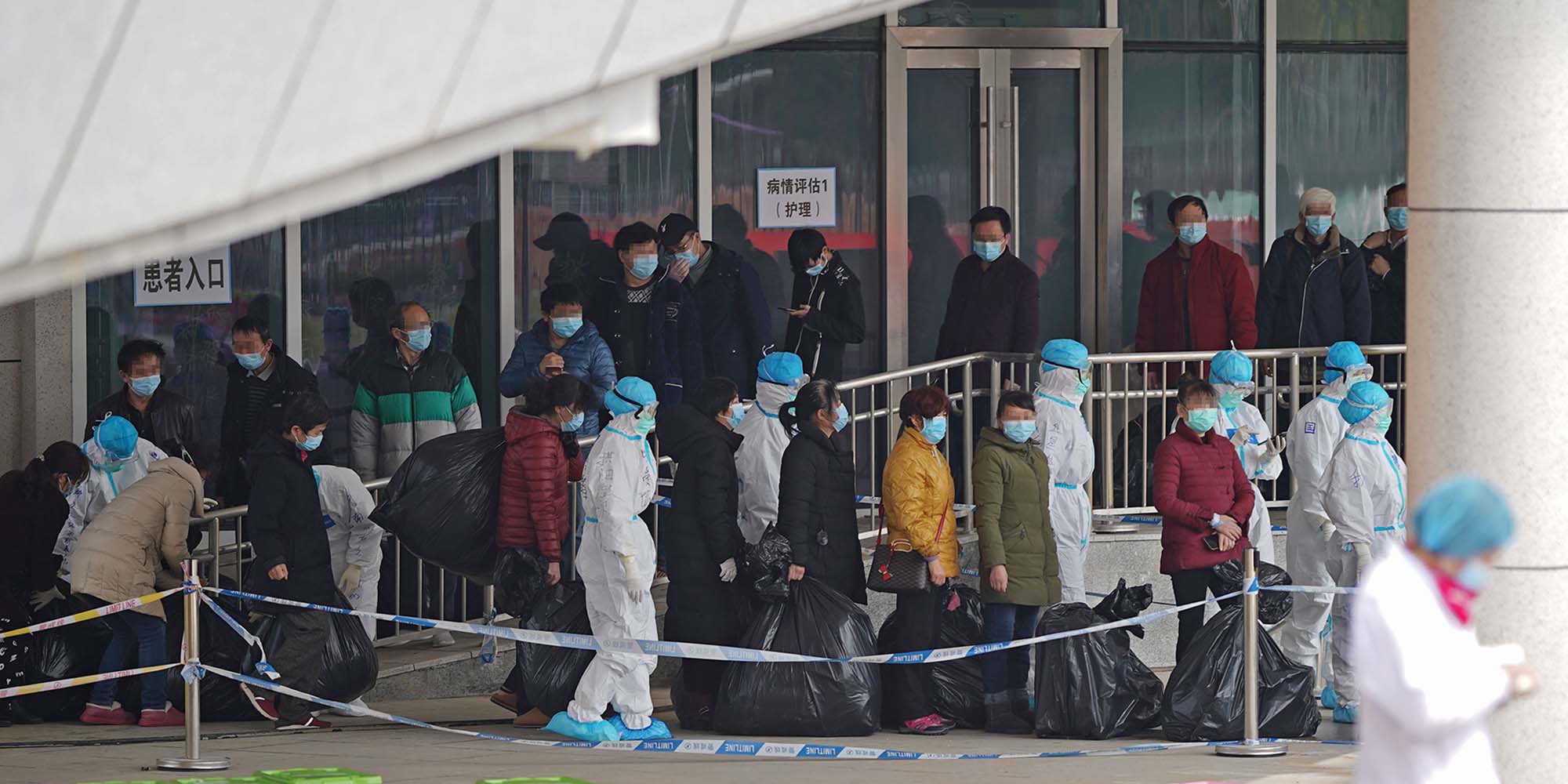 NEWS
Wuhan Grapples With 'Silent Carriers' Absent From Official Data
As doctors and nurses head home from the province at the center of China's coronavirus outbreak, disease control officials are being asked to stick around to help with a final — and potentially formidable — challenge.
Update: In response to concerns about silent carriers of the COVID-19 virus, Wuhan health authorities said Monday night that all asymptomatic cases are quarantined for 14 days and given further tests. "A few silent carriers will develop into confirmed patients, but most can recover on their own," the authority said. The statement added that while silent carriers can be infectious, the World Health Organization has suggested that, based on the existing data, most people who contract the virus get it from COVID-19 patients with symptoms.
Less than a week after medical teams from all over China began heading home from the central Hubei province, where COVID-19 is most concentrated, some disease control officials are being asked to stay and help resolve the lingering threat of "silent carriers," according to domestic news outlet Caixin.
As of Sunday, Hubei had reported no newly confirmed cases of COVID-19 for four days straight, after 67,800 people in the province became infected and over 3,000 died. By Friday, some 12,000 medical workers dispatched to Hubei to assist with treatment and containment efforts had left the province.
However, a source from the Chinese Center for Disease Control and Prevention told Caixin that Hubei's epidemic control headquarters had requested that a team of officials from disease control and prevention centers across the country remain for the time being, citing "worries over the conditions in Wuhan (Hubei's provincial capital) and Hubei."
Among these worries are the so-called silent carriers of the SARS-CoV-2 virus.
"Every day, a couple to over 10 cases of covert infections of the virus are being detected," Caixin's report, published Monday, quoted the China CDC staff member as saying. "It's hard to judge now whether the spread of the virus in Wuhan has been thoroughly cut off."
A silent carrier — a term referring to a person who has been infected with the COVID-19 virus but does not show symptoms — is different from a "confirmed patient" or "suspected patient" under China's national guidelines for diagnosing and treating the disease. The fifth version of the guideline, issued Feb. 4, stated for the first time that silent carriers could potentially infect others.
An article published Friday by the scientific journal Nature underscored experts' concerns about covert coronavirus infections.
"Many scientists have suspected that there is an undetected pool of covert cases showing limited to no symptoms because an increasing number of infected people cannot be linked to known COVID-19 cases or travel to epidemic hotspots," the article said.
Over the weekend, the Wuhan government tried to assuage the public's fears by clarifying the difference between "silent carriers" and "confirmed cases," after a photo of a notice warning households in a Wuhan residential compound of a newly confirmed case among them was widely circulated online.
The case — an apparent contradiction of the city's official data, which claimed there had been no new infections that day — sparked an online outcry. According to the state-owned Xinhua News Agency, the new case — a patient surnamed Zhang who had a body normal temperature and showed none of the usual symptoms — tested positive for the coronavirus.
"According to our investigation, the resident Zhang is a silent carrier," the Wuhan government said in a statement Sunday morning. "(Zhang) is not a confirmed case," it added, citing the national guideline.
Despite not being counted among confirmed cases, silent carriers of the coronavirus must be treated or quarantined. "There are different quarantine sites for such people, including hospitals," Yan Fang, a doctor from the southern Guangdong province who was sent to Wuhan's Hankou Hospital to treat severe COVID-19 patients, told Sixth Tone.
"They're given anti-viral treatments similar to the therapies offered to patients with mild symptoms," another doctor, Liu Cao, who traveled to Wuhan from the southwestern Sichuan province and worked in the local Red Cross hospital, told Sixth Tone. "We have received such carriers transferred from shelter hospitals — they were detected after their close family members were diagnosed."
A local resident from the housing compound where Zhang lives told Sixth Tone on condition of anonymity that the complex has been completely sealed-off from the surrounding city. "The gate of the compound has remained closed. We continue to purchase our daily necessities online, and they're delivered inside the neighborhood," said the Wuhan native, who runs a small business.
"After the incident (of the silent carrier), we stopped getting updates about infections within the neighborhood," the resident said.
Editor: David Paulk.
(Header image: COVID-19 patients lined up outside a temporary "shelter hospital" in Wuhan, Hubei province, March 10, 2020. Xinhua)