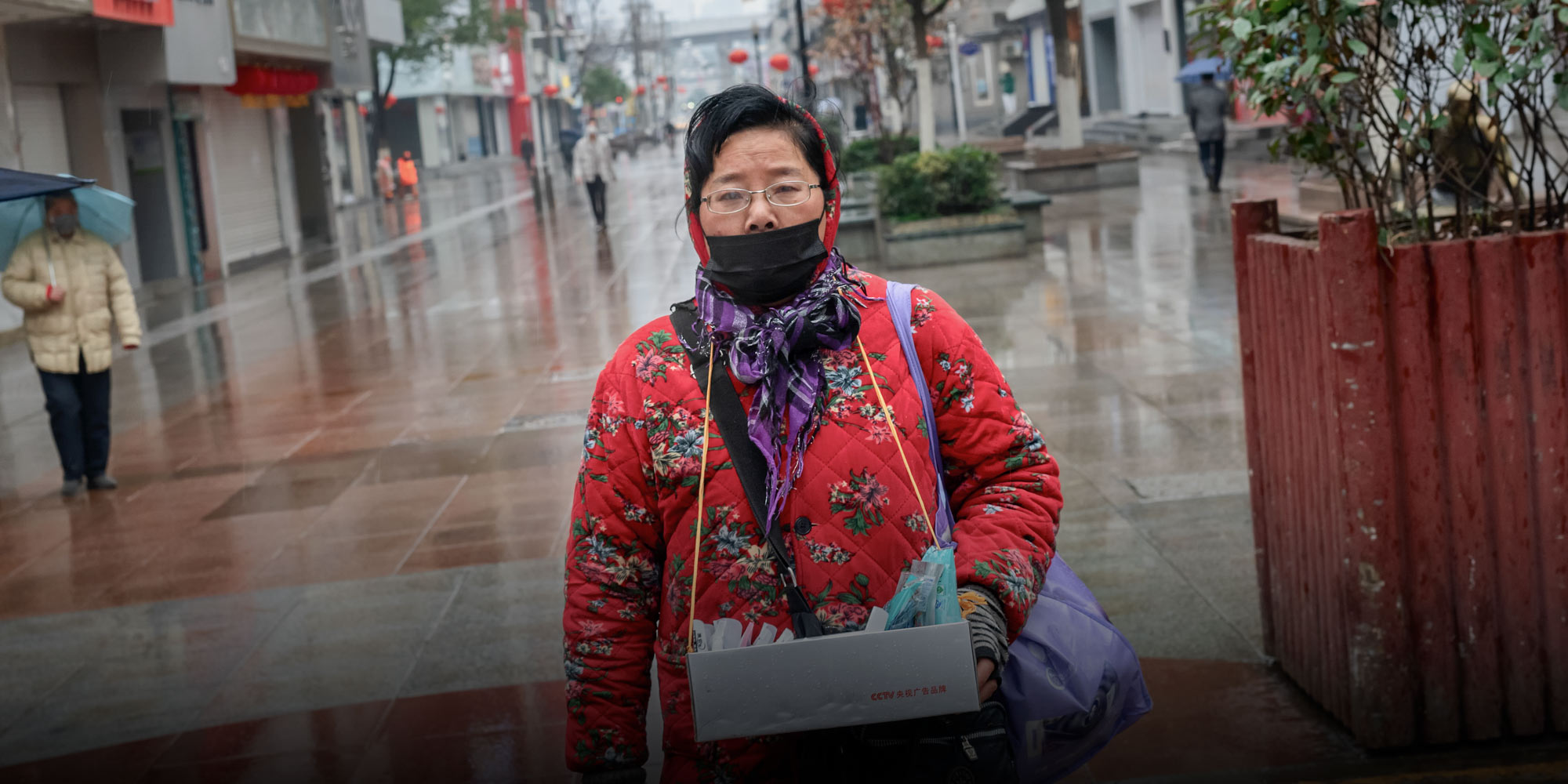 MULTIMEDIA
A Visual Diary From the Heart of the Pandemic
Photographer and Wuhan native Zhang Xizhi recorded his life under lockdown.
HUBEI, Central China — In our little family of three, we are all Wuhanese, born and raised. Though we have not been infected during the COVID-19 pandemic, our two-month imprisonment in our home has been a roller coaster of emotions.
I received the news of Wuhan's complete shutdown in the early morning of Jan. 23, two days before the Lunar New Year. Initially it didn't shock me, because I had been following the news of a mysterious new type of pneumonia since the end of last year. However, when I saw a video of subway stations shutting their gates in the middle of the day, I was dumbfounded.
Early Days of the Shutdown
Our family's groceries list suddenly expanded from food to celebrate the New Year to supplies to survive the city's shutdown. My father felt uneasy about letting me go out and insisted on doing it himself. All I could do was urge him to wear a mask, hat, and gloves, and to keep away from crowds.
When my father returned from the store, he said our residential compound was completely empty; the small gaggle of elderly people who could usually be found exercising in the courtyard had disappeared without a trace. The groceries had cost 50% more than usual. At the pharmacy, masks, rubbing alcohol, and other protective supplies were already sold out.
On the second day of the shutdown, I decided to drive around the city — before an announced ban on private vehicles went into effect — just to see how drastically Wuhan had changed in the last 24 hours. My father volunteered to drive so it would be easier for me to focus on taking photos. My mother declared us both to be out of our minds.
When we reached the city center, we saw that once-bustling streets had emptied overnight, almost like Wuhan had suddenly gone to sleep. The usual crowds at landmarks like Tortoise Mountain TV Tower, Yellow Crane Tower, and Jiefang Avenue had disappeared. I wanted to use my lens to immortalize this unusual transformation. The people standing and staring from the overpass epitomized our sense of hopelessness and confusion at the beginning of this outbreak. The hawkers and homeless people who were still on the sidewalk even though all the stores were shuttered — what were they going to do? How were they going to survive?
A Nontraditional Spring Festival
On Jan. 24, Lunar New Year's Eve, my mother woke up at her usual early hour and saw in our family group chat that the airline where my cousin works had just suspended all flights. She replied with a feigned sense of calm: "Hon, this could be a good chance for you to take some needed time off."
My father has smoked for years, suffers from chronic bronchitis, and is always coughing. When the news of the citywide shutdown broke, my mother teased him: "If you even so much as think of leaving, they'll arrest you on the spot." As she tried to make light of the situation, I could sense how frightened she really was on the inside. She's almost 60 years old and has battled lung cancer for more than five years. The novel coronavirus is as much of a threat to her as it is to my dad. She said the shutdown was the biggest event she had ever witnessed in her life.
The extended family's traditional reunion dinner was also cancelled due to the outbreak; instead, the three of us stayed in for the New Year. For New Year's dinner this year, my father made Huangpi Sanxian, a Wuhanese dish with fishballs, meatballs, and a type of meatloaf. Our family sat at the table in front of this dish, which carried auspicious and joyful connotations, and wished each other a happy Year of the Rat.
With his persistent smoker's cough and regular trips outside, my father was constantly afraid he'd been infected. After the New Year dinner, he returned to his room, leaving my mother to watch the Spring Festival Gala alone in the living room. She had been feeling down because of the outbreak, but the Gala's "Parents' Love" skit at least gave her some comic relief. She enjoys the atmosphere of big family gatherings: "I feel like the Gala was still able to comfort us Wuhanese, alleviating our feelings of being wounded, abandoned, and misunderstood."
Not once did we consider leaving. As my mom said: "Fleeing is not a wise choice. The only thing we can do to protect ourselves and others is to shut ourselves indoors."
Darkest Hour
From the 25th to the 27th, we received a stream of bad news as the number of confirmed cases continued to skyrocket. My cousin told us her classmate's cousin had just died in the hospital; all my mother could reply at first was "That's terrifying." After almost an hour of silence, she sent another message: "Out of the whole family, I'm the most at risk with my background of lung disease. If I get it, I'm a goner," followed by two crying emojis.
My mother had a bad toothache about a week into the shutdown, so I went out to buy medicine for her. The only open pharmacy in the vicinity of our small residential compound had a table set up out front where I gave my order to the clerk, who then went inside to retrieve what I needed. They carried the medicine out and placed it on the small table in front of me so that at no point during the transaction would we make any physical contact. Upon returning home, I found my mother sobbing to herself in her room. She had just learned that one of her relatives had contracted the virus, and she was calling all of her contacts for help. I was heartbroken to hear my mother's cries of panic and despair as she spoke on the phone.
Because my father is a public servant who needed to leave the house to carry out epidemic prevention and control work in the community, we relied on him to buy our essentials. However, my seriously ill mother could no longer obtain her medications for cancer and rheumatism because of the shutdown, so her only choice was to decrease the amount of medication she took on a daily basis.
I have lived in Wuhan for 29 years. For me, this city is full of friends, relatives, and acquaintances. But all of a sudden, I had to relinquish some of these ties forever. The streets outside my window were utterly silent, save for the rumble of a single truck spraying disinfectant. This may well have been Wuhan's darkest hour.
Numb
After Feb. 2, the city of Wuhan gradually ramped up its preventative measures. First, the expressway out of the city was blocked; then the inner city's main thoroughfares; and now, even the gate to our residential community is barred shut. In this prison-like existence, I've gradually lost all sense of time.
Forbidden from leaving the house, all I seem to do these days is sleep and eat, and yet I've lost 3 kilograms — my mother says it's because of "worrying for the country and the people." When I asked her how she was coping so far, she told me she felt numb: "I don't know when all this will come to an end. I just want to go downstairs and walk around, but I'm afraid of being infected. Being cramped up like this for so long is driving me crazy." However, when she stepped out of the house for the first time since the outbreak on the afternoon of March 14, my mom was seized by panic the moment she saw other people walking toward her on the street, especially those wearing hazmat suits.
At times, I haven't been able to resist venting to my friends outside Wuhan, who invariably try to comfort me by saying: "Isn't everything getting better?" Yes, it is getting better, but I can't ignore the wails of those who are still in trouble.
Poet Feng Zhi wrote in 1948:
Human suffering is like a tree that stands upright in winter, swaying in the wind and snow, with nowhere to hide. Only sin shows off in a beautiful coat — frauds hide their hypocrisy through empty slogans, while a true survivor faces the truth head-on. Even if his words are as unpleasant to hear as a cough in the middle of the night, they move and enlighten the people who hear them, because they represent the sound of survival.
It is this sound of survival that reminds us that everyone who has died is tied to us. The pandemic will pass, the city will recover, but the dead will not come back. What we need to do is not forget — we must erect monuments to them in our hearts.
Translator: Lewis Wright; editors: Ding Yining, Kevin Schoenmakers, and Qi Ya.
(Header image: A vendor sells face masks on a pedestrian street in Wuhan, Hubei proinvce, Jan. 24, 2020. Zhang Xizhi for Sixth Tone)