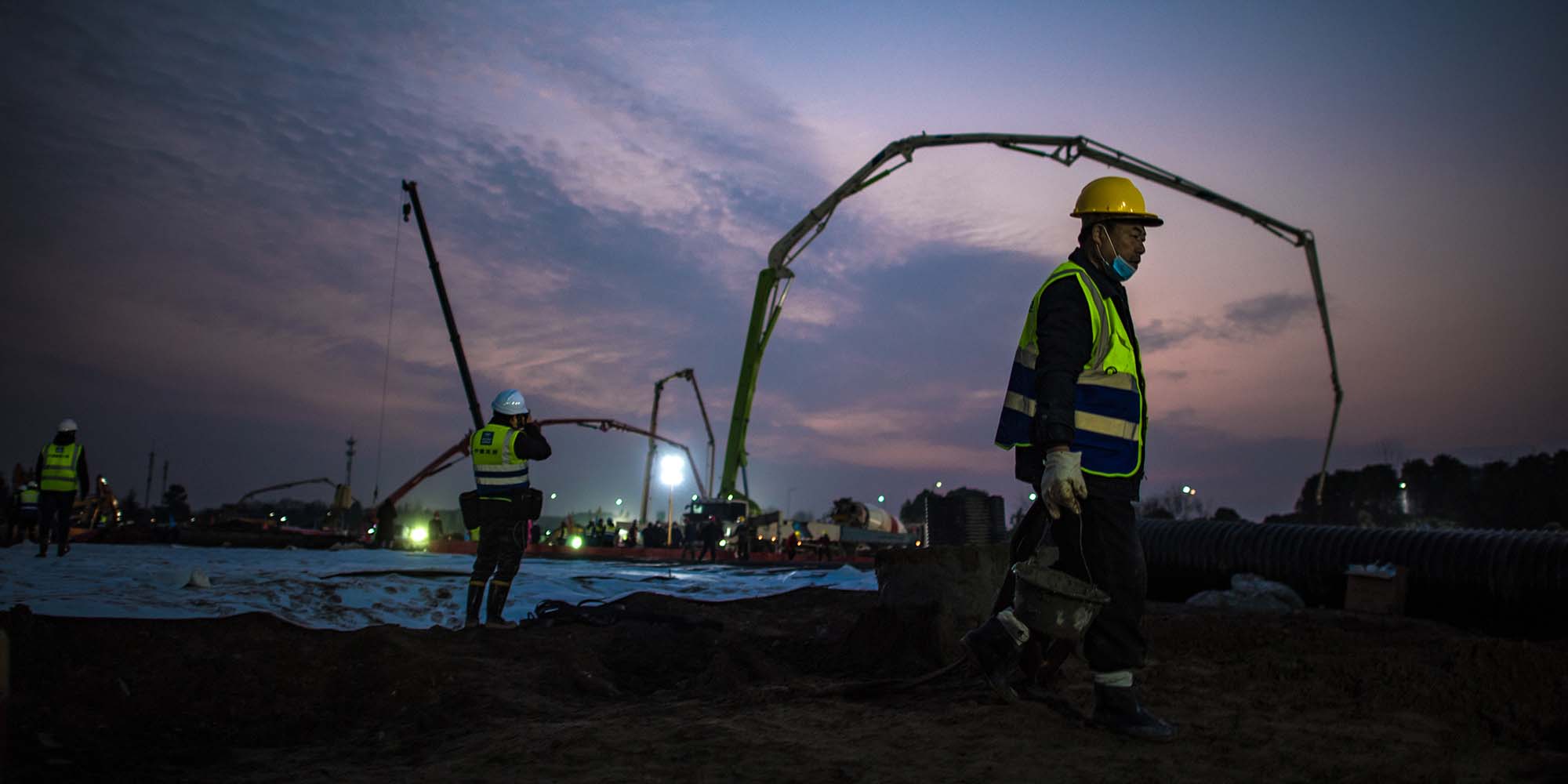 NEWS
The Blood, Sweat, and Fears Behind Wuhan's Pop-Up Hospital
Though many construction workers worried about contacting the coronavirus after Huoshenshan quarantine hospital began admitting patients, official figures for infected laborers have not been released.
On the second day of the Lunar New Year, Zhu Yong was given an unusual assignment: to help build a hospital in 10 days.
The 43-year-old was one of several thousand construction workers who labored nearly around the clock to build Wuhan's Huoshenshan quarantine hospital from the ground up.
Zhu arrived at the Huoshenshan site on Jan. 27 at the behest of his employer, Wuhan Construction Engineering Group. He was in charge of building and installing specific parts of the structure including partitions, doors, and windows. Zhu told Sixth Tone that the first 10 days after he arrived at the site were exhausting: He said he was lucky if he got five hours of sleep.
"I worked all night. At 9 a.m. I would usually go to sleep. Then after four or five hours, I went back to work," Zhu said. "I could barely get around. My feet were badly blistered from doing so much walking, and I lost 5 jin (2.5 kilograms) during those days."
Huoshenshan — or "Fire God Mountain" — is one of two pop-up hospitals erected in Wuhan from late January to early February to accommodate the city's more seriously ill COVID-19 patients. The hospital, which at 33,900 square meters is about the size of five soccer fields, has a total capacity of 1,000 beds.
On Feb. 2, just 10 days after the project broke ground, a finished structure was handed over to the People's Liberation Army. Many at home and abroad hailed its completion as a remarkable achievement.
Zhu and over 3,000 others worked grueling shifts to make this happen. According to a livestream of the site, excavators were plowing away at all hours of the day and night. Although Zhu found the long hours taxing, the chief concern among him and his peers was the possibility of becoming infected.
After Huoshenshan was completed, nine construction workers out of 70 who were tested during their compulsory two-week quarantine periods were confirmed to have contracted COVID-19 while on-site, domestic outlet Caijing reported Wednesday, citing China Construction Third Engineering Bureau, a state-owned company. The only instance Sixth Tone found of government officials acknowledging COVID-19 transmission at the construction site was the health commission of Xiangtan, a city in the central Hunan province, confirming on Feb. 11 that a laborer surnamed Lin had tested positive during quarantine upon returning from the Huoshenshan project.
Zhu, for his part, told Sixth Tone he hadn't heard of any of his fellow construction workers becoming infected, though he recalled a few dramatic moments involving the virus. According to Zhu, in late January one construction worker went to the on-site police claiming that his wife — also a Huoshenshan worker — had become infected.
"If there are thousands of people (working in the same place), a rumor like this will frighten a lot of people," Zhu said. "Some people were very scared after this incident, and ran away."
According to Zhu, concerns mounted from Feb. 8, when Huoshenshan began taking in more patients. The laborer said that, although Huoshenshan was officially completed on Feb. 2, some parts remained unfinished, and thus many construction workers were still active at the site when it began accepting patients on Feb. 4.
"There were rumors everywhere, making everyone feel panicked," Zhu said. "Many fled during that time. Nobody wanted to come (to work), even if they were promised 3,000 yuan ($420) per day."
A manager at Wuhan Construction Engineering Group, one of several companies tasked with building Huoshenshan, said that no workers from his company became infected with COVID-19 while building Huoshenshan, though he couldn't vouch for their health after they left the site.
The manager, who spoke to Sixth Tone on condition of anonymity, said that the company provided its workers with protective equipment including face masks and disinfectant. Although workers were required to wear masks while on duty, some didn't follow the rule, Zhu said.
According to Caijing's report Wednesday, over 300 construction workers who helped build Huoshenshan are still being held at a local quarantine site, long after the prescribed two-week period elapsed. Two days later, however, Wuhan's urban-rural development office said that all quarantined construction workers had been cleared to return to their homes.
Xi Yanli, a construction worker in charge of recruiting staff and coordinating projects, left the Huoshenshan site on Feb. 9. He told Sixth Tone that he has been under quarantine at his home ever since, due to a citywide containment policy. Although he's able to manage some aspects of his job online, Xi said many of his company's projects have been delayed due to Wuhan being on lockdown. The manager, meanwhile, said his employees will resume work on Wednesday.
Though a majority of construction workers have completed their assignments at Huoshenshan, some have stayed on at the hospital to help with daily maintenance. Liu Jie, a 33-year-old who specializes in waterproofing buildings and other structures, told Sixth Tone he is on call 24 hours a day.
"Whenever I close my eyes, I picture the structure of the hospital," Liu said. "And every time the weather forecast says it's going to rain, I think about whether there's anywhere it might leak."
Liu's concerns can be traced back to a rainy day in mid-February, when there was a rumor that Huoshenshan was leaking. But the leak was actually at a still-unfinished part of Leishenshan Hospital, Wuhan's other pop-up quarantine facility, Liu said.
"I was quite angry when I heard these rumors," said Liu, who recorded a video at Huoshenshan as proof that its roof was holding up just fine. "The rain started at 11 p.m. I was at the facility standing by until it stopped."
When asked about how much they stand to earn from working on the Huoshenshan project, Zhu, Xi, and Liu all said money was not their priority, and that they and many others had simply heeded the call for the urgent project without giving contracts or compensation a second thought.
"I feel very proud to have done such valuable work," said Xi. "I did this job for myself. Now it's their (the company's) call on how much they want to pay us."
Zhu — who, like Liu, is also on call for ongoing work at Huoshenshan — said he felt honored and happy, especially given the declining numbers of newly diagnosed cases in Wuhan. But Zhu and Liu are also looking forward to their duties at the hospital coming to an end.
"I want to go back to my hometown of Wenzhou," said Zhu, who wasn't able to be with his family over the Lunar New Year. Liu, the 33-year-old, is lonely and lovelorn after his stint at the site, too. "I just hope some nice girl will accept me," he said.
Editor: David Paulk.
(Header image: Laborers work overnight to build the Huoshenshan quarantine hospital in Wuhan, Hubei province, Jan. 28, 2020. Xinhua)