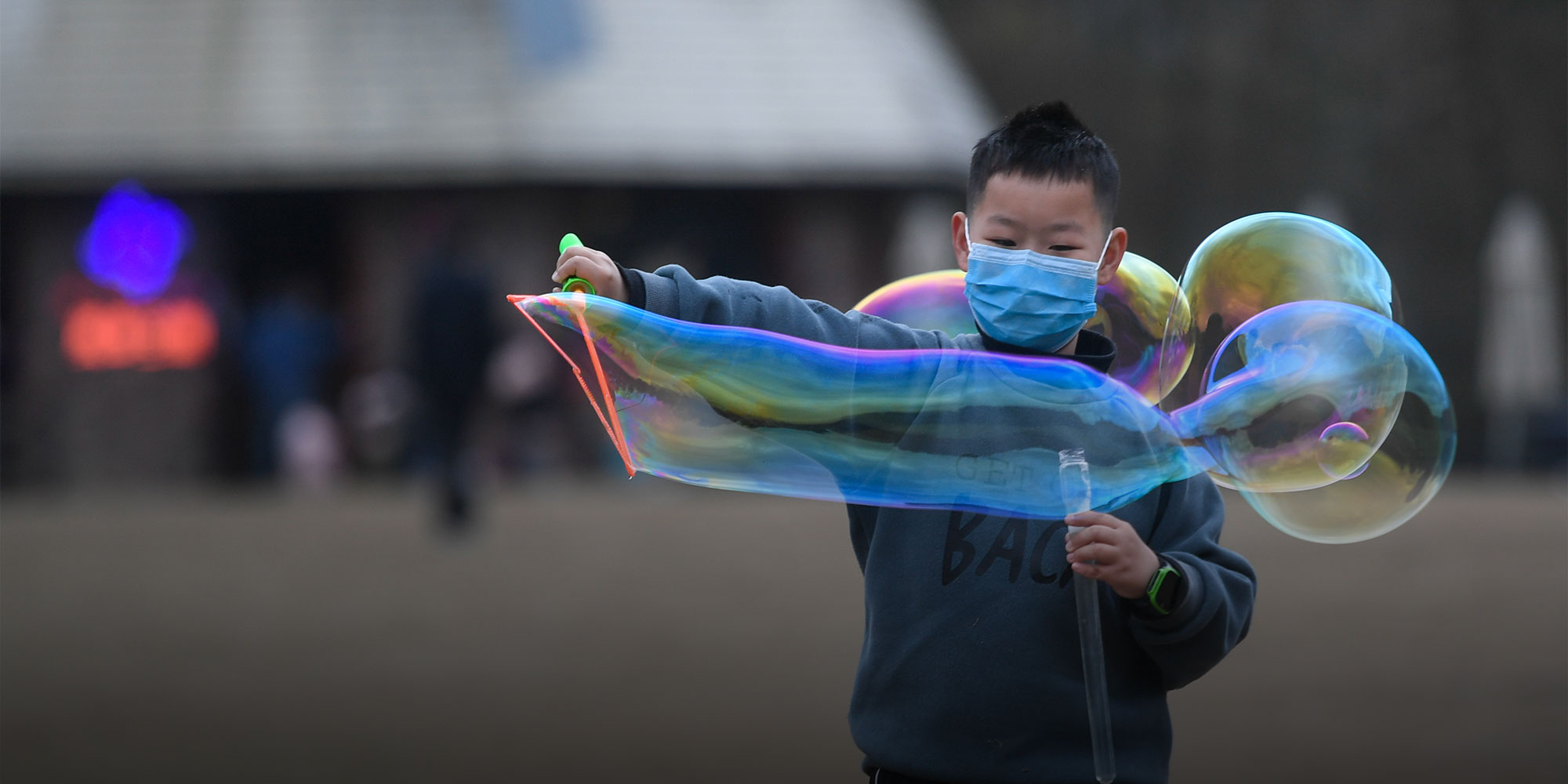 NEWS
Children Less Severely Affected by COVID-19, Scientists Find
Experts have suggested that fully functional thymus glands in children may be the key to their superior resistance to the coronavirus.
Are kids immune to the COVID-19 virus? The answer is no, but most infected children experience relatively mild symptoms that differ from those observed in adults, scientists say.
Several studies show that children tend to have longer incubation and virus-shedding periods than adults. Family cluster infection is the major cause of cases in children, which can trigger community outbreaks if not identified in time, researchers warn.
Wuhan Children's Hospital is the only designated hospital for children confirmed with or suspected of COVID-19 infection. As of March 8, the hospital had treated 683 children, including confirmed and suspected cases. Of them, 419 were discharged.
Staff at the hospital told Caixin that 32 newborns with COVID-19 made full recoveries, and four infants in critical conditions now no longer need ventilators.
Most infected children and infants have mild symptoms, and severe cases account for only about 5% of those confirmed, according to Lu Xiaoxia, director of the respiratory department at the children's hospital.
Unlike adult patients, some children or newborn patients tend to have atypical symptoms, such as vomiting, diarrhea, and other gastrointestinal symptoms, several studies on children's clinical data show. This may make it even harder to identify infected kids.
A study published March 13 by Nature Medicine assessed 10 children with COVID-19 at Guangzhou Women and Children's Medical Center. Researchers found that none of them experienced symptoms common in adult patients, such as difficulty breathing, muscle pain, headache, and nausea.
The study found that seven children had fever, but no higher than 102 degrees Fahrenheit, and one showed no symptoms at all. All 10 children were tested for the virus because they had been in close contact with diagnosed patients. Chest X-rays of the children were either normal or showed only coarse lung markings without unilateral or bilateral pneumonia.
Few cases had leukopenia, leukocytosis, lymphopenia, or elevated transaminase, which are frequently seen in adult patients, the study found.
Another preprint paper published by The Lancet medical journal of 50 children reported similar findings. Forty-six patients, or more than 90%, had mild or very minor symptoms, and two had no symptoms at all, according to the authors, a team at Wuhan Children's Hospital and Wuhan Tongji Hospital.
The study showed that percentages of symptoms such as fever, cough, and fatigue were all lower than in adults, but slightly more children had diarrhea than adults.
The underlying mechanism for less-severe symptoms in children is unknow, but scientists speculate it may be because of a fully functional thymus in children. The thymus gland aids in the production of T cells, which are crucial for the immune system. It is largest and most active in children, and begins to shrink and fade away in adolescence.
Another phenomenon of concern in children with coronavirus is a longer intestinal detoxification cycle. As some child patients have diarrhea and other gastrointestinal symptoms, special attention should be paid to avoid infection through feces and urine, researchers warn.
One of the studies found that eight of 10 child patients had rectal swabs that tested positive, suggesting potential fecal viral excretion. Moreover, eight of 10 children demonstrated persistently positive tests of rectal swabs after their nasopharyngeal testing turned negative.
The findings suggest that rectal swab-testing may be more useful than nasopharyngeal swab-testing in judging the effectiveness of treatment and determining the timing of termination of quarantine, researchers said.
This is an original article written by Zhang Yang, Huang Huizhao, and Denise Jia of Caixin Global, and has been republished with permission. The article can be found on Caixin's website here.
(Header image: A boy plays with a bubble wand in Hangzhou, Zhejiang province, March 10, 2020. Huang Zongzhi/Xinhua)