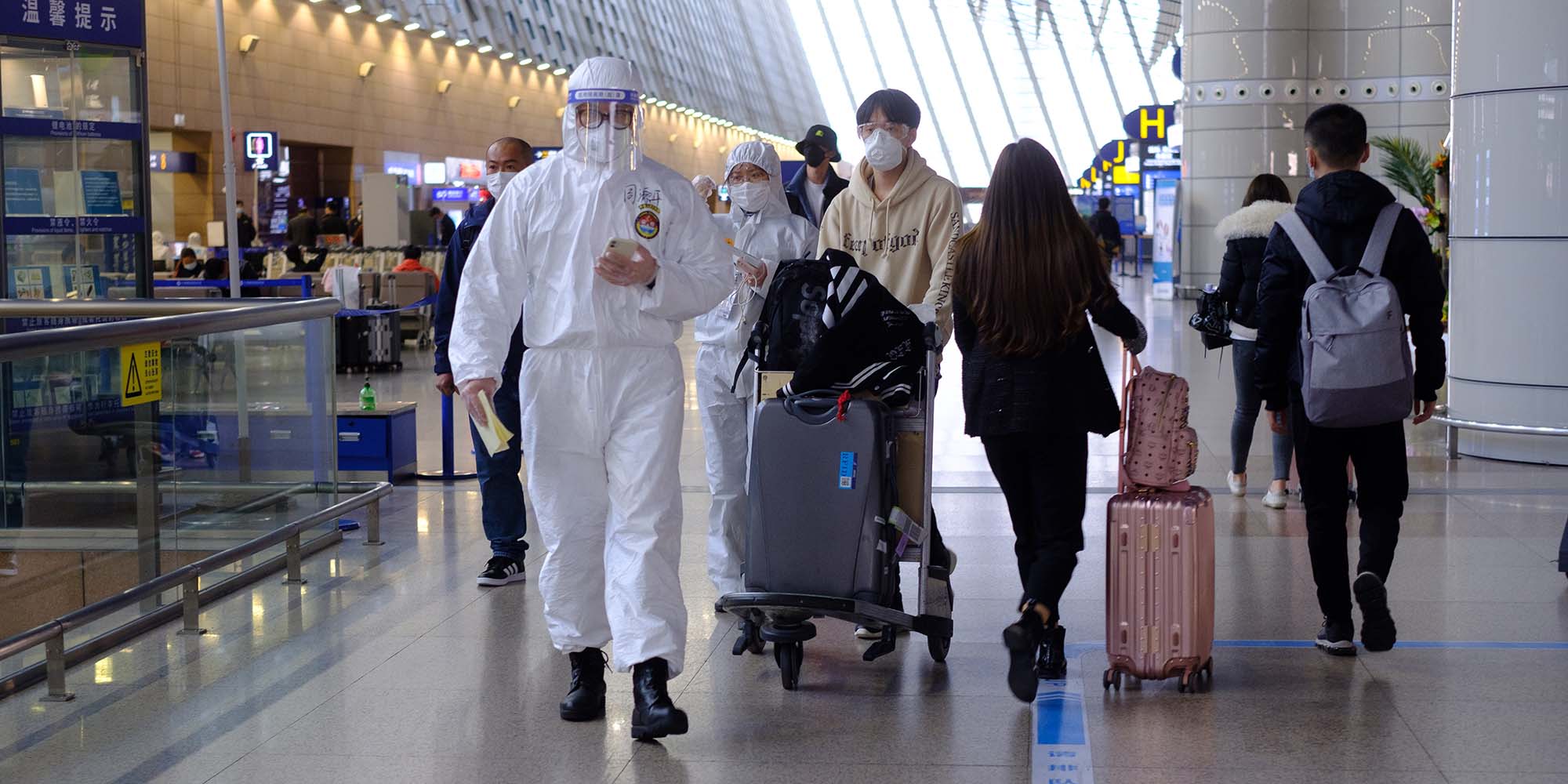 NEWS
Chinese Fear COVID-19 Rebound as Overseas Students Rush Home
High-profile cases of people traveling while infected with the coronavirus and flouting mandatory quarantine orders upon arrival have not improved the Chinese public's perception of returnees.
Chinese students abroad hoping to escape the escalating COVID-19 pandemic and be reunited with their families are encountering an unforeseen obstacle: compatriots who would rather they stayed away.
Li is a sophomore at a university in New York City with a one-way ticket home to the southern Chinese city of Guangzhou. After her school moved all its classes online earlier this month for the remainder of the term, she started planning her trip home.
Despite massive flight cancellations between the U.S. and China, Li managed to secure a seat on a direct flight from New York in the coming days. But the 15-hour flight cost her well over 15,000 yuan ($2,110).
"Last year at this time, we could probably get return tickets for less than 5,000 yuan if we booked in advance," Li told Sixth Tone. "But if I don't go back now, I don't know when I'd get the chance."
Li said the main reason she wanted to come back is because she's worried China might impose its own travel bans, or completely suspend incoming flights. She even booked a second ticket for a later date, just in case her first flight gets canceled at the last minute, which has been known to happen during the pandemic, she said.
With the COVID-19 outbreak subsiding in China, which now reports just 7,300 active cases, the total number of infections in other parts of the world has surpassed 163,000 as of Friday.
Meanwhile, several of China's most internationally connected cities, such as Shanghai and Beijing, have been seeing more imported cases than domestic ones recently. On Wednesday, China reported no new domestic cases for the first time since the outbreak began, while 34 new imported infections were identified. To date, there have been 189 imported infections detected in China, according to the country's National Health Commission.
As a result, many people view returnees from overseas as harbingers of infection. On Wednesday, Beijing's health authority said during a press conference that "students abroad should suspend their trips coming back to the country unless absolutely necessary," citing the risk of becoming infected while traveling.
In a bid to contain the spread of COVID-19, many provincial-level governments including Beijing and Shanghai have imposed strict quarantine measures on all travelers — locals and foreigners — arriving from overseas. Incoming passengers are required to self-quarantine for two weeks either at a designated hotel or at home, depending on local regulations.
However, not everyone is following the rules, according to a few viral videos that have sparked outrage online. For example, many people demanded that a Chinese-Australian woman who flouted her mandatory quarantine to go jogging in Beijing be expelled from the country — a wish that was granted Thursday.
In the following days, a short video of a domestic broadcaster condemning such violations went viral on Chinese social media. "When we were building our homeland, you were nowhere to be found. Now you come rushing back from a thousand miles away, spreading the virus all around," the anchor says in the video. The clip has been shared over 45,000 times and received nearly 560,000 likes on microblogging platform Weibo.
"Now that the situation is worse here (abroad), I can understand why they're concerned about us coming back," Li said. "I'm not offended, but I think we also deserve to be understood if we choose to go home for whatever reasons."
But not all Chinese students abroad are as eager to go home. Xu Xiaofei, a graduate student at Columbia University in New York, plans to remain in the U.S.
"It's not like we're running out of food anytime soon in New York," Xu told Sixth Tone. Compared with crowded airports, he said he feels safer staying in the city.
Xu admits there have been precedents of infected people returning to China knowing they might be sick. Earlier this month, a Chinese woman in the U.S. who thought she might have the coronavirus flew back to China, where she tested positive and, in doing so, prompted a police investigation.
"That's why people panic over returnees — the chaos we are seeing is what's freaking people out," Xu said. "Once the authorities figure out the best system to track and regulate returnees and make that information transparent, the situation will get better."
Editor: David Paulk.
(Header image: A medical worker directs passengers arriving in Shanghai to a COVID-19 screening station at Pudong International Airport, March 17, 2020. Wu Huiyuan/Sixth Tone)