Chinese netizens are lashing out at a popular vlogger after she felt compelled to apologize for the coronavirus as it spreads rapidly in other countries.
"I know the global pandemic is in many cases out of our control, but after seeing what's happening in Europe, I can't help but say sorry a million times from the bottom of my heart," the blogger, Nihao Zhuzi, wrote Wednesday on microblogging platform Weibo.
The post sparked immediate backlash, with netizens saying they were disappointed by Zhuzi's words and would unfollow her. Before this week, Zhuzi was a widely adored online personality whose lifestyle vlog had attracted 3.6 million followers.
"She is taking Chinese people's money while at the same time kissing foreign ass," wrote one Weibo user. "After marrying a foreigner, she forgot where she was born," wrote another user, referring to Zhuzi's partner.
To criticize Zhuzi for allegedly not standing in solidarity with China during a time of crisis, some netizens described her as a "banana person" — a pejorative term for a person who has yellow skin but a "white mindset."
Zhuzi said she deleted her post amid the flood of negative comments. In a later post only visible to her followers, she explained that, given "the disaster that the whole world is experiencing, 'feeling sorry' is just the personal reaction of a normal human being."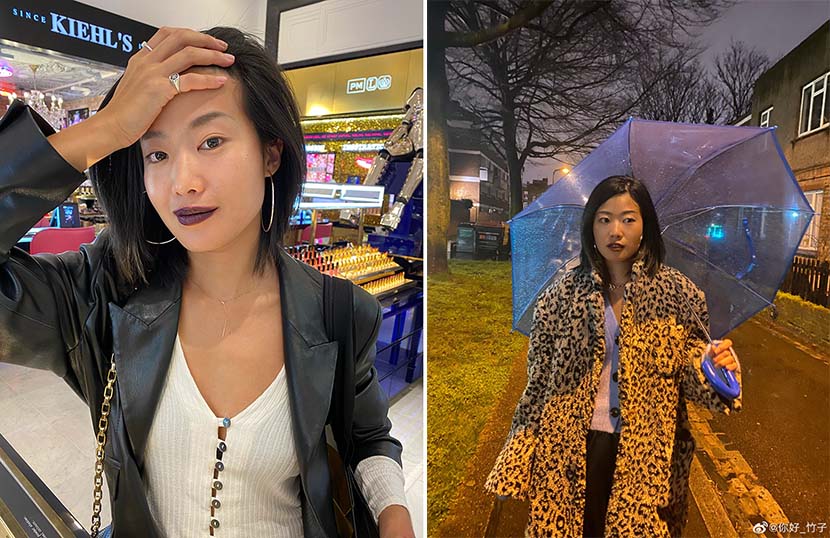 Photos of lifestyle vlogger Nihao Zhuzi, from her Weibo account.
According to Zhang Li, a scholar specializing in race, gender, and media, the cultural framing of unwavering patriotism as a social responsibility is not only wrong, but also an act of violence in itself. However, Zhang — who asked to use a pseudonym for fear of experiencing similar online backlash — sees Zhuzi's apology as somewhat problematic, too.
"She comes across as a person with cosmopolitan beliefs that transcend race," Zhang told Sixth Tone. "However, in times like this (when China is being accused of causing the current pandemic), one must realize that it's not true — and we're being reminded of the fact that, in the eyes of some Europeans, our skin tone is never 'neutral," she added, referring to instances of racism against Asian people during the pandemic. "However, even when this is happening, she seems to worry more about causing trouble for the Europeans than about being racially profiled herself."
The backlash against Zhuzi is consistent with a rhetorical shift in China, where COVID-19 is largely being brought under control, even as cases continue to climb abroad. On Friday, a hashtag translating to "Chinese medical experts fly to Italy with supplies" trended on Weibo, with many users saying they felt lucky to be in China. By Friday evening, the hashtag had received over 28 million views.
"After experiencing this, I realize how good my life is in China. During this period (of COVID-19 spreading aboard), foreign countries' (control and prevention measures) look like a joke to me," a Weibo user commented below a related media post.
Such sentiments have been voiced in China before, during other countries' times of crisis. In mid-January, an article titled, "If it weren't for the Australian bushfires, I wouldn't have known China was so powerful 33 years ago" went viral online. It contrasted the Chinese government's swift response to a deadly wildfire in the northeastern Heilongjiang province in 1987 with the Australian government's failure to contain the fires that swept through the country's east coast beginning in June 2019.
This apparent schadenfreude drew criticism from scholars like Fang Kecheng, who argued that in 1987, the official narrative had been to frame the response to the fires as a national triumph, even as Chinese journalists at the scene were doggedly reporting on the destruction and chaos.
"Netizens often take to Weibo in order to express national pride, especially when the Chinese government responds swiftly and reliably to humanitarian disasters in foreign lands," Han Le, an assistant professor at the Center for Integrative Studies of Michigan State University, wrote in a 2017 commentary about Weibo's role in amplifying Chinese nationalism.
In her article, Han said Chinese netizens tend to express gratitude and confidence in the government when there are disasters overseas, as in the cases of the 2016 Kaikoura earthquake in New Zealand and the 2015 earthquake in Nepal.
However, according to the well-known Hong Kong writer and critic Leung Man-tao, while there may be a time for voicing national pride, it shouldn't overlap with the misfortunes of others.
"The behavior of using other people's suffering to praise one's own condition not only lacks empathy, but also stands in opposition to decency," Leung wrote in a criticism of the nationalist bushfire article.
Editor: David Paulk.
(Header image: IC)