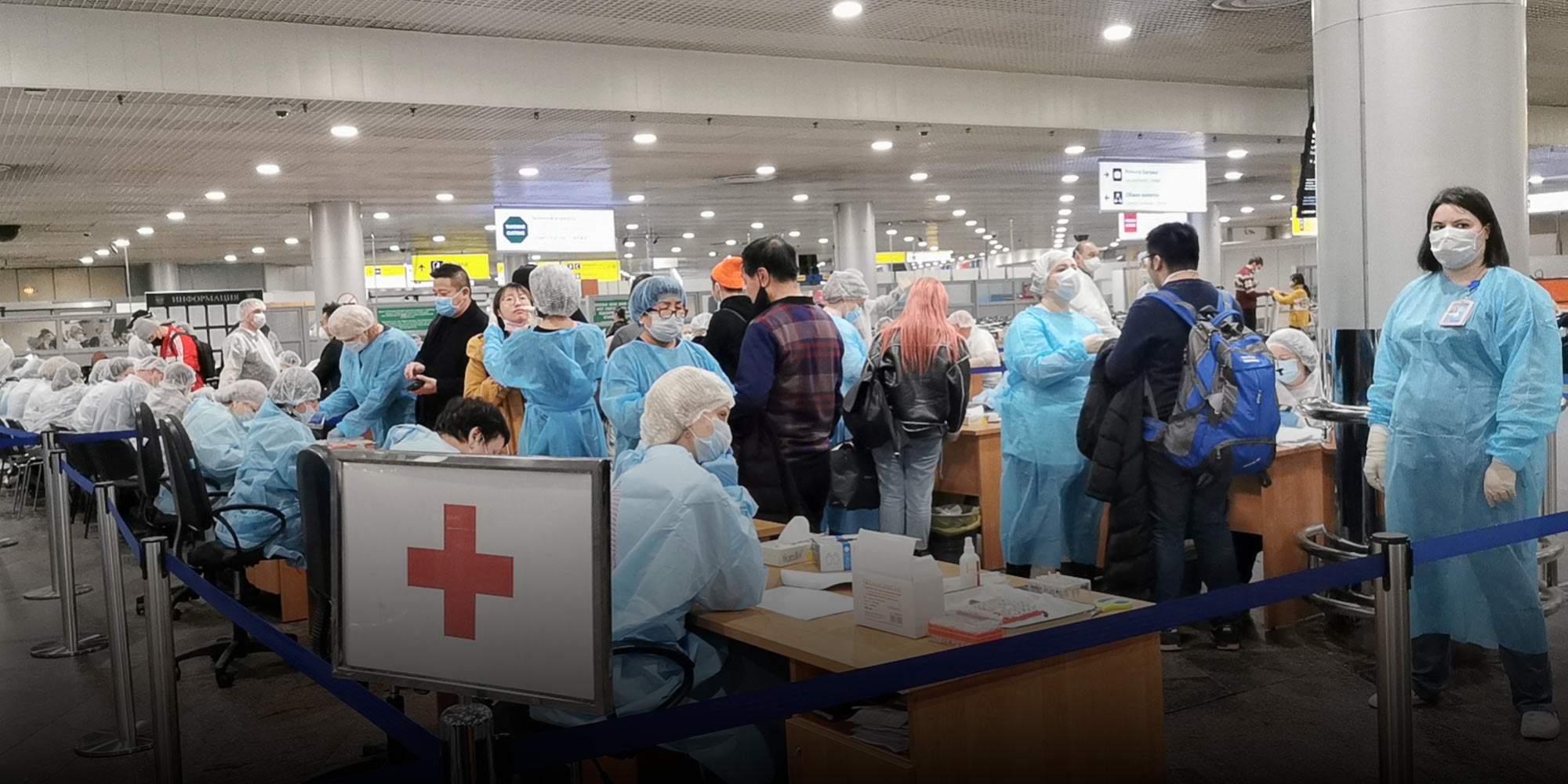 FEATURES
The Chinese Citizens Caught in Russia's COVID-19 Crackdown
After Russia passed tough rules to contain the novel coronavirus, 80 Chinese nationals were detained and put on trial. Many had no idea what they'd done wrong.
On her fourth night in a Russian detention center, Sisi lay awake in bed. She got out her phone, which she'd managed to conceal from the guards, and began tapping out her thoughts.
"Today is my 18th day in Moscow," she wrote. "It's already probably been two hours since lights out, but I can't sleep because the guard outside is coughing and sniffing loudly. Aren't we in the middle of an epidemic?"
The young Chinese had arrived in Russia on Feb. 19. She had planned to spend a few days sightseeing in Moscow, but her trip took an unexpected turn as the Russian government rolled out tough measures designed to contain the spread of COVID-19.
Moscow's rules stated that everyone arriving from China — regardless of their nationality — was required to self-isolate for 14 days after arrival. The penalty for foreign citizens violating the policy was deportation and a five-year ban from returning.
By Feb. 28, Russian authorities had rounded up 88 people — 80 of whom were Chinese — that had violated the quarantine rules. Sisi was among them. As of March 9, after two weeks of quarantine in the Tsaritsyno rehabilitation center where they appeared before court via video link, the Chinese citizens were still awaiting repatriation.
The Chinese detainees include students, businesspeople, and independent travelers. All of them had signed a form when they arrived in Russia agreeing to self-isolate. However, speaking to Sixth Tone's sister publication The Paper, some of the 80 explained they were simply unaware of the document's contents and the potential repercussions for breaking the rules.
Sign on the Dotted Line
Back in 2004, the Russian government published a list of diseases it considered to be "socially significant." On Jan. 31, Anna Popova, Russia's chief health officer, added COVID-19 to this list, creating the legal basis for the quarantine consent form which arrivals from China were required to sign.
As new cases of the novel coronavirus continued to emerge, Russia announced that starting Feb. 20, it would temporarily suspend the entry of Chinese citizens holding work, visit, student, and travel visas. The following week, it extended the measures to April 1.
A copy of the quarantine consent form obtained by The Paper shows the regulations issued by Popova. Besides requiring everyone entering from China to remain in their residences, arrivals were also ordered to avoid public places, not ride public transport, check their temperatures twice a day, and report their health status daily by phone.
The city's epidemic prevention department also began taking temperatures at places with higher concentrations of Chinese citizens including schools, hotels, and markets. Meanwhile, at subway stations, railway stations, and on public transportation, police carried out checks on Chinese people to ascertain when they had arrived in the country, while also taking body temperature readings.
Russian authorities quarantined Chinese deemed a health risk in the Tsaritsyno rehabilitation center, located near the popular Tsaritsyno Palace tourist spot. Several detainees, however, say they had no idea why they were being interned — either because they were unclear about the details on the consent form, or because the police told them they were only being taken for medical tests.
Sisi, the Chinese tourist, said a quarantine officer filled out her consent form for her at the airport, as she didn't speak or read Russian.
"When I arrived at the airport, medical staff showed me where to sign (the form), but they didn't speak Chinese or English, and I don't understand Russian," Sisi told The Paper. "If I'd known I'd have to self-quarantine in my hotel for 14 days, I obviously never would have come."
Hao, a Chinese businessman who works in Russia, encountered a similar situation when he returned to Moscow — signing the document in the belief it was just part of the immigration process.
He was picked up by police at a supermarket near his home when stocking up on food. Because he spoke little Russian, he only discovered which rule he'd broken when he arrived at Tsaritsyno for quarantine. "Of course, I'd never have broken the rules if I'd known about them," he said. "I never imagined it would cost me my work visa."
Wang Wei, a postgraduate student of economics at a university in Moscow, has been studying in Russia for six years. He spoke enough Russian to get by and abided by the 14-day self-quarantine rule. Since arriving in Moscow on Feb. 5, he sent doctors his health status every day, with another doctor visiting every other day to check his temperature and take a saliva swab. On Feb. 20, with his quarantine over, he collected a certificate proving he was healthy and was told he could start attending class again.
However, on Feb. 22, one of Wang's roommates returned from China and encountered a police officer while taking out the trash. Afterward, the officer brought a doctor to the apartment who tested everyone present. The police then took all five Chinese to Tsaritsyno.
"The officer said we were going for medical tests. He said he'd explain my special circumstances, and we'd be back soon enough. It was only after arriving that I discovered we were being put into mandatory quarantine for 14 days." Wang can't help but feel he's been unjustly treated: "I admitted everything, but later it was turned into repatriation."
"No one listened to me," he added.
Situations such as these are not one-of-a-kind, nor are they specific to Chinese citizens. On Feb. 29, a Russian citizen returned from China. She called the hospital almost two weeks later when she began exhibiting symptoms and was taken away. She only realized she'd signed the form at the airport when asked why she had violated the quarantine. "They later showed me the document I'd signed. It was sloppily written, and in one place the word 'novel coronavirus' was even misspelled," she said. "No one explained the form to me. It'd be even harder to understand if you don't speak Russian."
Trial by Video
The dull quarantine life in Tsaritsyno was soon shattered by a piece of news.
On Feb. 27, Hao was taken to a separate room where he was asked to sign and fingerprint a form consenting to his repatriation. After refusing, the next day he was brought before a court via video link with just a judge and interpreter present. The judge imposed a fine of 5,000 rubles ($67) and ordered his deportation with no re-entry for five years.
"After I said I disagreed with the verdict, they gave me a note. The interpreter said that if I didn't agree, I had 10 days to appeal. But I'm in quarantine, and I have no idea how," said Hao.
The same day, Wang Wei also had his video hearing. As so many had refused to sign the repatriation agreement, the signing and fingerprinting was cancelled and replaced with direct trials.
"The judge asked me to state my case, so I tried to explain that I'd already been quarantined for 14 days — but he made me speak through the interpreter," Wang explained. "Since I understand Russian, I could tell that the interpreter wasn't fit for translating." Afterward, the judge spoke for three minutes, but the interpreter simply stated the outcome: a 5,000 ruble fine, deportation, and a five-year ban from returning.
With that, the trial was over. Wang was never shown the written verdict, nor did he know where he could appeal. For him, the whole process was "a bit ridiculous."
Over the weekend of Feb. 29 and March 1, video hearings of those quarantined in Tsaritsyno were suspended, but anxiety was rife among the detainees — especially in the social media WeChat group they'd created to discuss their plight with journalists.
They were also helpless when false rumors emerged on social media saying the Russian police had used violence to enforce the law and mistreated Chinese citizens. One of those quarantined in the rehabilitation center wrote on microblogging site Weibo: "It's not the 80 Chinese citizens quarantined in Tsaritsyno who are spreading rumors. But the thing is, some people online just assume that it must be us."
On March 1, the Chinese Embassy in Moscow sent a diplomatic note to the city government clarifying the matter. It explained that the embassy had investigated the posts on social media and found them to be unfounded, adding that those detained by the police were "suspected of violating Russia's epidemic prevention regulations." The embassy later concluded the rumors were started by the same person who had previously made false claims about the Russian authorities and the novel coronavirus.
"To be honest, the quarantine was fine. The food was bad, but no one complained," explained Wang. "The point is, everyone feels that the punishment is unfair."
According to the court's ruling, without an appeal, the detainees will be deported. Upon receipt of the court's judgment, they are to wait in a special detention center before being repatriated. Lawyers will be permitted to meet them after receiving approval from the center's manager.
"The conditions in the detention center are worse than at Tsaritsyno," said Sisi. "There are guards outside the rooms, and we're often fed mashed potatoes and congee. It makes me feel like I'm in a fitness camp."
On March 5, the Chinese Embassy in Russia stated that an appeal by some of the Chinese citizens had been rejected by the Moscow municipal court, but they still had the right to continue appealing. It added that they were working with the Moscow municipal government through diplomatic channels, providing the detainees with the necessary consular protection and legal aid to safeguard their legitimate rights.
With four of the detainees already back in China, it remains to be seen when the others will join them.
At the request of those interviewed, all names used in the article are pseudonyms. A version of this article was first published on the website of Sixth Tone's sister publication, The Paper. It can be read here.
Translator: David Ball, editors: Yang Xiaozhou and David Ball.
(Header image: Medical workers check passengers arriving at the airport in Moscow, Russia, Feb. 19, 2020. Courtesy of Sisi)