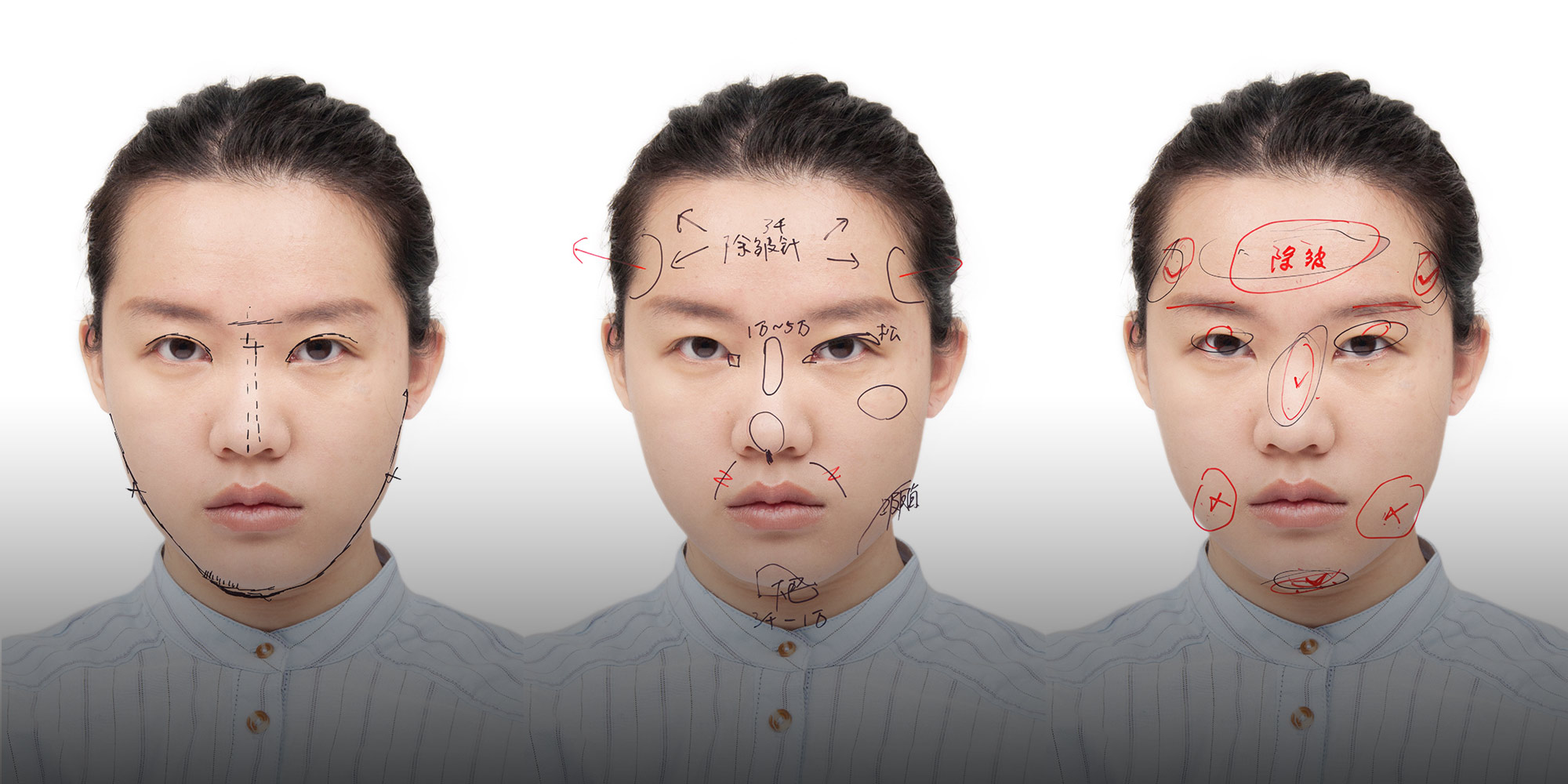 MULTIMEDIA
The True Face of China's Plastic Surgery Clinics
Lu Yufan wanted to understand why so many Chinese women go under the knife. So she went for a consultation — at 10 different clinics.
Five identical photographs of a young woman fill the screen. Each one is covered with scribbles and annotations scrawled in black and red ink, highlighting her facial imperfections.
Small circles cluster around her jawline in several images, while dotted lines run down her nose in another. In all five, the doctor has traced new contours for her eyes.
The marked-up photographs are part of "Make Me Beautiful" — an ongoing project by visual artist Lu Yufan that explores the power China's cosmetic surgery industry holds over young women.
Since 2018, the 28-year-old has gone for consultations at more than 10 different plastic surgery clinics in Beijing, northern city Tianjin, and South Korea. Each time, she documents her experience in forensic detail — but never books a procedure.
"I already know what parts of my face don't conform to the aesthetic standards set by the majority," Lu tells Sixth Tone. "My decision to consult doctors comes from a need to prove my self-estimation is correct."
Lu says the project helps her unravel her conflicted feelings toward cosmetic surgery, which has grown enormously popular among Chinese of her generation.
Chinese cosmetic surgery clinics performed over 16 million procedures in 2017, up 26% year-over-year, and China is now estimated to be the world's largest market for plastic surgery. According to SoYoung, an online platform for cosmetic surgery, more than half its customers are under 26, and 90% are female.
The artist says she has also felt an urge to go under the knife for a long time. She first began feeling dissatisfied with her appearance in middle school, when looks were everything.
"At that time, the boys would rank the girls by appearance," says Lu. "I remember someone pointing at me and declaring I was at the bottom of the list."
In the '00s, Chinese TV networks ran multiple reality shows based around young women undergoing cosmetic procedures. Lu recalls hearing about one popular show called "Angels Love to Be Pretty ."
In each episode, several women received free plastic surgery. Then, a studio audience voted for the contestant with the most-improved appearance. This kind of show was later banned in China, but it left a deep impression on Lu.
After Lu graduated from high school in 2010, many of her classmates went to get their noses, eyes, and jawlines done. Around 10% of her peers have had some form of cosmetic surgery, she estimates.
At the start of "Make Me Beautiful," Lu was tempted to join them. She first began visiting clinics out of curiosity, wondering whether she'd be willing to get some work done if she could afford it.
"I'm lacking in confidence in many aspects, so I thought cosmetic surgery was a way to solve my problems ," says Lu.
As she expected, nearly every consultant gave her the same advice: Add a crease to her eyelids to make her eyes appear larger; raise the bridge of her nose to make it more prominent; reshape her jawline to make it narrower and longer; and have wrinkle-removal treatments to make her look younger.
The angular set of facial features — often known as an "internet celebrity face" in China, because so many online influencers have surgery to achieve this look — has been the dominant beauty trend for years. Often, Lu says, the consultants wouldn't even ask her any questions about what she wanted, instead immediately doodling all over her photo.
The experience of listening to the "condescending" advice of the clinicians, all pointing out the same flaws in her appearance, initially made Lu want the procedures even more, she tells Sixth Tone.
"It's a process that intensifies the idea that you're not pretty enough," says Lu. "After you receive very specific advice, you have a clear picture of where the problems are."
But as she continued interacting with the clinics, Lu says she began to notice a darker side to the industry. Several businesses downplayed safety risks and pushed her to have more expensive treatments, according to Lu.
There are two main methods for making noses more prominent: a surgical operation or injections of hyaluronic acid. Consultants continually talked up the former, pricier option, Lu says.
"It (the consultants' advice) was no longer coming from an aesthetic point of view," says Lu.
The cosmetic surgery industry is often poorly regulated in China, and Lu says her consultations also opened her eyes to the lack of consumer protections.
"The consultants proposing various plans to me would never mention whether any of them had risks," says Lu. "Take hyaluronic acid, for example. There are domestic and imported products, with many different brands. But when recommending an option, the consultants didn't explain things in detail.
"I also know people who didn't sign a contract until the day of the operation, and some people didn't have time to read the contract carefully before signing," Lu adds.
For Lu, the recent shift in beauty standards in China — with younger influencers abandoning an "internet celebrity face" in favor of more diverse styles — underlines the fact that plastic surgery is ultimately just a fashion trend, with faces coming in and out of style like flare jeans or crop tops.
"When doctors are capable and willing to turn your appearance into whatever you want, they somehow lose medical authority," says Lu. "It's almost like entering a supermarket or a shopping mall and all the shelves are filled with various faces and features."
After nearly two years working on "Make Me Beautiful," Lu admits her attitude toward cosmetic surgery remains conflicted. Though the experience has made her more aware of how the industry can manipulate young women, she also understands why many of her peers have chosen to alter their appearances.
"I agree with the feminist critique on cosmetic surgery, as it caters to the disciplinary powers that turn women into docile bodies," says Lu. "However, it can also be argued that each woman has the right to decide her appearance."
Some of the biggest problems with cosmetic surgery are ultimately driven by sexism and inequality, rather than industry malpractice, according to Lu. She points to the Chinese online influencer agencies that reportedly force young women to have surgery to get a contract.
"It (cosmetic surgery) is an outcome of a social reality," says Lu. "For anyone who needs this job, she'll accept changing her original appearance into an 'internet celebrity face.' It may harm her authenticity and uniqueness, but it'll bring her economic benefits."
Lu also says she understands how deeply many women internalize the patriarchal values they are exposed to from a young age. Despite being critical of the cosmetic surgery industry, the artist confesses she sometimes still yearns to book a procedure.
Yet Lu's experience has made her feel more empowered. She's given up wearing expensive makeup and clothes and is trying to find fulfillment in her artwork.
"It's not that I'm no longer controlled by consumer culture," says Lu. "The control is still there, but I've gradually learned to live with it."
Editors: Dominic Morgan and Shi Yangkun.

(Header image: From left to right, "Diagnosis 1," "Diagnosis 3," and "Diagnosis 4," from the photo project "Make Me Beautiful," 2018. Courtesy of Lu Yufan)