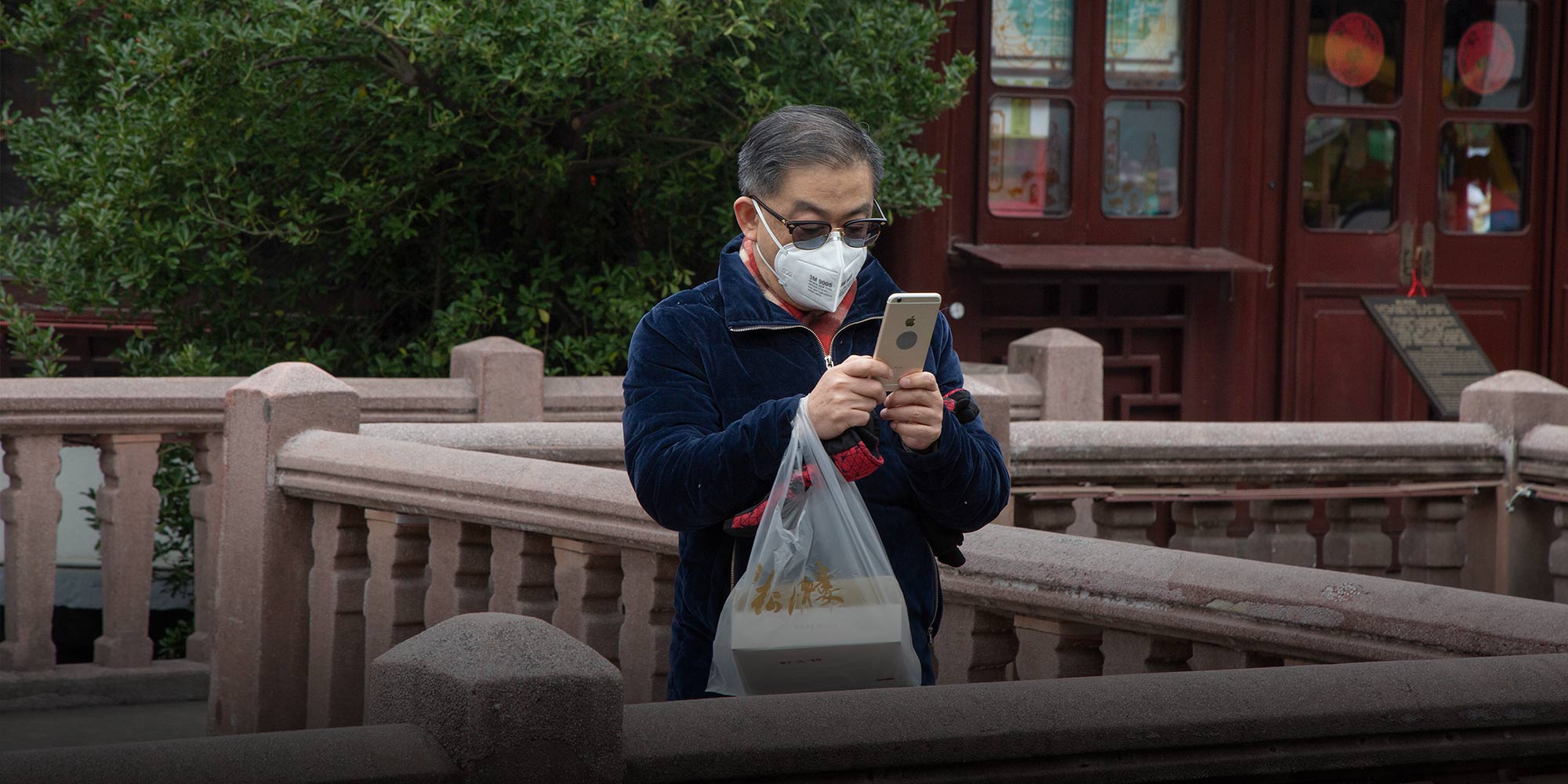 FEATURES
How COVID-19 Sparked a Silver Tech Revolution in China
After cities across China went into lockdown, millions of elderly Chinese turned to mobile apps for food delivery and entertainment. But will they continue using them after the pandemic is over?
SHANGHAI — Two months ago, Xu Wenyan didn't even have a data plan on her phone. Now, the 62-year-old spends most of her day online.
Each morning, Xu orders groceries using a mobile app. Then, she listens to the news on her phone while cooking. Afternoons are for sharing photos of her freshly prepared dishes with her friends. After dinner, she and her husband often play around with a karaoke app, waiting eagerly for other users to comment on their performances.
Like millions of elderly Chinese, the spread of the novel coronavirus has forced Xu to embrace the digital world. As the country struggled to contain the virus, the markets, stores, and parks that she frequented in central Shanghai suddenly shut down — leaving her feeling helpless.
"I was really upset at first," Xu tells Sixth Tone. "I didn't even know how to deal with the meals, let alone find alternatives for other leisure activities."
Though China's cities are now slowly coming back to life, the country's tech firms are hoping the lockdowns will prove to be a game changer, opening up a huge tranche of new users that were previously out-of-reach.
China has around 250 million people over 60, and this figure is expected to surpass 480 million by the middle of the century. In Shanghai, over one-third of residents are aged over 60.
In the past, Chinese seniors were far less likely to use digital services than younger generations. According to data released by the Chinese Academy of Social Sciences in 2018, some 60% of people over 50 watch videos on their smartphones and just over half have used digital payment methods like Alipay and WeChat Pay. Around one-third of the group use navigation and online shopping apps, while only one-quarter use ride-hailing services.
But internet companies have reported a surge in business from elderly users since the outbreak began, according to Duan Mingjie, founder of AgeClub, a consulting firm that advises brands on how to target older-age customers.
"Many of our clients have witnessed significant growth in (elderly) users and sales of some of their paid services have increased 50%-80%," says Duan. "The quarantines have encouraged the aging population to use apps to meet various needs in life."
The biggest beneficiaries have been online grocery companies. Customers have turned to delivery services in droves to avoid visiting crowded supermarkets — or because they have been banned from leaving their residential compounds, as has happened in several virus-stricken areas.
During Spring Festival — when China was uncovering hundreds of new infections each day — Alibaba's online supermarket Hema reported that orders were up 220% year-over-year. Sales for competitors Miss Fresh and JD.com's online grocery platform, meanwhile, were up 350% and 470% during the same period, respectively.
New business from elderly users appeared to account for a significant chunk of these increases. According to Alibaba, the number of grocery orders placed by users born in the '60s was four times higher than normal during Spring Festival. Miss Fresh claims its number of users aged over 40 has risen by 237% during the pandemic.
Xu and her husband started using grocery-ordering apps in late January. There's a wet market just a 10-minute walk from the couple's home, and Xu says she enjoys shopping there. But she became reluctant to go due to the shortage of face masks in Shanghai.
"My daughter has been trying to talk me into buying groceries using apps for over a year, and now I'm finally open to it," says Xu.
The couple downloaded five apps on their daughter's recommendation. Initially, however, the services didn't turn out to be as convenient as they'd expected. The massive number of orders being placed, combined with the shortage of delivery drivers during Spring Festival, made it difficult for Xu to get the goods she wanted.
"I set an alarm to place orders for each app in the morning," says Xu. The earliest would go off at 4:30 a.m. "I could mostly get what I wanted," she adds. "I even sent some stuff to my daughter, as she couldn't get up that early."
Before the pandemic, Xu estimates, less than 10% of her friends had tried buying groceries online. Now, she says, nearly all of them have experimented with it. On the messaging app WeChat, her contacts are continually sending each other links to new items on the apps and tips on how to get good discounts.
The elderly have turned to tech to meet other needs, too. Chen Xianhua, a retired accountant from Shanghai, tells Sixth Tone she's been ordering medicine and consulting doctors via health apps during the crisis. Meituan, one of the country's largest delivery platforms, reported orders for medication related to chronic diseases including high blood pressure, diabetes, and arthritis increased by over 200% during Spring Festival. 
Chen and her husband have also become big fans of the short video platforms TikTok and Kuaishou, which they downloaded for the first time in February. Chen says they mainly watch funny skits, videos of cute dogs, and livestreams of shows on the apps, as well as news about the pandemic.
"The whole social atmosphere is quite depressing at the moment — we need to keep our sense of humor," says Chen. "Without these apps, I don't know how my husband and I would ever stay optimistic."
For the tech giants, the question is whether their new silver-haired users will stick around after the pandemic subsides. Several of them have already laid out strategies to target the elderly, judging it to be a growth market. 
Miss Fresh has announced plans to roll out new services and product categories for older consumers, after seeing the potential in the market over recent weeks. Alibaba has already started down this path, launching a special senior-friendly version of its Taobao shopping app in 2018. 
Chen, who first tried ordering groceries online six months ago, says she still prefers going to the wet market herself, because she enjoys chatting with her neighbors and bargaining with the vendors. But she's come to value the apps, especially when it's raining or she's feeling tired.
"At first, I had concerns," says Chen. "But then I found the vegetables I ordered online to be just as fresh as the ones I personally pick in the market … The app offers me an alternative."
The 65-year-old has also gotten hooked on some of the app's extra features, such as the "what to eat and cook" section, which suggests new recipes to try. She's even started posting her own recipes on another cookery app she recently downloaded, as she enjoys reading the comments posted by other users.
"I'm keen on being active online, because I don't want to be behind the times," says Chen.
AgeClub founder Duan says elderly consumers often describe going through a similar shift in mindset during his company's focus groups.
"This pandemic will have a significant impact, as it'll make many elderly people who didn't previously use the internet form new online consumption habits," says Duan. "Once elderly users get used to the internet, they find there is far greater choice online."
Xu is no longer getting up before dawn to secure a delivery slot, but she still enjoys surprising her daughter with her newfound tech savvy.
"My daughter said it had never occurred to her that one day I'd be ordering vegetables for her online," she says. "It makes me feel useful and up-to-date."
Editor: Dominic Morgan.
(Header image: An elderly man uses his smartphone at Yu Garden in Shanghai, Feb. 8, 2020. Shi Yangkun/Sixth Tone)