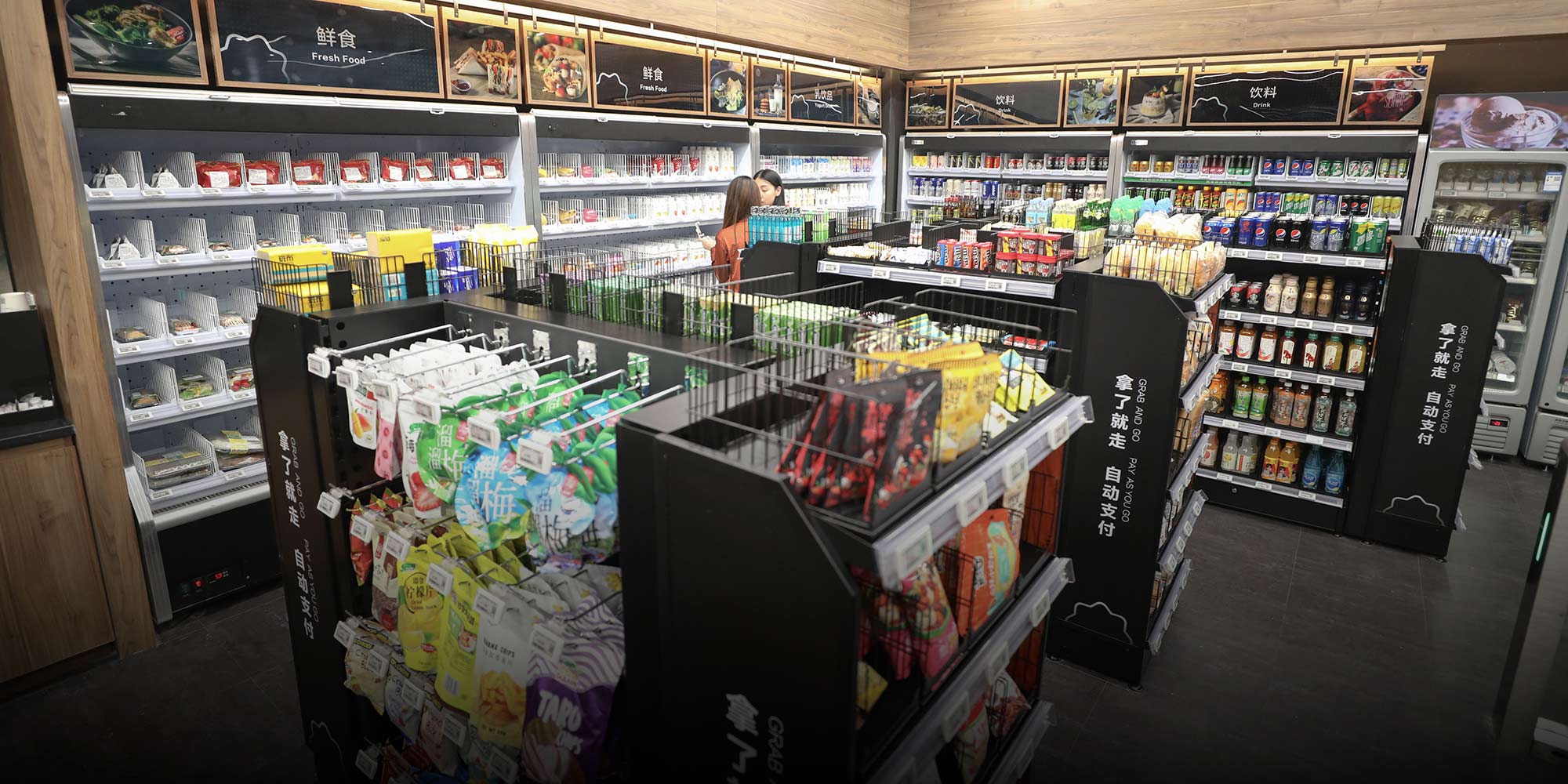 NEWS
Pandemic Gives China's Unmanned Shops New Lease on Life
Automated convenience stores largely disappeared in China after their novelty wore off. Because of the coronavirus, they may be getting a second chance.
With the COVID-19 pandemic posing unprecedented challenges for virtually all industries in China, unmanned convenience stores — once a fleeting fad — are getting a second chance. But while improved technologies may be able to provide satisfactory shopping experiences, it's too early to be thinking of unmanned retail as the wave of the future, experts say.
In an effort to contain the spread of the virus that causes COVID-19, health authorities in China have been encouraging people to avoid all nonessential human interaction. Offline shopping has thus become risky business for both customers and clerks.
Suning.com, a Nanjing-based retailer that operates online and offline, decided in early February to turn all 12 of its smart convenience stores into 24/7 unmanned operations. Since early 2019, these stores scattered across several Chineses cities, including Shanghai, Shenzhen, and Nanjing, were operated by human clerks during the day and by no one at all overnight.
To enter the smart Suning stores, customers scan a QR code at the door. Then at checkout, they load their items onto a smart payment station, which scans a special tag on each individual item and calculates the total cost. Customers can pay using a mobile payment app such as WeChat.
Xu Hongping, who oversees development for Suning's smart retail stores, told Sixth Tone that, apart from monitoring the company's 24/7 customer service platform, human workers are only needed to restock the stores' shelves each morning.
"We didn't digitize our stores solely to make them autonomous and try to sell them on that," Xu said. "During the outbreak, their capacity to run autonomously has coincided with the need to minimize human interaction. And on normal days, these technologies help us increase efficiency. For example, we can reduce the number of people working in the store, and this also makes inventory-checking easier."
Unmanned stores first took off in China in late 2016, when a flurry of domestic tech firms — mostly startups — joined the rush to open cashierless convenience stores. By the end of 2017, over 138 companies had opened some 200 unmanned shops in China, according to domestic media. Collectively, they raised a total of 4 billion yuan ($573 million) in investment.
But the boom was short-lived, as the stores failed to attract enough customers once the novelty wore off. Since the beginning of 2018, many startups shut down their businesses. For example, GoGo Xiaochao, a Chengdu-based firm, closed all of its stores in February of that year, after just four months.
"At the time, they (these retailers) were focusing too much on the idea of 'unmanned' and overlooked customers' needs for good service," said Rosie Zhang, co-founder of Shanghai-based retail technology firm Cloudpick, whose clients include Suning.
Many of these first-generation unmanned stores didn't carry perishables like bento boxes, which are among the most popular items at Chinese convenience stores. "If the user experience is bad, customers won't come back," Zhang told Sixth Tone.
Cloudpick has designed a system that creates a "Grab & Go, senseless payment" shopping experience using artificial intelligence, according to the company's website.
In stores equipped with Cloudpick's technology, customers are tracked by ceiling cameras as they shop for items. The computerized system then adds the selected items into a virtual shopping cart attached to individual customers. There's no need to wait for checkout: Instead, customers simply walk out of the store, with the system charging their previously linked bank card or mobile payment account the corresponding amount. Moreover, the system can process dozens of shoppers simultaneously.
The COVID-19 outbreak may be an unexpected boon to these smart stores. "When a new technology comes along, it's only natural for people to have doubts about it. The need to avoid contact as much as possible has really prompted people to try out these stores. If they have a good experience the first time, they're likely to come back after the outbreak subsides," Zhang said.
So far, Suning's 12 smart stores are not yet equipped with Cloudpick's "senseless payment" technology, but the retail giant has set up two experimental "Grab & Go" stores in Nanjing. According to Xu, Suning is planning to open additional senseless payment stores this year.
"We know exactly which items are popular and which are not. We know what and how much to restock. We also know which spots on the shelves attract more customers," Xu said, citing big data collected by the shops' AI systems.
But experts are skeptical about whether robots can become the future of retail. Kathleen Richardson, a robot ethicist at De Montfort University in the U.K., told Sixth Tone that machines have fixed parameters for how things work, and thus are not flexible enough to satisfy people's diverse needs, such as purchasing adult products or other age-restricted items.
"I think it will be fun at first for most people, a novelty, but then it will quickly become boring," she said. " If you think about the marketplace, for thousands of years it was where people exchanged, bartered, and coexisted. I suspect people might feel unsafe in them (unmanned stores) because they will turn shops into graveyards, with only one or two living beings around."
Editor: David Paulk.

(Header image: An interior view of a Suning unmanned convenience store in Nanjing, Jiangsu province, Aug. 15, 2019. Courtesy of Cloudpick)