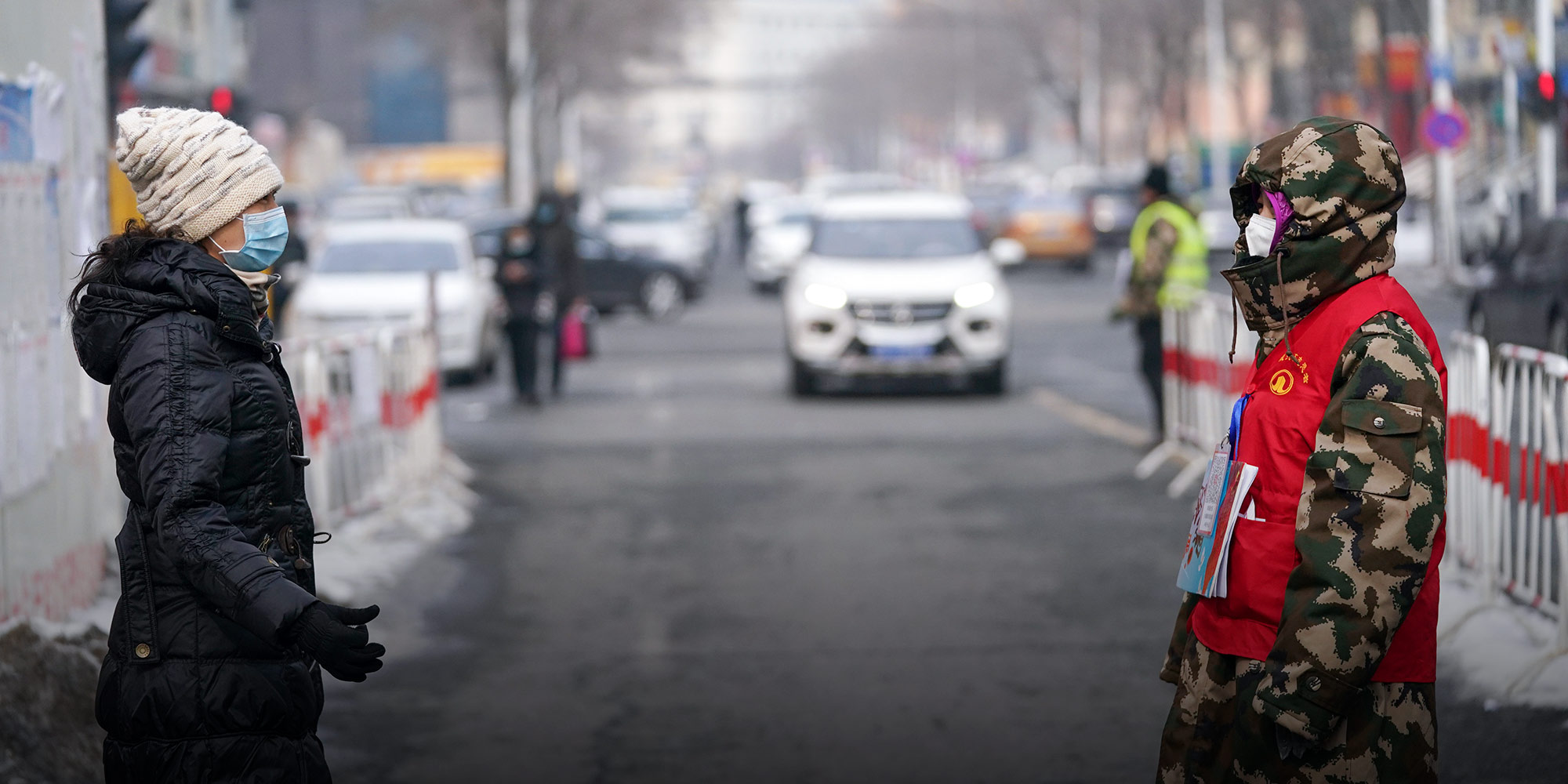 FEATURES
Abused and Stressed, China's Community Workers Seek Help
They're considered China's first line of defense against the COVID-19 epidemic. But many are on the verge of burnout.
In her dreams, Liu Xuqing screams at her neighbors. Night after night, she berates them for skipping quarantine, failing to wear a mask, and breaking a host of other rules designed to contain the spread of COVID-19.
"One morning, my daughter told me I'd been yelling, 'I told you not to leave the building — get back inside!' in my sleep," says Liu. "I realized that, since I can't take it (my frustrations) out on anyone during the day, I vent in my dreams."
The 40-year-old has had insomnia and stress for weeks after being tasked with enforcing China's strict disease control measures in the Huanggu neighborhood — a cluster of residential buildings in the northern city of Shenyang.
As the head of Huanggu's residential committee, Liu is responsible for monitoring over 10,000 residents: checking their temperatures, logging when they enter and leave the compound, and ensuring those ordered to isolate themselves at home stay indoors, among other duties.
Residential committees, or ju wei hui, are the backbone of China's local governance system, helping to implement policies on everything from family planning to trash sorting in neighborhoods across the country. Since late January, they've also become the foot soldiers in the government's war on COVID-19. Chinese President Xi Jinping has called residential committees the country's first and most important "line of defense" against the virus.
But experts warn that many residential committee members like Liu are showing signs of burnout, as long hours and constant pressure over a prolonged period take their toll on the workers' mental health.
Liu has been working 6 a.m. to 10 p.m., seven days a week for nearly two months. "It's exhausting," she says. "I don't necessarily get off work after I get home. I'm on call 24 hours a day in case there's an emergency."
The job is made more stressful by many residents' resentment toward the anti-epidemic rules. Conflicts often punctuate Liu's days, as her neighbors' frustrations boil over.
"We've been yelled at by residents when we tell them not to park in the no-parking zone … we argue with people who refuse to wear masks and who insist on leaving without permission," says Liu. "Everyone is frustrated by the epidemic."
None of these arguments have escalated beyond shouting, but in other parts of China confrontations between committee members and residents have become physical. In Taiyuan, a city in central China, a man kicked over a bike and hit committee workers with a bottle of disinfectant after a disagreement. In Dalian, a city 400 kilometers south of Shenyang, a resident was filmed dumping a bag full of dog feces onto a table used by residential workers.
The most frequent source of contention is committees' efforts to enforce quarantine rules. By law, anyone returning from high-risk areas such as Wuhan or Wenzhou must stay inside their homes or a designated hotel for 14 days, but Liu says several people have tried to sneak in and out of their apartments without being noticed.
"Not everyone is willing to be locked in a hotel, so some people lie," says Liu. "We have to listen to the noise (inside their apartments) and ask their neighbors, just to figure out if they're telling the truth."
Liaoning province, where Shenyang is located, has logged only 125 reported COVID-19 infections and one death as of Monday — none of which came from Huanggu. But Shenyang has been under renewed pressure in recent days due to the surge in cases reported in South Korea — just a two-hour flight away. Liu's team has been ordered to call each of Huanggu's roughly 4,700 households to ensure no one has recently traveled to the country, a process that takes two weeks of intense work to complete.
"So far, we haven't had many residents coming back from Korea or other hard-hit areas, but that doesn't mean we can slack off, because you never know," says Liu.
The stress of managing the enormous workload — not to mention the fear of catching the virus — often gives Liu sleepless nights. She's far from the only one. Mental health charities have reported a spike in the number of residential committee staff members seeking counseling in recent weeks.
"We've seen a surge in calls from community workers since early February," says Zhang Gaoyang, a volunteer at Shiyu Xinli, a counseling hotline in Shenyang. "They're on the front lines of disease containment … Moreover, they may have family members who are more vulnerable. Community workers often tell us they're in close contact with many people at work, and they worry they'll pass on the virus to their family."
Wu Kankan, a post-disaster mental health expert at the Chinese Academy of Sciences, says residential committee workers are particularly vulnerable, as they're required to take care of others rather than put their own mental health first.
"They're at risk of job burnout and need active psychological intervention, but the services aren't always available," says Wu. "They simply might not have the time to reach out for help."
Studies have shown that job burnout, especially in a trauma setting like a disease outbreak, can lead to emotional exhaustion, reduced feelings of personal accomplishment — the feeling that everything one does is useless — and negative attitudes toward work.
Chinese authorities appear to be aware of the severity of the situation. On March 3, the central government ordered local officials to introduce a series of measures to support residential committee staff, including ensuring community workers get more days off.
Many local governments and other organizations have set up free mental health services since the start of the epidemic, with 440 new hotlines launched by mid-February, according to the State Council, China's Cabinet.
Xu Xinyue, a counselor based in Beijing, volunteers at a new hotline set up by Wu and his colleagues at the Chinese Academy of Sciences. Residential committee workers aren't the most common callers, but their difficulties tend to be more serious than regular members of the public, she says.
"It's a very dangerous and tough job they're doing," Xu tells Sixth Tone. "I've heard many stories of community workers being unfairly criticized or blamed by residents for things they didn't or can't do. But I haven't seen one case in which community workers fought back."
According to Xu, the buildup of negative feelings such as anger and frustration can become a source of anxiety, and so it's helpful for community workers to talk.
"Some of them say they're sad that they haven't gotten to hold their kids for over a month, and they don't know when this (the epidemic) will end," says Xu. "But deep down, they're letting out all their suppressed emotions."
Zhang, the Shenyang-based counselor, says exhaustion and insomnia are common symptoms among the residential committee workers with whom she has spoken.
"We tell them what they're experiencing — fear, anxiety, panic, anger — are all very normal and understandable," says Zhang. "We also help them look for motives. It's empowering to remember what you're fighting for."
Community workers are less likely than other members of the public to develop long-lasting post-traumatic stress disorder following the epidemic, unless they or their relatives are infected with the virus, according to Wu, the post-trauma mental health expert. Having institutional support helps protect individuals from the condition.
"They know they're part of a bigger organization in this battle, and they know they're not fighting alone," says Wu.
The main problem is ensuring community workers get access to counseling services — and encouraging them to use them. Though technology has made help more readily available — patients can even book counseling via popular apps WeChat and Alipay, Wu points out — many Chinese are reluctant to turn to counseling.
Less than half of Chinese adults with mental health conditions have made use of a mental health service, according to a 2013 survey. Wu says cultural stigmas around mental health are partly to blame.
"It's embedded in our culture that you'd rather shed blood than tears," says Wu. "If you mention you went to see a counselor, it's almost like saying you went to a psychiatric hospital in China."
There are signs, however, that the epidemic is helping change the country's conversation on mental health. There has been a significant amount of media coverage about mental health services in recent weeks. On Feb. 10, Chen Xuefeng, a psychology expert at the Chinese Academy of Sciences, was invited to discuss mental health issues during a press conference hosted by the State Council. 
"These are all positive changes that can help de-stigmatize the topic (of mental health)," says Wu.
Liu, the Huanggu committee head, called the Shiyu Xinli hotline for the first time a few weeks ago. She says the counselors have given her a space to let out her emotions and suggested practical ways to unwind before bed, such as watching relaxing videos and listening to calming music. She plans to call them again soon, once she has some time off.
"The job is very stressful and demanding, but I'm not going to back down, no matter what," says Liu.
Editor: Dominic Morgan.
(Header image: A volunteer and social worker stand at the entrance of a residential community in Harbin, Heilongjiang province, March 4, 2020. Wang Jianwei/Xinhua)