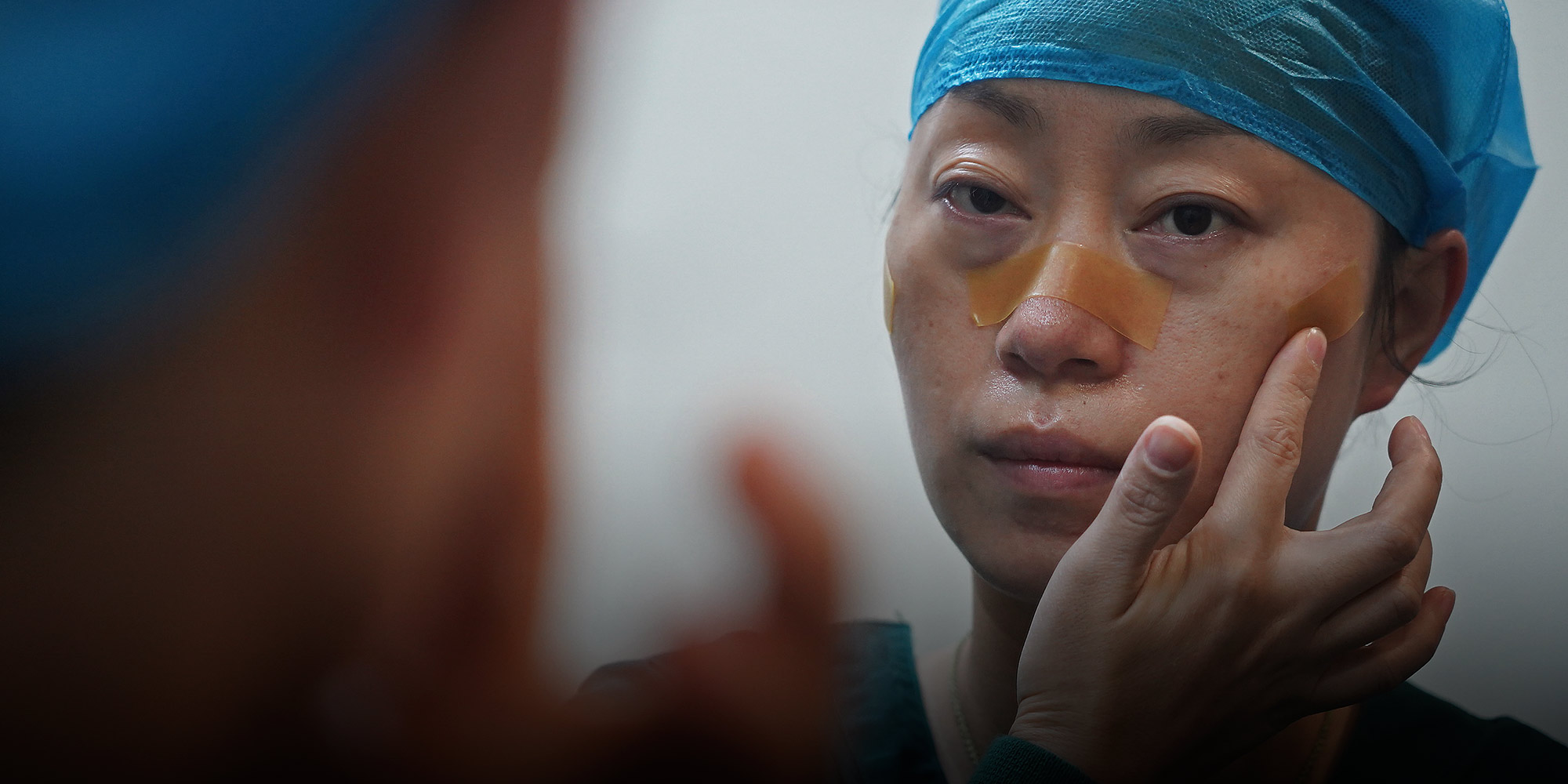 VOICES & OPINION
It's Time to Stop Tokenizing Female Medical Staff
Mainstream media outlets keep trying to turn female medical workers into stereotypical, self-sacrificing heroes. Audiences want to see their human side.
There are currently more than 100,000 female medical professionals working in the central province of Hubei, the heart of the country's COVID-19 epidemic. Together, they account for more than half of the province's health care workers and 90% of its nurses.
In other words, women have made huge contributions to the battle against COVID-19, which has sickened 81,000 and killed 3,200 in the country as of March 16, including dozens of medical workers. Unsurprisingly, their heart-wrenching stories have been covered widely in domestic media, often powerfully. Yet several efforts to valorize female medical workers by the country's "mainstream" media — a constellation of largely state-backed outlets uniquely well-positioned to set the public agenda — have fallen flat, arousing public ire for their reliance on outdated tropes like female suffering or extreme collectivist self-sacrifice.
In one widely criticized example, female hospital workers in the northwestern province of Gansu were filmed crying as they had their heads shaved. In other cases, outlets came under fire after publishing profiles of women who stayed at their posts despite being eight or even nine months pregnant, or who returned to work less than two weeks after a miscarriage. Taken together, they suggest a growing gap between the values of some hidebound mainstream outlets and the audiences they purport to reach.
China isn't the only country where heroism is repackaged into patriotic content. In times of crisis or difficulty, these stories bring people together, steady popular sentiment, and drum up feelings of national pride or unity. Well-known examples in China range from socialist oiler Wang Jinxi in the 1960s to teachers who died protecting their students during the 2008 Wenchuan earthquake.
This time, the narrative appears to have misfired. While the above-mentioned reports ostensibly shower women with praise, critics have expressed frustration, even anger, with the way they appropriate the female body and repackage women's sacrifices into overarching narratives of national glory — even as hospital leaders, local institutions, and others ignore or minimize women's everyday needs.
This shift in public attitudes can partly be traced to a growing awareness among Chinese, and especially young Chinese, of gender issues. Many quickly realized that mainstream reports were blind to the intelligence and skills of the women they profiled while appropriating their bodies to rouse audiences into compassion and action.
Although women have made great strides in modern China, both inside and outside the home, many continue to struggle with stereotypical portrayals of their bodies in media, as well as with their status as the "second sex." Some outlets in particular fall into the trap of focusing on what makes women different from the male "default" — their physical appearances, their reproductive organs, their roles as mothers — instead of treating them as fully formed individuals.
Just because women's bodies are celebrated doesn't always mean they're appreciated. Female frontline workers have seen many of their needs go unmet. Feminine hygiene products, for example, have been treated as less of a priority, even overlooked altogether, by those in charge of collecting and allocating material aid. Even when some charities expressed a willingness to donate menstrual pads, they were flat-out rejected by male hospital managers.
And in a country where "menstruation" is still considered a dirty word, even paeans to female sacrifice generally steer clear of the subject: In an interview with state broadcaster China Central Television, a nurse at Wuhan Jinyintan Hospital, near the center of the outbreak, spoke at length about the physical toll of caring for patients. In the process, she mentioned she was on her period.
"I'm on my period, and I'm having abdominal pains," she noted. When the segment was later rebroadcast, that particular remark had been edited out.
It's not all bad news. A number of civilian volunteers and feminine product companies began organizing donation drives since early February, and more regions, including Shanghai and the southwestern province of Guizhou, have begun providing hygiene products to female medical staff. Yet in a still male-dominated society, it's all too easy for the men making the decisions — the above-mentioned hospital leaders, for example — to mistake their perspectives as universal, while neglecting the legitimate needs of others.
It's also important to remember that the decision to make a sacrifice should be voluntary, not mandatory. True sacrifice requires an individual to deeply understand the value of their life and the potential risks involved in their actions, and to nevertheless willingly choose to take the risk in question.
That means they cannot have been pressured into doing so. At least until the 1990s, the ideal of collectivist self-sacrifice — unconditionally giving one's life for the greater good — dominated Chinese mainstream discourse. Now, however, we are more likely to question whether the people involved truly had a choice and whether their rational interests were protected.
The nine-months-pregnant nurse; mothers being forced to give up breastfeeding their kids; a woman who returned to work 10 days after her miscarriage — whereas older generations might have unquestioningly accepted these as instances of heroism, young Chinese see individual lives being trivialized. Their selfless contributions and efforts are meant to save people — but why must one life be sacrificed for another?
The irony is, there's no need for the media to fabricate drama about women being forced to choose between their lives, families, or bodies and their sense of duty. All frontline workers — men and women alike — have done more than enough to earn our respect and gratitude. People are already rooting for them to return home safely.
Some seem to grasp this better than others. Much of the media's coverage has been professional, even extraordinary. Last month, the market-oriented Southern Metropolis Daily newspaper was widely praised for its series of close-up portraits of frontline doctors and nurses. By not limiting their focus to men or women, the paper's photographers were free to concentrate on the struggles and scars shared by all frontline health care workers: the bags under their eyes and the deep lines left by days of wearing surgical masks. It felt human rather than inflammatory, but was inspiring all the same.
I'm not suggesting we don't honor or report on people who are saving lives. Every country creates its own heroes. At this critical moment, however, frontline medical staff need reinforcements and material support, not exaggerated flattery. Instead of trying to canonize them or turn them into comic book superheroes, we should start by improving their working conditions and guaranteeing their basic rights and needs.
Over the past two months, Chinese audiences have repeatedly shown they care for and respect the individual will and authentic humanity of the people they choose to lionize. That's a remarkable development, and I believe it heralds a bright future for society.
Translator: Katherine Tse; editor: Kilian O'Donnell.
(Header image: A nurse attends to welts caused by extended periods of surgical mask wear in Nanchang, Jiangxi province, Feb. 13, 2020. Wan Xiang/Xinhua)