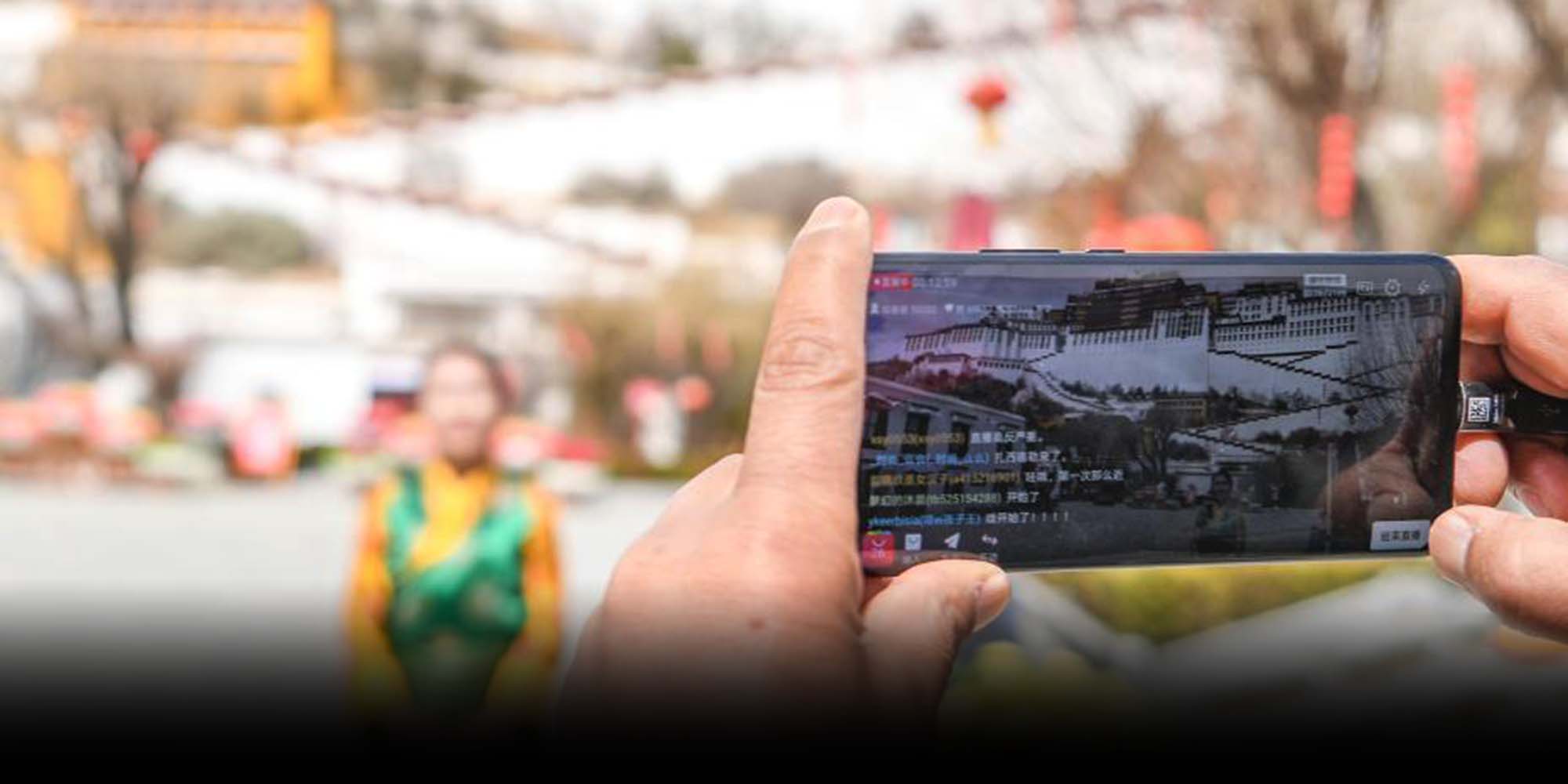 NEWS
China's Tourist Sites Draw Virtual Crowds, Real Cash
By offering online tours and a marketplace for souvenirs, e-commerce platforms are helping visitor-less tourist sites survive the COVID-19 epidemic.
On March 1, the Potala Palace in Lhasa welcomed a record-breaking 1 million-plus tourists. But all of these "visitors" to the UNESCO World Heritage Site in Tibet arrived via their smartphones.
"Hi everyone! Welcome to our online field trip," the tour guide said, greeting his livestream audience from behind a face mask. He then proceeded through the centuries-old fortress, giving his virtual visitors a tour of the palace's artifacts, including sculptures and traditional Buddhist paintings.
The virtual tours, though not an original concept, have gained a new foothold in China's domestic tourism industry as millions of people have postponed their travel plans due to the COVID-19 outbreak. Authorities have also closed tourist sites nationwide — including major landmarks like the Palace Museum in Beijing and sections of the Great Wall — to avoid large crowds and stop the contagious virus from spreading. Instead, they've encouraged museums to make use of "digital resources."
Just like many other businesses — including beauty shops, nightclubs, and reality TV shows — the country's tourism sector has also moved online, adapting to a time when social distancing is the new normal. Helping tourism-focused businesses stay afloat are large e-commerce platforms like Alibaba, which added an "online field trip" feature to its commercial livestreaming platform, Taobao Live, that allows museums, zoos, and aquariums to attract virtual crowds.
Alibaba Live currently features famous tourist attractions such as the Potala Palace, the Mogao Grottoes in the northwestern Gansu province, and the Chengdu Panda Base in the southwestern Sichuan province. Though the livestreamed tours are free, the tourist sites can make money by selling souvenirs to viewers.
Suzhou Museum in the eastern Jiangsu province, just over an hour's drive from Shanghai, can also be "visited" on Alibaba Live. Jiang Han, deputy manager of the museum's cultural and creative department, told Sixth Tone that the feature has become a hit. She said that some 5.8 million people joined the museum's first two livestreamed tours — roughly equivalent to the number of in-person visitors they admit in three months.
"Our museum has some plum blossoms at the entrance, so while I was hosting, I said it was such a pity that nobody could appreciate the flowers because of the outbreak," said Jiang, who is a tour host herself. "Then I saw a comment saying, 'No worries, millions of us just saw it!' I was touched."
Jiang said the digital tours have not only helped attract more virtual tourists, but also boosted souvenir sales. The museum's livestreaming page links to its official shop on Taobao, Alibaba's online marketplace, where visitors can buy themed and commemorative products.
"Souvenir sales that day were four times more than usual," Jiang said, adding that after showing off a 1,000-year-old bowl during a livestream, many viewers bought cookies marked with the ancient artifact from the museum's online shop.
Taobao Live told Sixth Tone that over 20 museums in China have online shops on the platform, and that livestreaming has created a new niche for museums to cash in on souvenirs.
In fact, people buying souvenirs for places they've not visited was already a fad in China. Museums' Taobao shops received an estimated 1.6 billion page visits in 2019, according to a study by Tsinghua University in Beijing.
However, art connoisseurs like Jiang see the trend as overhyped, arguing that it's no substitute for the experience of visiting museums and galleries in person.
"The ultimate goal of museums is to help people appreciate the pieces in an exhibit," she said. "Digitalization is only one alternative. We hope our livestreaming will entice viewers to visit our museum in person, to experience and feel a connection with the pieces."
Zheng Shiyin, the founder of art education nonprofit ARTspeaks, said visiting museums and galleries is a "middle-class experience" that requires both free time and disposable income. And even if such experiences are being made widely available online, she questions whether the working-class population will tune in.
"Many people welcomed the digitalization of museums, as information became more accessible and more personalized," Zheng told Sixth Tone. "However, the class divide still exists."
Editor: Bibek Bhandari.
(Header image: A guide leads a livestreamed tour of the Potala Palace in Lhasa, Tibet Autonomous Region, March 1, 2020. CNS)