The corner of the Chinese internet reserved for celebrity fandom can seem a lot like Valhalla in Norse mythology — a place where fresh wars are waged day after day without end.
The most recent online skirmish was just weeks ago, when fawning fans of the young actor-singer Xiao Zhan took offense at a fan-fiction novel series that portrayed their idol as a lascivious young woman. They mobilized to report the hosting site — the Hugo Award-winning fan-fiction repository Archive of Our Own — to internet regulators, leading to it being blocked on the Chinese mainland.
Afterward, legions of fan-fiction enthusiasts took retaliatory measures against the pop star, review-bombing his associated productions and calling on netizens to boycott brands he endorsed. As the protests gained momentum, some brands bowed to the pressure and distanced themselves from Xiao's likeness to escape the fan-fiction fans' fury.
The severity of the outcomes — a popular site being blocked without warning, plus considerable financial and reputational damage to a celebrity — have caused many to reflect on the state of online fandom in China, especially given how common these intertribal conflicts have become.
Chinese celebrities tend to have independent but highly organized fan bases who strive to boost their beloved idols' online reputations. On a daily basis, hardcore fans commanding platoons of bot accounts will post, comment on, and share content about their celebrity to boost his or her ranking in several key "popularity charts," particularly on microblogging platform Weibo.
Things can get ugly between competing fan groups, however. A perceived slight might lead to all-out war, as fans sibi — or "catfight," to use a polite translation — in their idol's name. In other cases, cynical fans might instigate a war just to raise their star's profile. Either way, the commonly deployed implements of war include verbal abuse, harassment, reporting posts, review-bombing, rumormongering, manipulating photos, and "human flesh searching" — or doxxing — online opponents.
While there have been too many fan wars to chronicle in one space, here are some of the juicy beefs from the past few years that caught our attention:
In Defense of Kris Wu's Singing
In July 2018, the largely female fan base of Chinese-Canadian singer Kris Wu forayed into male-dominated web space to defend their idol's honor.
It all started when a user on Hupu — a popular sports and lifestyle forum — posted an unflattering, un-autotuned video of Kris Wu singing live on the hit reality show "Rap of China," along with the words "How many seconds (of listening to this) can you endure?"
Within hours, Wu's massive fan base had flooded the forums with posts defending their idol and insulting Hupu users — in many cases buying Hupu memberships to do so. They accused the users of having "straight man cancer — a common term in China deployed against men with chauvinistic views — while the Hupu faithful countered by calling the irate insurgents "brainless fan girls."
Wu's representatives then upped the ante by announcing that they would sue the user who posted the video clip, and Wu vowed to release a spicy diss track that would silence his critics. He eventually followed through with his promise, but not before being targeted by numerous musical barbs himself.
The virtual dust-up — which some conspiracists believe was a carefully crafted ploy to attract eyeballs and boost traffic — is just one of many involving Wu. When the singer changed his hairstyle to a mullet in 2017, his fans clashed with those of Korean pop star G-Dragon, who said Wu had copied their idol's "business in the front, party in the back" haircut. And when Wu in November 2018 surpassed Ariana Grande and Lady Gaga to claim the No. 1 spot on iTunes with his new album "Antares," inter-fan bickering went global on platforms like Instagram and Twitter.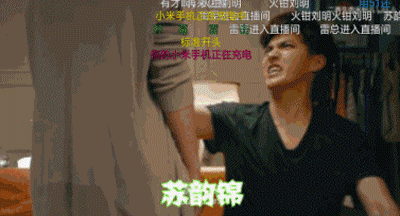 A GIF of Kris Wu acting. From Weibo
The Traffic King of the Hill
Pop star Cai Xukun's large, industrious, and fearsome fan base has kept him hovering around the top of online popularity charts for years by generating nonstop hype and shouting down critics. But — as with fellow fresh-faced pop star and actor Lu Han before him – Cai's androgynous K-pop aesthetic, combined with his artificially inflated status, have drawn both admiration and mockery in almost equal measure.
In early 2019, another battle of the sexes played out when the NBA — which has a large following of some 500 million fans in China – included Cai in a Lunar New Year's promotion. Users on Hupu were outraged that such a supposedly effeminate figure had been chosen to represent their beloved sport. But even as Cai's detractors made him the butt of savage memes, his fans on Weibo celebrated the coveted commercial affiliation.
In July, after Cai was named a brand ambassador for the live-action film remake of "The Lion King," an open letter criticizing Disney's decision because of his fans' propensity to inflate their idol's popularity was widely circulated on Weibo. Once again, the star's acolytes mobilized a defense, denouncing the letter and saying its author was obviously no true fan.
Cai's supporters have also frequently clashed with fans of the pop trio TFBoys, with the friction stemming from rumors that Cai had been tapped to join the group years ago but declined to focus on his studies.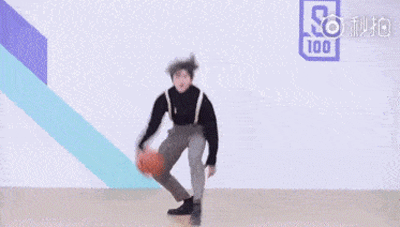 A GIF of Cai Xukun dribbling a basketball. From Weibo
Desperate Defense of a Falling Star
Within months of co-winning "The Rap of China" in September 2017, rapper PG One had made a laundry list of enemies. Chinese authorities condemned his lyrics for glorifying drug use and misogyny. Keyboard crusaders decried his fling with a married actor. Marvel fans — another formidable tribe in China — protested his appropriation of the super-villainous nickname "Magneto." Fans of the South Korean-Chinese boy group EXO accused him of copying music for a song. And fans of actor and singer Yang Mi were offended that he had once referred to her as "Yang Smelly Feet."
Faced with this largely self-inflicted adversity, PG One was nevertheless defended by his hardcore fans, who fought back with notorious brutality. On two occasions, when web users published proof of PG One's history of drug use on social media, his fans allegedly leaked the posters' personal information and verbally attacked them, while also harassing their friends and family on messaging app WeChat.
In January, after a state-run magazine criticized PG One for his supposedly inappropriate lyrics, the rapper's fans enlisted the services of a click farm to assail the magazine with negative press. However, to the amusement of onlookers, the move failed because of an apparent mix-up: PG One's fans had ordered a hit not on the magazine, but on a restaurant chain with the same name.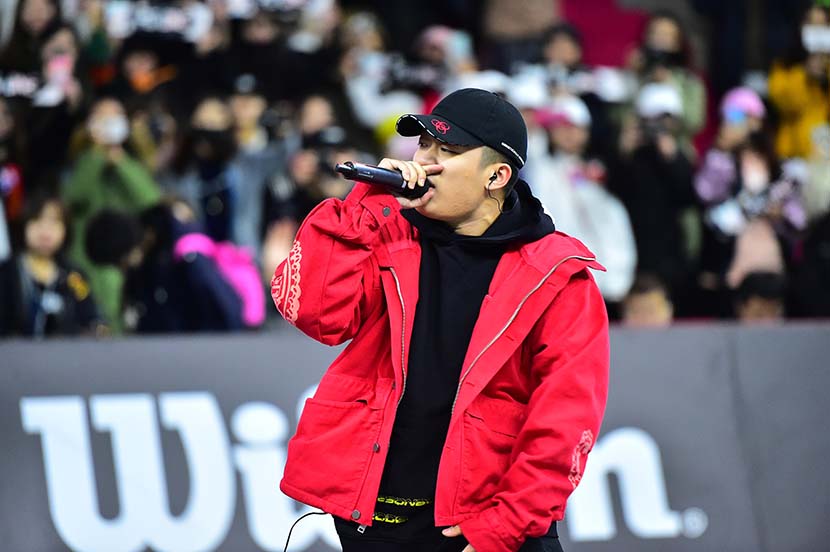 Rapper PG One performs in Beijing, Oct. 29, 2017. VCG
Yang Chaoyue's Unlikely Rise to Pop Primacy
"Singing Cinderella" Yang Chaoyue was polarizing from the moment she entered girl band singing show "Produce 101" in May 2018. To her legions of critics, she was the unwitting comic relief: uncoordinated, a poor singer, and always crying. But the 20-year-old country bumpkin from rural Jiangsu province amassed her own hardcore fan following thanks to her doll-like looks, humble origins, and fighting spirit.
As Yang progressed through the singing competition, the opposition intensified, with some netizens using government reporting channels to denounce her. Meanwhile, Yang's fans fought back — and invested big money into helping her maintain her place among the finalists. In the end, against all odds, Yang made the band, coming in third place after the final vote.
Yang and her loyal fan following have since weathered many more storms, including cyberbullying by fans of Wang Yuan, a singer and actor from TFBoys, in May 2019. Wang's "girlfriend fans" — one of many categories in China's fandom lexicon — insulted Yang's fans, human-flesh-searched them, dug up dirt from Yang's past, and created funeral portraits of her, apparently because they were jealous that she had been featured alongside Wang on a TV show.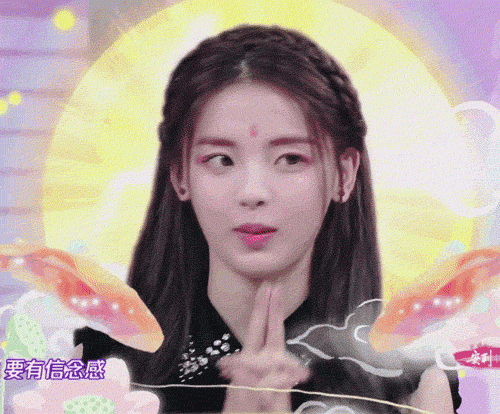 A GIF of Yang Chaoyue clasping her hands in prayer. From Weibo
Mobile Gamers Stand Their Ground
Online communities less familiar with celebrity fan wars are sometimes surprised by their ferocity.
In February, an online war broke out after the Weibo account of mobile game Onmyoji — or Yinyang Shi in Chinese — announced a cheesy pickup line competition, with prizes in excesses of 1,000 yuan ($144) going to the most upvoted user-submitted entries. Fans of Zhang Yixing, a member of EXO, got wind of the competition and, hoping to win money that could be put toward supporting their idol, flooding the competition thread and boosting their own unrelated submissions.
As fans of the game started to complain, arguments broke out between the two groups. Soon, gamers reported they were receiving abusive private messages and having their personal information, including photos, leaked online. They voiced their grievances using a hashtag translating to "Zhang Yixing fans, please stop your cyberviolence."
Jay Chou's Mighty Middle-Aged Army
Online fan wars are primarily waged between celebrities' armies of teens and 20-somethings, but last year, one aging icon's more senior fans managed to beat the younger generation at their own game.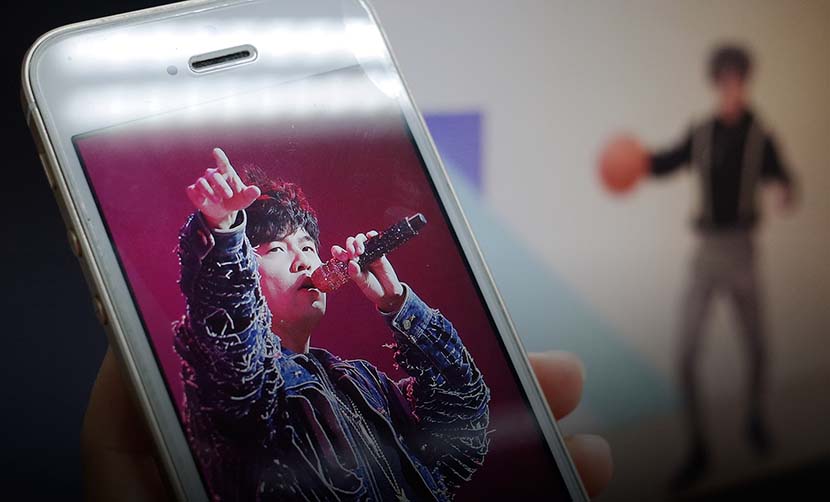 A photo of pop star Jay Chou. Sixth Tone
In 2019, Taiwanese pop legend Jay Chou went back on tour after a four-year hiatus, with performance dates selling out almost immediately. However, when a user on review site and community forum Douban published an article in July arguing that Chou's lightning-fast ticket sales seemed surprising, given his relatively low ranking in the celebrity popularity charts, Chou's fans were aggrieved — and decided they would assert their idol's star power by hauling him to the top of Weibo's "super topics" rankings.
After several days of concerted algorithm-manipulation — commenting, forwarding, and tagging — Chou's fans succeeded in dethroning the No. 1 star Cai Xukun — a rare feat at the time — and momentarily putting Chou in what they saw as his rightful place.
A 41-year-old Beijing lawyer who had gleefully participated in the war alongside fellow Chou fans wrote under a now-deleted Weibo post that, contrary to some people's assumptions, Jay Chou fans have just as much love for their idol as any other fans — they just aren't all that interested in virtual popularity contests.
Editor: David Paulk.
(Header image: Fans attend Chinese pop trio TFBoys' fourth anniversary concert in Nanjing, Jiangsu province, Aug. 11, 2017. IC)