China's schools have settled on online education as a stopgap measure for coping with the COVID-19 epidemic, but the home study arrangement is posing a major headache for many parents of young children.
With children glued to screens for even more hours per day than usual, parents and grandparents are obliged to keep a close watch on them, checking homework posted in online chat groups, taking photos of completed assignments, and submitting them to the teachers, according to domestic media reports.
Many fed-up parents have taken to social media platforms to complain of such online courses being too "formalistic," and for giving them too much extra responsibility on top of their regular work. Parents have also expressed concerns that the excessive screen time may be harmful to their kids' eyesight.
The design of the online classes impacts the parents of young children the most, as schools and teachers expect them to offer assistance to their kids at home, according to Liu Yuanju, a researcher at the Shanghai Institute of Finance and Law. And the online courses aren't without their own inherent shortcomings either, he said.
"There are several disadvantages. Online education requires families to have access to the internet and smartphones, relies on parents' understanding of technology, and favors parents with a solid knowledge base," Liu told Sixth Tone.
The father of a fourth grader in Shanghai told Sixth Tone that his son takes seven classes a day on a laptop at home, from 8:50 a.m. to 5 p.m. The father, surnamed Sun, said he had supervised his son all day on the first day of class. After helping the boy get through some early technological issues, he ceded supervisory responsibilities to the child's grandparents.
Each 40-minute class consists of two parts: a livestreamed 20-minute video lecture, followed by a 20-minute interactive tutorial with their regular teacher on Alibaba's conference call app, DingTalk.
Many parents are asked to register DingTalk accounts on behalf of their young children, which requires linking their own mobile numbers, according to Sun. In such cases, they may be inundated with notifications for homework assignments and lecture reminders.
"I receive a notification every time the teachers make an assignment on the app — it's super annoying!" said Sun. Because he also uses DingTalk for work, Sun feels like his ears are being assaulted by the app's constant DING! notifications. "For the parent, it's quite disturbing," he said.
Sun believes that although the online courses being offered in Shanghai are good teaching resources for children, they still require too much parental involvement.
"Education departments assume there's one family member who doesn't work and can look after the child all day and help him complete tasks — but this is totally unreasonable," Sun said. "You can't ask everyone to resume work while at the same time expecting one parent to supervise children at home. It's passing off the problems that should be solved by education departments onto each household, isn't it?"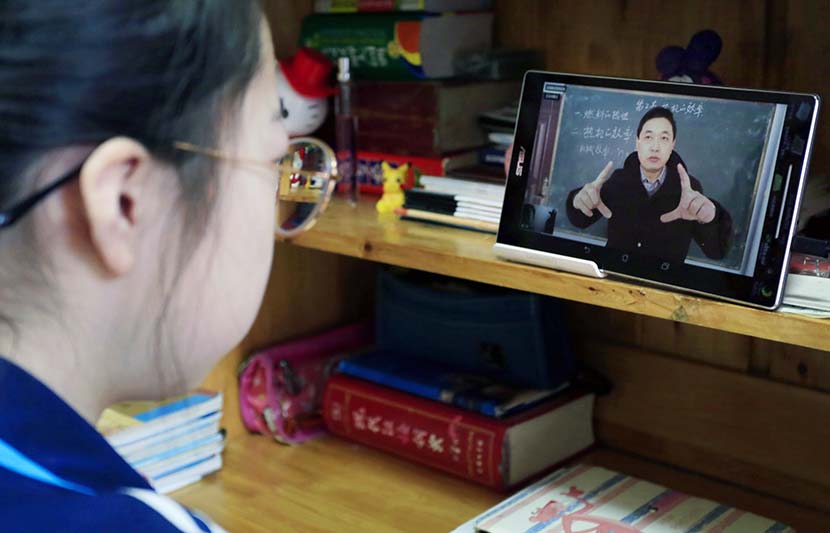 A girl watches an online lecture at her home in Yuncheng, Shanxi province, Feb. 9, 2020. IC
In mid-February, the Ministry of Education launched an online education program as well as a television channel aimed at students learning from home. And many teachers have begun offering online courses to ensure that their students — especially those in their final year of high school who are preparing to take the grueling college entrance exams, or gaokao, in June — continue to receive an education, even as schools themselves have delayed officially resuming classes.
However, the online classes have received mixed reactions from both students and teachers, and education experts have suggested that they may even widen the educational divide between urban and rural areas, which have unequal internet resources.
Parents, too, have been doubly inconvenienced by the online classes because the grandparents they'd normally rely on for home child care duties may not be familiar with the technology. Meanwhile, mothers in some parts of China are expected to shoulder the burden of lesson-supervising due to persisting patriarchal traditions. In mid-February, education officials in the eastern city of Jinan landed in hot water after suggesting that working women — but not men — apply for leave in order to stay home and care for their children.
Chen Wenxin, the mother of a 7-year-old in Shanghai, told Sixth Tone that since her daughter started taking distance learning courses last week, she has come to doubt the efficiency of the online medium. Although her daughter is quite proactive with her studies and doesn't require close supervision, Chen said the girl still finds the courses boring and occasionally becomes distracted.
For Chen — who has worked in online education herself — the distance learning options now being offered lack features that would ensure interaction between teachers and students.
"The design of the online courses is pretty outdated, because it basically just records the content of a normal class and copies it online," she said. "The design also fails to take age differences into account: It's the same format for first graders all the way up through primary and middle school."
Liu, the researcher, suggests that the education sector should reconsider the online classes' design, and only continue offering classes that are suitable to be taught online, such as literature, while not offering classes that require labs or other essential physical interaction. Instead, he suggests it might be better to arrange relevant follow-up classes after the epidemic has subsided, possibly extending school hours or enlisting more teachers to provide extra catch-up classes.
Editor: David Paulk.
(Header image: A father helps his daughter complete an online homework assignment in Yinchuan, Ningxia Hui Autonomous Region, March 8, 2020. Xinhua)