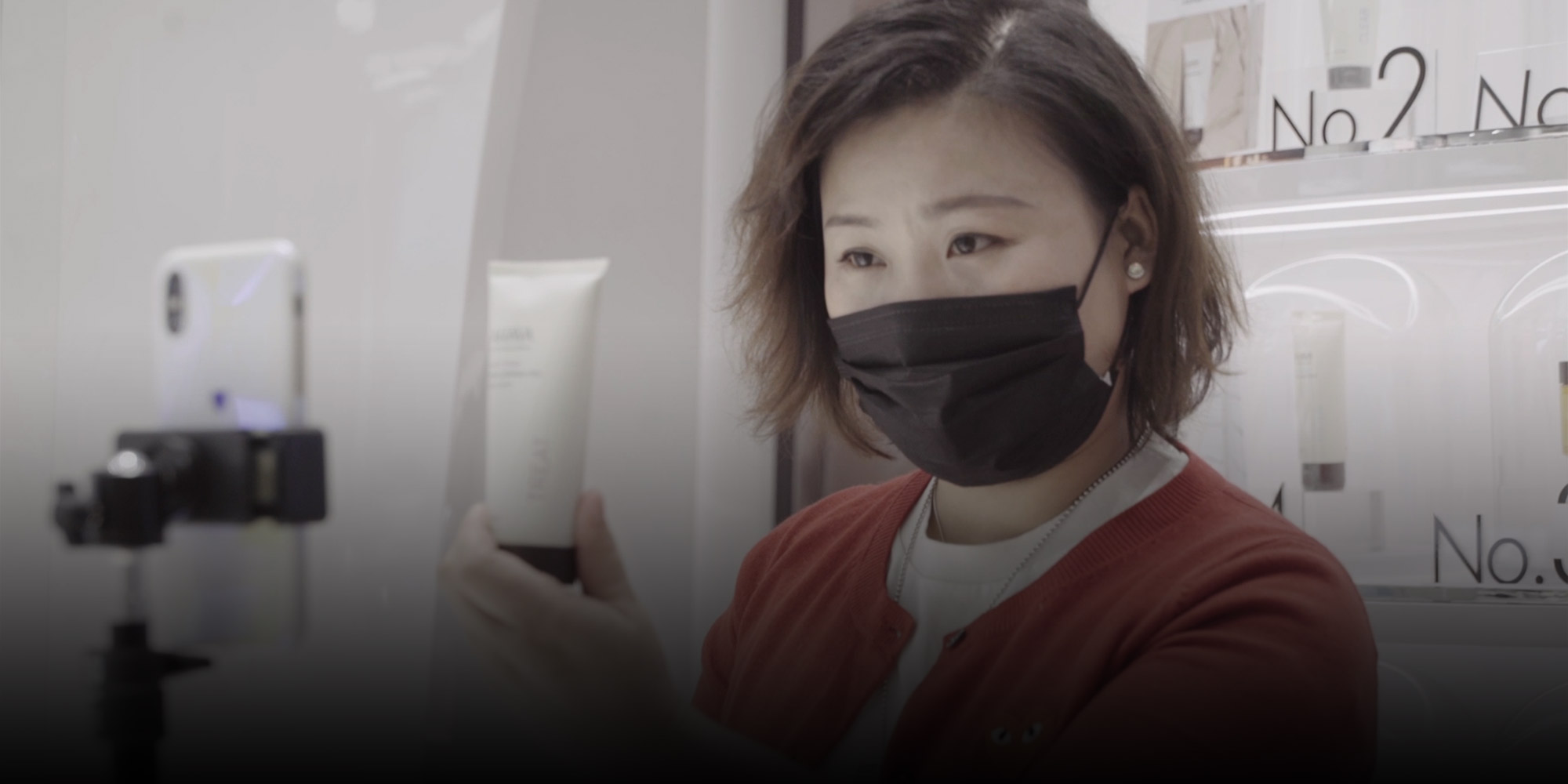 MULTIMEDIA
Amid COVID-19, China's Beauticians Make Up for Lost Time Online
With shopping malls almost deserted, cosmetics firms are encouraging staff to shill products via livestream.
SHANGHAI — Tang Hui was nervous. So nervous, she didn't realize she had said, "I'm nervous" six times in the past minute until her colleague pointed it out.
The 31-year-old was about to host her first livestream, and she didn't feel ready. As a spa therapist, she was more used to giving beauty treatments and teaching others to do the same.
But Tang had no choice: Her employer had told her performing online was now a part of her job. She took off her coat, took a deep breath, and stepped in front of her phone inside the empty cosmetics store.
Tang is one of many Chinese service workers who have suddenly found themselves thrust into the online spotlight amid the COVID-19 epidemic, which has dealt a crushing blow to retailers, hotels, and any other businesses that rely on people leaving their homes.
Despite the fact that Shanghai has allowed businesses to reopen since Feb. 10, customers are still avoiding crowded public places. With offline sales tanking, many companies including AHAVA — the cosmetics and beauty firm that employs Tang — have reacted by asking staff to learn to livestream, so they can sell products to customers online.
The retrained workers — most of them sales assistants — even get a fancy new job title: yun gui jie, or "cloud beauty advisor."
The COVID-19 crisis has seen the emergence of many new businesses or job titles starting with "cloud" in China, such as "cloud clubbing," "cloud workouts," and "cloud classrooms."
"I think the offline flow of customers will ebb in the future. It's already a trend, even without the epidemic," Tang's colleague Zhou Xiumei, an offline sales manager at AHAVA, told Sixth Tone. "But the epidemic is pushing us to give it a go, to test whether it will work out."
Tang agreed it's inevitable that more businesses will go online in the future, but said she was uncertain whether she wanted to continue doing livestreaming long-term. The new job, however, does have at least one perk. "The epidemic has made our lives so boring; it's always a good thing to pick up a new hobby," said Tang. 
Editor: Dominic Morgan.
(Header image: Spa therapist Tang Hui advertises products on her livestream channel during the COVID-19 epidemic, in Shanghai, Feb. 21, 2020. Tang Xiaolan/Sixth Tone)