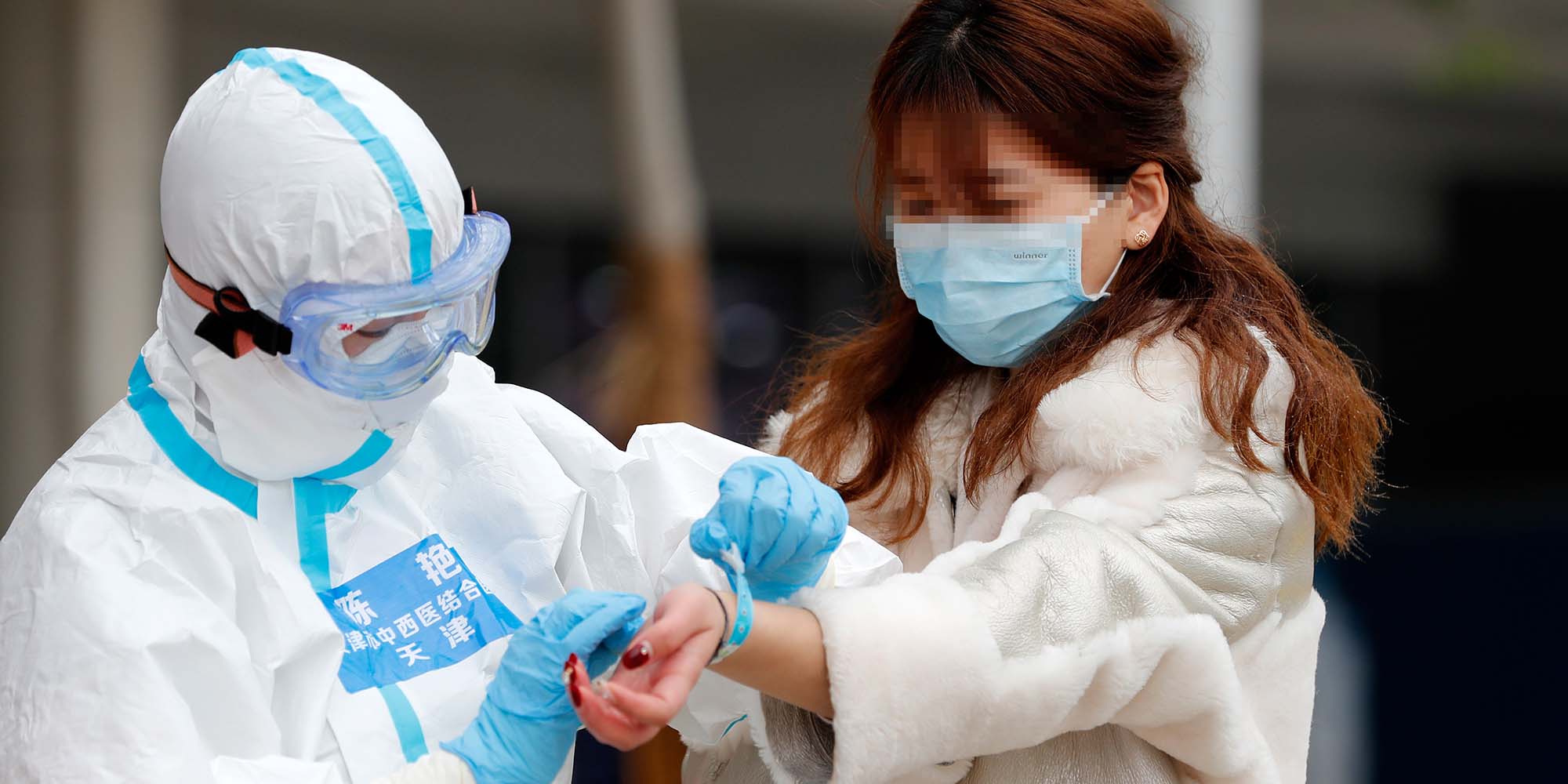 NEWS
COVID-19 Hospital Adds Antibody Tests as Discharge Requirement
The additional tests at one of Wuhan's makeshift "shelter hospitals" are intended to ensure that patients have fully recovered from the virus.
From Thursday, a temporary "shelter hospital" in the central Chinese city of Wuhan is conducting additional tests on COVID-19 patients who have met the necessary criteria to be discharged, following reports of discharged individuals later testing positive for the novel coronavirus.
The makeshift hospital, or fangcang, in the city's Jiang'an District said that all patients will undergo additional Immunoglobulin M (IgM) and Immunoglobulin G (IgG) tests before being discharged, according to Sixth Tone's sister publication The Paper. IgM and IgG are antibodies — or immunoglobulin proteins — that the body's immune system produces to fight infections.
"A negative IgM with a positive IgG result shows a patient has recovered," a Wuhan-based doctor specializing in respiratory diseases told Sixth Tone.
A hospital staff member told The Paper that the IgM and IgG tests, which yield same-day results, are meant to "ensure 100% recovery of the patients."
The hospital's initiative comes at a time when several medical facilities have reported cases of discharged COVID-19 patients later testing positive for the virus. On Feb. 25, the disease control and prevention center in the southern Guangdong province confirmed that 14% of the discharged COVID-19 patients had tested positive again, though no infections were detected among their close contacts.
Song Tie, the center's deputy director, said during a press conference that young patients with mild symptoms were found to have developed antibodies within weeks to fight infections, while elderly people required more time to build up such defenses.
Other provinces including Sichuan, Jiangsu, Hainan, and Hubei — the latter being the center of the COVID-19 epidemic — have also had recovered patients again test positive for the virus later.
On Wednesday, the National Health Commission's latest guideline for the diagnosis and treatment of COVID-19 said that recovered patients discharged from hospitals must be quarantined for 14 days. The previous version of the guideline had only recommended that patients monitor their health for 14 days.
The latest guideline did not, however, make any changes to hospitals' discharge criteria, which include normal body temperature for a minimum of three days, visibly better respiratory symptoms, CT scan improvements, and two negative nucleic acid tests performed at least one day apart.
Zhang Zhan, an expert in respiratory diseases and critical care with Renmin Hospital of Wuhan University, wrote in a post on social app WeChat last month that 13 of the 18 patients whose discharges were delayed had tested positive again in a third nucleic acid test. He suggested that the discharge criteria be revised to include three consecutive negative nucleic acid tests rather than two.
During a press conference last week, leading Chinese respiratory disease expert Zhong Nanshan said he believed that discharged patients testing positive again could stem from multiple factors including their individual health conditions or the methods applied during the tests. However, he said changing the national criteria for discharging COVID-19 hospital patients would require careful consideration.
"Medical care conditions and epidemic control and prevention pressures vary from place to place," Zhong said in an interview with state broadcaster China Central Television. "If all patients are required to test negative in a stool test — a part of Shanghai's discharge plan — this might result in an accumulation of patients and impact the diagnosis and treatment of others."
Editor: Bibek Bhandari.
(Header image: A medical worker gives a patient a blue wristband outside a temporary "shelter hospital" in Wuhan, Feb. 26, 2020. Xinhua)