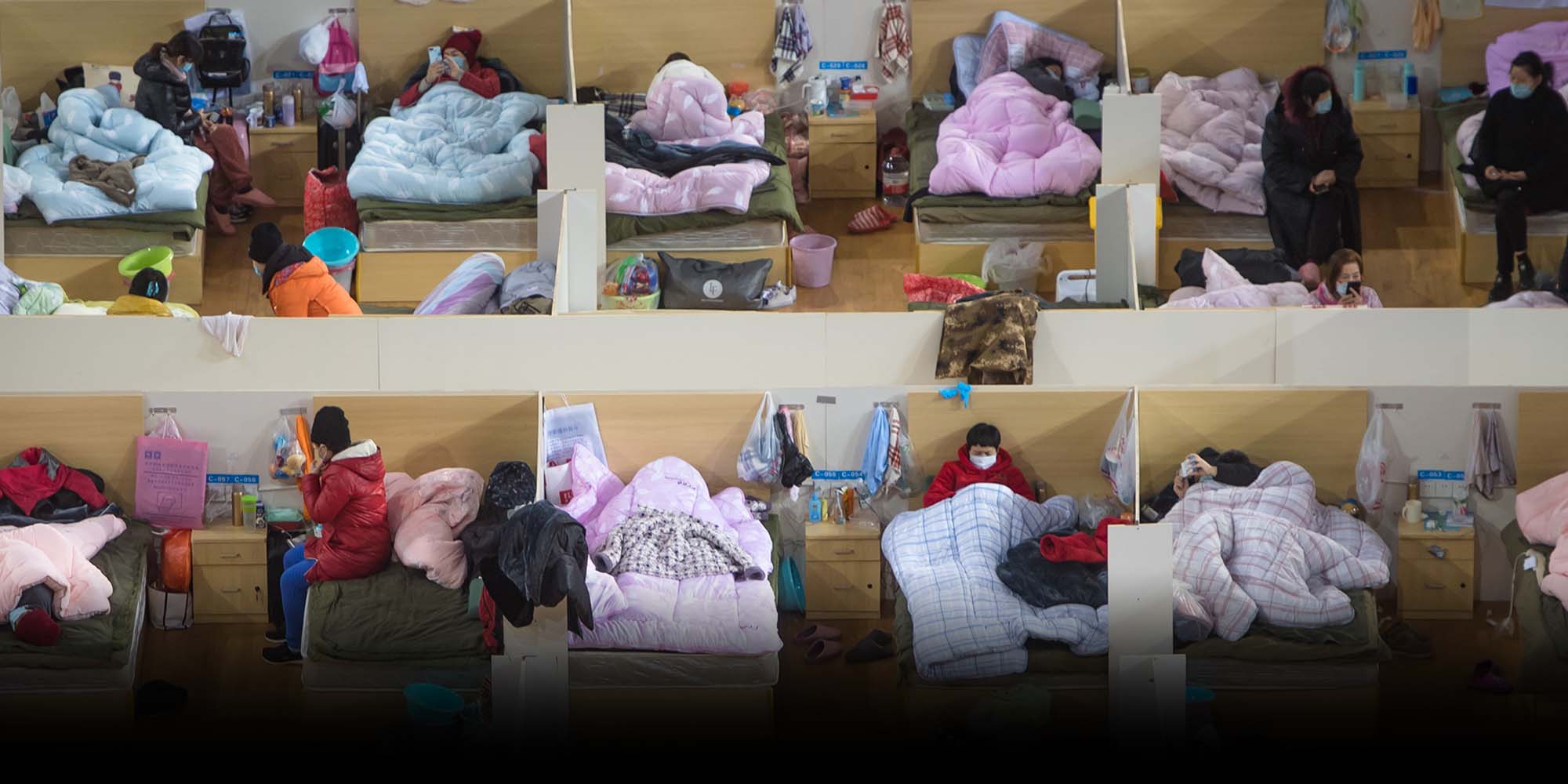 NEWS
Inside Wuhan's 'Fangcang' Shelter Hospitals
Since February, Wuhan authorities have sought to quarantine COVID-19 patients with mild symptoms in over a dozen makeshift clinics. How does the system work?
Nearly three weeks passed from the day Cindy Chen was shown a worryingly opaque CT scan to the day she was told she could have a hospital bed. Two of these weeks she spent quarantined at her home in Wuhan, the central Chinese city at the heart of the COVID-19 epidemic; the third she spent in isolation at a designated hotel.
But the bed waiting for Chen wasn't at a typical hospital. Instead, she was admitted to a sports arena — one of 16 temporary "shelter hospitals," or fangcang, set up in Wuhan since early February to help alleviate the shortage of beds in dedicated hospitals.
The 36-year-old Wuhan resident had been experiencing fatigue, intermittent fever, and a dry cough since taking her feverish father-in-law to see doctors in late January. CT scans showed that both patients had lung damage, though the overburdened health care system at the time — understaffed and short of beds, medical supplies, and nucleic acid tests — made it impossible for them to be admitted. Out of options, they would try and take care of themselves at home for the next two weeks.
In China, there are around 1,000 people for every six hospital beds, according to official data. Unequally concentrated medical resources often mean cities or even entire provinces must rely on a few large hospitals for their most urgent needs. The shortage of hospital beds in Wuhan was exposed early as the city grappled with the COVID-19 epidemic and eventually went into lockdown on Jan. 23.
During the early stages of the epidemic in Wuhan, many infected patients with mild symptoms were unable to receive treatment because beds were reserved for patients whose conditions were severe. But delayed treatment carried the risk of these mild patients' health deteriorating to severe, while insufficient quarantine periods may have caused the epidemic to spread further, Ma Xiaowei, the head of China's National Health Commission, said last week.
The solution authorities came up with was to set up makeshift hospitals for accepting and quarantining patients with mild symptoms, by far the largest demographic among the city's confirmed or suspected COVID-19 cases.
Since early February, 16 public venues in Wuhan, from sports arenas to exhibition centers, have been converted tofangcanghospitals, contributing an extra 13,000 beds and bringing the city's total number to over 27,000 by Feb. 16. As of this week, the megacity of 11 million inhabitants has reported around 50,000 COVID-19 cases, around half of which have recovered.
Unlike Huoshenshan and Leishenshan — the two emergency hospitals built from scratch to accommodate the most severely ill patients —fangcanghospitals act as buffers for patients who aren't sick enough to need urgent treatment but should still be under medical observation. Mild patients can be admitted tofangcangafter testing positive for the coronavirus. Only and if their situation gets worse will they be transferred to a hospital with a higher care standard. Older people with preexisting health conditions are not admitted tofangcang, which provide only limited treatment and may not be suitable for those with weaker immune systems.
With Wuhan authorities seeking to "round up" all suspected carriers of the novel coronavirus, the local neighborhood committee paid a visit to Chen's family on Feb. 12 and asked them to stay in a quarantine hotel for 14 days. After she tested positive for COVID-19 while there, she was sent to the converted stadiumfangcang, where she received one of the last available beds in a ward for female patients. Her father-in-law, meanwhile, was sent to Leishenshan.
Chen told Sixth Tone the nurses would check their temperatures and blood oxygen levels four times a day. The medics gave patients daily TCM therapies, including medicines and occasionally herbal plasters. In the mornings, afternoons, and sometimes evenings, staff would encourage the patients to relax by dancing or doing tai chi-like exercises. When she was bored, Chen would check her phone or watch one of the TVs around the facility.
"In fact, I felt quite relaxed," Chen said. "Although there are many patients in the place, everyone is chatting together, and it feels a lot better than being isolated alone in a room."
As her recovery in the fangcang progressed, Chen asked for a nucleic acid test again on Feb. 24. The criteria to be discharged are strict: consecutive negative nucleic acid tests, a CT scan showing lungs on the mend, and no symptoms — especially fever — for at least three days, in addition to passing a final review. Luckily, Chen managed to check all of these boxes and left the fangcang on March 2.
Many more patients have been discharged from fangcang, too. Earlier this week, one of the 16 temporary facilities announced it would shut down after discharging or transferring the last of its patients.
In stark contrast to the early days of the epidemic, over half of all fangcang beds are now empty. Authorities believe that the shelter hospitals have played a crucial role in bringing the epidemic situation in Wuhan under control.
"Building fangcang hospitals was a critical and significant move," Ma said last week. "We have rapidly expanded our medical resources over the near term, and it would have been difficult to come up with so many beds in such a short time in any other way."
Experts have largely echoed this assessment. Wang Chen, a top respiratory specialist in China who also works on the front lines, said in an interview last month that fangcang — while perhaps not perfect — are at least a realistic solution. "The shelter hospitals can admit a large number of patients and get them treated and quarantined, which is key," Wang said.
But not everyone's fangcang-assisted road to recovery has been as smooth as Chen's. The spartan living conditions, lack of privacy, and risks of cross-infection are all common complaints among patients.
A 35-year-old Wuhan native who now lives in eastern China's Jiangsu province told Sixth Tone that his mother was admitted to a fangcang hospital in Wuhan's Hanyang District on Feb. 12, but inadequate medical equipment, and especially a lack of access to CT scanners, hampered the transfer of patients whose conditions had deteriorated while they waited to be diagnosed.
"There were some emergency situations," the man, surnamed Lin, told Sixth Tone. Some patients died in their beds, which distressed the other patients, including Lin's mother. Things only began to look up after the CT scanners started working after 10 days or so, according to Lin.
"She's recovering slowly," Lin said, referring to his mother. "I'm not sure if there will be any lingering effects."
During an epidemic situation, temporary facilities like fangcang can only serve their intended purpose if they're well-stocked and well-staffed, according to Liu Shi-yung, a historian of medicine and public health and visiting professor at Shanghai Jiao Tong University.
"Unlike traditional quarantine hospitals, fangcang are more like treatment units," Liu told Sixth Tone. Fangcang should be seen as supplementary facilities to hospitals, and should be integrated with nearby medical resources, as has largely been the case, according to Liu.
Given the lessons of the 2002-2003 SARS epidemic, officials and health care professionals have stressed the need for differentiating among mild, severe, and critical COVID-19 cases. "When these distinctions are not being made, resources can be wasted, and there's a high risk of 'mild' becoming 'severe' at any given time, which is the real risk of cross-infection," said the professor.
Quarantine has been a common practice during epidemics throughout history, since the Black Death in the 14th century. But only since the discovery of antibiotics have quarantine hospitals served any useful purpose, and much of the emphasis during epidemics remains on isolating the sick, according to Liu.
Isolation also awaited Chen when she left the fangcang: She's now spending 14 days quarantined in a school dormitory.
Alone in her bunk, Chen said she's still afraid she might test positive for the virus again, which might send her back through the same long process all over again. A silver lining, however, is that she can finally enjoy a hot shower and wash her hair at her leisure, which she was rarely able to do at the fangcang.
"I will try to get used to this," she said. "After all, my family is safe, and as long as I can make sure that I stay well, I'll be able to go home after 14 days. I have to look on the bright side."
Editor: David Paulk.
(Header image: Patients at the temporary "shelter hospital" at Wuhan Sports Center, Hubei province, Feb. 16, 2020. Xinhua)