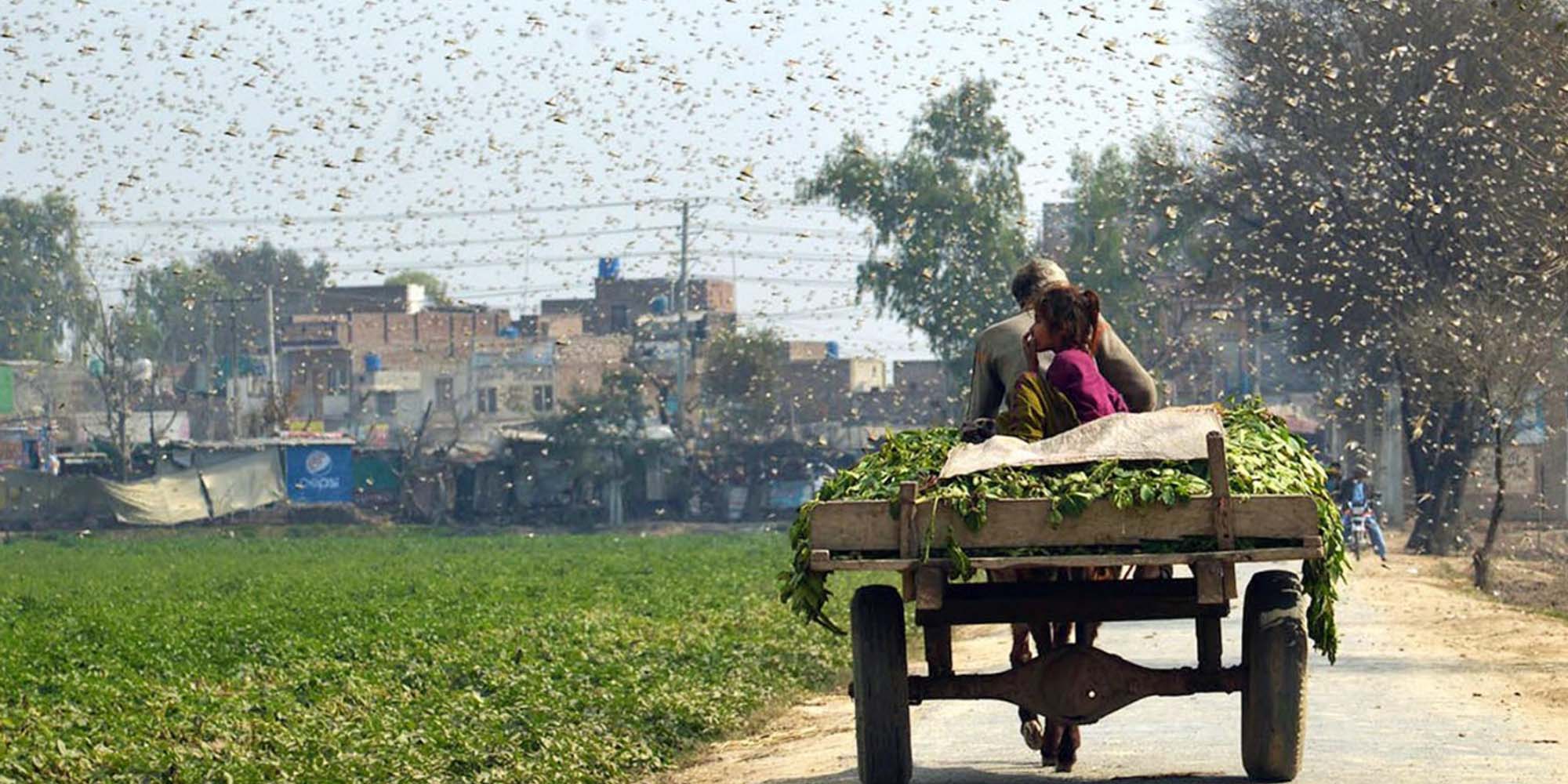 NEWS
China Warns of Desert Locust Invasion
The pests have already wreaked havoc across several East African countries, as well as India and Pakistan.
Even as China is engaged in an epic battle to contain the COVID-19 epidemic, the country is also preparing to wage war against another formidable scourge: the desert locust.
The National Forestry and Grassland Administration on Monday urged local authorities to start thinking about how to prevent or control an invasion of desert locusts, which could potentially devastate the country's agriculture sector. The Cabinet-level body instructed forestry departments at all levels of government to strengthen surveillance and devise emergency response plans that could help minimize the damage.
Desert locusts are said to be one of the world's most destructive migratory pests, spreading fast and devouring any crops in their path. The current blight of desert locusts, considered to be the worst in decades, has affected large swaths of farmland in countries ranging from East Africa to South Asia, threatening food supplies for millions of people in those regions.
Last week, the forestry administration said China's risk of a desert locust invasion remains low. However, experts predict that locust plagues in neighboring countries including Pakistan and India, as well as favorable weather patterns, could allow the pests to spread into the regions of Tibet, Xinjiang, or Yunnan in June and July.
Though desert locust infestations have been found sporadically in the western parts of the country, China has never experienced a large-scale plague, and there is no history of the pests causing severe farmland destruction in the country. In a separate notice dated Feb. 26, the forestry administration warned that China would face various "uncertainties" in the event of a locust plague, given the country's inadequate monitoring technology and limited knowledge of how to control the pests.
The forestry administration has set up a central command unit and urged lower-level departments to strengthen their monitoring of at-risk regions. It has also asked them to take stock of pesticides, equipment, funds, and staff in preparation for a potential plague, according to Monday's statement.
The United Nations' Food and Agriculture Organization had warned countries as early as Jan. 20 that there could be 500 times more of the crop-devouring insects by June due to a lack of oversight and preventive action. The organization said swarms of desert locusts can consist of hundreds of millions of insects traveling up to 150 kilometers a day, and that the speed and size of the current plagues are "far beyond the norm."
China's forestry administration also warned that certain types of locusts have been widely found in China's grassland areas, where changing climate patterns, including droughts, may have increased their numbers in recent years. The pests destroy an estimated 150 million mu (10 million hectares) of land every year and could further disrupt the country's agriculture sector, already reeling from the COVID-19 epidemic.
In December, the deputy director of the Chinese Academy of Agricultural Sciences Wu Kongming told The Beijing News that this year could also see a plague of fall armyworms, another invasive insect that invaded China's southwestern Yunnan province in January 2019 before spreading to 18 provincial-level regions.
Last week, a company in the eastern Zhejiang province told local media it would send 100,000 ducks to Pakistan to help fight the locusts there. However, the Chinese task force combating locusts in Pakistan later denied the news, saying ducks were unfit for hunting locusts in the South Asian country.
Editor: Bibek Bhandari.
(Header image: Locusts take flight as a wagon passes by in a village in Pakistan, Feb. 15, 2020. Xinhua)