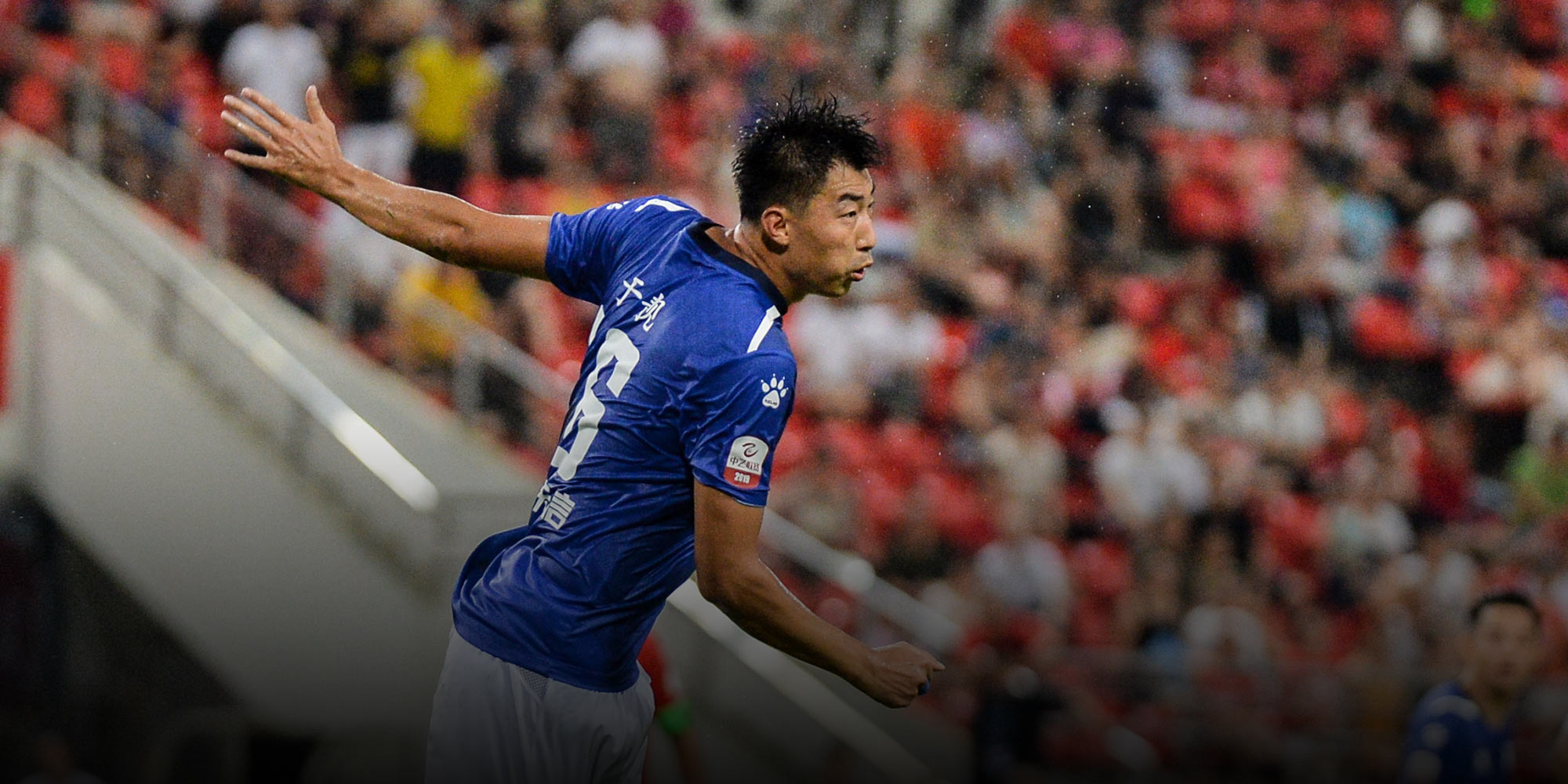 FEATURES
With Mass Team Ouster, China Stumbles on Rush to Soccer Success
Unsustainable financing, haphazard policymaking, and a lack of homegrown talent are tripping up the country's ambitions.
For soccer enthusiast Deng Wanghai, fandom has been a series of heartbreaks. He recently had to bid farewell to his fourth local team.
In previous years, the three clubs Deng supported either went bankrupt or moved out of Fujian, the province in southeastern China where he lives. When Fujian Chaoyue F.C. left in 2016, Deng was so angry, he burned his team jersey.
Then, in 2017, Fujian Tianxin F.C. — an amateur club with little history but lots of funding from an owner rich off of China's peer-to-peer lending boom — went professional after being promoted into the country's third-tier league. Once more, 32-year-old Deng pledged his allegiance.
But as the peer-to-peer lending industry crumbled and the team's owner had his company's assets frozen, Fujian Tianxin last year found it could not survive on its soccer income alone — a common issue for the many soccer teams around the country that rely on financial injections to balance their books.
On Feb. 4, Fujian Tianxin was among nine teams kicked out of the country's second- and third-tier leagues ahead of the new season — which was due to kick off this week, but has been pushed back due to the COVID-19 epidemic — for failing to pay its players and staff. Two more clubs threw in the towel a week later.
Exiled from play while in dire financial straits, Fujian Tianxin is now an empty husk, without even the staff to officially announce its disbandment, says Deng, who helps run a local soccer fan association. Now, the province of 39 million is without a professional team. "Fujian is like a desert for the sport," he says. "It's like a soccer Sahara."
China's leader Xi Jinping has stated his desire for the country to become a soccer superpower that will host, qualify for, and win the FIFA World Cup. The sport is popular domestically — 237 million Chinese say it's their favorite sport — and it is widely played at the amateur level. But the large number of teams disbanding and struggling to survive highlights issues in the country's approach to developing the sport. Reportedly, nearly one-third of all clubs struggled to pay staff last year, and several top teams are teetering on the edge of financial ruin.
Competitive soccer in China is organized in an expansive pyramid of leagues using a points system similar to that of the Premier League, with teams promoted and relegated between leagues based on their standing after each season. At the lowest level are amateur local leagues, which scale up to national-level professional leagues, the top three of which are the Chinese Super League (CSL), China League One (CL1), and China League Two (CL2), with 16 to 32 teams in each.
The Chinese government has tried to reform its domestic soccer leagues to produce a strong national team since as early as the 1950s, but it didn't professionalize the sport until 1994. The change meant that teams formerly run by government sports bureaus could be privatized, sponsored, and hire foreign players for the first time. China's only qualification into the FIFA World Cup came eight years later, in 2002; domestically, however, the sport's early years were marred by match-fixing and organized crime until the government cleaned up the sport starting from 2008.
After the turn of the decade, Chinese clubs began to engage in what Chinese media call "money soccer" — the heavy use of investment, rather than slower means like youth training, to achieve results on the field and then profit from fans, sponsorships, and broadcasting fees. The pioneer of this approach was China's second-largest real estate developer, Evergrande Group, which acquired a struggling team from the southern city of Guangzhou in 2010 and began pouring in money. Within a year, the team had been promoted to the China Super League, and it has since won the Super League eight out of nine times and the AFC Champions League twice.
This money-fueled approach was initially mocked by commentators and competitors alike, but teams in China's top leagues soon followed suit, paying lavish sums to attract top players and foreign stars. China's government also encouraged investment through various conferences and lofty targets, including for infrastructure such as fields, mass participation in the sport, and the above-mentioned FIFA World Cup goals. In 2016, Chinese clubs outspent teams from the Premier League on player transfers. The investments paid dividends for the China Super League: Broadcasting rights for the league shot up from $13 million a year in 2015 to $1.3 billion for a five-season deal starting from 2016, and it became the fifth-most attended soccer league in the world.
The shopping spree has since cooled, however. Concerned by the sky-high team spending in 2016, high player salaries, the continued poor performance of China's national team, and capital flight carried out in the government's name, the sport's governing body has since introduced a string of rules to make domestic soccer run more sustainably and improve the national team. These have included a tax and cap on transfers, salary caps, limits on total team budgets, caps on foreign players, and requirements for teams to invest in youth soccer development and include players aged under 23 in their squads. Teams are now expected to be financially independent, and those with wage arrears — a long-tolerated feature of lower-league soccer — face bans.
Following the recent mass cull of second- and third-tier teams, prominent soccer figures and media outlets discussed the source of China's chronic soccer woes once again. Last year had seen player-wage protests and the disbandment of a couple lower-league teams, so February's ouster was considered yet another sign of a Chinese soccer winter, with a poorly performing wider economy hurting the investors and advertisers supporting clubs. Money soccer was also widely blamed for artificially raising salaries and transfer fees to untenable levels, making it increasingly hard for small clubs to survive.
On Feb. 8, Meng Yongqiang, the outspoken owner of the third-tier team Baoding Yingli Yitong F.C., posted a list of reasons why lower-tier soccer was on the brink of collapsing in China to his Weibo microblog. Calling out the prevalence of money soccer, he said that small clubs were poorly managed, but their investors insisted on pouring cash into them out of sentimentality and the vain expectation of government support.
Chinese local governments — hoping to benefit from the prestige of hosting a successful team — have been willing to offer land rights, financial support, and subsidies to companies that invest in them, explains Sina soccer journalist Li Siming. But their help can dissipate in the event of government leadership changes, or if the local sports department doesn't have the money on hand, he tells Sixth Tone. After Guangdong South China Tiger F.C. officially disbanded on Feb. 16, their vice president said the club had been counting on a 4 million yuan ($575,000) year-end bonus promised by the local government to pay players at least a portion of their incomes, but that it had been delayed due to the COVID-19 outbreak.
This funds-first-fans-later model is contrary to how most old European clubs initially developed, says Li. They began as amateur clubs in the 1800s, gained fan bases, then grew increasingly professionalized and businesslike over the years. Guangdong South China Tiger F.C.'s vice president echoed this sentiment in an interview after his team was disbanded, saying that Chinese bosses tend to invest in the wrong order: first buying top teams, then only later working on basic infrastructure such as a home ground and youth training programs.
Baoding boss Meng also said that teams have been hurt by what he described as arbitrary rule-making and a fixation on short-term results from the CFA — particularly the improvement of the national team. For example, in January 2017, the CFA suddenly announced that only three foreign players could play in a game and that a player under 23 must be in the starting lineup. The move aimed to save teams from bankruptcy and give promising younger Chinese players more exposure to top-level play.
But according to Jonathan Sullivan, China Program Director at the University of Nottingham and founder of the China Soccer Observatory research group, the move had numerous adverse effects. Writing in 2018, he said that it hurt the finances of clubs that had only just invested millions signing new foreign players, lowered the overall commercial value of the Chinese Super League — causing broadcasters to renegotiate terms, resulting in a 20 million yuan loss for each team — and hurt the performance of teams like Guangzhou Evergrande Taobao F.C. in international tournaments.
"Officials in the CFA are using the CSL as their laboratory for all kinds of policies and its intervention has already caused problems, such as the devaluation of broadcasting rights and an increase in under-the-table deals in the transfer market; all without resultant improvement of club or national team performance," said Sullivan. CFA's constant expansion of lower leagues — CL2 went from 20 teams four years ago to 32 last year — has also been criticized for pulling amateur clubs up to the professional level despite a lack of funding required to survive there.
Other harmful policies highlighted by club owner Meng include forced investment in youth training programs and the goal of achieving "name neutralization" — the removing of business sponsors from team names — announced in December of last year, which would likely make business investment in the game even more unattractive. "The CFA are poor at managing and are overly politically minded. Policy changes are frequent and unpredictable … They want to run before they can walk," wrote Meng.
Soccer journalist Li acknowledges the leagues sometimes spring rule changes on teams — a sudden tripling of the deposit required to participate in China League Two last year had one cash-strapped team asking fans for donations — but says that a more fundamental reason for the failure of small clubs is that China's minute player population makes talent expensive. Meanwhile, the underdeveloped fan economy means companies get negligible returns on their investment. Rather than blaming money soccer — which he says is an eventuality in soccer — there should be more reflection on why soccer culture hasn't yet taken root on a wider scale. Still, he's optimistic about soccer's prospects in China, if only by seeing how widely played it is by children and young people at the grassroots level.
Simon Chadwick, Director of Eurasian Sports at Emlyon Business School, tells Sixth Tone that a small talent pool and teams suffering financially are not China-specific problems. As businesses, soccer clubs have to pay a high price to acquire and develop players, are subject to constant public scrutiny, and are influenced by unpredictable factors such as team performance and policy changes. These unique challenges call for highly competent management, which Chinese clubs lack more than anything, he says. 
"Clearly, there is a need for China to create a much stronger football culture than it currently has, but this is not just about playing talent," says Chadwick. "It is also about creating leadership and management talent that understands football and can manage clubs in an effective way."
The recent ban of teams as a way of enforcing fiscal discipline has been done by other leagues around the world, but Chadwick says that the emphasis should shift toward helping teams run in a more professional and businesslike fashion. Recent changes should be viewed in a positive light as part of a transition period for the sport in China.
The fans of teams that were recently banned from playing, while sad, remain hopeful that their teams' demise is part of a greater positive push for the sport.
Sun Zhidong, a fan club leader from northwestern Ningxia Hui Autonomous Region whose team Yinchuan Helanshan F.C. was also ousted on Feb. 4, sees the measure as a necessary step toward a healthier soccer environment. He still hopes that a company can take on his team or that a loophole may give them a chance to keep playing, but for now, he'll be busy organizing club activities such as dinners, soccer games, charity events, mountain walks, and karaoke nights.
"Looking back, it's understandable … It's really hard for companies to support this kind of 23-person professional league soccer," says Sun. "I mostly feel a sense of loss: This comes after six years of arduous hard work and cheering for them."
Li Zhihao, a sports teacher and supporter of Shanghai Shenxin F.C. — another team that recently perished after not paying its staff — says there's even a feeling of relief at his team's dismissal, especially after a long downward spiral and a lot of uncertainty. 
"I suddenly feel like the heavy rock in my heart has been laid to rest," says Li Zhihao. "Even though it's not a good outcome, at the very least there's finally some kind of outcome after scraping by this past year."
Fujian-based Deng says he's hopeful that China's soccer situation will improve, though he'll miss his old team in the meantime. Over the past two years, Deng had watched over 40 of Fujian Tianxin's matches and knew many of the players personally. Finally, watching what they expected to be the team's final game at the end of the season in November, he and other fans shed bitter tears. "We invested a lot of emotion into that team," says Deng "In the end, the players were owed six months' salary but were still fighting on."
While Deng waits for a new team to come his way, he says his 1,000-strong fan association The Min Devils will continue to hold events and support Fujian's thriving amateur soccer leagues, which extend from cities deep into the countryside. His fan community is hardier than the clubs they support — they've been around 20 years and have their own yellow uniform to wear at games.
Deng hopes that Fujian's next team won't flame out: "We're not looking for amazing results. We just want a team that can last."
Editor: Kevin Schoenmakers.
(Header image: A Fujian Tianxin F.C. player leaps for the ball during a China League Two match in Chengdu, Sichuan province, July 27, 2019. IC)