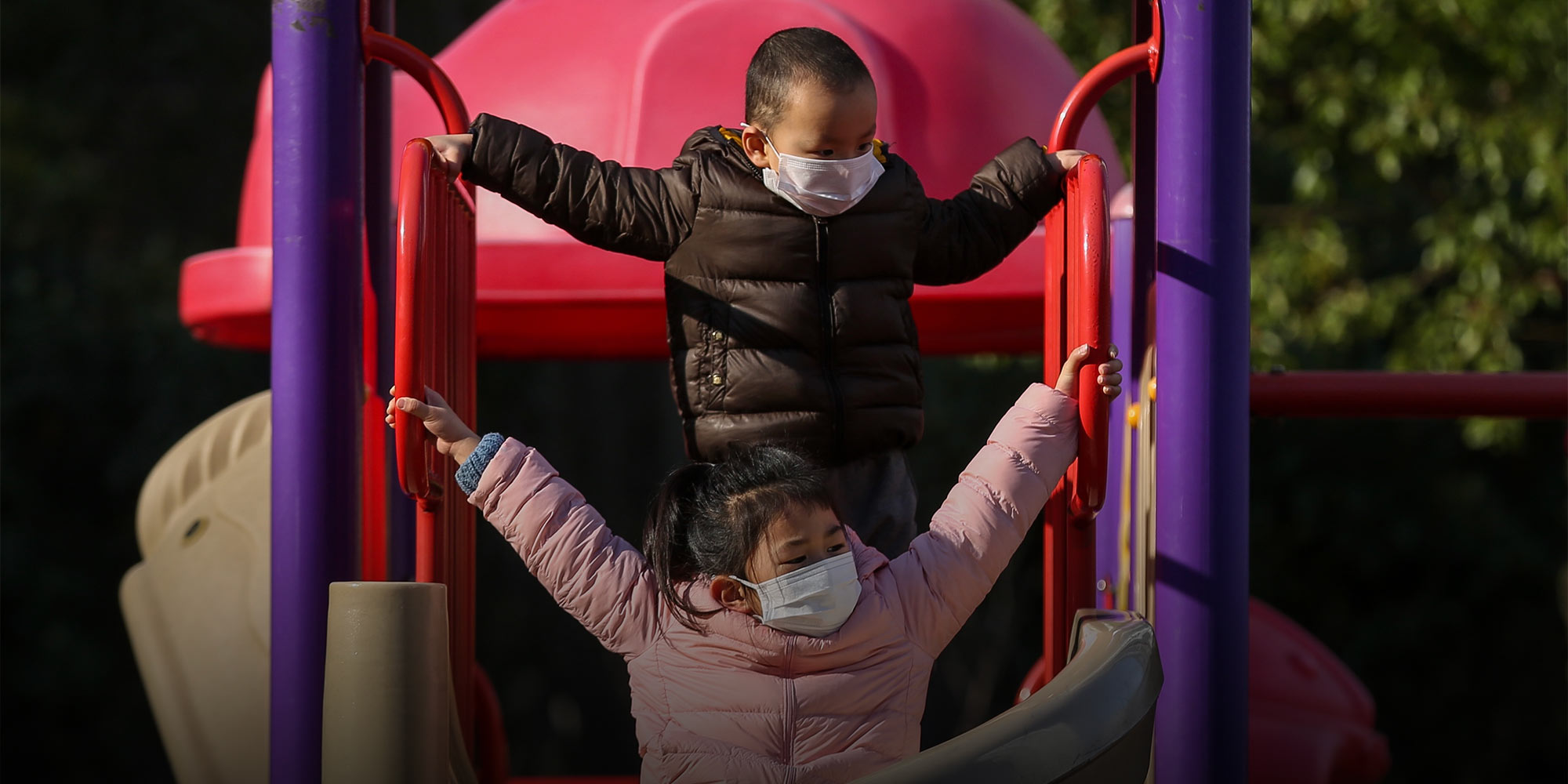 NEWS
Coronavirus: Latest Updates (March 1-15)
Rolling coverage of the novel coronavirus that has infected tens of thousands of people in China and growing numbers abroad.
For daily updated figures on infections, deaths, and suspected cases in China and abroad, see Sixth Tone's digital infographic here.
March 12, 2020
COVID-19 'Can Be Characterized as a Pandemic,' WHO Says
The World Health Organization has declared COVID-19 a pandemic amid rising numbers of infections globally.
As of 11 a.m Thursday, there were over 126,000 cases in 114 countries and regions, with more than 4,600 deaths. The WHO said that COVID-19 infections outside China — where the disease was first reported in December — had increased 13-fold in the past two weeks, and that the number of new infections and deaths will likely continue to climb.
"We have therefore made the assessment that COVID-19 can be characterized as a pandemic," the WHO's director-general Tedros Adhanom Ghebreyesus said during the press briefing Wednesday. He added that the world has never seen a pandemic caused by a coronavirus, nor has it seen a pandemic capable of being controlled.
While China has reported fewer cases of COVID-19 in the past few days, with no new infections reported outside the central Hubei province, where the outbreak was first detected, there have been significant increases in the number of infections in South Korea, Iran, parts of Europe, and the United States.
China Has Passed COVID-19 Peak, Top Health Authority Says
China's top health authority said Thursday that the peak of the COVID-19 pandemic in China is over, as the number of newly diagnosed cases in the country continues to decline.
Mi Feng, a spokesperson for the National Health Commission, said in a press conference that apart from Wuhan, no city in Hubei province has reported new infections in the past week. On Wednesday, China reported that there were seven new cases outside of Hubei, six of which were imported from overseas.
"Data shows that, in general, the peak of the current stage of the outbreak in China has passed," Mi said. "The number of new cases continues to decline, and the pandemic has generally remained at a low level."
Meanwhile, leading respiratory disease expert Zhong Nanshan has predicted that the global pandemic will subside by June. However, he warned that if some countries "overlook the situation," the outbreak could persist longer.
March 10,2020
WHO Explains Deleting 'Herbal Remedies' as Ineffective COVID-19 Measure
Over the weekend, netizens noticed a discrepancy between the Chinese and English versions of a list of measures deemed "not effective against COVID-19" by the World Health Organization. The former consisted of three items — smoking, wearing multiple masks, and taking antibiotics — while the latter included a fourth: "traditional herbal remedies."
China's health authorities have been heavily promoting the use of traditional Chinese medicines during the current epidemic, but even some TCM experts have cautioned that herbal therapies should be viewed as a way to regulate the body's immune system rather than a means of targeting the virus directly.
In mid-February, two prestigious Chinese medical institutes came under fire after claiming that a traditional herbal remedy called Shuanghuanglian could "inhibit" the coronavirus. Both later issued clarifications.
In an email Monday to Sixth Tone, the WHO said it decided at an editorial meeting on March 4 to remove the line about traditional herbal remedies from its list of discouraged measures because "it was too broad and did not take into account the fact that many people turn to traditional medicines to alleviate some of the milder symptoms of COVID-19."
The line was removed from the Chinese version of the COVID-19 Q&A on March 6 and from versions published in English and other languages by March 8, the WHO said.
"While some western, traditional or home remedies may provide comfort and alleviate symptoms of COVID-19, there is no evidence that current medicine can prevent or cure the disease," a current version of the Q&A reads.
March 9, 2020
Wuhan Closes 11 Makeshift Hospitals for COVID-19 Patients
Eleven "shelter hospitals" in Wuhan that had been used to house and treat COVID-19 patients with relatively mild symptoms have been closed as the number of cases in the city at the heart of the epidemic continues to decline, state broadcaster China Central Television reported Monday.

Wuhan had converted 14 public venues, including stadiums and exhibition centers, into makeshift hospitals known as fangcang to ease the burden on hospitals flooded with COVID-19 patients. As of Sunday afternoon, 11 of the 14 shelter hospitals had been closed, while the remaining three still have around 100 patients.
Officials from the National Health Commission said they plan to close all 14 shelter hospitals, which have treated over 12,000 COVID-19 patients in total, by March 10, according to CCTV. However, some of the facilities will still be kept intact in case of an outbreak resurgence.
China Reports No New COVID-19 Cases Outside Hubei
China has reported no new COVID-19 infections outside Hubei province for the first time since the outbreak spread nationwide, health officials said Sunday.
Mi Feng, a spokesperson for the National Health Commission, said during a press conference that no new cases of COVID-19 were diagnosed outside of Hubei — the province where the virus is most concentrated — on Saturday. Forty-one cases were reported in Hubei that day, all of them in the provincial capital Wuhan.
A new study that analyzed over 25,000 COVID-19 cases in Wuhan, where the virus that causes the disease was first detected, found that interventions including quarantines, contact tracing, and social distancing had been effective in reducing the number of infections in the city. Wuhan, along with many other cities in Hubei and elsewhere in China, went into lockdown from Jan. 23 to contain the spread of the novel coronavirus that has now spread globally.
On Sunday, Italy introduced similar measures, quarantining more than 10 million people in northern regions severely affected by COVID-19. Along with South Korea and Iran, Italy has among the most COVID-19 cases outside the Chinese mainland.
March 6, 2020
Hubei Reports No New COVID-19 Cases Outside Wuhan for First Time
For the first time since the coronavirus that causes COVID-19 aggressively spread throughout Hubei earlier this year, the central Chinese province has reported no new infections except in Wuhan, the provincial capital where the virus was first detected.
The National Health Commission said Friday that all 126 new cases in Hubei from the previous day were in Wuhan, with just 17 new diagnoses made in the rest of the country. As of Thursday, Hubei — home to the largest cluster of COVID-19 infections in China — had a total of 67,592 confirmed cases, with 49,797 in Wuhan alone.
Meanwhile, Xianning City and Shennongjia Forestry District, also in Hubei, had not reported any new cases for 11 consecutive days as of March 3. On Thursday, the county-level city of Chibi said that it would lift its citywide traffic ban after no new COVID-19 cases were reported for 19 days.
Zhang Boli, one of the members of the national research team tasked with COVID-19 epidemic control and prevention, told state-run newspaper People's Daily that cities in Hubei other than Wuhan are expected to have zero newly confirmed cases by mid-March, while Wuhan should have no new cases by late March.
As infection rates decline, many regions in China have lowered their public health emergency response levels. As of Wednesday, 20 provincial-level administrative regions including Shanxi, Guangdong, Jiangsu, and Heilongjiang had downgraded their emergency responses to the epidemic from the highest-possible level.
Countries Besides China Need To Step Up To Stop COVID-19, Lancet Says
China's extreme responses to the COVID-19 epidemic have saved thousands of lives, but other countries aren't taking sufficient precautions to prevent large-scale outbreaks, a recent editorial in The Lancet suggests.
The article, to be published in Saturday's issue of the British medical journal, expresses concerns over wealthy countries being focused on treating rather than preventing cases, and poorer countries being woefully underprepared for the virus when it inevitably arrives at their doors.
The editorial gives the illustrative example of China's decisive epidemic response measures — including surveillance, contact tracing, social distancing, and travel restrictions — preventing a large number of infections and deaths, albeit not without damaging the country's economy.
Foreign countries' current measures of simply issuing guidelines for medical workers aren't enough, the editorial said. In deciding which additional measures to adopt, they'll have to weigh the ethical, social, and economic risks against the proven health benefits — and they'll need to do it quickly.
"High-income countries, now facing their own outbreaks, must take reasoned risks and act more decisively," the article said. "They must abandon their fears of the negative short-term public and economic consequences that may follow from restricting public freedoms as part of more assertive infection control measures."
March 5, 2020
COVID-19 Patient Dies Days After Testing Negative, Leaving Hospital
A 36-year-old COVID-19 patient died five days after testing negative for the virus and being discharged from hospital, Sixth Tone's sister publication The Paper reported Wednesday.
The Wuhan native, surnamed Li, was reportedly treated for COVID-19 at one of the city's 16 "shelter hospitals" from mid-February. On Feb. 26, after twice testing negative for the virus and showing "significant improvement in respiratory symptoms," he was discharged and sent to a designated quarantine hotel for 14 days, in accordance with official procedure.
According to Li's wife, he lost his appetite and felt weak on Tuesday. He was sent to hospital and died the same day, the report said.
Last week, leading respiratory disease expert Zhong Nanshan said that the chance of a recovered patient becoming reinfected was "very small, because antibodies have already been produced in the body."
China Honors Frontline Medics As 'Outstanding Individuals'
Chinese authorities have honored hundreds of people, including the deceased whistleblower Dr. Li Wenliang, for their contributions to fighting the COVID-19 epidemic.
On Thursday, the National Health Commission and two other government departments jointly declared 506 health care professionals — frontline medical workers, researchers, and others — as "outstanding individuals in the prevention and control of the coronavirus epidemic." In a separate list, 113 medical groups including designated hospitals for COVID-19 patients were also recognized for their contributions.
In addition to Li — a frontline doctor in Wuhan who was punished after raising the alarm about the new SARS-like coronavirus that would eventually kill him — other deceased doctors were named to the list, including Liu Zhiming, the former head of Wuchang Hospital in Wuhan, and Peng Yinhua, a young frontline doctor who postponed his wedding to treat patients.
News of the announcement became a top-trending topic on microblogging platform Weibo, where it received mixed reactions.
"Has Li's punishment been rescinded? Has anyone apologized? Has anyone been held accountable?" read one of the most upvoted comments under a related media post.
March 3, 2020
Imported Infections Add To China's COVID-19 Concerns
Eight Chinese nationals who returned from Italy last month have tested positive for COVID-19, authorities said Tuesday.
All eight are said to be from Qingtian County in the eastern Zhejiang province, and to have worked at a restaurant in the Italian city of Bergamo, about 50 kilometers from Milan. Six had returned to China together on Feb. 26 but weren't diagnosed with COVID-19 until Monday, while the other two flew back separately last month, according to local authorities.
While COVID-19 infections have been steadily declining in China, the disease has seen spikes overseas, raising concerns that imported cases may again increase the country's caseload. Some 333,000 people from Qingtian work overseas, mostly in places like Spain and Italy — the latter having the most COVID-19 cases of any European country.
Meanwhile, two Chinese nationals returning from Iran and one returning from the United Kingdom have also tested positive for the new coronavirus after landing in Beijing and Shenzhen, respectively, last week.
Earlier Intervention Could Have Avoided Mass Infection, Top COVID-19 Expert Says
A modelling team led by China's top respiratory disease expert Zhong Nanshan has concluded that, if the rigorous measures China imposed to stop the spread of COVID-19 had been introduced just five days earlier, the epidemic would be around two-thirds smaller.
According to the peer-reviewed study published by the Journal of Thoracic Disease, where Zhong is editor, the COVID-19 epidemic in China is expected to peak around Feb. 28 and die down by the end of April.
China's containment measures — including citywide lockdowns and strict restrictions on travel and movement — have proved effective in containing the contagion, according to the study, which uses a modified SEIR model with the epidemiological statistics of the COVID-19 epidemic and population migration data before and after Jan. 23, the date Wuhan was put on lockdown. The team also used machine-learning prediction with data from the 2003 SARS epidemic as a basis with which to compare the new model.
Based on their modelling, the team predicted that, given the current interventions, the epidemic will top out at around 122,122 cases — compared with 40,991 cases if the same measures had been introduced five days earlier. On the other hand, had the measures been delayed five days longer, the size of the epidemic would have been much greater, around a threefold increase from the current scenario.
The study suggests that China's aggressive intervention has helped keep the epidemic under control in Zhejiang and Guangdong, two of the most severely affected provinces besides Hubei, where the virus is most concentrated. It also recommends that the current strict control measures be enforced through the end of April 2020 to avoid a rebound. Should they be eased, the researchers said, Hubei province would likely see another peak around mid-March, as susceptible residents gradually returned to the cities where they live and work.
Beijing to Quarantine Foreigners Arriving From COVID-19 Affected Countries
All foreigners entering Beijing from South Korea, Iran, Italy, Japan, and "other severely affected countries" are required to self-quarantine at home or stay at a designated hotel for 14 days, city officials said during a press conference Tuesday.
Zhang Qiang, deputy director of the capital's COVID-19 prevention team, said that all incoming foreign nationals are required to report their daily body temperature to officials by phone or text message, or through messaging app WeChat. The sub-district of Wangjing, home to over 5,000 foreign nationals, said it had created a WeChat group for international residents to monitor their health.
As COVID-19 spreads rapidly outside China, many Chinese cities have imposed restrictions on inbound passengers. On Tuesday, Shanghai said foreigners entering the city would be subject to 14 days' quarantine, without specifying whether the rule would apply universally or only to certain nationalities.
In late February, at least five eastern Chinese cities barred foreigners from South Korea and Japan amid an increase in COVID-19 cases in the two countries.
China Can Invoke 'Emergency Powers' To Seize Property, Extend Prison Sentences, Official Says
Chinese law allows the government to invoke emergency administrative powers during the COVID-19 epidemic, according to an article published Sunday in Qiushi, the official magazine of the Chinese Communist Party.
Jiang Bixin, deputy head of the Supreme People's Court, wrote that the country's legal system is an important tool in responding to major public safety events, including epidemics. He added that the country's existing laws could allow the government to requisition people's homes and vehicles, implement additional internet controls, extend inmates' prison sentences, postpone elections, and forbid demonstrations and marches, among other measures.
China's so-called new internet information rules went into effect Sunday, applying closer oversight to online comments about the country's response to "natural disasters and major incidents."
March 2, 2020
China Performs First Lung Transplant on COVID-19 Patient
Chinese doctors on Saturday successfully completed the country's first lung transplant surgery on a COVID-19 patient, according to Sixth Tone's sister publication The Paper.
The 59-year-old patient, who was diagnosed with COVID-19 on Jan. 26 but later tested negative for the virus after it had done "severe and irreversible" damage to his lung, underwent the transplant in the eastern city of Wuxi. The lung reportedly came from a brain-dead person.
Chen Jingyu, the physician who supervised the surgery at Wuxi People's Hospital, told The Paper that lung transplants could provide hope for the most seriously ill COVID-19 patients.
"The mortality of COVID-19 patients in severe condition is too high. … I would suggest that the National Health Commission organize a team of lung transplant experts (to treat them)," Chen said, adding that the team could potentially prioritize surgeries for younger patients.
With New COVID-19 Cases Dwindling, Wuhan Closes First 'Shelter Hospital'
A temporary "shelter hospital" converted from a sports stadium to accommodate Wuhan's less severely affected COVID-19 patients has been closed as newly diagnosed infections in the city continue to decline, the local government announced Monday.
The Qiaokou shelter hospital, which began accepting COVID-19 patients on Feb. 11, transferred the last of its 76 wards to other hospitals. Over the past three weeks, the hospital had accepted 330 patients in total.
Since early February, Wuhan has converted several large public venues — including sports arenas and exhibition centers — into temporary shelter hospitals for COVID-19 patients with mild to moderate symptoms, in order to help alleviate some of the stress on the city's overburdened hospitals.
As of Saturday, 16 Wuhan shelter hospitals remained in use, with a combined 13,000 beds for COVID-19 patients — though over half of them are now empty, according to the city government.
March 1, 2020
Our earlier coronavirus coverage can be found here.
(Header image: Children play on a slide in a residential community in Shanghai, March 4, 2020. Zhu Weihui for Sixth Tone)