In late January, Hubei Zhongyou Youyi EP Technology Co. — a waste treatment company based in the central Chinese city of Xiangyang — received a call from the local authorities. Officials requested the firm to send any workers and vehicles they could spare to Wuhan, the city at the heart of the COVID-19 epidemic, as soon as possible.
A convoy of five Hubei Zhongyou garbage trucks made the 350-kilometer journey Jan. 29. Their mission was to help transport tons of used face masks, biohazard suits, and bedclothes from Wuhan's hospitals to disposal sites for destruction.
At first, the small team of 12 workers and volunteers thought the cleanup job would only take a week. But now, a month later, Hubei Zhongyou has as many as 85 people stationed in Wuhan as the virus-stricken city struggles to deal with unprecedented volumes of contaminated waste.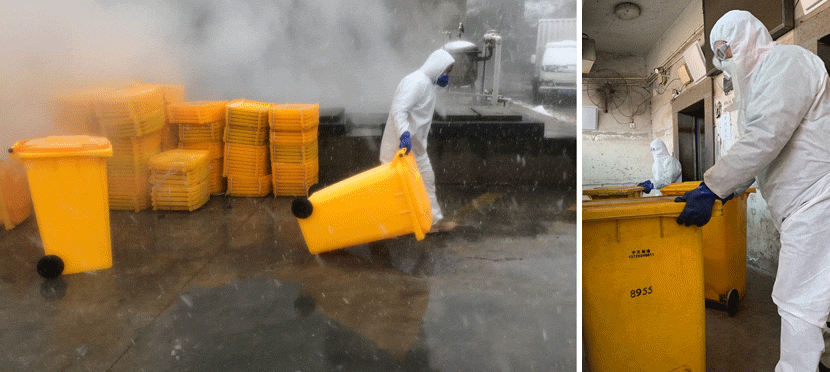 Workers from Hubei Zhongyou Youyi EP Technology Co. carry medical waste containers in Wuhan, Hubei province, 2020. Courtesy of the company
The central province of Hubei, where Wuhan is located, has borne the brunt of the epidemic, with over 67,000 people infected and 2,800 killed as of Monday. The crisis has stretched local health systems to their breaking point, forcing the government to build new hospitals from scratch, convert exhibition centers into makeshift wards, and dispatch thousands of medical workers to the region.
But while attention has been focused on Hubei's shortage of hospital beds and supplies, cities have also faced severe shortfalls in staff, vehicles, and treatment facilities able to safely dispose of used medical equipment. 
Waste from hospitals has to be dealt with carefully, as it may be infected with harmful microorganisms and could become a secondary source of infection, health experts told Sixth Tone.
"Protective clothing, surgical gowns, as well as bed sheets and duvet covers used by coronavirus patients — this stuff can't be reused," said Yin Kaiwen, head of logistics at a designated clinic for patients infected with COVID-19 based in Wuhan.
Cities have specialized systems for disposing of medical waste, but they were quickly overwhelmed during the early stages of the epidemic. Before the outbreak began, Wuhan had one dedicated medical waste treatment facility with a processing capacity of 50 tons per day. By Jan. 24, however, the city was producing four times that amount.
Bags of used equipment piled up in parking lots outside some hospitals in Wuhan due to the backlog at treatment plants and lack of waste transportation vehicles. Nearly 200 tons of additional waste remained inside storage facilities, according to government estimates. 
"The epidemic in Wuhan is the worst in the country," said Yan Zuhai, deputy head of publicity at Wuhan's ecology and environment bureau, in a phone interview with Sixth Tone Feb. 26. "Faced with this powerful enemy, the city currently doesn't have the capacity to handle the (medical) waste."
China took emergency measures to deal with the crisis Jan. 28, handing local authorities the power to burn medical waste using nonstandard facilities, set up mobile treatment centers, and transport excess waste to nearby cities for disposal.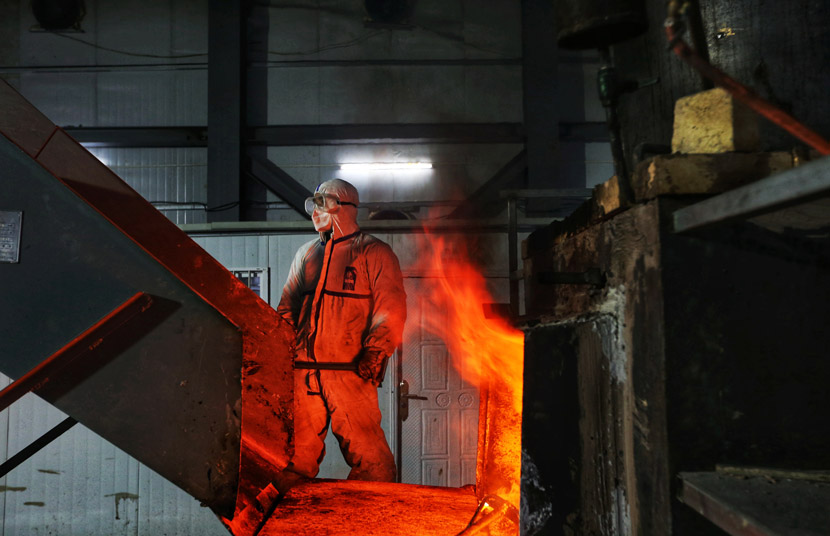 A worker stands near an incinerator at a medical waste processing site for Leishenshan Hospital in Wuhan, Hubei province, Feb. 23, 2020. Cui Meng/Global Times
In the weeks since, Wuhan has used incinerators designed for household and hazardous waste, industrial furnaces, and even cement kilns to destroy used medical supplies. It has also enlisted the help of treatment companies in other cities, including Hubei Zhongyou.
"Wuhan's medical waste disposal system isn't designed to cope with an emergency," said Sun Yu, director of enterprise management at Hubei Zhongyou. "We're helping them relieve their shortage of transportation and treatment capacity."
Sun's firm has dispatched 36 vehicles to Wuhan since Jan. 29. Most of these trucks are used to ferry trash to local disposal sites. Others transport waste all the way to Hubei Zhongyou's own treatment plants in Xiangyang, where it undergoes high-temperature disinfection and incineration before being sent to a landfill.
Other cities in Hubei have faced similar spikes in medical waste as the epidemic has spread. Huanggang, a city neighboring Wuhan, has one medical waste treatment plant with a capacity of 15 tons per day, but during the Lunar New Year the city's hospitals were producing 25 tons daily, according to Wang Sihai, the plant's deputy manager.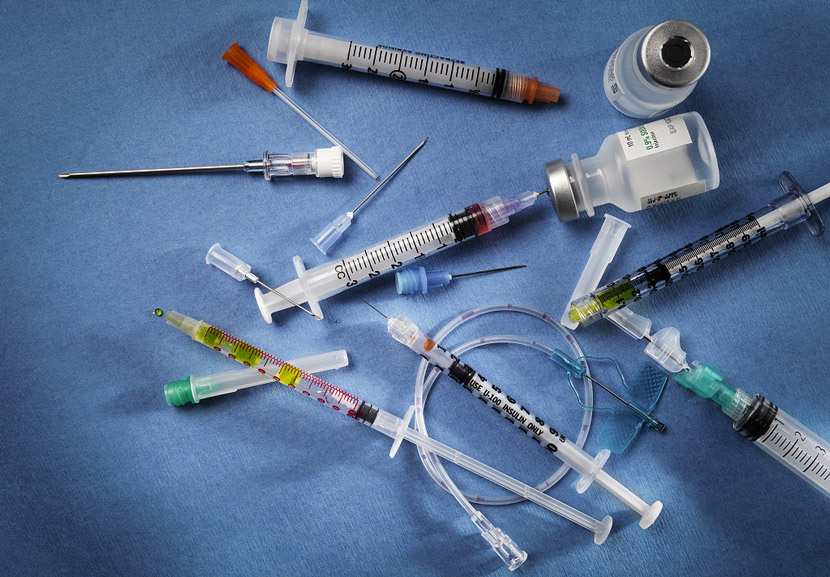 Photodisc/VCG
"During the peak period, we received numerous calls every day from hospitals asking us to collect their trash," said Huang, adding that the excess waste was sent to a hazardous waste treatment facility.
In Xiangyang, Hubei Zhongyou also had to send medical waste to its hazardous waste plant. The firm was handling 15 tons of waste per day, while its medical waste plant could only process 10 tons each day, according to Sun.
While the situations in Xiangyang and Huanggang have stabilized during February as the number of new coronavirus infections in the cities has fallen, according to Sun and Wang, official data suggests there hasn't been a significant downturn in demand from Wuhan.
By Feb. 26, Wuhan had quintupled its medical waste treatment capacity from 50 tons per day to 263 tons — 100 tons of which was made up of the household waste incinerators used to process "ordinary medical waste," according to a report by China's Ministry of Ecology and Environment (MEE).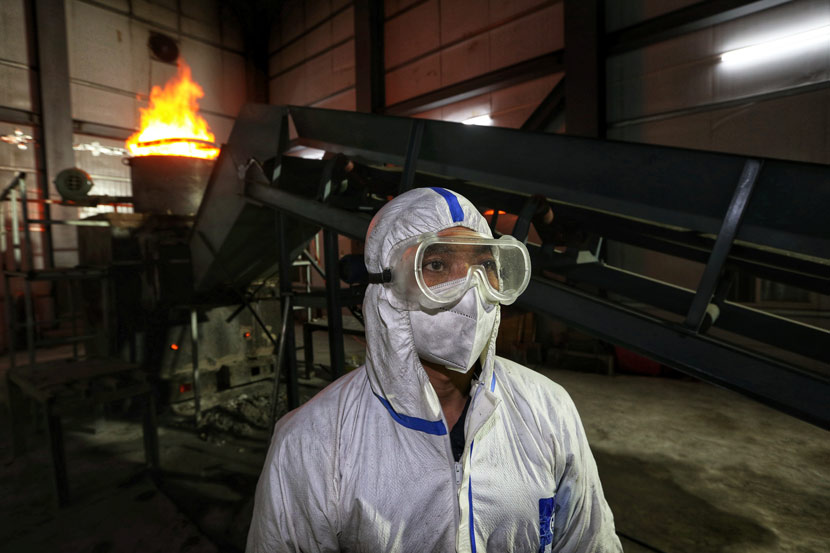 A worker is on shift at a medical waste processing site for Leishenshan Hospital in Wuhan, Hubei province, Feb. 23, 2020. Cui Meng/Global Times
Waste treatment companies in Wuhan who spoke with Sixth Tone reported being under severe pressure. "It's like we're fighting a war," said a manager at one plant, who spoke on condition of anonymity, as he wasn't authorized to speak to the media. "Medical waste has to be treated within a day. Our facilities now operate around-the-clock."
The company is also struggling with labor shortages, as workers are either unable to travel to the plants due to the ongoing travel disruptions in locked-down Hubei or unwilling to handle potentially infectious trash, according to the manager. Local governments have supplied protective equipment to workers at treatment plants, industry insiders told Sixth Tone, but people remain wary.
"Hiring workers is extremely hard these days — it wasn't a problem before," the manager said. "The situation hasn't improved yet. We're very concerned."
The voluntary assistance, meanwhile, is costing some firms significant sums of money. Hubei Zhongyou's work in Wuhan has already cost the company 7.2 million yuan ($1 million), Sun estimates.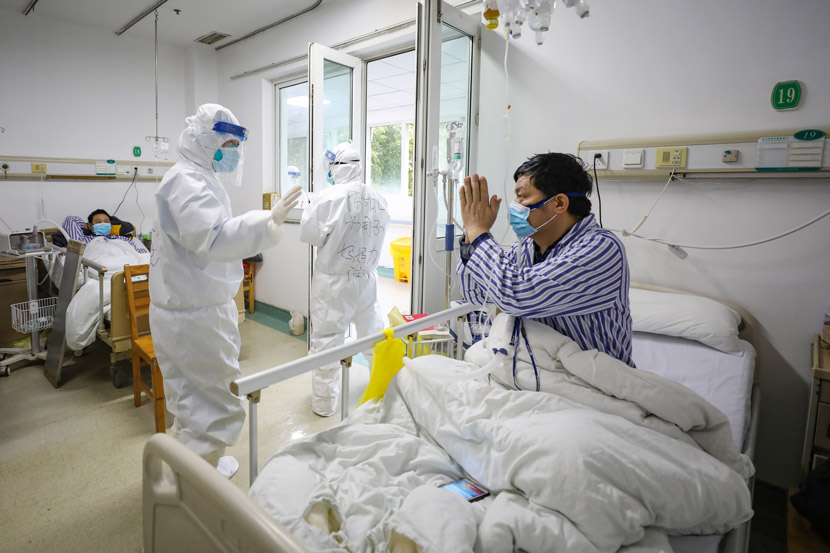 A patient greets a medical worker at Jinyintan Hospital in Wuhan, Hubei province, Feb. 13, 2020. A yellow trash can for medical waste is visible in the corridor. Yuan Zheng/Changjiang Daily
"We're doing it for the public good, but we don't know when the epidemic will end," said Sun. "If we maintain our aid to Wuhan at the current scale until the end of March, our financial costs will be an estimated 20 million yuan."
Experts say the COVID-19 crisis has exposed fundamental weaknesses in China's waste treatment sector that need to be fixed to prevent similar crises from erupting in the future.
Cities were unprepared for an emergency and lacked medical waste transportation vehicles, disposal facilities, and waste handlers, wrote Sun Ning (no relation of Hubei Zhongyou's Sun Yu), head of environmental engineering at the Chinese Academy of Environmental Planning, in an article published Feb. 25. 
Even during normal periods, medical waste disposal facilities in 76 cities were "under great operation pressure" and unable to keep up with the amount of waste being produced, Hu Hualong, deputy director of MEE's Solid Waste and Chemicals Management Technology Center, said at a 2018 conference.
As many as one-quarter of prefecture-level cities in China don't have a centralized medical waste disposal plant, while some rural areas don't collect medical waste for treatment at all, Hu added.
Due to inadequate oversight, a lack of treatment facilities, and high disposal fees, a black market for medical waste has emerged in some parts of China, with waste sold through illegal recycling channels being repurposed to manufacture children's toys and chopsticks.
Zhang Yi, chairman of China's Strategic Emerging Industry Environmental Protection Union, told Sixth Tone the government should create a plan for improving cities' medical waste treatment infrastructure, as it has done previously for wastewater and household waste.
"As a form of hazardous waste, medical waste is a major issue," said Zhang. "Making a special plan can offer solutions at a systemic level and will help raise awareness and funds."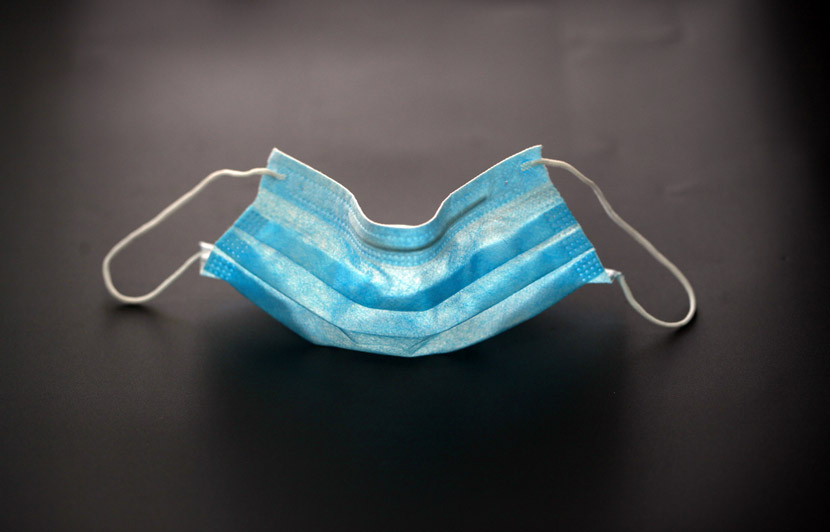 IC
Most analysts and industry insiders who spoke with Sixth Tone, however, remain optimistic that the COVID-19 epidemic will galvanize the government to introduce major reforms, as was the case after the 2003 SARS crisis. Before this earlier epidemic, even Beijing didn't have a centralized facility for handling medical waste, but over the following years authorities invested heavily in improved treatment infrastructure.
"The government should learn from the coronavirus epidemic and establish emergency plans for medical waste management," said Zhang. "After the outbreak, they (now) understand the necessity of establishing medical waste treatment systems to cope with emergencies and ensure public safety."
This past Wednesday, 10 government ministries jointly published a plan stating that every prefecture-level city should have a centralized medical waste treatment facility by the end of 2020. It also said every county in China should establish a system for collecting, transferring, and treating medical waste by the end of June 2022.
"(The epidemic) is a reminder that we should consider emergencies when building waste treatment facilities," said a professor at a Chinese university specializing in solid waste treatment, who requested anonymity because he's not authorized to speak to the media. "Even if the capacity isn't put into use every day, we have to have it when we need it — like we need firefighters."
Editor: Dominic Morgan.
(Header image: A worker moves bags of medical waste to an open-air parking lot at Tongji Hospital in Wuhan, Hubei province, Feb. 18, 2020. The parking lot has been used as a temporary storage site during the epidemic, as the hospital's warehouse is full. Cui Meng/Global Times)