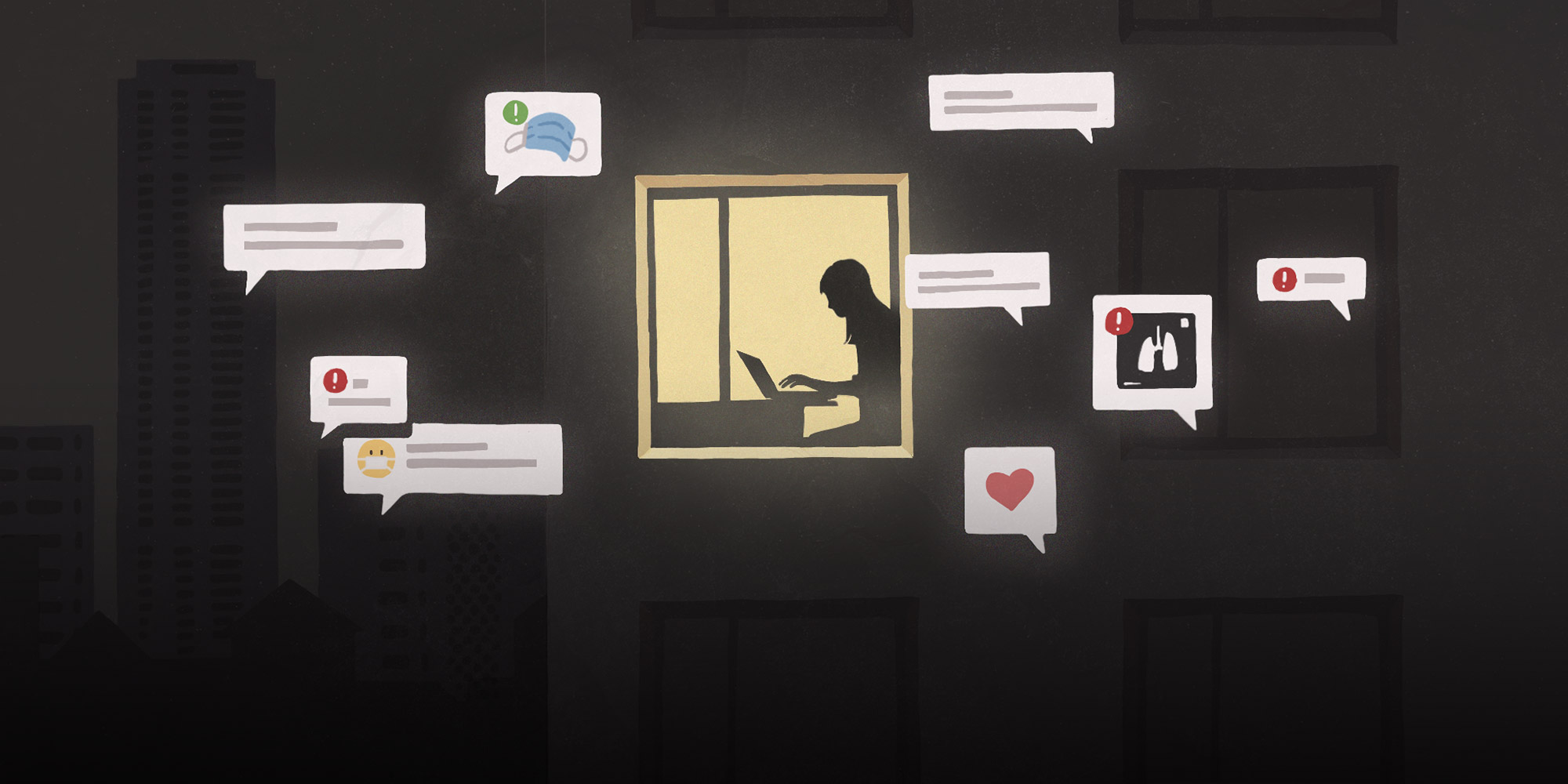 VOICES & OPINION
Life on Wuhan's Virtual Front Lines
As the city grapples with a deadly coronavirus outbreak, residents, doctors, and experts have organized counseling and support groups online.
The lead-up to Lunar New Year is a busy time for social workers in Wuhan, and this year was no exception, with our schedules chock-full of all the usual community events.
Then, on Jan. 20, as the government finally began to acknowledge the danger posed by a deadly coronavirus outbreak in the city, all our activities were canceled. It came out of nowhere. Just the day before, everyone was still going about their lives as normal: I'd spotted only a few people wearing masks on the street, and rumors about the virus seemed remote.
The next morning, I was told that a resident of an elderly home I had visited four days previously may have been infected. That meant I, too, was at risk, and I would have to quarantine myself at home for 14 days while keeping an eye out for any symptoms.
I was dumbstruck. I still didn't even understand what this mysterious illness was, and I had no idea how I was going to quarantine myself for two weeks.
Two days later, on Jan. 23, the city went into an almost complete lockdown, shutting down transit links in and out of the city. The atmosphere was suddenly much tenser. Everyone I knew was sharing information about the outbreak, but it was hard to tell what was real and what was fake. Everything was confusing and scary.
Quarantine
That evening, I saw on my friend's social media WeChat feed that some social workers in Wuhan and Beijing had set up a special group chat to provide assistance and counseling to people living in quarantine. As a social worker, I felt like I could contribute some of my expertise — and as someone who had just been put in quarantine myself, I was all too aware that these services were desperately needed. I immediately asked to join.
Within five hours of the group's inception, we had 300 members. We started another the next morning, as the first group neared the app's chat group ceiling of 500 members, but the requests to join just kept pouring in. Only then did I realize how many people in Wuhan were quarantined in their homes with suspected symptoms and nowhere to turn for help.
Because of restrictions on movement and public gatherings, volunteers have no way of entering communities or providing services face-to-face. However, the group I'm affiliated with has nonetheless been able to organize close to 2,000 online volunteers from all over the country — most of them doctors, psychological counselors, or social workers — and we've responded to more than 20,000 requests through our network.
Much of our time is spent answering questions about life under quarantine, talking about how to care for sick people at home, and sharing reliable information about the virus. But many also seek us out for more direct assistance. In more serious circumstances, such as medical emergencies or cases of severe psychological distress, we give advice, ask for continual updates on their situation, and provide what resources we can in a private, one-on-one chat.
The early days were the most difficult. Many people in my groups were asking how to find a hospital bed for their sick family members. Some were critically ill themselves, but had nowhere to go: At the time, there was a dire shortage of hospital beds in the city, forcing patients to wait at home in the hopes that a bed would open up before their condition worsened.
Due to the shortage of beds, many patients in Wuhan even now cannot be admitted directly to hospitals; instead, they must report their condition to their residential community and apply to be admitted to a hospital. I've helped patients in urgent need of assistance file reports and provided info on hotlines to contact the city's mayor or resources for medical guidance. Like others, I've also used my own position within the civil service apparatus to make calls and desperately try to get them help. Sometimes, asking for aid on social networks like Weibo or TikTok can also draw attention to a case and get it resolved faster.
Hard to Breath
All too often, we'd find ourselves in a race against death. One woman told us her father was in critical condition, having difficulty breathing, and urgently in need of hospitalization. We were all anxious: The man was only 52 years old. We got in touch with hospital administrators and district leaders, exhausting every possible lead. I'm not sure which one paid off in the end, but he was finally admitted to a hospital the next day.
Our celebrations were cut short when his daughter got in touch with us again that evening. The man's doctors had told her he would have to be placed on a respirator immediately or else he might not make it through the night. Only, that hospital didn't have any respirators left.
By that point, the woman's father was already hovering between life and death. We raced against the clock to contact hospitals in the city, searching for an available machine. Some doctors in our group chats tried to help, but no one could find any. One told me that, given the man's condition, he might not survive even if we did find one, but I didn't have the heart to tell that to his daughter. She kept telling me he was going to make it. "I won't be without my father," I remember her saying. "He's going to pull through."
All I could tell her was to support her father as best she could. As soon as our conversation ended, I rushed off to the bathroom to cry. In moments like these, it's easy to feel powerless.
Fortunately, a doctor in our group managed to find an oxygen mask the next day. Although it wasn't a full respirator, against all odds the man was able to hold on to life, and he has since slowly started to recover.
Our frantic search for respirators woke up some of our volunteers elsewhere to the lack of vital equipment here in Wuhan. We immediately launched a fundraiser and scraped together enough money for 10 respirators, which we've since donated to various hospitals around the city.
On the Mend
Volunteers in my groups interact with hundreds of people a day. At our busiest, some of us work from 7 a.m. to 2 a.m. It's stressful, but no one complains. One Beijing-based counselor with experience helping victims of the SARS epidemic in 2003 provided nonstop counseling for six hours one day due to a shortage of volunteers. We ended up having to force her to take a break from her screen. I've been so busy, I've at times forgotten to eat. I've never been under so much pressure in my entire life, but the sight of so many people selflessly working together has inspired me to carry on.
Now that many patients have been admitted to Wuhan's makeshift hospitals, our workload is somewhat lighter. Since their medical needs are being met, people now mostly contact us for psychological and practical support. Some medical staff and patients who have been in quarantine for a long time are dealing with severe stress — a few describe a feeling akin to having a heart attack. To help, we've invited psychiatrists and other medical experts to offer online consultations.
Many people who have been quarantined in hotel rooms or transferred to makeshift hospitals, as well as their family members, still keep in touch with us through the group chat. Some have expressed dissatisfaction with conditions in their new environments: For them, the group has become a way to let off steam and share details about their lives with patients at other institutions.
We're also getting more and more reports from patients who previously came to us for help, and who are now recovering or released from the hospital. Perhaps because the majority of people we help aren't in critical condition, I'm not aware of any fatalities within our immediate circle. As for those who've gotten better, many are eager to give back: Some have gone on to volunteer at makeshift hospitals or joined our chat groups as a resource for others.
I am just one of millions of people in Wuhan at this particular time. I may not have left my home for a month, but in that span I've seen the full spectrum of human emotion: from suffering and helplessness to joy at the prospect of a full recovery. I can only hope that everyone will know such happiness, sooner rather than later.
As told to Cai Yiwen.
Translator: Lewis Wright; editors: Kilian O'Donnell; portrait artist: Zhang Zeqin.

(Header image: Wang Zhenhao for Sixth Tone)